Taking the traditional crinkle cookies and add a pandan flavor and cream cheese to make these delicious pandan cream cheese crinkle cookies. All the tips you need to know to get the perfect crinkles.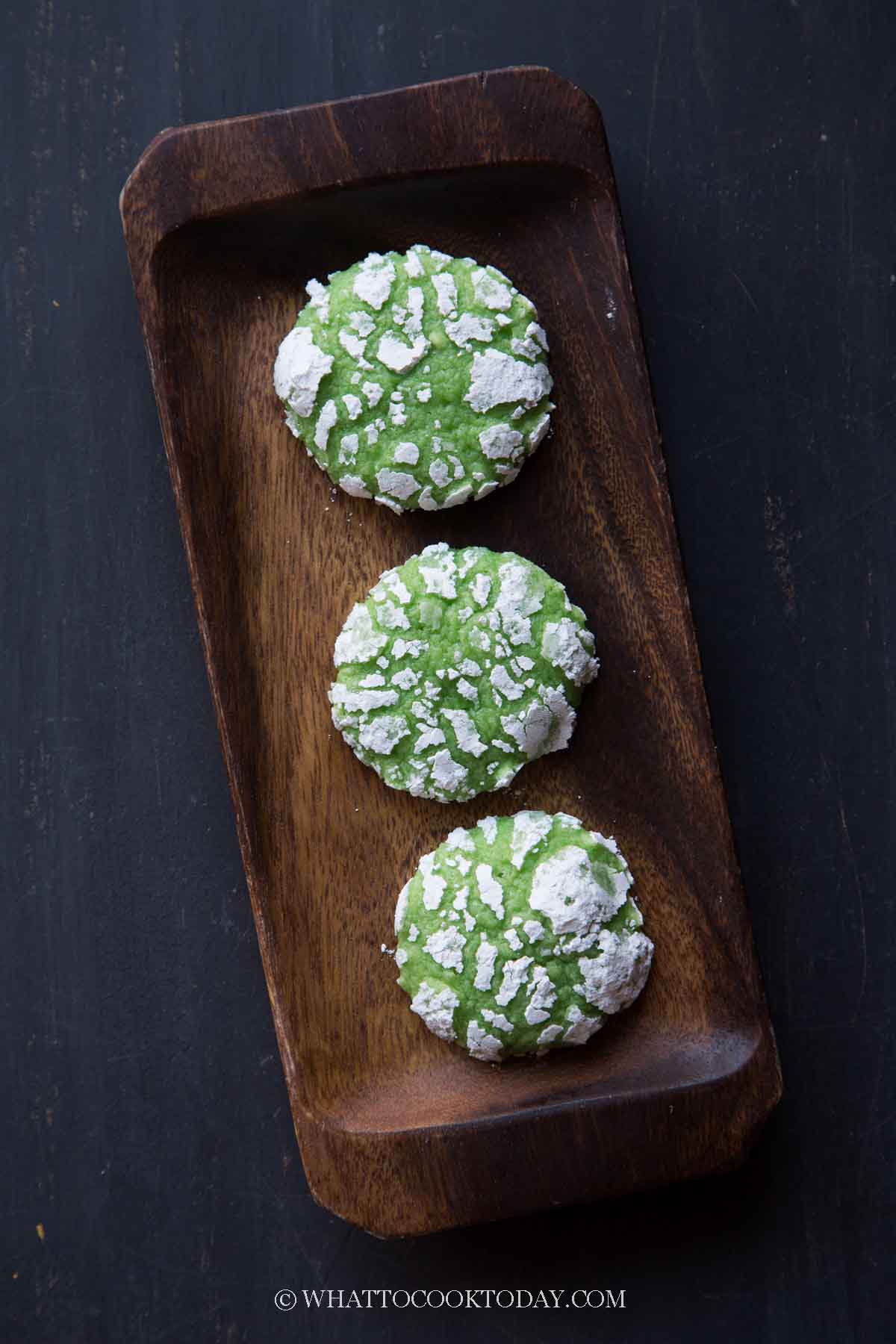 As a kid who grew up in Indonesia, pandan is one of my most favorite flavors. Pandan is indeed one of the quintessential ingredients in Southeast Asia. It's hard to explain the amazing scent they impart when you put them in savory or sweet recipes. That is why I am one of those who pretty much try to "pandanize" everything, from bread, steamed buns, cakes, cookies, muffins, I mean…everything I can. I have made ube crinkle cookies, red velvet cream cheese crinkle cookies, chocolate crinkle cookies, red bean paste crinkle cookies, why not pandan crinkle cookies? and it worked well! So, if you get tired of the same old chocolate crinkle cookies, try this 😉
The recipe rundown
Taste: It's sweet with a hint of savory because of the cream cheese and with a great pandan aroma
Texture: Soft and chewy on the inside and slightly crisp on the outside
Ease: intermediate
Pros: They are pretty and makes a perfect edible Christmas gift
Cons: The cookie dough needs to be chilled for at least 4 hours, or best overnight. It can be a pain especially if you don't plan ahead
How to make pandan cream cheese crinkle cookies
1. Let butter and cream cheese sit at room temperature for 30 minutes or until softened, meaning you can easily press on them to mash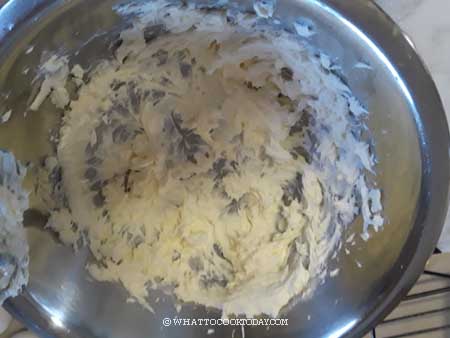 2. Cream the butter, cream cheese, sugar, and brown sugar until pale and creamy.


3. Add eggs, one at a time. Beating until combined before adding another one. You may need to stop to scrape down the side of the bowl halfway. Add pandan extract and mix to combine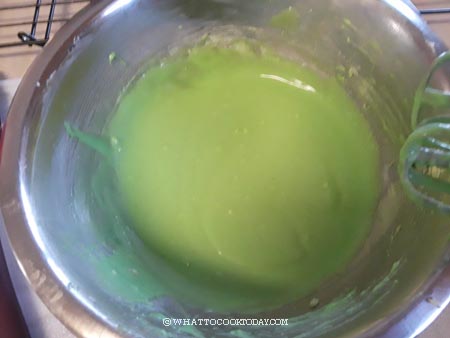 4. Sift in the flour, baking powder, and salt and then use a rubber spatula to mix until combined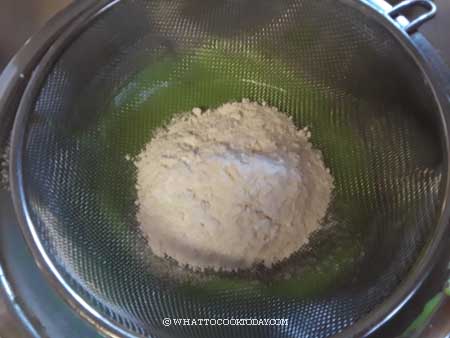 5. The cookie dough is very sticky at this point. Cover the bowl with a cling wrap and chill in the refrigerator for at least 4 hours or overnight. They are easier to work with once they are sufficiently chilled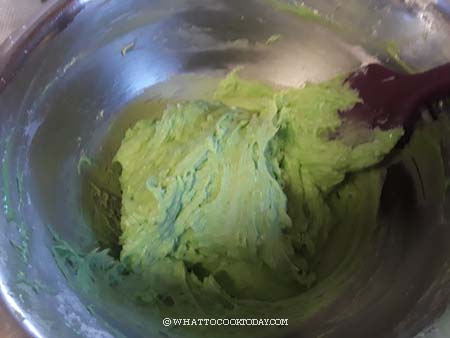 6. Preheat oven to 325 F (160 C). Scoop about 1 Tbsp of the cookie dough out using a cookie scoop and roll into a round ball. Spray your palms with some cooking spray if you find the dough too sticky to handle
7. Roll each dough in granulated sugar first. This prevents the cookie dough from absorbing the icing sugar later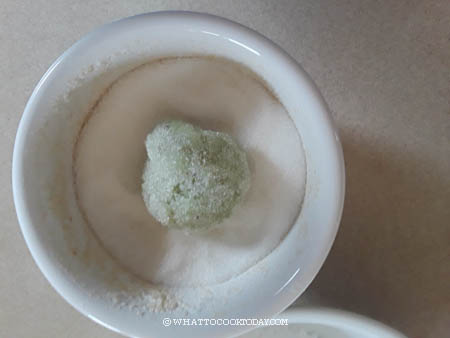 8. Then roll it into the icing sugar. Coat 2-3 times with icing sugar to make sure they are thoroughly coated or they won't show much after baking.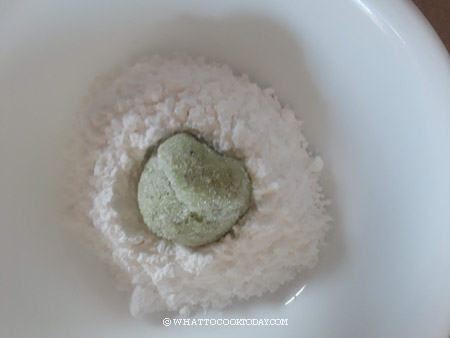 9. Place them on a baking sheet lined with parchment paper, about 2 inches apart as the cookies will spread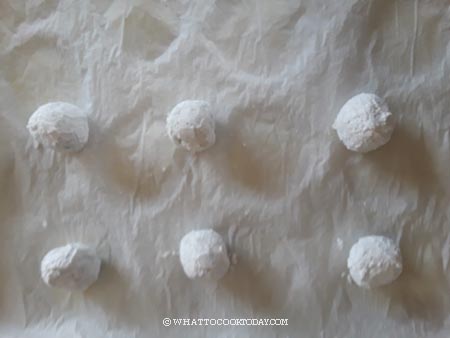 10. Let them bake for 13-15 minutes. They appear to be still very soft when you pull them out from the oven, but they will toughen up a bit as they cool down. Let them cool down on the pan for 5 minutes then transfer to the cooling rack to let them cool down completely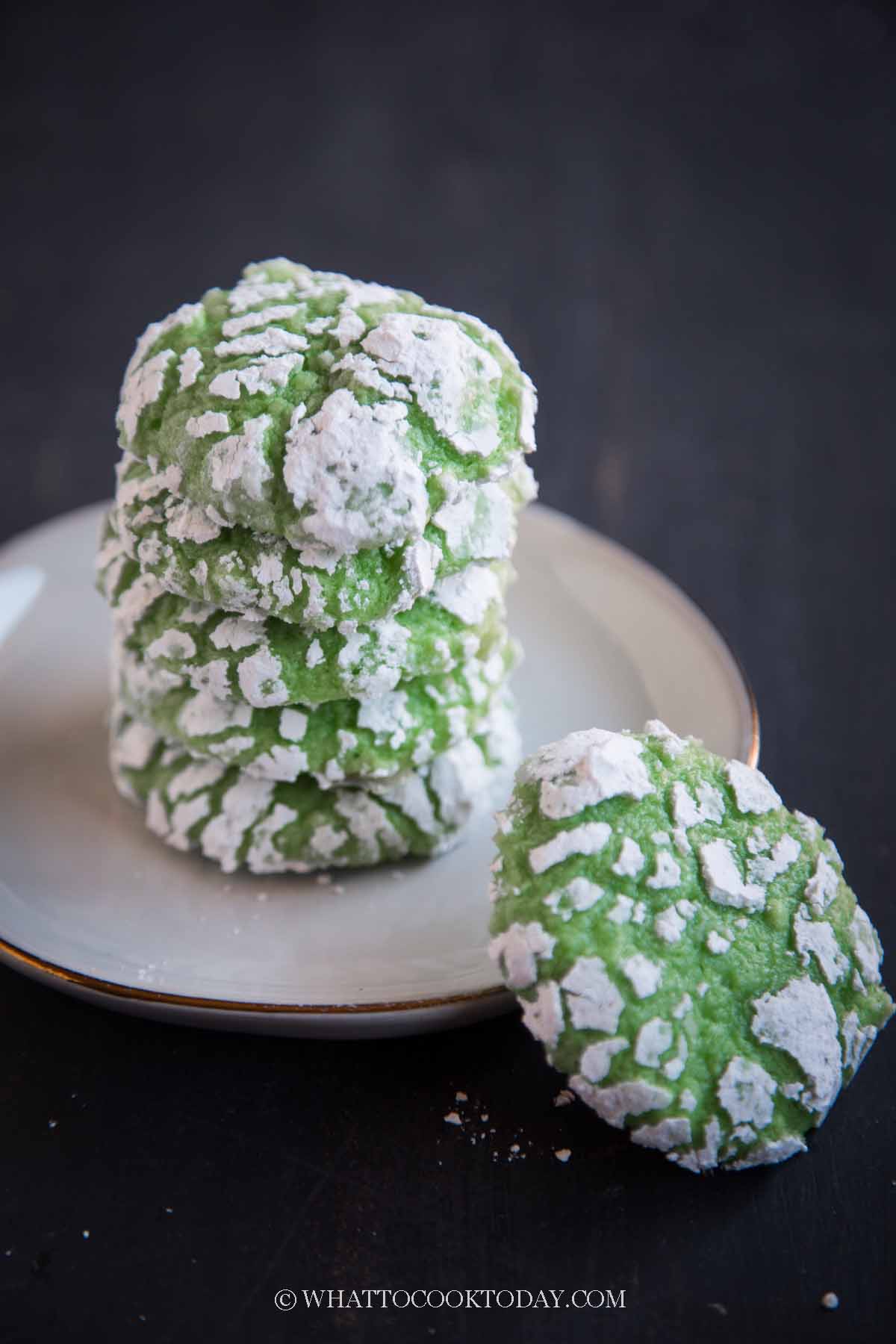 Tips for the perfect crinkle cookies
1. Check the baking powder
Crinkle cookies depend on the baking powder to leaven and create the spread, which in return, creates that crinkle effect. So make sure to test the baking powder by pouring hot water to 1/2 tsp baking powder. It should sizzle immediately, if it's not, get a fresh one
2. Chill the dough
The freshly prepared dough is very sticky and hard to work with. They need to be chilled for at least 4 hours, or best yet, overnight if you can and the flavor develops further when you do that
3. Roll the cookie dough in granulated sugar first, then icing sugar
The granulated sugar absorbs moisture and prevents the icing sugar from being absorbed by the dough
4. Baking temperature
I used to bake at 350 F, but I found that baking at 325 F, give the dough enough time to spread before properly to create the crinkles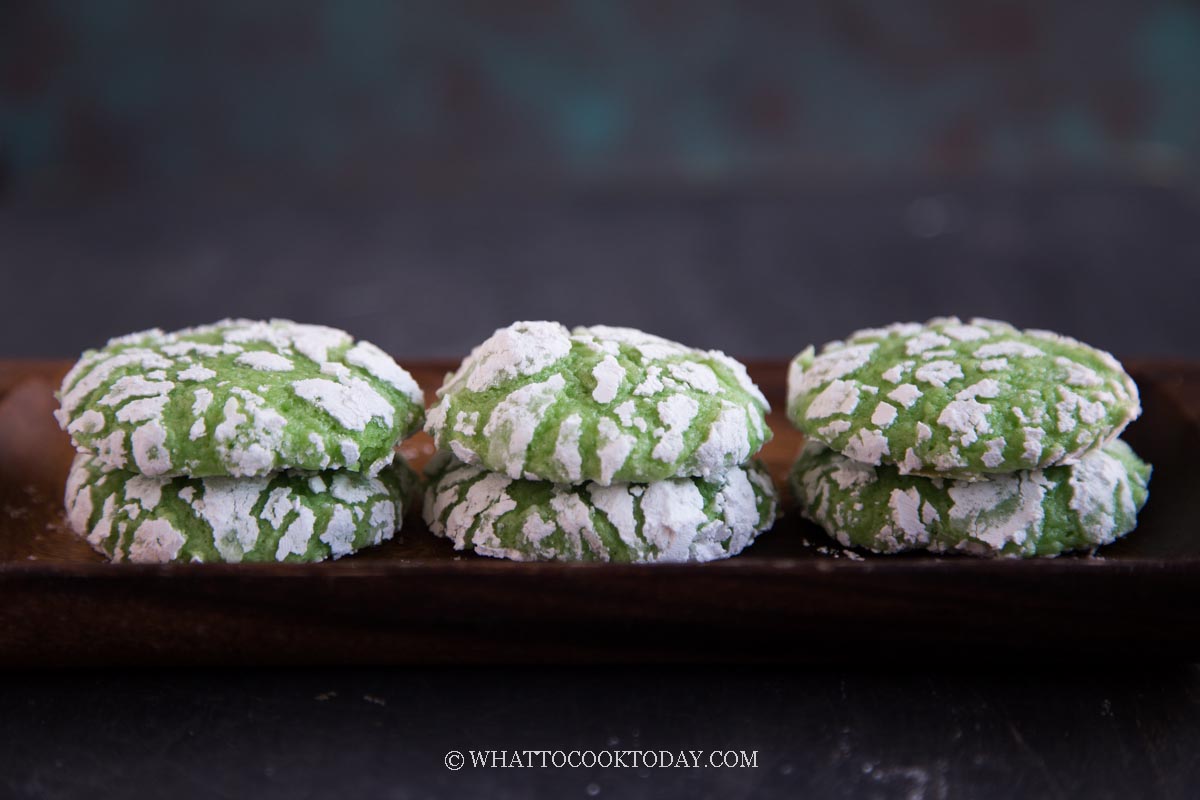 How to store pandan crinkle cookies
Room temperature: freshly baked crinkle cookies can be stored at room temperature for 4 days or so
Freeze baked cookies: For longer storage, I would suggest storing baked cookies in the freezer bag and freeze them. They can be re-crisped in the oven at 425 F for 4-5 minutes.
Can I freeze the cookie dough?
Prepare as directed in the recipe up to chilling the dough for at least 4 hours and then roll them into little balls. I place the balls on a baking sheet, not touching each other, and then place them in the freezer for 1 hour. They will firm up and then transfer to a freezer bag to save space. Push all the air out to prevent the freezer burnt. They can be thawed in the refrigerator overnight or in the counter for about 30 minutes, then roll in granulated sugar, and then heavily coat with powdered sugar and bake as directed.
Did you make this pandan cream cheese crinkle cookies recipe?
I love it when you guys snap a photo and tag to show me what you've made 🙂 Simply tag me @WhatToCookToday #WhatToCookToday on Instagram and I'll be sure to stop by and take a peek for real!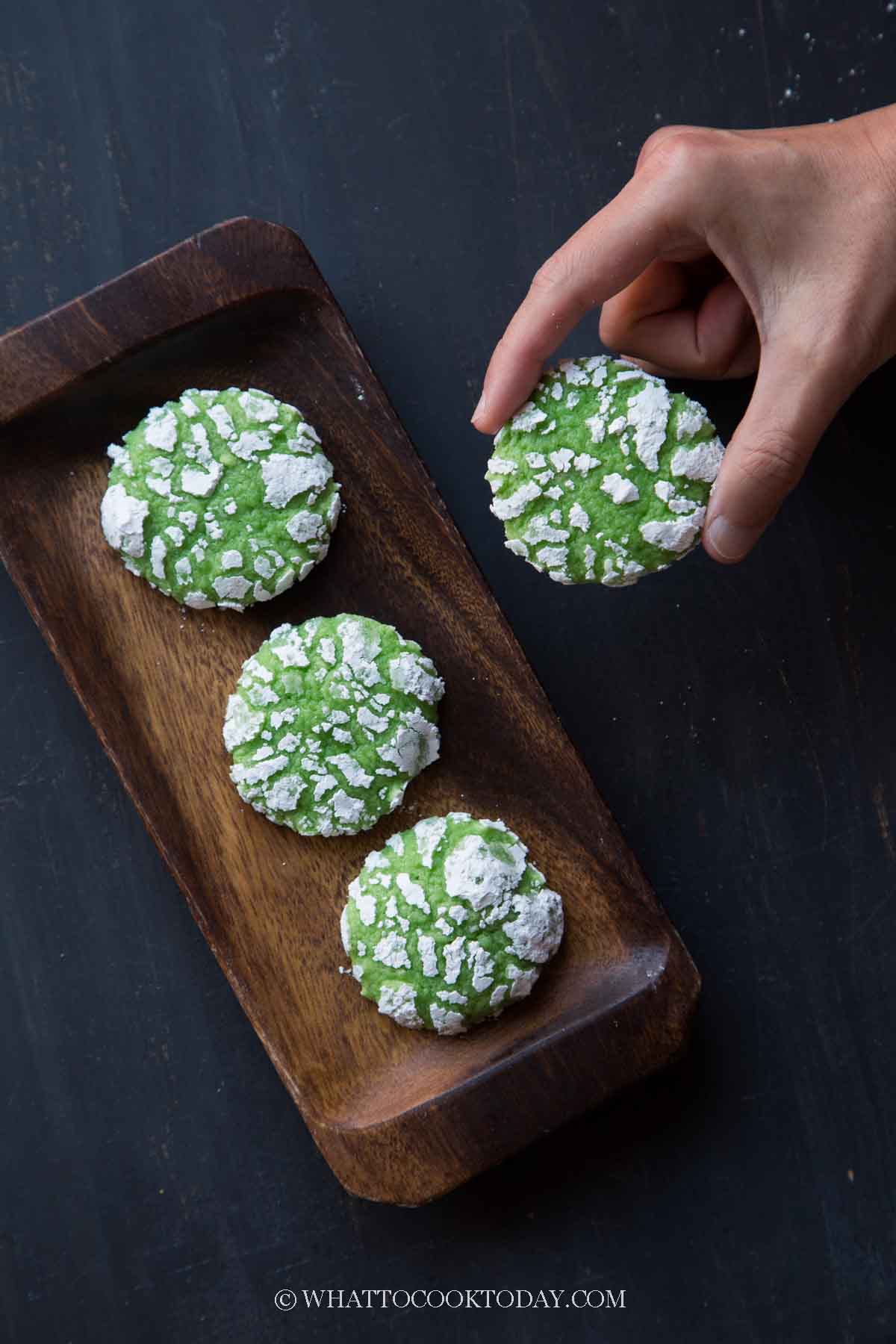 You may like these assortment flavors of crinkle cookies : ube crinkle cookies (purple), red velvet cream cheese cookies, Cheddar cheese crinkle cookies.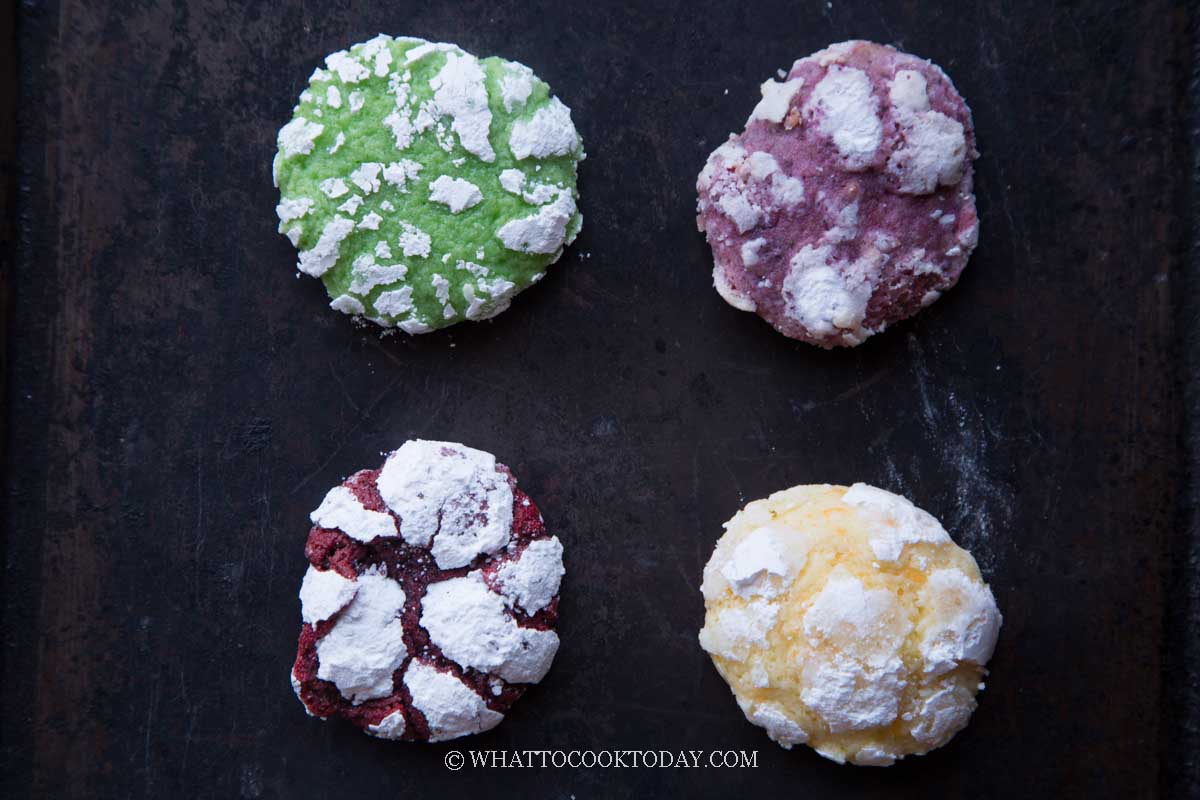 Recipe is adapted from here with some modifications.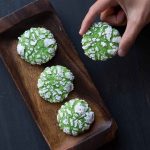 Pandan Cream Cheese Crinkle Cookies
Ingredients
113

gr

butter

softened

100

gr

sugar

100

gr

brown sugar

170

gr

cream cheese

softened

2

large

eggs

50 grams each weighed without shell, room temperature

1

tsp

pandan extract

add another 1/2 tsp if you want stronger flavor

210

gr

all-purpose flour

1

tsp

baking powder

¼

tsp

salt
To coat the cookie dough:
Instructions
Prepare the cookie dough:
Let butter and cream cheese sit at room temperature for 30 minutes or until softened, meaning you can easily press on them to mash

Cream the butter, cream cheese, sugar, and brown sugar until pale and creamy. Add eggs, one at a time. Beating until combined before adding another one. You may need to stop to scrape down the side of the bowl halfway. Add pandan extract and mix to combine

Sift in the flour, baking powder, and salt and then use a rubber spatula to mix until combined. The cookie dough is very sticky at this point
Chill the dough:
Cover the bowl with a cling wrap and chill in the refrigerator for at least 4 hours or overnight. They are easier to work with once they are sufficiently chilled
Shape and bake:
Preheat the oven to 325 F (160 C). Line the cookie sheet with parchment paper. Scoop about 1 1/2 Tbsp of the cookie dough out using a cookie scoop

Spray your palms with some cooking spray or lightly oil them if you find the cookie dough is still too sticky to handle. They should be easier to work with after chilling for at least 4 hours. Roll them into dough balls

Prepare two bowls of sugar, one filled with granulated sugar and the other one with icing sugar. Roll each dough in granulated sugar first. This prevents the cookie dough from absorbing the icing sugar later. Then roll it into the icing sugar. Coat 2-3 times with icing sugar to make sure they are thoroughly coated or they won't show much after baking. Only roll the dough in both sugar when you are ready to bake them, don't let them sit around waiting for the oven while the other tray is baking. I bake one tray at a time for the best result

Place them on a baking sheet lined with parchment paper, about 2 inches apart as the cookies will spread.

Put the tray in the oven, 3rd rack from the top (middle of the oven). Let them bake for 13-15 minutes. They appear to be still very soft when you pull them out from the oven, but they will toughen up a bit as they cool down. Let them cool down on the pan for 5 minutes then transfer to the cooling rack to let them cool down completely
Storing:
The cookies can be kept at room temperature in an air-tight container for 4-5 days. For longer storage, freeze them unbaked or baked. See post for details