You will absolutely love these double chocolate crinkle cookies. They are soft in the middle, thick, filled with melty chocolate chips, and crackle perfectly.


My kids love these double chocolate crinkle cookies. It's one of the cookies I bake not only for the holiday season, but from time to time, the kids will ask for this. My son, who has chocolate written all over his face, can hardly stay away from these chocolate crinkle cookies. I actually have to hide them from him LOL! I know most people would say "this is the best chocolate crinkle cookies ever" and I'm pretty sure they are, I have to say, this is the best chocolate crinkle cookies for us!
What's so great about these double chocolate crinkle cookies?
1. Double chocolate
I've made crinkle cookies using only cocoa powder, while it's all good, the addition of chocolate chips really kick it up a notch. I mean…what could go wrong when you add more chocolate right?
2. Incredible texture and thickness
I love the soft in the middle, slightly crisp at the edge and I'm not sure about you, but I love a thick chocolate crinkle cookies like these
3. Perfect crackles
If you follow the recipe and instructions very closely, you should have no problem getting those nice crackles

How to make double chocolate crinkle cookies
1. Please make sure the eggs and butter are at room temperature. Butter should be soft but not melting
2. Combine the flour, cocoa powder, baking powder, and salt with a whisk and set aside


3. Beat the butter and sugar with a paddle attachment for about 2 minutes on medium speed. Then gradually add in the beaten eggs, in 3-4 additions, and add in vanilla extract. You may need to scrape down the side of the bowl halfway. Increase the speed to high and beat until combined, about 1 minute


4. Lower the speed to low and add the flour mixture and beat until just combined. Don't overmix the dough


5. Add the chocolate chips and beat on the lowest speed until just combined. At this point, you will have a very thick yet sticky dough. It's normal


6. Cover the bowl and chill in the fridge for at least 4 hours. It's even better if you can do overnight for at least 8-12 hours. The dough will be so much easier to work with and the flavor gets even better. You can keep the dough chilled in the fridge for 3-4 days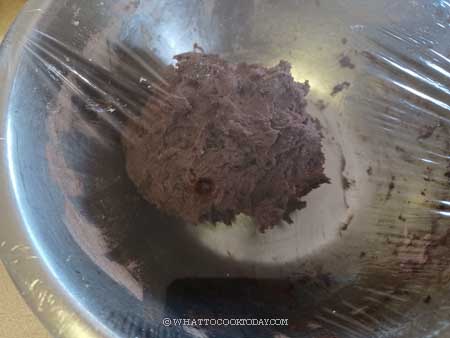 6. Preheat oven to 350 F (180 C). Line baking sheets with parchment. Remove the dough from the fridge and let it sit for about 10 minutes so they will spread and crackle. If the dough is too cold, it may not spread properly. Then use a cookie scoop or a tablespoon to scoop the dough, about 1 to 1 1/2 tablespoons of dough


7. Roll into a round ball and roll into granulated sugar and then into the powdered sugar. This helps the powdered sugar not getting absorbed by the dough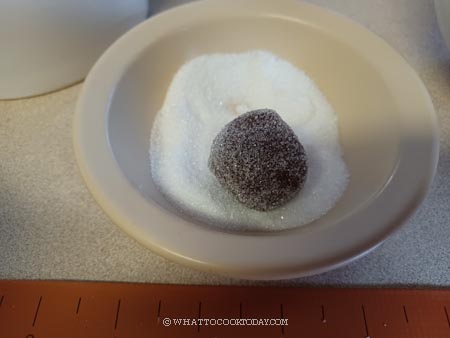 7. Once you are done coating all the dough balls, coat the dough balls again starting from the first one. You really want to make sure you coat enough of the powdered sugar
8. Bake in the preheated oven for 10-11 minutes if they are 1 tablespoon cookie dough and about 11-12 minutes if they are about 1 1/2 tablespoon cookie dough.


9. Remove from the oven and let them cool on the rack for 5 minutes and then transfer to a cooling rack to let them cool down completely


10. Once the cookies have cooled down completely, store them in an air-tight container for up to one week
How to keep powdered sugar from melting on crinkle cookies?
1. Roll in granulated sugar first
I used to have this problem and finally after rolling them in a bowl of granulated sugar before coating them with the powdered sugar, this solves the problem for me
2. Double coat with powdered sugar
I also make sure to double coat with powdered sugar to get them nicely covered before baking
Did you make this double chocolate crinkle cookies recipe?
I love it when you guys snap a photo and tag to show me what you've made 🙂 Simply tag me @WhatToCookToday #WhatToCookToday on Instagram and I'll be sure to stop by and take a peek for real!

The recipe is adapted from here

Soft and Fudgy Double Chocolate Crinkle Cookies
Ingredients
Wet ingredients:
113

gr

butter

unsalted, softened

200

gr

granulated sugar

2

large

eggs (room temperature)

beaten, about 58-60 grams without the shell

1

tsp

vanilla extract

120

gr

semi-sweet chocolate chips
For coating:
30

gr

sugar

or more as needed

60

gr

powdered sugar

or more as needed
Instructions
Prepare the cookie dough:
Make sure the eggs and butter are at room temperature. Room temperature is about 70 F (21 C). The butter should be soft and you can easily press with your fingers but it shouldn't be melting

2 large eggs (room temperature),

113 gr butter

Combine the flour, cocoa powder, baking powder, and salt with a whisk and set aside

180 gr all-purpose flour,

1 1/2 tsp baking powder,

1/2 teaspoon salt

Beat the butter and sugar with a paddle attachment for about 2 minutes on medium speed. Then gradually add in the beaten eggs, in 3-4 additions, and add in vanilla extract. You may need to scrape down the side of the bowl halfway. Increase the speed to high and beat until combined, about 1 minute

113 gr butter,

200 gr granulated sugar,

2 large eggs (room temperature),

1 tsp vanilla extract

Lower the speed to low and add the flour mixture and beat until just combined. Don't overmix the dough. Add the chocolate chips and beat on the lowest speed until just combined. At this point, you will have a very thick yet sticky dough. It's normal

180 gr all-purpose flour,

1 1/2 tsp baking powder,

1/2 teaspoon salt,

120 gr semi-sweet chocolate chips
Chill the dough (DO NOT SKIP):
Cover the bowl and chill in the fridge for at least 4 hours. It's even better if you can do overnight for at least 8-12 hours. The dough will be so much easier to work with and the flavor gets even better. You can keep the dough chilled in the fridge for 3-4 days
Shape and bake:
Preheat oven to 350 F (180 C). Line baking sheets with parchment. Remove the dough from the fridge and let it sit for about 10 minutes so they will spread and crackle. If the dough is too cold, it may not spread properly. Then use a cookie scoop or a tablespoon to scoop the dough, about 1 to 1 1/2 tablespoons of dough. Roll into a round ball and roll into granulated sugar and then into the powdered sugar. This helps the powdered sugar not getting absorbed by the dough

30 gr sugar,

60 gr powdered sugar

Once you are done coating all the dough balls, coat the dough balls again starting from the first one. You really want to make sure you coat enough of the powdered sugar

Bake in the preheated oven for 10-11 minutes if they are 1 tablespoon cookie dough and about 11-12 minutes if they are about 1 1/2 tablespoon cookie dough. Remove from the oven. They appear very soft when just out from the oven. Let them cool on the rack for 5 minutes and then transfer to a cooling rack to let them cool down completely
Storage:
Once the cookies have cooled down completely, store them in an air-tight container for up to one week
Nutrition
Serving:
1
cookie
|
Calories:
143
kcal
|
Carbohydrates:
21
g
|
Protein:
2
g
|
Fat:
6
g
|
Saturated Fat:
4
g
|
Polyunsaturated Fat:
1
g
|
Monounsaturated Fat:
2
g
|
Trans Fat:
1
g
|
Cholesterol:
25
mg
|
Sodium:
112
mg
|
Potassium:
79
mg
|
Fiber:
1
g
|
Sugar:
13
g
|
Vitamin A:
137
IU
|
Calcium:
25
mg
|
Iron:
1
mg