Creamy and nutty Chinese-style walnut sweet dessert soup is easy to put together and makes a perfect light and nutritious dessert.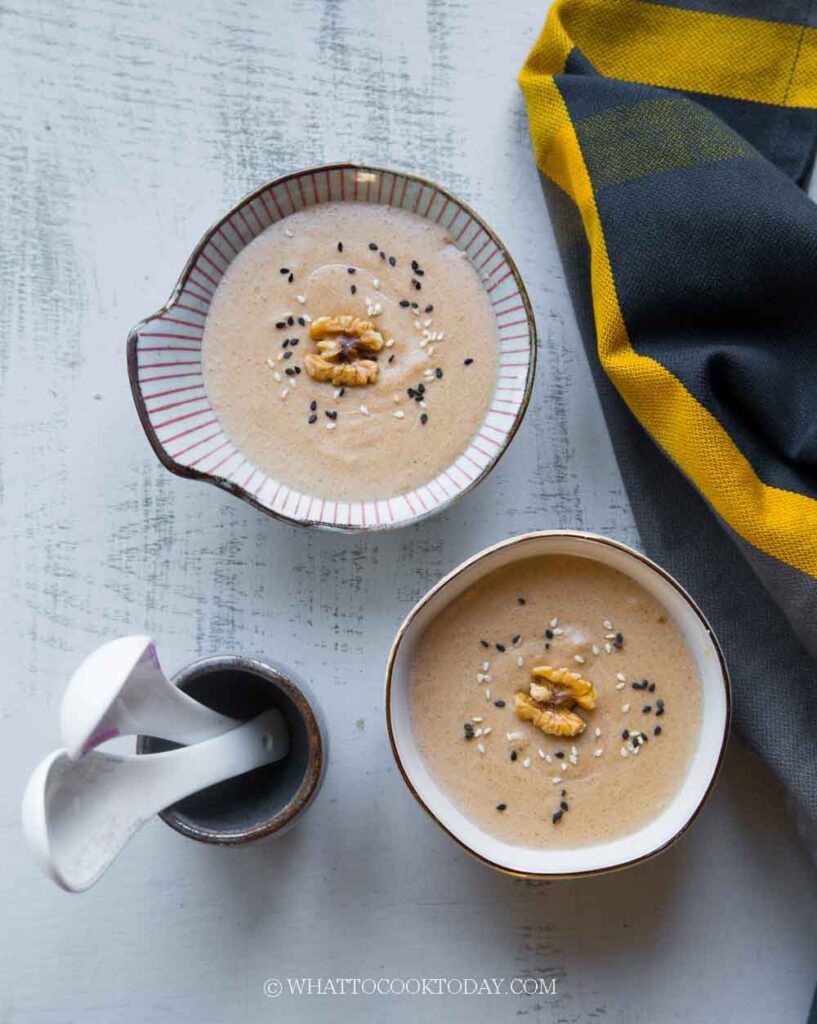 I'm not really a dessert person. I would rather save my tummy space for more savory food and bread (my weakness is truly bread lol). So, I always pass on dessert whenever we go out to eat. But, I have to admit that sometimes I just need a little sweet thing at the end of a meal though. This is where this creamy walnut dessert soup comes in. I like Chinese tong sui (dessert soup) like this. It's enough to satisfy that craving for sweets, but not so sweet that you feel like your teeth hurt!
Why you'll like this recipe
This recipe is so easy to make. You need a blender to make the walnut soup really smooth and then cook it and serve. That's it! Not to mention I LOVE nuts and tree nuts of any kind. This walnut sweet soup fits the bill! It's creamy, lightly sweetened, and oh…so nutty!
Ingredients
You only need 6 ingredients (well, 7 if you count water!) to put this easy delicious dessert together
Walnuts
You want to get unsalted walnuts. Most walnuts are not roasted/toasted. So you want to make sure to roast them first before making the dessert. It really makes a huge difference. So, don't skip the roasting partSlab sugar
Slab sugar is like a big piece of rock sugar, but usually, brown in color. They are more flavorful than regular rock sugar. It has that nice hint of molasses. If you don't have any, you can use regular rock sugar or brown sugar
Rice flour
I use Thai rice flour. The purpose of the rice flour is to thicken the soup slightly
Sesame seeds
Adding white toasted sesame seeds is optional. I like to add this because it adds an extra depth of aroma. You can totally skip this. It just needs a small amount as walnuts is the star here, not the sesame seeds.
Evaporated milk
I like to use evaporated milk because it has that nice milky flavor and is more concentrated. You are welcome to use regular dairy or non-dairy milk. I strongly suggest using evaporated milk if it's your first time making this just so that you know how it tastes like
Salt
A pinch of salt is all you need to bring everything together. I usually use sea salt
How to make creamy walnut dessert soup
Roasting the walnuts give extra flavor. So I highly recommend not skipping this step. If the walnut is not roasted, place them on a baking sheet and roast them in the oven at 350 F (180 C) in a conventional oven or 320 F (160 C) in a convection oven for 15 minutes. You can also toast them on a dry pan for 10-15 minutes over medium heat until fragrant and nutty. Set aside to cool down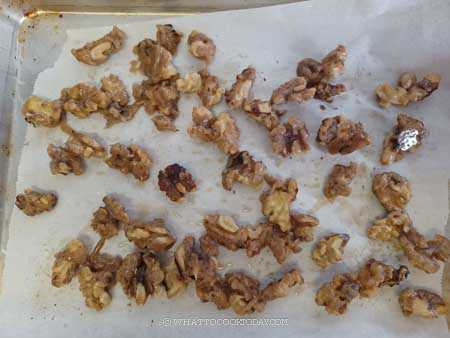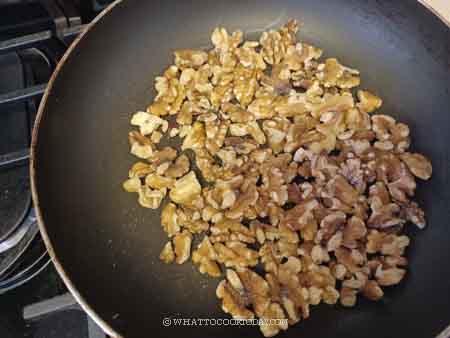 Place the walnuts, sesame seeds (if using), and water in a blender and blend until smooth. Pour this into a large pot. Add the sugar and cook over medium heat until the sugar has melted.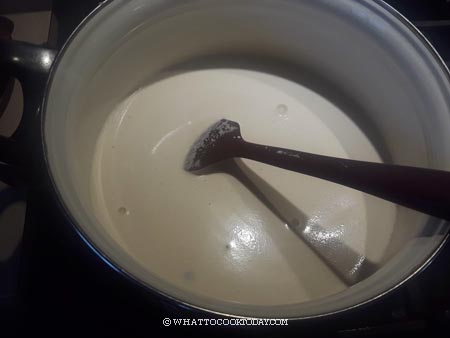 Stir in evaporated milk and salt and cook over medium-low heat for about 2 minutes. Combine rice flour with 70 gr of water and mix well to make a slurry. While one hand is stirring the walnut mixture, gradually pour in the rice flour slurry. The slurry will thicken the soup slightly. If you like it thicker, you can make a bit more of the rice flour mixture. Have a final taste and adjust to your preference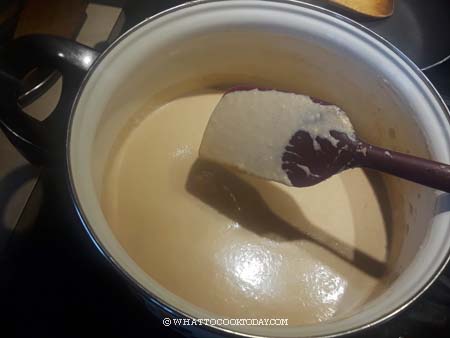 Serve the walnut dessert soup warm or at room temperature. It is delicious served with some ice as well on a hot summer day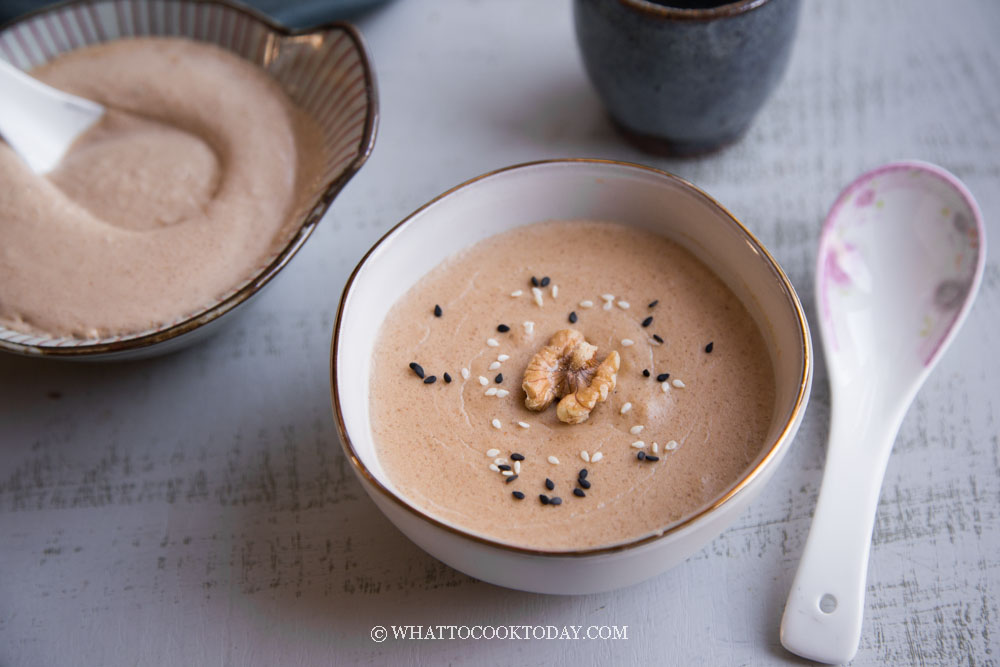 Did you make this recipe?
I love it when you guys snap a photo and tag to show me what you've made 🙂 Simply tag me @WhatToCookToday #WhatToCookToday on Instagram and I'll be sure to stop by and take a peek for real!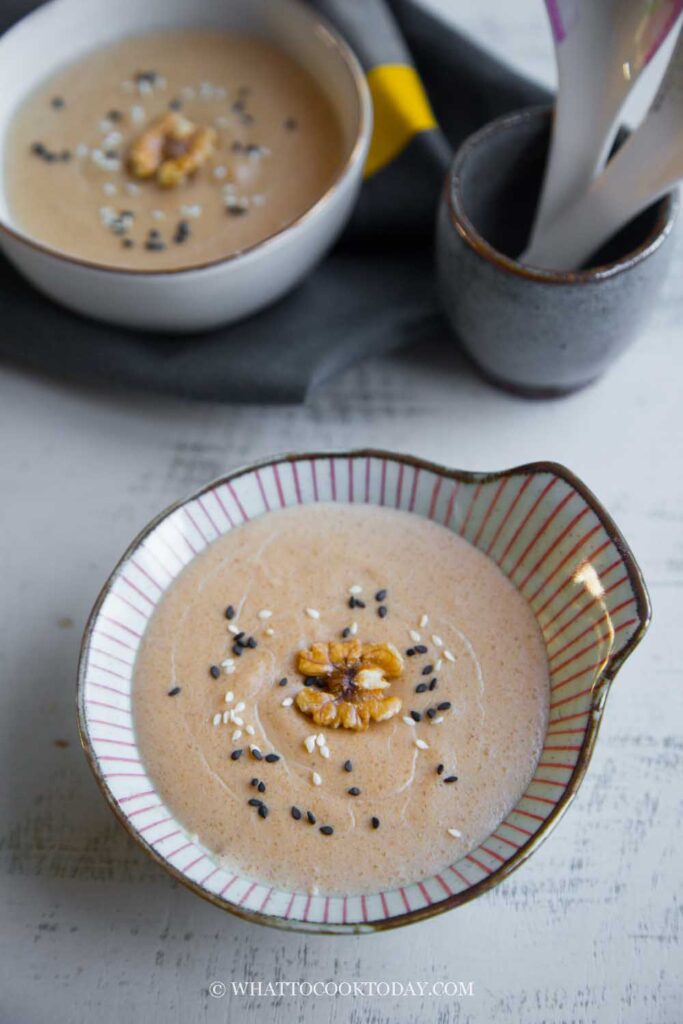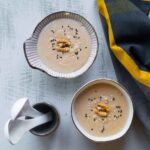 Chinese Creamy Walnut Dessert Soup (合桃糊 )
Ingredients
160

gr

walnuts

toasted, unsalted

20

gr

toasted white sesame seeds

optional

700

gr

water

100

gr

brown slab sugar

break into smaller pieces. See notes 1

⅛

tsp

salt

55

gr

evaporated milk

30

gr

rice flour

see notes 2

65

gr

water
Instructions
Roasting the walnuts give extra flavor. So I highly recommend not to skip this step. If the walnut is not roasted, place them on a baking sheet and roast them in the oven at 350 F (180 C) in a conventional oven or 320 F (160 C) in a convection oven for 10 minutes. You can also toast them on a dry pan for 10 minutes over medium heat until fragrant and nutty. Set aside to cool down

Place the walnuts, sesame seeds (if using) and water in a blender and blend until really smooth. Pour this into a large pot. Add the sugar and cook over medium heat until the sugar has melted. Stir in evaporated milk and salt and cook over medium-low heat for about 2 minutes

Combine rice flour with 70 gr of water and mix well to make a slurry. While one hand is stirring the walnut mixture, gradually pour in the rice flour slurry. The slurry will thicken the soup slightly. If you like it thicker, you can make a bit more of the rice flour mixture. Have a final taste and adjust to your preference

Serve the walnut dessert soup warm or at room temperature. It is delicious served with some ice as well on a hot summer day
Notes
You can also use regular rock sugar or brown sugar if you don't have any slab sugar or rock sugar on hand.
You can also use a dairy or non-dairy milk of your choice for vegan
Recommended products:
Nutrition
Serving:
1
serving
|
Calories:
336
kcal
|
Carbohydrates:
14
g
|
Protein:
8
g
|
Fat:
30
g
|
Saturated Fat:
3
g
|
Polyunsaturated Fat:
20
g
|
Monounsaturated Fat:
5
g
|
Cholesterol:
4
mg
|
Sodium:
99
mg
|
Potassium:
247
mg
|
Fiber:
3
g
|
Sugar:
2
g
|
Vitamin A:
41
IU
|
Vitamin C:
1
mg
|
Calcium:
130
mg
|
Iron:
2
mg