Mini pancake is filled with a sweet filling of your choice and then shaped like an empanada is popular street food in Indonesia and Malaysia.
What is apam perlis or martabak lenggang?
Martabak or apam usually refers to pancake-type of food and usually cooks on the pan. They can be sweet or savory. Apam perlis or martabak lenggang is filled with sweet filling like chocolate, custard cream, sweet coconut, cheese, etc. In Indonesia we call it martabak lenggang. I Malaysia or Singapore, it is known as apam perlis. They are shaped like empanada (or we call it pastel in Indonesia). I'm not really sure of the origin of martabak lenggang, but some say it is a modification from martabak terang bulan / martabak manis/ ban jian kuih
How to make apam perlis or martabak lenggang
Combine flour, salt, sugar, and instant yeast. Whisk to combine
Add water and whisk until combined. Add beaten egg and whisk again until combined. Rest the batter for one hour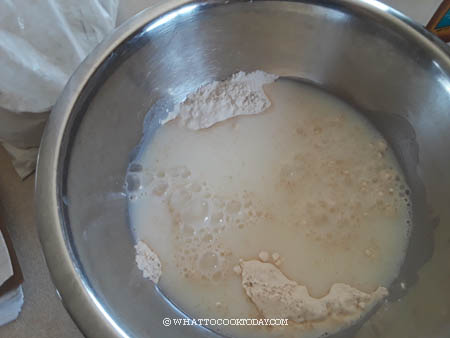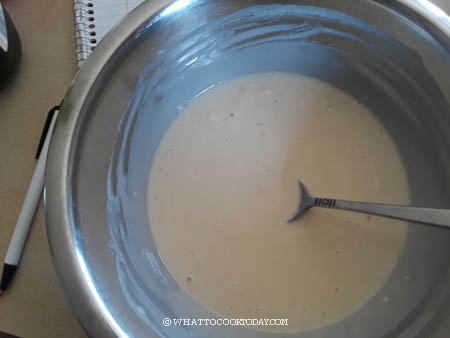 Preheat the non-stick pan over medium-low heat. Don't use any oil. After one hour, you will see lots of bubbles.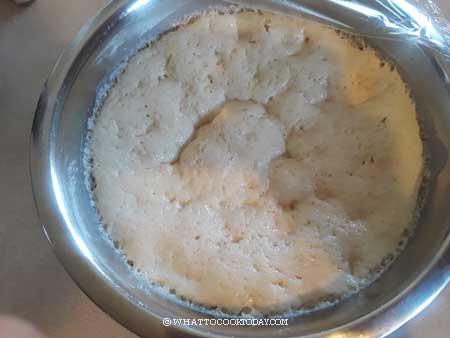 Give the batter a good stir. Ladle about 60 ml of the batter onto the pan. Bubbles will start to appear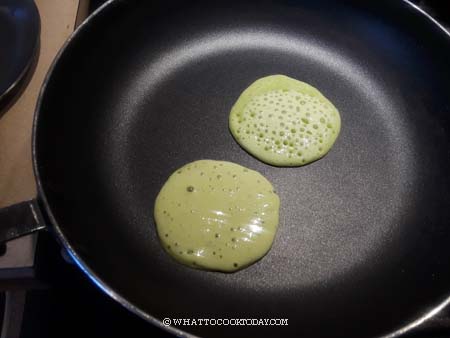 Cook until the top is no longer wet
Remove from the pan and immediately scoop about one tablespoon of filling. It is important to fill the pancake right away after cooking so it will "seal". If you wait until the pancakes are cold to fill, they won't seal properly. I suppose this is the tedious part about making apam perlis/martabak lenggang. It's great if you have someone to have you fill the pancake. Even if you don't have, it's still pretty manageable
Fold the pancake over and pinch the edges to seal.
Use a fork to crimp the edge to make it look like empanada. If you have the empanada mold, you can use that. Repeat with the rest of the batter and filling
Tips for Success
Make sure the yeast is still active
You can check by dissolving the yeast in about 1 Tbsp of water and a small pinch of sugar, stirring to combine, and letting them sit for 10 minutes. The mixture should be foamy and bubbly. If not, the yeast is no longer fresh. Do not proceed with the recipe until you get a fresh batch
2. Control the heat
You don't want to cook over high heat. Medium-low heat is ideal. You want bubbles to appear on the surface of the pancake and continue to cook until the surface is dry to touch
3. Fill the pancake when it's warm
Make sure the filling is within your reach. Once the pancake is cooked, you want to put filling on it and fold it over, seal, and crimp the edge. If the pancake is cold, it won't seal properly
You can fill it with anything you like. I'm a bit lazy here and just use a chocolate chips and sweetened coconut flakes 🙂
Did you make this recipe?
I love it when you guys snap a photo and tag to show me what you've made 🙂 Simply tag me @WhatToCookToday #WhatToCookToday on Instagram and I'll be sure to stop by and take a peek for real!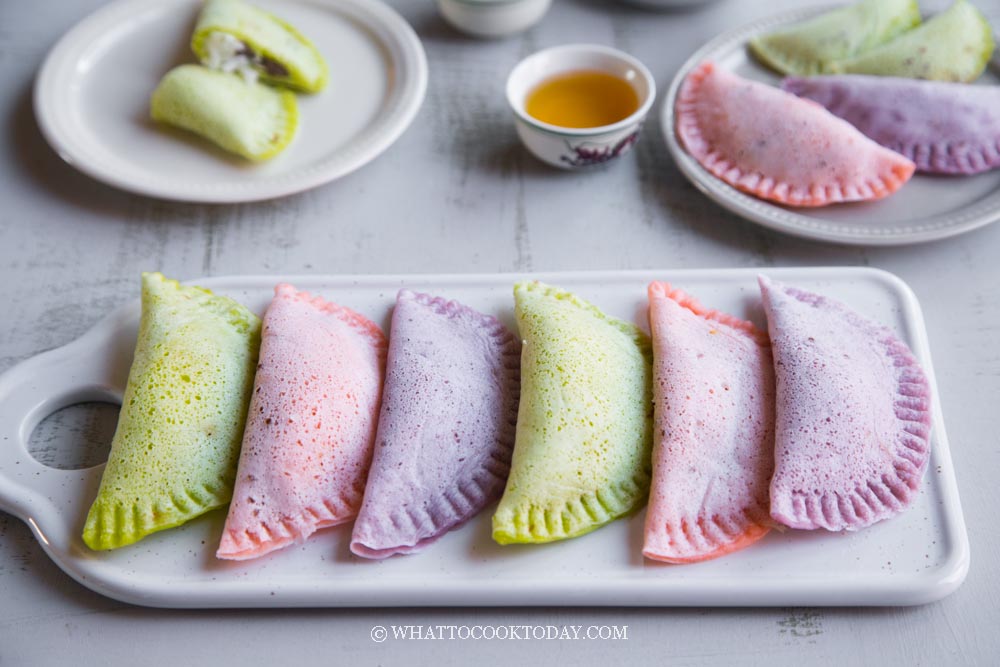 Apam Perlis / Martabak Lenggang
Ingredients
To color:
Pandan essence

Food coloring of your choice
Filling: (just some ideas)
Instructions
Prepare the batter:
Combine flour, salt, sugar, and instant yeast. Whisk to combine. Add water and whisk until combined. Add beaten egg and whisk again until combined. Rest the batter for one hour

While waiting for the batter, you can prepare the filling of your choice
Cook and fill the pancake:
Preheat non-stick pan over medium-low heat. Don't use any oil. After one hour, you will see lots of bubbles. Give the batter a good stir. Ladle about 60 ml of the batter onto the pan. Bubbles will start to appear. Cook until the top is no longer wet

Remove from the pan and immediately scoop about one tablespoon of filling and fold the pancake over and pinch the edges to seal. Use a fork to crimp the edge to make it look like empanada. If you have the empanada mold, you can use that

It is important to fill the pancake right away after cooking so it will "seal". If you wait until the pancakes are cold to fill, they won't seal properly. I suppose this is the tedious part about making apam perlis/martabak lenggang. It's great if you have someone to have you fill the pancake. Even if you don't have, it's still pretty manageable

Repeat with the rest of the batter and filling
Nutrition
Serving:
1
pancake without filling
|
Calories:
119
kcal
|
Carbohydrates:
24
g
|
Protein:
3
g
|
Fat:
1
g
|
Saturated Fat:
1
g
|
Polyunsaturated Fat:
1
g
|
Monounsaturated Fat:
1
g
|
Trans Fat:
1
g
|
Cholesterol:
19
mg
|
Sodium:
69
mg
|
Potassium:
40
mg
|
Fiber:
1
g
|
Sugar:
5
g
|
Vitamin A:
27
IU
|
Vitamin C:
1
mg
|
Calcium:
8
mg
|
Iron:
1
mg