Sticky and moist glutinous rice is topped with sweet aromatic coconut filling (inti) and wrapped in banana leaves is a classic Nyonya kuih enjoyed by many in Southeast Asia. The glutinous rice can be cooked in an Instant Pot pressure cooker or on the stove.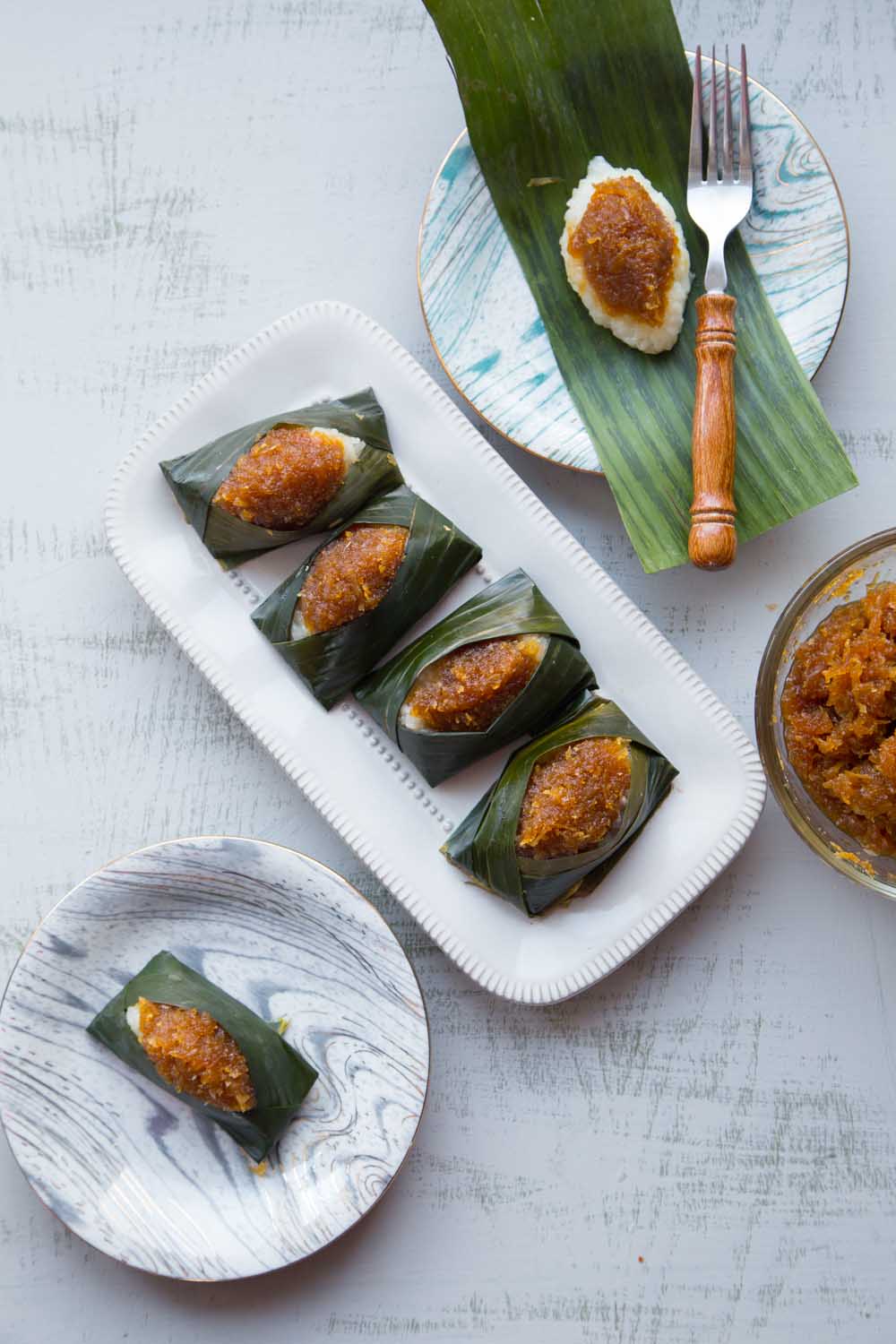 What is pulut inti
Pulut inti is another popular kueh/kue in Southeast Asia, especially in Indonesia, Malaysia, and Singapore. Pulut means glutinous rice in Bahasa/Malay language. Inti usually refers to the sweetened coconut filling. The coconut is usually cooked together with gula Jawa/gula Melaka and hence the rich brown color. We love to have this for breakfast or as a snack. Pair this with a cuppa and life couldn't be better 🙂
The recipe rundown
Taste: Sticky and moist glutinous rice with a hint of savory paired with the aromatic sweet coconut topping
Texture: Not much texture contrast here
Level: Easy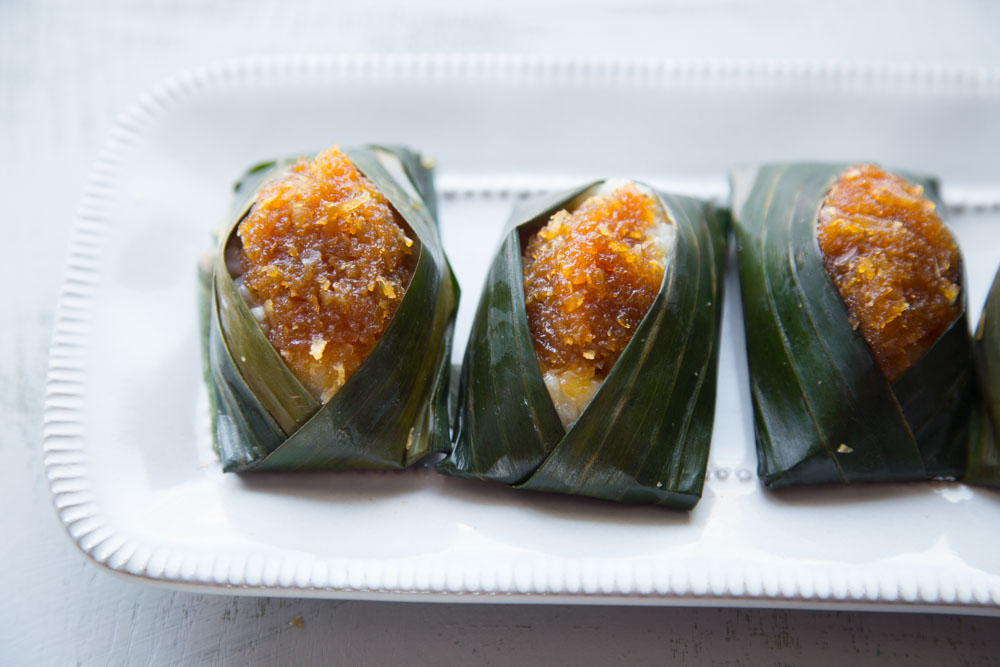 Ingredients and substitutions
1. Glutinous rice
Glutinous rice cannot be substituted with other rice such as sushi rice
2. Coconut milk
I used canned coconut milk. Don't use coconut milk for beverage
3. Grated coconut
Unsweetened grated coconut can be purchased at the Asian grocery store. Usually, they are in the frozen aisle. You can also use desiccated coconut but you need to add coconut milk to rehydrate it. Refer to the recipe below
4. Gula Jawa/Gula Melaka
This is only available at the Asian grocery store and usually comes in blocks. You can also use coconut sugar or dark brown sugar
5. Pandan leaves
Pandan leaves can be found in the frozen aisle at an Asian store or in the summer, they may have fresh pandan leaves. You can omit if you can't find any
6. Cornstarch
Cornstarch is used as a thickener to bind everything. In Singapore and Malaysia, cornstarch is also known as cornflour, but here in the U.S, cornflour is different from cornstarch. Cornflour is usually ground from the whole corn while cornstarch only has the starch extracted from the corn. So make sure you use the right one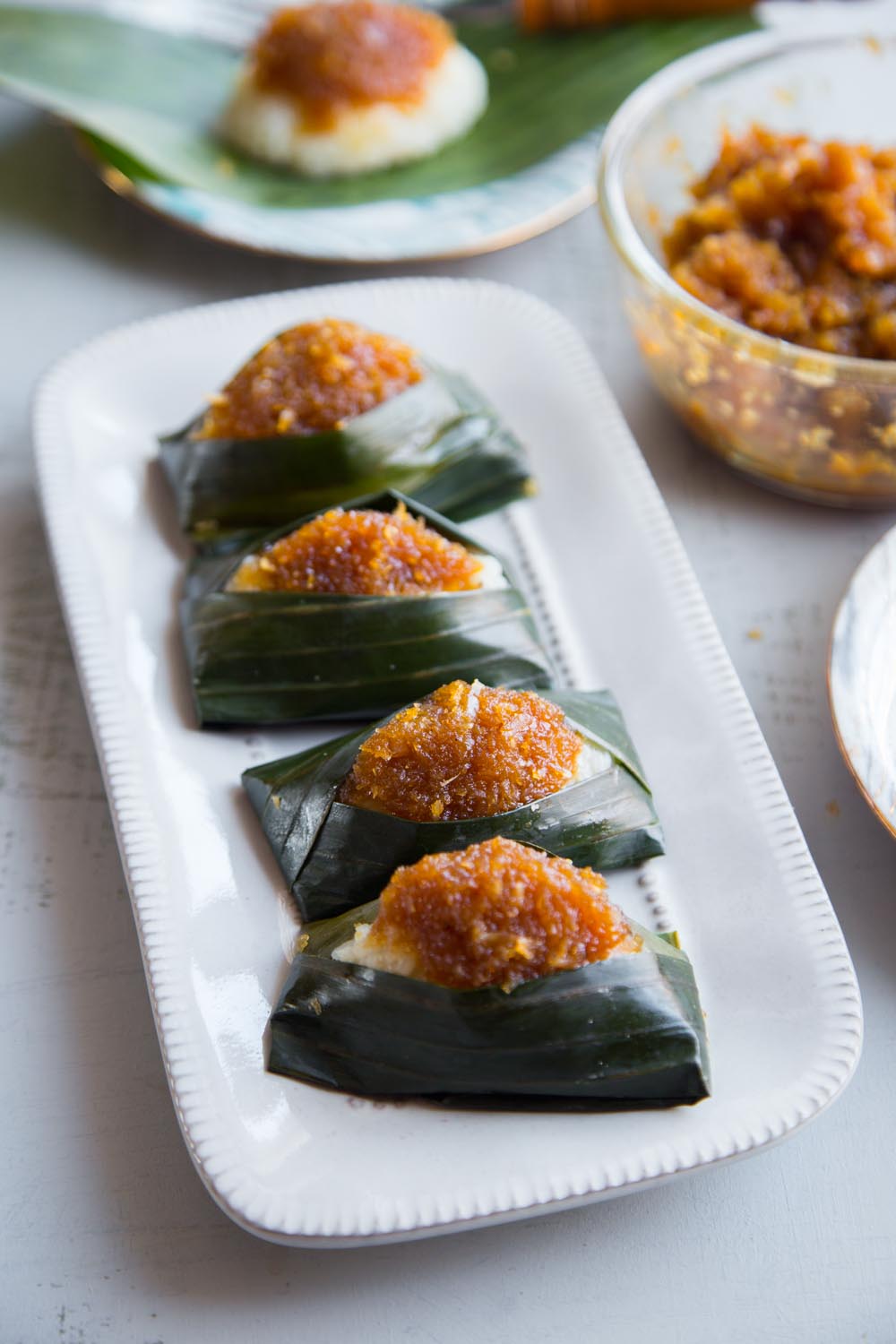 How to make Nyonya pulut inti
I used an Instant Pot pressure cooker to cook the rice and so I don't need to soak the rice
1. Rinse the rice briefly with cold running water. Drain off water. Pour one cup of water into the inner pot of the Instant Pot. Put the unsoaked rice, coconut milk, water, salt, sugar, and pandan leaves on a round pan. I use an aluminum pan. Stir to combine and make sure the rice is submerged in the liquid to cook properly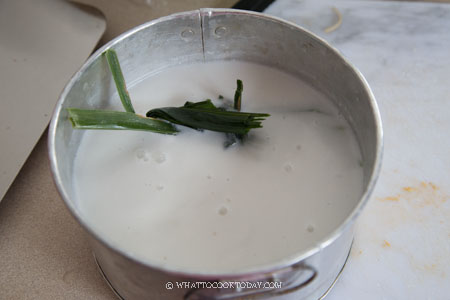 2. Place this on top of a trivet. Close the lid. Turn the steam release valve to "Sealing". Press "pressure cooker" and make sure it's on "high pressure". Set the timer to 30 minutes. When it's done cooking, wait 10 minutes and then release pressure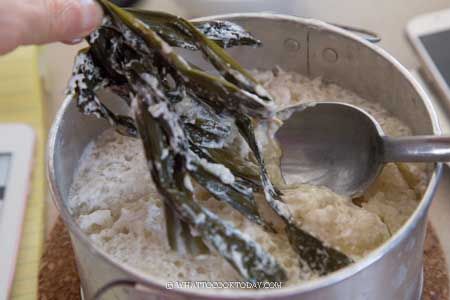 3. Fluff the rice with a fork and set aside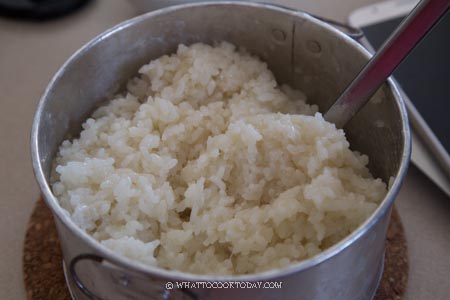 4. If you use gula Jawa/gula Melaka, place the sugar in the saucepan and melt over low heat and then strain. Sometimes there are some impurities in the gula Jawa. You don't have to do this if you use coconut sugar. Mix all the ingredients for the topping. Place this over a medium-size skillet and stir-fry for over medium heat for about 2 minutes or so. The sugar will start to dissolve (if you use coconut sugar and granulated sugar combination) and the mixture will be "wetter". Stir fry again until the mixture is dry


5. Combine the cornstarch with water and pour into the inti and stir to combine. This helps everything bind together for easier wrapping later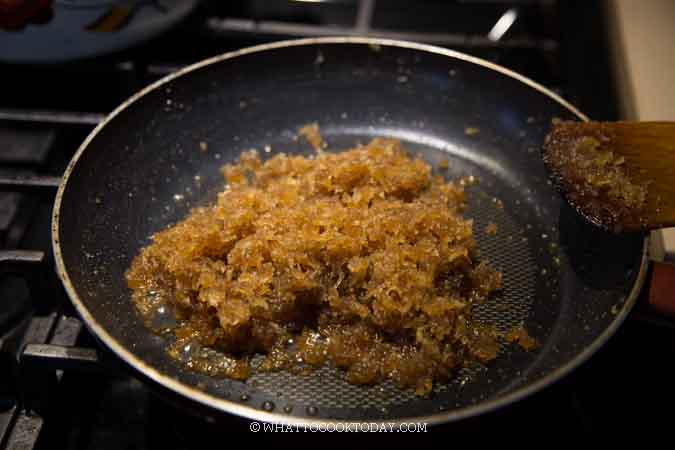 6. Cut the banana leaves into about 5 x 6 inches. Scoop about 1/4 to 1/3 cup of rice and place on the middle of the leaves. You can make it bigger too if you like. I use a cling wrap to help me shape it "tighter" into an almost- pyramid shape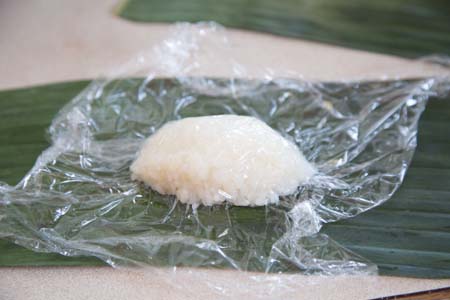 7. Topped with about 1-2 tablespoons of the inti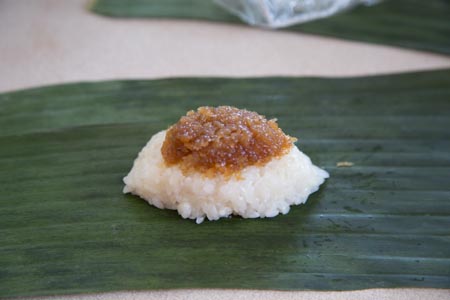 8. Bring one side of the banana leaf to cover the side and then the other side, exposing the inti topping in the middle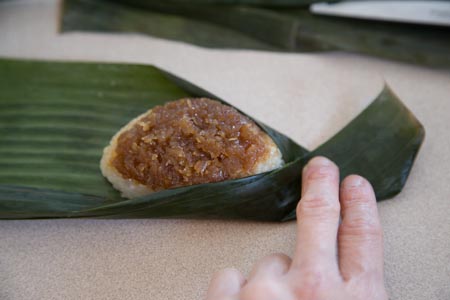 9. Fold both ends under to finish the wrapping. Voila!!! You did it!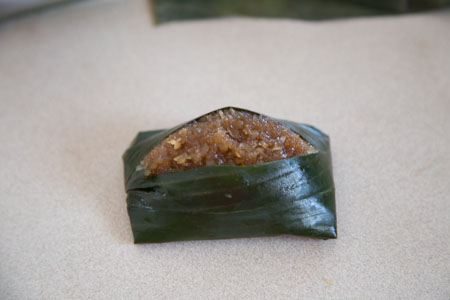 How to store leftover pulut inti
They are best served on the same day, but if you have leftover, you can keep them in an air-tight container in the fridge for no more than one week. The rice will harden once they are cold in the fridge. Simply reheat them in the microwave or in the steamer.

Did you make this Nyonya pulut inti recipe?
I love it when you guys snap a photo and tag to show me what you've made 🙂 Simply tag me @WhatToCookToday #WhatToCookToday on Instagram and I'll be sure to stop by and take a peek for real!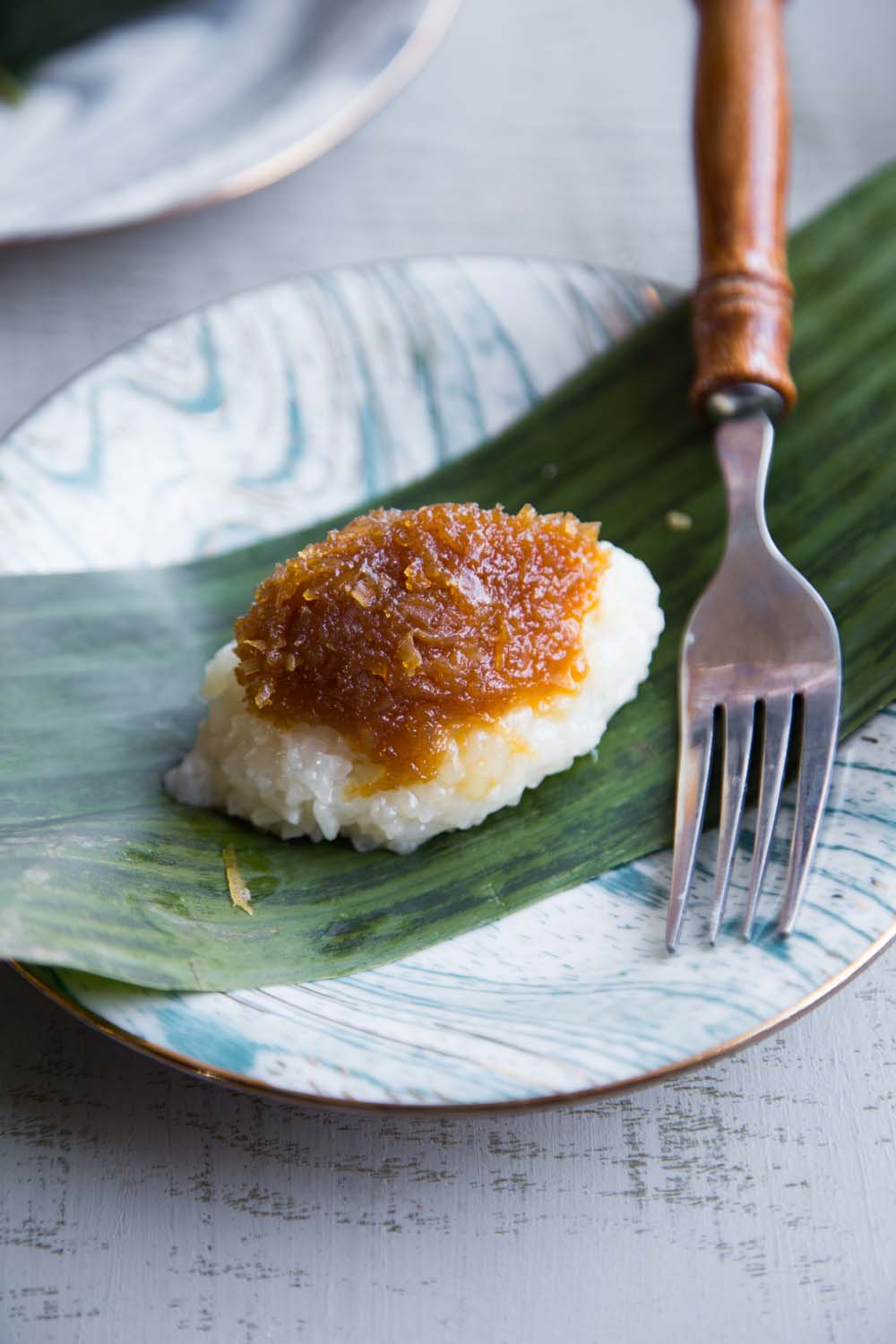 Nyonya Pulut Inti (Glutinous Rice with Sweet Coconut Filling)
Ingredients
The amount of liquid if steaming the rice:
The amount of liquid if pressure cooking the rice:
Instructions
Prepare the sticky rice:
Rinse the rice briefly with cold running water. Drain off water. If you plan to steam the rice on the stove, soak the rice for at least 4 hours or overnight. Strain off the soaking liquid after that. You DO NOT need to soak the rice if using a pressure cooker
If cooking on the stove:
Put the rice, coconut milk, water, salt, sugar, and pandan leaves on a steaming tray. Stir to mix everything. Steam over high heat for 25-30 minutes or until the rice are soft. Fluff the rice with a fork after that and set aside
If cooking with an Instant Pot pressure cooker:
Pour one cup of water into the inner pot of Instant Pot. Put the unsoaked rice, coconut milk, water, salt, sugar, and pandan leaves on a round pan. I use aluminum pan. Stir to combine and make sure the rice are submerge in the liquid to cook properly Place this on top of a trivet. Close the lid. Turn the steam release valve to "Sealing". Press "pressure cooker" and make sure it's on "high pressure". Set the timer to 30 minutes. When it's done cooking, wait 10 minutes and then release pressure. Fluff the rice with a fork and set aside
Prepare the inti topping (can be done a few days before):
If you use gula Jawa/gula Melaka, place the sugar in the saucepan and melt over low heat and then strain. Sometimes there are some impurities in the gula Jawa. You don't have to do this if you use coconut sugar

Mix all the ingredients for the topping. Place this over a medium-size skillet and stir-fry for over medium heat for about 2 minutes or so. The sugar will start to dissolve (if you use coconut sugar and granulated sugar combination) and the mixture will be "wetter". Stir fry again until the mixture is dry

Combine the cornstarch with water and pour into the inti and stir to combine. This helps everything bind together for easier wrapping later
To wrap:
Cut the banana leaves into about 5 x 6 inches. Scoop about 1/4 to 1/3 cup of rice and place on the middle of the leaves. You can make it bigger too if you like. I use a cling wrap to help me shape it "tighter" into an almost- pyramid shape. Topped with about 1-2 tablespoons of the inti. Bring one side of the banana leaf to cover the side and then the other side, exposing the inti topping in the middle. Fold both ends under to finish the wrapping. Refer to the photos above
To serve:
They are served warm or at room temperature
Notes
If you use desiccated coconut, use 125 gr and add 125 gr of coconut milk to cook to "rehydrate" the coconut
Recommended products:
Nutrition
Serving:
1
serving
|
Calories:
406
kcal
|
Carbohydrates:
46
g
|
Protein:
5
g
|
Fat:
24
g
|
Saturated Fat:
21
g
|
Sodium:
207
mg
|
Potassium:
242
mg
|
Fiber:
5
g
|
Sugar:
15
g
|
Vitamin C:
1
mg
|
Calcium:
17
mg
|
Iron:
3
mg