Yakisoba is a popular Japanese stir-fried noodles. Toothy wheat noodles are stir-fried with pork, vegetables and seasonings and served with shredded seaweed and benishoga (Japanese pickled ginger)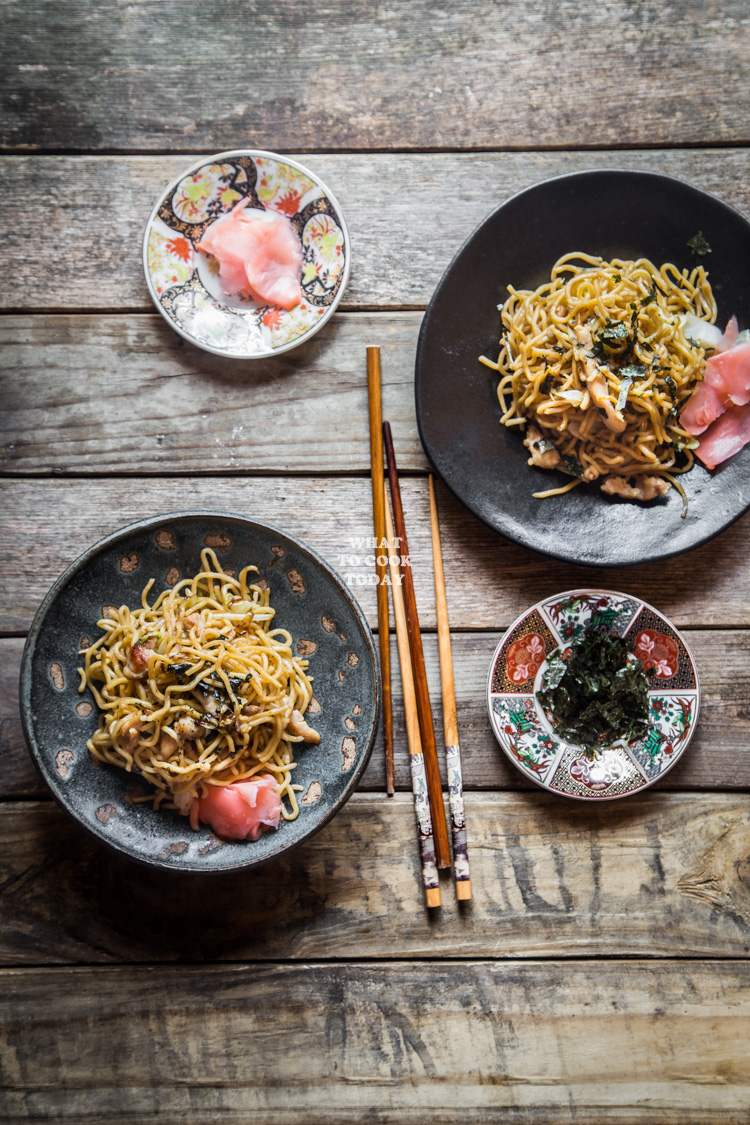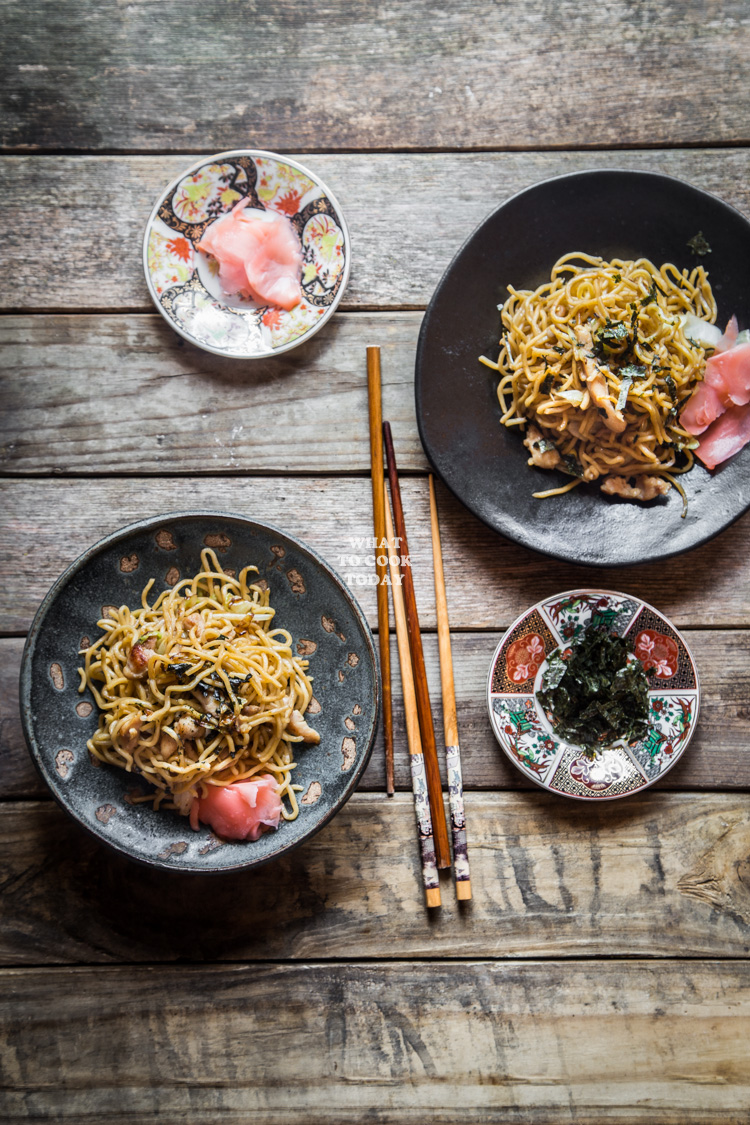 I remember how my brother often had those late-night hunger pangs in his teenage years. We would spend some time watching T.V. at night and my mom usually went to bed early. She was the earliest to rise every morning to get things started. But…she would wake up at 9 pm because she knew someone was hungry. She would make stir-fried noodles. In case you don't know, in Asia (at least where I grew up), making a stir-fried noodle dish is considered an "easy" dish to whip up. Ahh..mom is seriously the best!

My mom never made yakisoba before, but she did make stir-fried noodles similar to yakisoba before out of whatever she had left in the fridge. To be honest with you, that's also how I make most of my stir-fried noodles. I just use whatever I have in the fridge. It can be challenging sometimes when I have to measure things up so I can type up the recipe to share. Most of the time, I just drizzle in the sauce and taste 🙂
I got this Yakisoba recipe from Everyday Harumi cookbook by Harumi Kurihara (love..love that cookbook). The combination of Worcestershire sauce, oyster sauce and the chicken bouillon cubes makes this noodles really tasty. Harumi shared a little trick to make the noodle tastier. When stir-frying the noodles, don't add the sauce too early because it will make the fried noodles turn soggy. It is best not to cook too much at a time. If your skillet or wok is not very large, it may be easier to divide the ingredients and cook in batches. The recipe can serve 4 servings, I cooked 2 servings at a time.
Recipe is adapted from Everyday Harumi by Harumi Kurihara.
Easy Yakisoba (Japanese Stir-fried Noodles with Pork and Vegetables)
Ingredients
6

oz

pork shoulder

7

oz

cabbage

2

cups

bean sprouts

1

lb

yakisoba noodles (or any wheat or ramen noodles)

1

Tbsp

chicken bouillon

1

Tbsp

oyster sauce

5

Tbsp

Tonkatsu sauce

or Worcestershire sauce

4

Tbsp

cooking oil

Salt and pepper to taste
Garnishes:
Aonori (shredded nori seaweed)

Benishoga (red pickled ginger)
Instructions
Place some plastic wrap on a cutting board and spread the pork out on it. Cover the pork with another layer of plastic wrap and tenderize by hitting with a rolling pin. Take out of the plastic wrap and cut into 3.25 inch wide strips

Shred the cabbage into 1-inch strips. Remove the tail from the bean sprouts.Ensure that the cooked noodles are untangled and loosened

Mix together the chicken bouillon, oyster sauce, and tonkatsu sauce and set aside

Heat one tablespoon of oil in a wide skillet or wok and cook the pork, add the cabbage and bean sprouts in this order, frying them quickly on a high heat. While cooking add the rest of the oil as needed

Add the cooked noodles and fry until hot, then add the sauce and season with salt and pepper

Serve with a sprinkling of shredded nori seaweed and garnish with red pickled ginger on the side
*This post contains affiliate links. You don't pay extra as a consumer if you choose to click on the link and purchase from there. What To Cook Today just receives a small commission from this. That's all. It helps to pay for some of the cost to have this blog up and running. Thank you so much for your support !