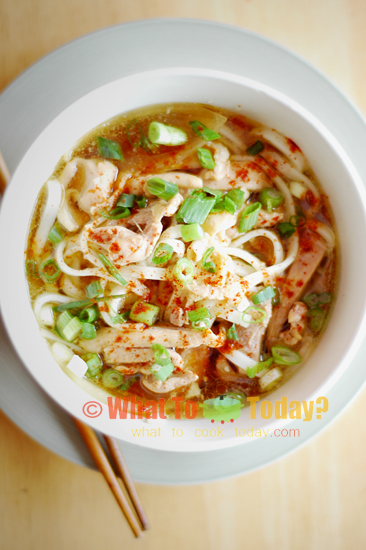 If you feel like eating a bowl of hot noodle soup in this chilly weather or even if the weather at your side is not chilly, as a matter of fact, it makes you sweat like a pig, make this noodle a choice of yours. Why? Easy to make and super delicious! I guarantee that you will eat it with lots of slurpy noise!!
Noodles are popular dishes in Asia, and Japan is no exception. If you hear someone eating his noodles noisily, non-stop slurping action, that's not a sign of bad manners. At least not in Asia. It is a sign of total contentment of what being served in front of him. What always made me so hungry when I watched the Japanese and Korean T.V. series was when the family got together to have a meal. The noodle dishes and the noises are irresistible.
I did make this dish with a little modification by adding onion into the broth as it makes the soup sweeter and more fragrant (IMHO). If you do decide to make this dish, you will find how easy it is to actually prepare a tasty broth and you will keep this recipe and remember it whenever you want a quick comfort fix.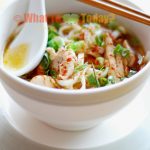 HOT NOODLE SOUP WITH SLICED DUCK
Ingredients
7

oz

duck breast with skin on

4

large scallions

about 4 oz

1

medium size onion

cut in half and into wedges and separate the wedges

2 ½

cups

dashi stock

⅓

cup

soy sauce

⅓

cup

mirin

7

oz

dried soba/udon noodles

I prefer udon, so I used udon noodles

Shichimi togarashi or chili pepper
Instructions
Cut the duck breasts into easy to eat slices and chop the scallions into pieces 3-3 1/2 inches long

Heat the dashi stock and then add the soy sauce and mirin. When it comes to a boil, add the onion wedges and cook until they are soft, then add the duck slices. Bring back to a boil, skim the surface of any scum, add the scallions and add cook for 1-2 minutes

Bring a large saucepan of water to a boil. Add the soba noodles or udon noodles (whichever you use) and cook according to the direction in the package

Drain the noodles and divide into two large serving bowls

Pour the hot dashi soup onto the noodles and divide the pieces of duck and scallions between the two bowls. Sprinkle with shichimi togarashi and serve