SHER PING PANCAKES / PAN-COOKED FILLED PANCAKE
Sher ping pancakes means pan-cooked filled pancake in Mandarin. I discovered this wonderful Chinese-style pancake from Jamie's America cookbook. As he traveled to New York Chinatown, he discovered sher ping pancakes at Roosevelt Food Court and the lady from Northern China taught him how to make sher ping pancakes.
Sher ping pancake may look like it's a bit complicated to make, but really, it is not. You just need more time to make the dough. Wrapping-wise is really pretty simple. The whole deal is worth mastering. When you bite into the crispy dough and discover the juicy and flavorful meat inside, you know you are in for the good stuff. It is really one of the best things I've ever eaten.
If you are feeling adventurous, you can even switch the filling around as you wish, instead of using pork, you can use chicken, beef, or seafood like prawns. I can see this with sweet fillings like jams too. That will make some great breakfast
SHER PING PANCAKES / PAN-COOKED FILLED PANCAKE (8 pancakes)
What you will need:
Dough:
3¾ cups white bread flour, plus extra for dusting
Scant 1 cup water
¼ cup vegetable oil
Sea salt and freshly ground black pepper
Filling:
14 oz ground pork
A handful of finely grated white cabbage
A small bunch of fresh cilantro, leaves and stalks finely chopped
A thumb-size piece of root ginger, peeled and finely grated
4 scallions, trimmed and finely chopped
1 clove garlic, peeled and finely grated
Sea salt
Freshly ground Szechuan pepper (Available at Asian grocery stores. If you can't find it, don't sweat it. You can use regular freshly ground black pepper)
Serve with:
Sweet chile or hot chile sauce
Soy sauce
2 limes, cut into wedges
Instructions:
Make the dough by mixing the flour, water, vegetable oil, a bit of pepper, and a pinch of salt with a fork. Then use your hands to knead it until smooth and elastic. Cover it with plastic wrap and let it rest for about 2 hours. I actually made this at night and let it sit until the next morning. You can do this to save time by doing some preparation the night before like I did
When you're ready to make the pancakes, mix all the filling ingredients together in a large bowl. Use your hands to really scrunch everything together, and season well with a good pinch of salt and Szechuan pepper
Dust a clean surface with flour and cut the dough into 8. Divide the filling into 8 equal portions. Oil a sheet pan or plate and your hands. Pick up a piece of dough and create a patty like a mini pizza about 4¾ inches across and ½ inch thick. Take one pile of the filling and pop it into the middle of the dough. Pat it flat with your palm, then slowly stretch the edges of the dough out, folding them back in over the pork mixture (see photos). Do this all the way around and, once closed, press down on the stuffed pancake with your palm It should be about 1 inch thick and 3¼ inches across. Do this with the rest of the 7 pancakes. Lay them on the oile sheet pan or plate and put them in the refrigerator for about 20 minutes or so
Get a large dry frying pan on a medium heat. Add a tiny drizzle of vegetable oil and lay each pancake, folded side down, in the pan. Gently push down on them with a spatula slice to flatten them slightly. Keep doing this until they're about ½ inch thick and about 4 inches wide. Be careful that the pan's not too hot though, otherwise your pancake will be brown before the filling is cooked through
After about 4 minutes, you'll have a nice golden color happening, so turn the pancakes over, push them down lightly, and cook them for 4 minutes on the other side. Only push down once on this side. When they're golden and crisp, the meat should be perfectly cooked, but you can always break one open to check if you're unsure
To serve, pour some chile sauce into a bowl follow by some soy sauce into another. Pop a few wedges of lime on the side for squeezing over, and dunk away in your sauces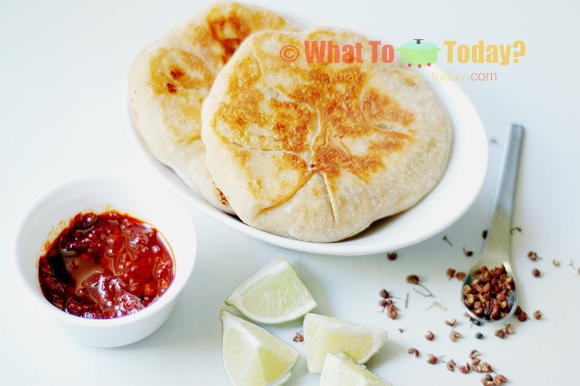 MORE DELICIOUS RECIPES HERE: