This tray-baked chicken with simple rub cooked with streaks of bacon and served with squashed potatoes and creamed spinach is an absolute a must-keep recipe. ALL in 30 minutes !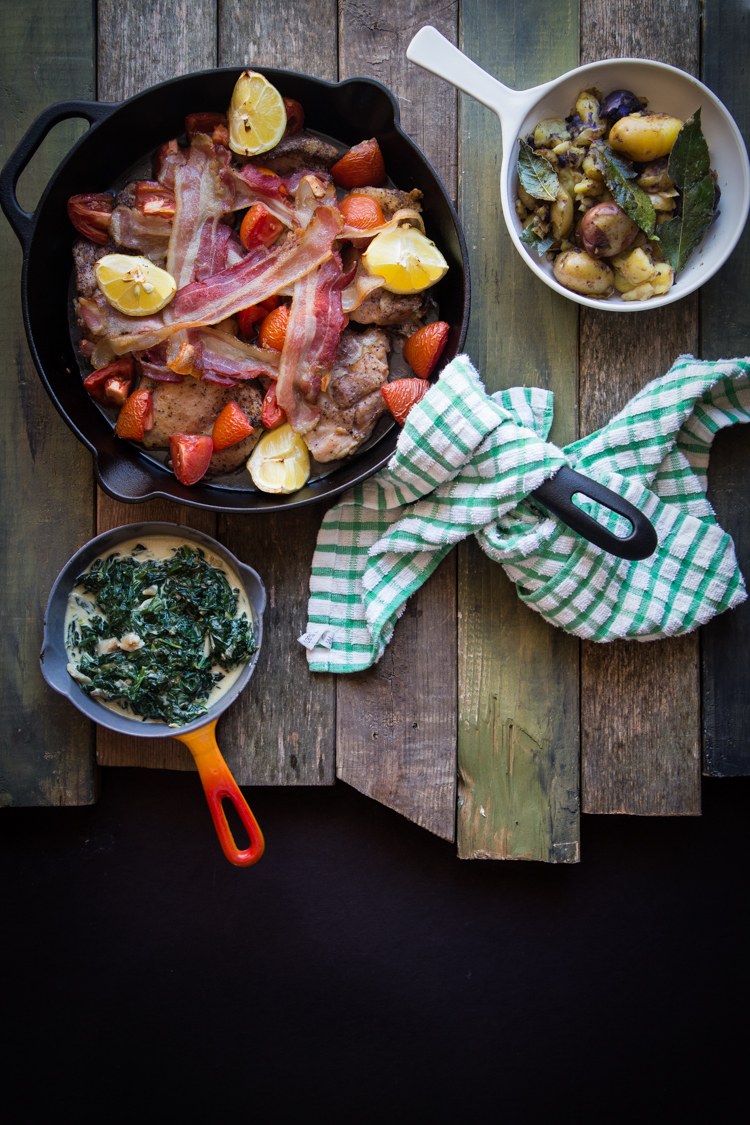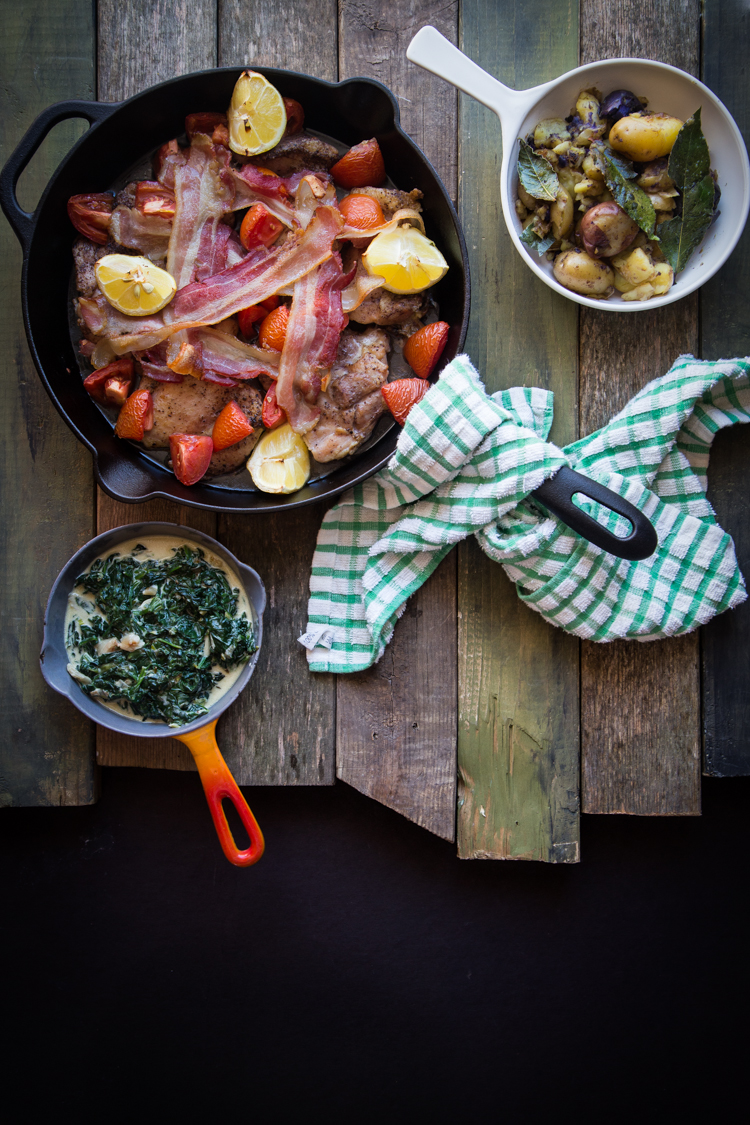 If you want to prepare a meal that completely satisfies everyone and not spending too much time in the kitchen, AND looks gourmet at the same time (wow…that's a lot to ask for isn't it?) ? Okay…ready ?
This is it!! These are the recipes you want to prepare. All in 30 minutes! Oh yes…you heard me!
*Ready for the oven

As usual, Jamie Oliver always has robust flavors infused in his dishes, yet they are always clean-tasting and not overwhelming. I like his style! The tray-baked chicken is highly delicious. With simple rub like oregano and paprika, the chicken is baked with streaks of bacon and fresh herbs like rosemary and cherry tomatoes. So simple yet the result is impressive.
Then you add the squashed potatoes, man!!! the potatoes are boiled and then pan-fried and seasoned with rosemary, bay leaves and garlic. It is out of this world! It is called squashed potatoes because the potatoes are burst and squashed during cooking. My kids love this squashed potatoes. You can definitely make this as a side dish to pair with other entree too.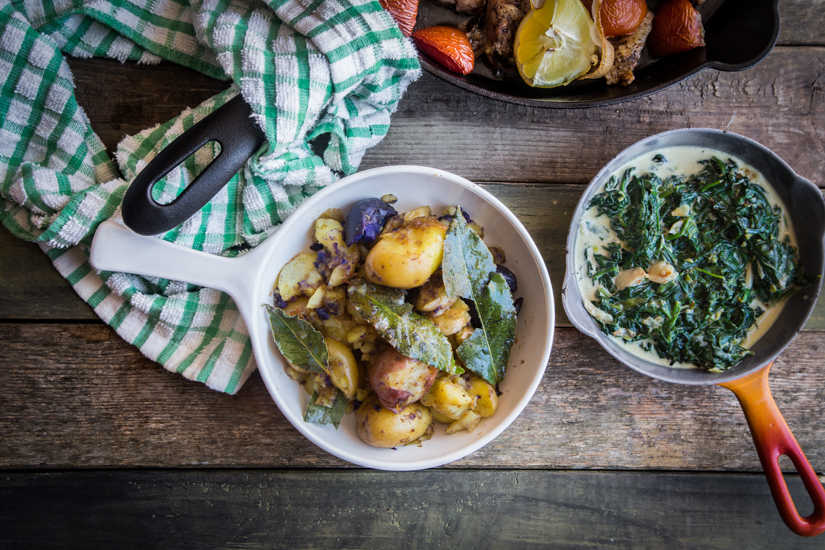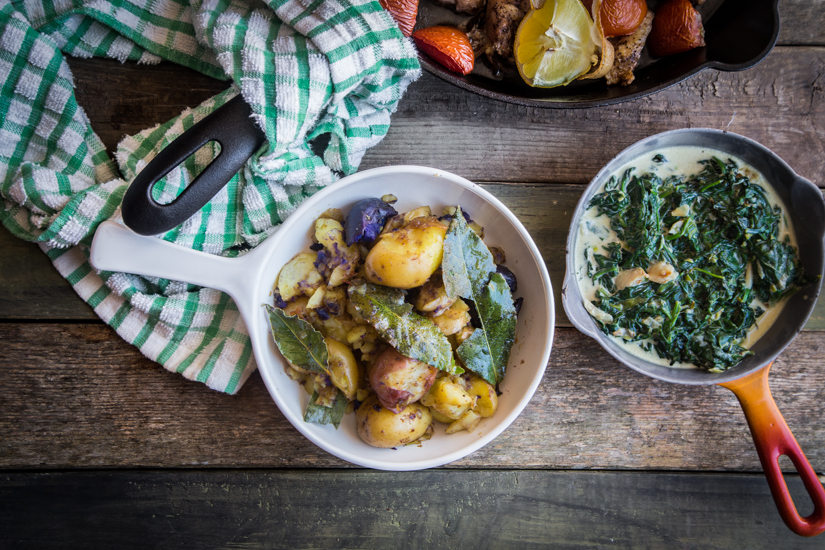 Of course, that alone is not complete without adding a vegetable dish, in this case creamed spinach. Unlike other creamed spinach I've eaten before, this is cooked with lots of spring onions, garlic and with hint of nutmeg then you add on that Parmesan cheese and heavy cream and you realize….wow….what a fabulous meal you've made yourself and family or guests. Thank you again Jamie Oliver!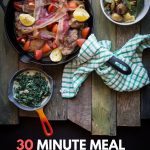 30-MINUTE MEAL: TRAY-BAKED CHICKEN, SQUASHED POTATOES AND CREAMED SPINACH (4 servings)
Ingredients
Potatoes:
1.5

lbs

(700 g) small red-skinned potatoes or new potatoes

A few sprigs of fresh rosemary

A couple of fresh bay leaves

6

cloves

of garlic
Spinach:
A bunch of green onions

3

cloves

garlic

A few fresh thyme tips

Pinch of nutmeg powder

A large knob of butter

14

oz

(400 g) prewashed baby spinach

½

cup

(100 ml) heavy cream

About 2 Tbsp Parmesan cheese
Chicken:
Dried oregano

Sweet paprika powder

4

of 6 oz

(180 g) skinless chicken breasts/thighs (I used thighs)

1

lemon

10.5

oz

(300 g) cherry tomatoes on the vine (if you can find some), if not just regular cherry tomatoes or grape tomatoes will do or roma tomatoes (quartered)

4

strips of smoked bacon

A couple of sprigs of fresh rosemary
Seasonings:
Extra virgin olive oil

Sea salt and black pepper
Instructions
Get all your ingredients and equipment ready. Put a medium saucepan on a medium heat, a large frying pan on a low heat and a large shallow pan on a medium heat. Preheat your oven to 375 F

POTATOES: wash the potatoes, then halve lengthways (or leave whole if using new potatoes) and add to the saucepan with a pinch of salt. Add in some water and let it boil for around 12 to 14 minutes, or until cooked through

SPINACH: Trim and finely slice the green onions. Add to the large shallow pan with a splash of olive oil. Crush in 3 cloves of unpeeled garlic. Pick in the leaves from a few sprigs of thyme, finely grate in 1/4 of a nutmeg and add the knob of butter. Leave to tick away for around 3 minutes, stirring occasionally

CHICKEN: turn the heat under the empty frying pan to high. Get out a large sheet of grease proof paper/wax paper. Sprinkle over a good pinch of dried oregano, salt, pepper and paprika, then drizzle over some olive oil and add a lug to the hot frying pan now too, along with the knob of butter. Lay the chicken pieces on top of the paper and roll them in the flavours. Add to the hot pan and fry for 4 to 5 minutes, or until golden on both sides. While this is happening, clear away the paper and wash your hands thoroughly with soap

SPINACH: pile the spinach into the pan with the green onions and leave to wilt. You may need to do this in batches but it will wilt quickly. Keep stirring so nothing catches at the bottom of the pan

CHICKEN: get out a nice roasting tray, then quarter the lemon and chuck it in the tray along with the tomatoes. Tip in the chicken and any juices from the pan. Use tongs to arrange everything nicely, then lay the bacon on top of the breasts. Put the frying pan back on a medium heat, add the sprigs of rosemary to the pan and move them around so that they get coated in the juices. Pop them into the tray where the chicken is. Put in the oven and bake for about 15-20 minutes or until chicken are cooked through and tomatoes are soft and juicy

POTATOES: check if the potatoes are cooked, then drain and let them steam dry for a minute or two in the pot you used for cooking. Add a couple lugs of olive oil, leaves from a few sprigs of rosemary and the bay leaves to the empty frying pan. Put the potatoes on top of the herbs in a flat layer, drizzle over some olive oil and sprinkle over some salt. Crush in 6 unpeeled cloves of garlic, then turn the heat up to high. Get a flat lid from a smaller pan and press down so you burst and squash the potatoes. You can squash them in big chunks and don't have to completely mashed them like mashed potatoes. Leaving it rustic, the way I like it. Leave to color, then toss after about 3 minutes and set aside

SPINACH: Pour in the cream. Turn the heat to low. Finely grate in the Parmesan cheese and stir to mix well. Turn off the heat. Set aside

Take the tray of chicken out from the oven. Make sure they are cooked through, then serve along with the potatoes and spinach. Tuck in baby!!
Notes
It's perfectly fine to use cast-iron skillet or any oven-proof cookware to bake the chicken. Less thing to wash too. I used cast-iron skillet and it turned out wonderful too
You might also like other Easy Recipes