30-Minute Meal: Spinach and Feta Phyllo Pie with Cucumber Salad – Layers of phyllo pastry are filled with nutty and cheesy spinach filling and served with refreshing cucumber salad.
I knew I couldn't go wrong when I chose to make Jamie Oliver's spinach and filo pie with cucumber salad from Jamie's 30-minute minute meals cookbook. I didn't make the dessert and the tomato salad which were also part of the 30-minute meals, however, just having this spinach and feta filo pie with cucumber salad alone so satisfying.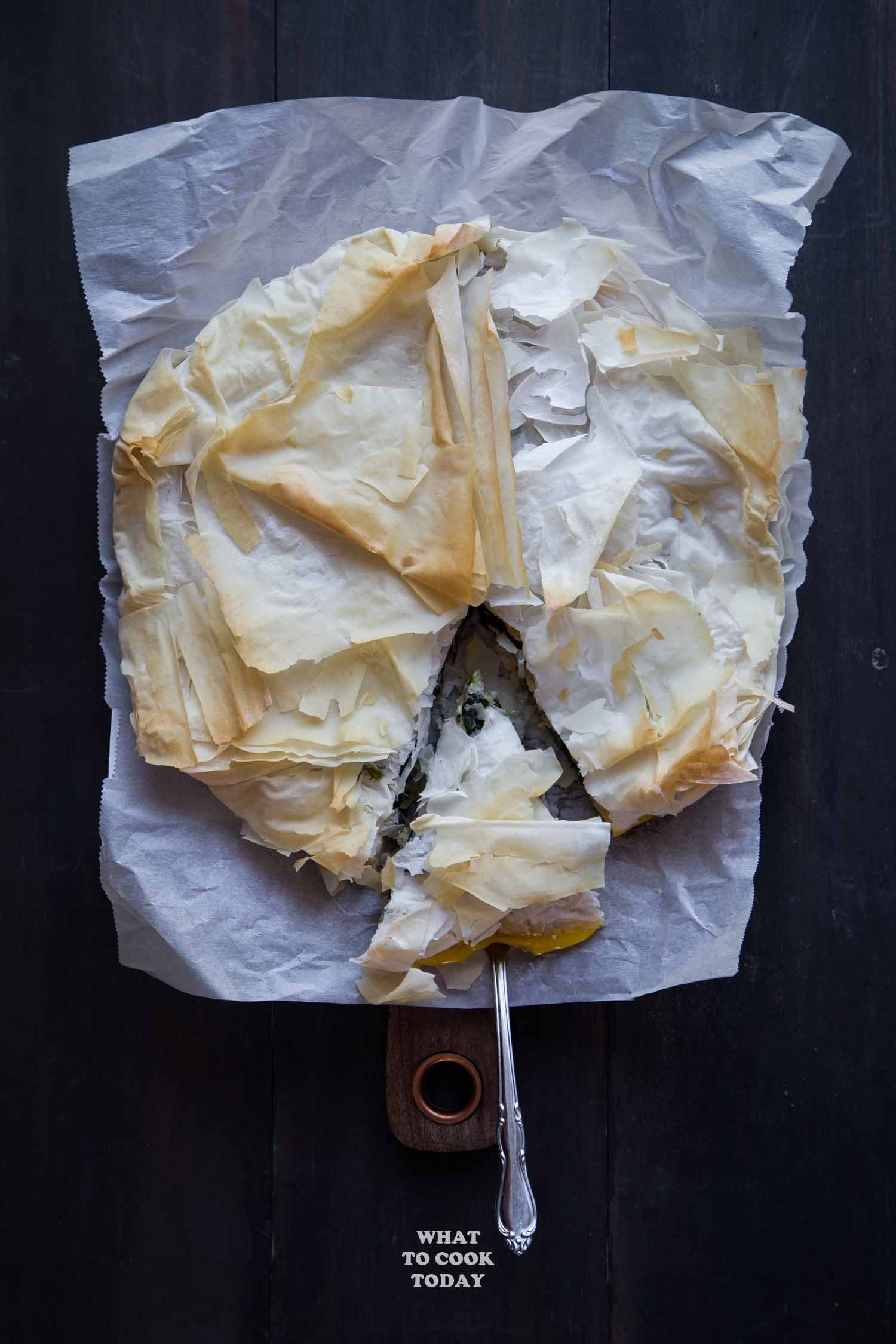 It is such a clever idea to use filo pastry as a crust (healthier too) because you still have a crunchy crust, yet light at the same time. The filling is made of eggs, spinach, cheese, pine nuts and flavored with oregano and nutmeg. So so good! I like the nuttiness (thanks to the pine nuts) when you bite into the pie. Have a picky toddler who won't eat veggie? aha…this may work too! *wink*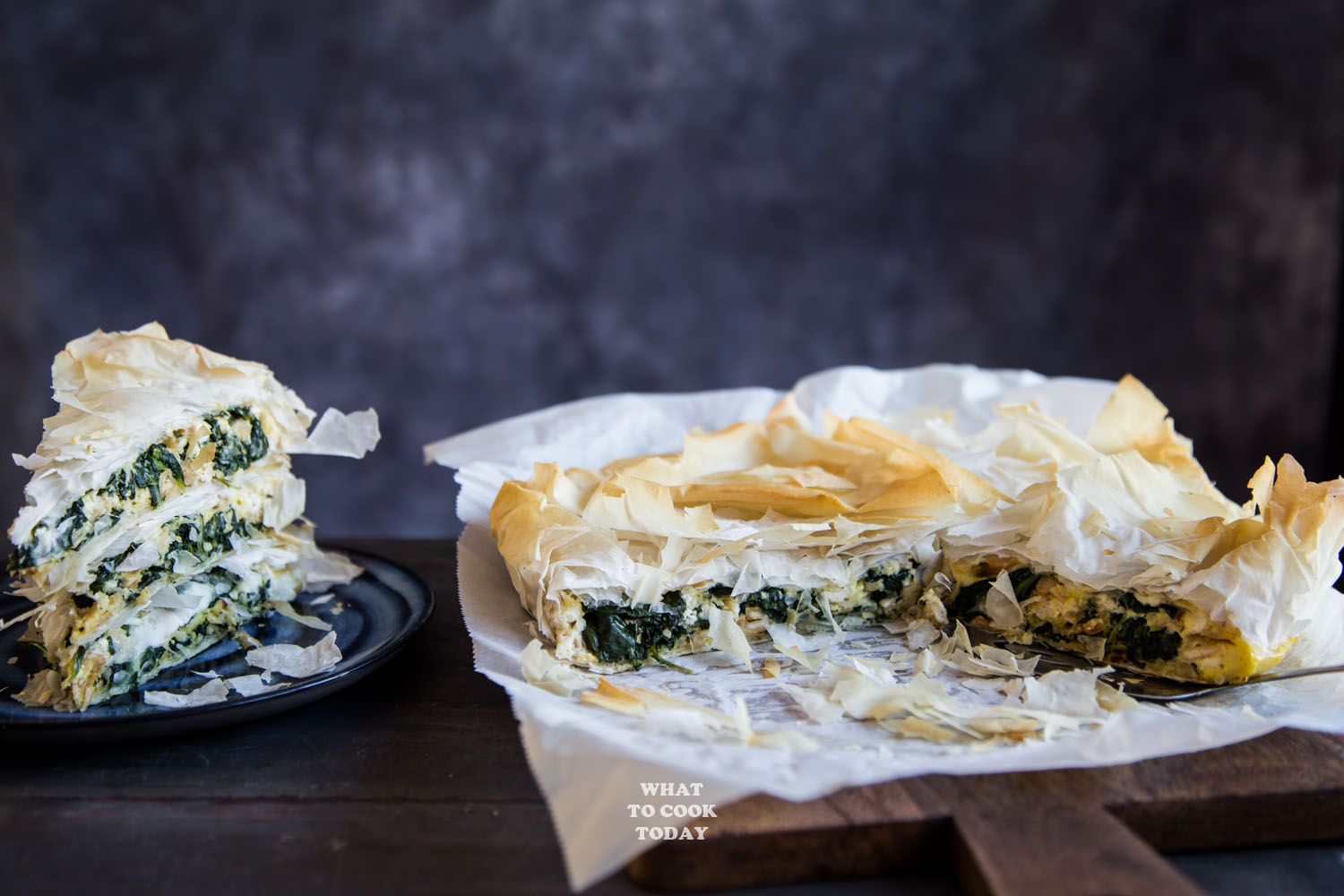 The cucumber salad (not shown in the photo) is very refreshing and healthy. It is especially great when cucumber is in season and you are not sure what to do with them. I thought it's gonna be weird having olives in the cucumber salad (because I'm not a big fan of olives, to begin with), however, it worked so perfectly. This spinach and feta filo pie with cucumber salad is another winner in our family and hopefully yours too.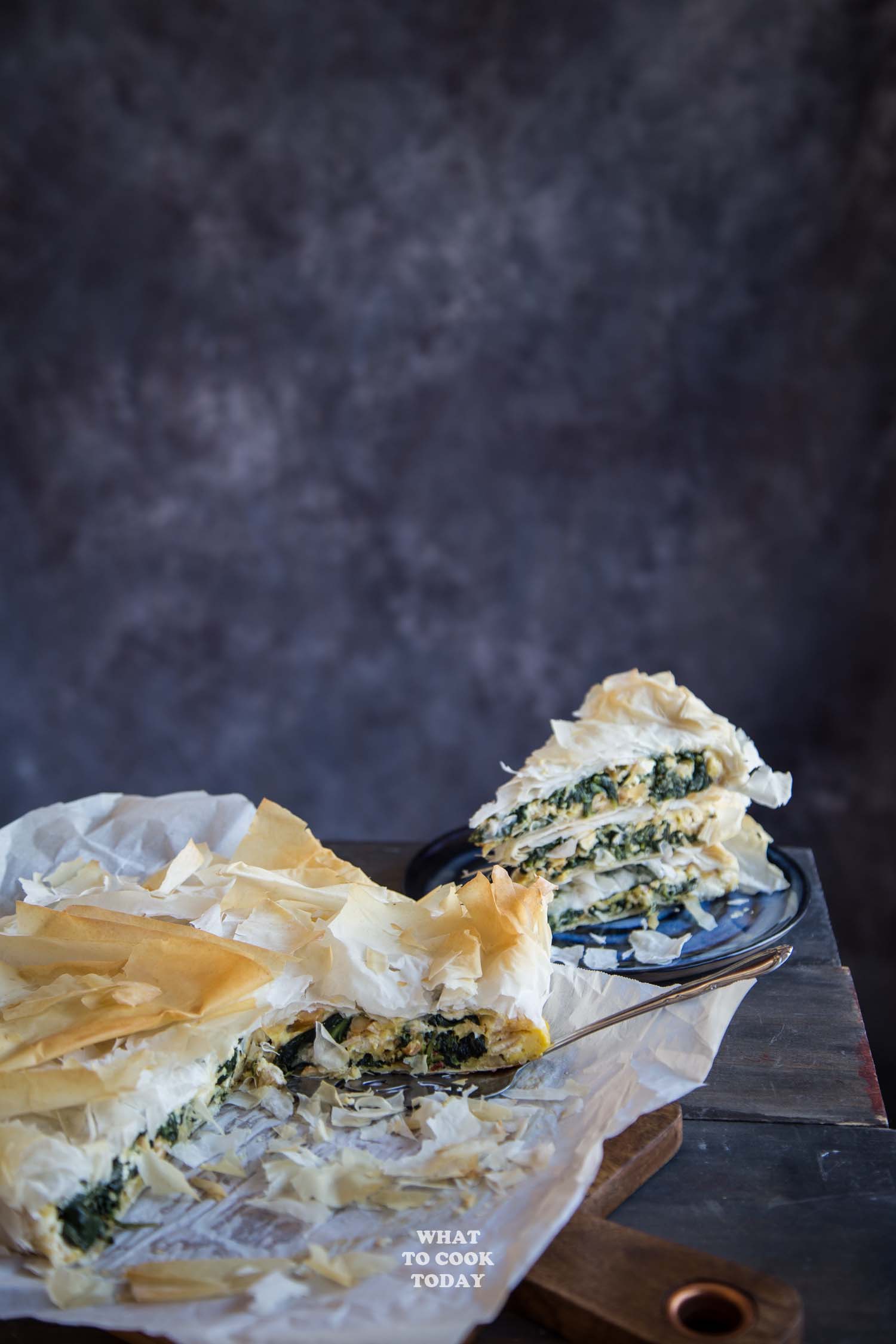 HOW TO MAKE GOOD SPINACH AND FETA FILO PIE IN A NUTSHELL
1. Preheat oven to 400 F. Toast the pine nuts for that extra flavor
2. Cook the spinach on a pan until all wilted and no liquid is visible
3. Filling: Beaten eggs are mixed with cheeses, pine nuts, and then cooked spinach
4. Filo pastry is layered on an oven-proof 10-inch skillet overlapping each other and the sides overhang
5. Pour the filling onto the filo pastry. Drape the overhanging filo pastry over it and bake for 20 minutes
6. Wait 5 minutes and then slice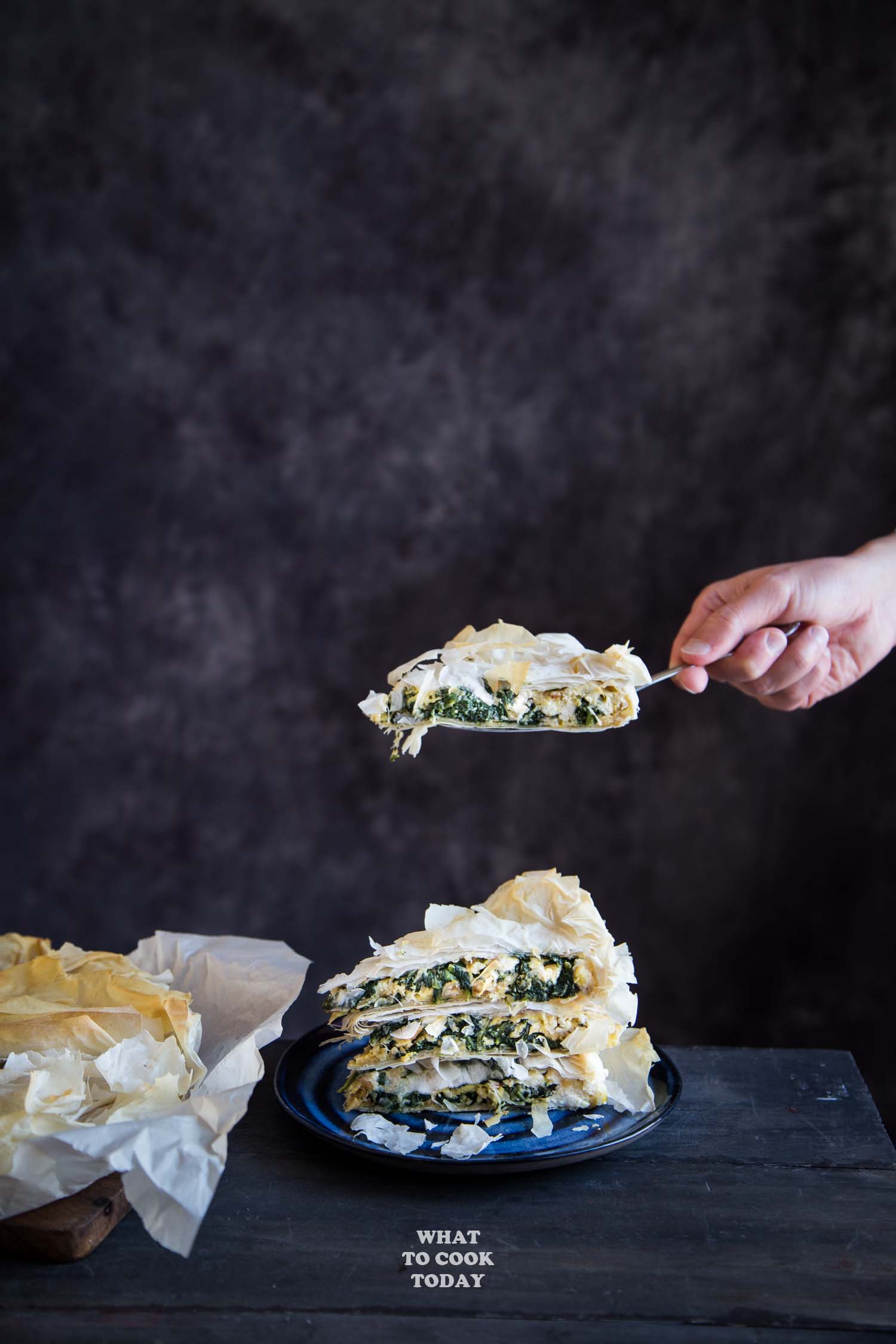 HOW TO REHEAT LEFTOVER SPINACH AND FETA FILO PIE ?
Once they are stored in the fridge, the filo pasty will soften. That's normal. Here are two ways you can reheat and the pastry will be as crispy as new:
1. Air fryer
Set temperature to 350 F and set timer to 5 minutes. If it's bigger slice, you may need a bit longer
2. Oven
Preheat oven to 350 F. Place the leftover spinach and feta filo pie on a baking sheet and let it bake for 10 minutes
*This recipe is updated and adapted from Jamie's 30-minute meals. I remade this for the 3rd time to update the photos. I did not make the cucumber salad this 3rd round, but you will love it if you do*
30-Minute Meal: Spinach and Feta Filo/Phyllo Pie with Cucumber Salad
Ingredients
Instructions
Prepare pine nuts, egg mixture, and cook spinach:
Get all your ingredients and equipment ready. Turn the oven to 400 F. Put a medium oven-proof frying pan (about 10 inches in diameter) on a medium heat

Put the pinenuts into the dry ovenproof frying pan to toast, tossing occasionally. Keep an eye on them. Crack 5 eggs into a mixing bowl and crumble in all the feta cheese. Grate in all the cheddar cheese. Add aromatics and 1 Tbsp of olive oil Once the nuts are lightly golden, add them to the egg mixture and mix well

Put the empty frying pan back on the heat, add 3 Tbsp of butter and pile in half of the spinach. Gently push and move it around and add more as it wilts down. Make sure it doesn't catch on the bottom and when there's room, start adding the rest, stirring frequently until wilted and water has evaporated
Assembling the pie:
Meanwhile, take the filo pastry out of the fridge. Get the oven proof pan (about 10 inch in diameter). Arrange filo pastry sheet on the pan overlapping at the bottom of the pan and edges, about 3 layers or so in thickness. The edges spill over. Gently push it down into the sides of the pan. Rub some olive oil over them. Sprinkle with a good pinch of salt and pepper. Repeat again with layering until you have 3-4 layers or until you use up all the filo pastry sheets. Don't worry about any cracked filo sheets. Remember to keep stirring the spinach

Once the spinach is really nice and dense, take the pan off the heat. Let it cool down a bit. Add the wilted spinach to the egg mixture. Mix well. Pour in the egg mixture and spread it out

Fold the filo sheets over the top and let them fall where they will. Don't worry about the "look". Put the pan back on a medium heat for about 2-3 minutes to get the bottom cooking, then put the pan into the oven on the top shelf to cook for 20 minutes or until the top is golden and crisp
Cucumber salad:
Run a fork down the length of the cucumber all around it, then halve and quarter it lengthways and cut the quarters across into 1/2 inch chunks. Put them into a mixing bowl and set aside

Drain 10 black olives and tear them into another bowl. Pour over 2 Tbsp of balsamid vinegar and push down on the olives so the vinegar start pulling out their saltiness. Trim and finely slice the spring onions, then add to the olives

Drizzle Tbsp of extra virgin olive oil and the juice of 1/2 a lemon into the olive mixture and stir really well. Deseed and finely slice 1/2 a red chili and add to the bowl of cucumber. Pick the leaves from the sprigs of mint, finely slice them and add to the cucumber. Pour over the dressing, toss quickly, drizzle over a little more extra virgin olive oil and take to the table
Serving:
Check on the pie and when it's ready, pull it out from the oven and let it cool down for 5 minutes and then carefully lift the paper up into a wooden cutting board to serve with your salad