I know you are going to freak out seeing this loooooong list of ingredients in the recipe. But let me tell you, the steamed rice cakes do not require much ingredients. You can go with all the toppings I put here or, to me, if I have either the savory shrimp toppings or meat toppings and the scallions, I'm good really! Traditionally, the banh beo also has the mung bean toppings, but I felt like I've done too many things late at night and so I just left the mung beans out.
Okay, now that I got that out before you close the browser, are we good ? 🙂 I got this banh beo recipe from a friend, Agnes whom I discovered on Instagram. She's an amazing mom who has been cooking all these delicious meals for her family. She was so generous to share this banh beo recipe of her, which I found so easy to follow and I made them successfully without any difficulties. Thank you so much Agnes. Now, I can use this same recipe to whip up my other favorite Singaporean dish calls Chwee Kueh (Water cake). Chwee Kueh is filled with sweet and savory pickled turnip. The cakes have the same consistency and taste as this banh beo.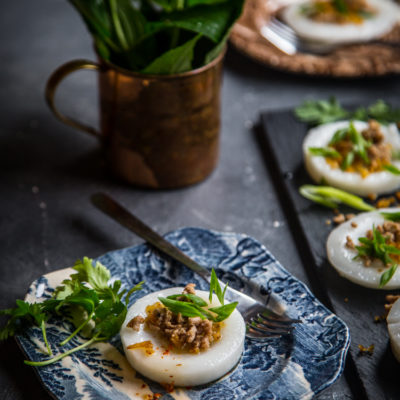 Banh beo (Vietnamese steamed savory rice cakes/Water-fern cakes) about 24 cakes
Ingredients
The batter:
150

gr

Rice flour

25

gr

Tapioca flour

25

gr

Arrowroot flour

substitute with another 25 gr of tapioca flour if unable to find

1/4

tsp

Salt

250

ml

water

500

ml

water

Bring to a boil & leave for 15 mins

2

tsp

cooking oil
Savory shrimp topping:
6

oz

of large shrimp

shelled and deveined

1

oz

of dried shrimp

soaked until soft

1

tsp

of cooking oil
Sautéed scallions:
3

stalks of scallions

chopped

2

Tbsp

of cooking oil

Cooked mung bean
Ground pork/chicken topping:
5

oz

ground pork/chicken

1

Tbsp

fish sauce

Small pinch of suager

1

Tbsp

cooking oil
Fish Sauce Dipping sauce / Nuoc Mam Cham:
2

red chilis

seeded if you like and finely chopped

2

Tbp fish sauce

1/4

cup

water

2

tsp

sugar

3

cloves

garlic

peeled and finely minced

1

tsp

rice vinegar

Juice of 1/2 lime

2-3

Tbsp

Radish and carrot pickles

optional-recipe below
Radish and carrot pickles (Ca Rot):
1

cup

julienned daikon/radish

1

cup

julienned carrot

3

Tbsp

sugar

1/4

cup

vinegar

1

Tbsp

salt
Instructions
Preparing Nuoc Mam Cham:
Place the water, vinegar and sugar in a small sauce pan, bring to a boil and then simmer until the sugar dissolves. Add in the rest of the ingredients. Let it cool and then store in a jar container in the refrigerator. It will keep for about a week
Preparing Ca Rot:
Use 1 Tbsp of salt and sprinkle over the carrot and radish. Rub the salt in and let it stand for about 15 minutes. Use your clean hands and squeeze the extra liquid out from the radish and carrot (you'll be surprised by how much the salt extracted the water out). Rinse with cold water and drain off. Place the vegetables in a glass jar or container. Add in sugar and vinegar. Stir to mix everything and store in refrigerator and let it marinate overnight
Preparing the savory shrimp topping:
Place the shrimp in a medium sauce pan and cover with just enough water and cook until they turn pink. Drained and roughly chop. Put them in a food processor along with the dried shrimp you have soaked and softened. Grind them into tiny pieces. Preheat a medium skillet with cooking oil and saute the shrimp mixture until they are dry and fragrant. Remove and set aside for later
Preparing the scallions:
Wipe the pan you use to cook the shrimp earlier. Preheat cooking oil and saute the scallions until they are soft
Preparing the pork/chicken topping:
Mix the ground meat with fish sauce and sugar. Leave it for 30 minutes. Preheat the same pan you use to cook scallions earlier with some oil. Add in the ground meat and saute them until cook through. Break the meat up with your spatula as you are cooking it. Remove from the heat into a bowl and set aside for later use
Making the cakes:
In a large bowl, mix together rice flour, tapioca flour, arrowroot flour & salt. Add 250 ml water and stir to mix. Add in the water which has been left 15 minutes after boiling. This step is very important. You don't want the flour to be cooked but you also don't want the water to separate from the flour, this method is to stabilize the flour and give each rice cake the dimple in the middle, like water ferns

Prepare your steamer by adding water. Water in the steamer needs to be boiling at all time during the steaming of the rice cake. This is very important

If you have individual condiments bowls, you can use them, or you can use mini muffin tins. Brush them with a bit of oil. Make sure you place these inside the steamer and let them steam empty for 1-2 mins, Then depending on the size of your bowls, spoon the batter to 3/4 of the bowls, ( It's easier to use measuring cup with pouts to pour the batter), close the steamer lid and steam on high for 5 minutes. I always give the batter a stir before I pour them into the bowls/cups

Leave to cool before either taking the cake out and arrange on a plate and or you can leave them in the bowls and then fill with toppings. I used a mini rubber spatula to remove them from the bowl without any issue

When ready to serve, sprinkle some savory shrimp, scallions, and ground meat toppings. Serve with the sauce and pickled radish and carrot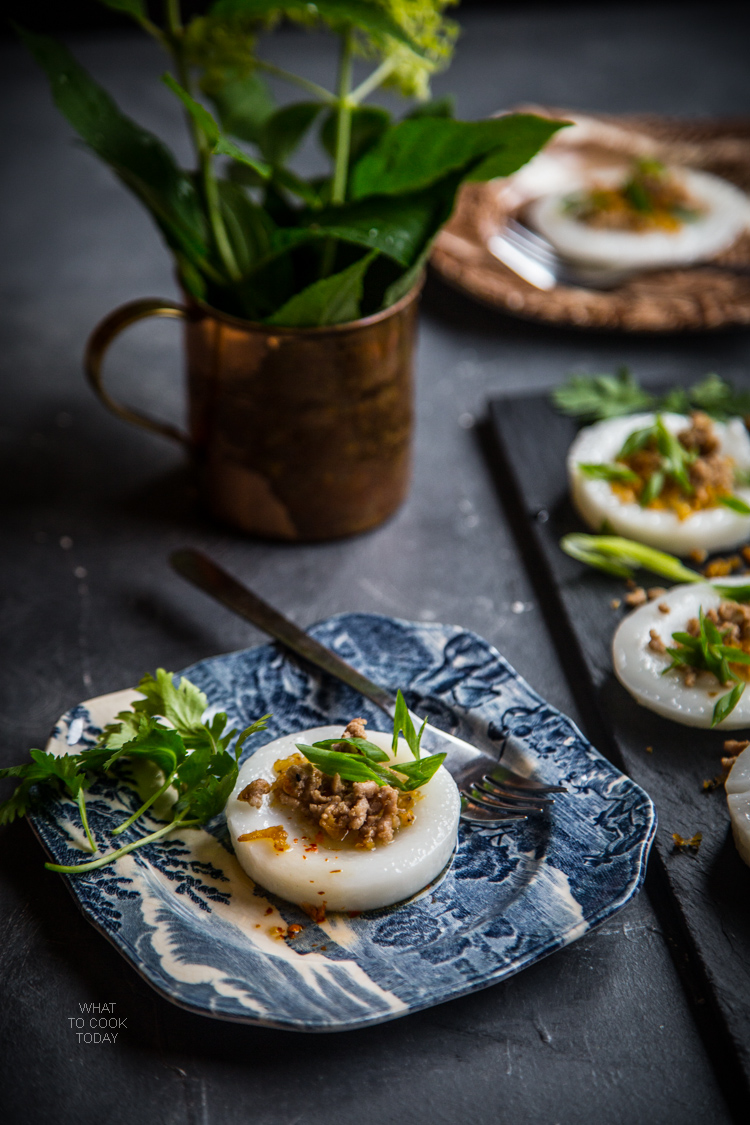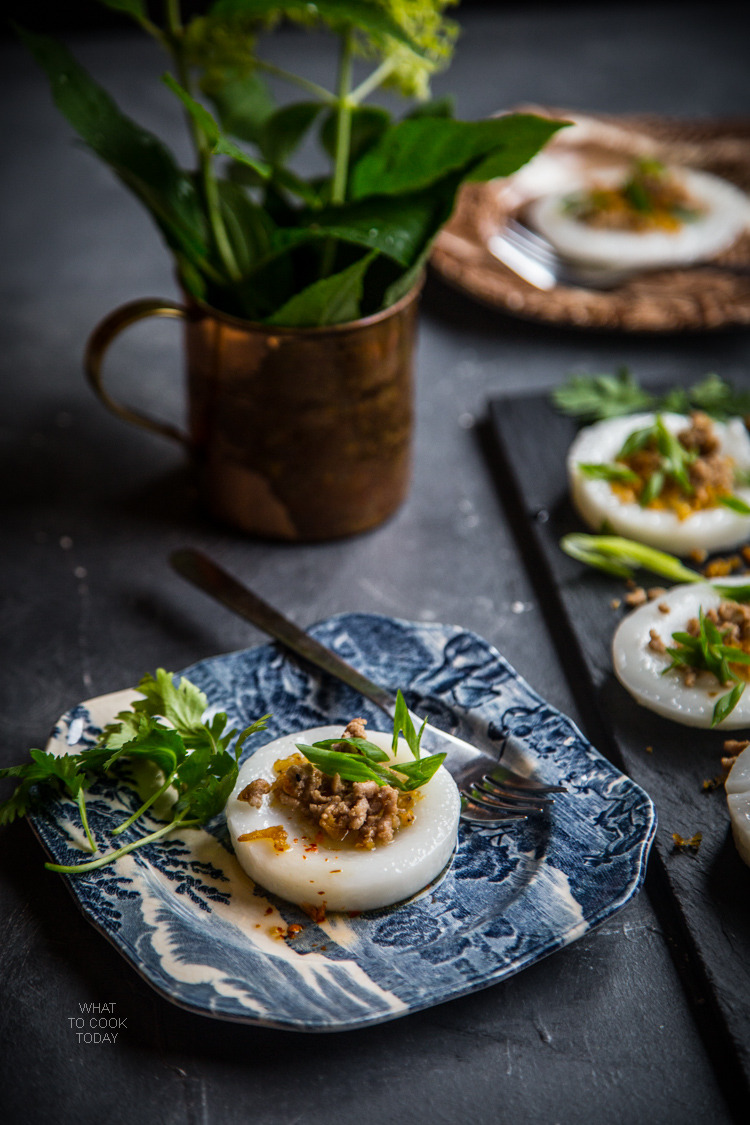 Eating them just reminded me of the first time I discovered this Banh Beo at Vietnamese grocery store. I thought those were good. Now…these are REALLY good!