Learn how to make this traditional Chinese dessert made with dried bean curd sheets, barley, ginkgo nuts in lightly sweetened soup. It can be cooked in a pressure cooker or on the stove.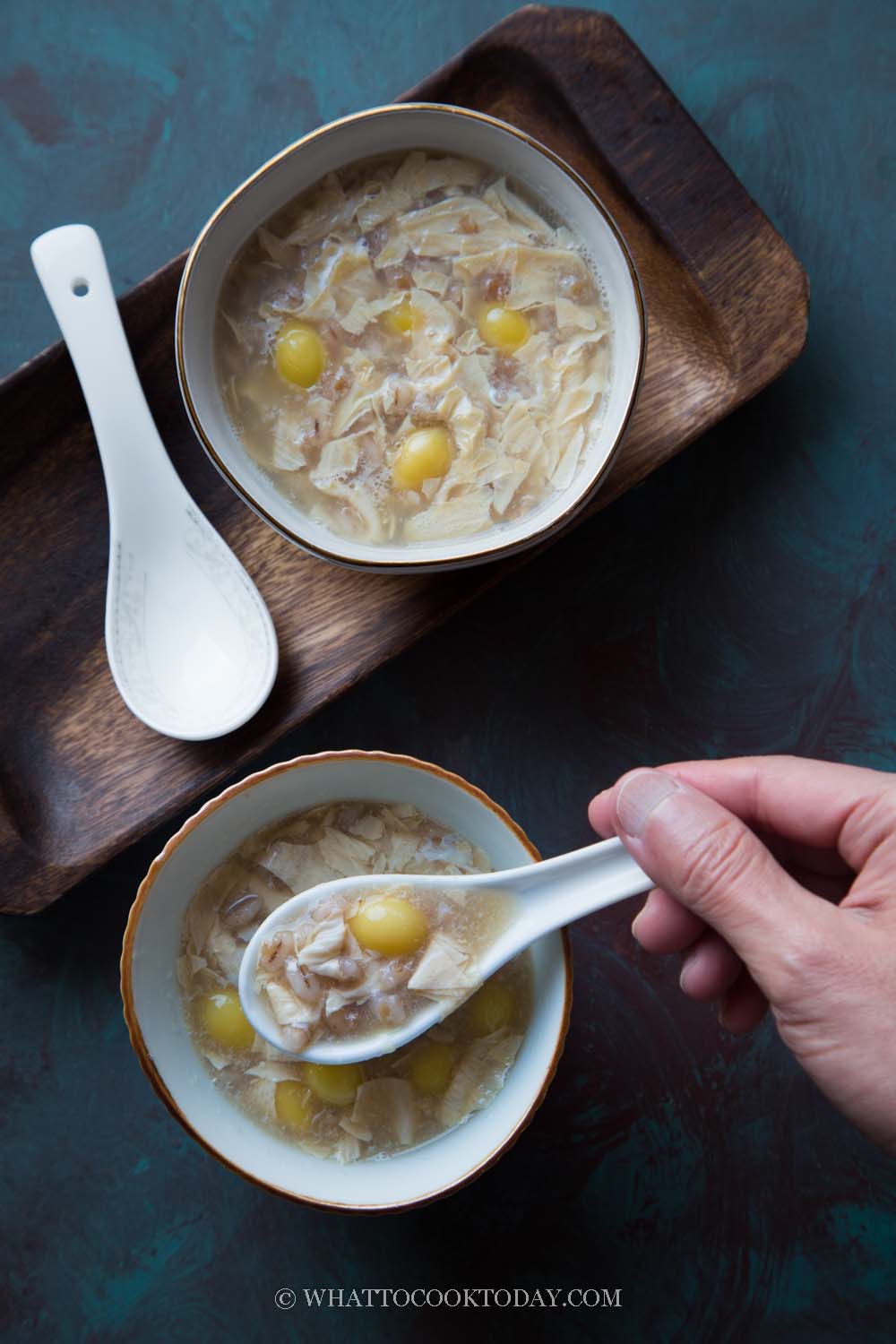 This barley ginkgo nut bean curd dessert (Fu Chuk Yi Mai Pak Koh Tong Sui) or some people call it fu chuk, in short, is one of my favorite tong sui. Fu chuk is actually Cantonese for dried beancurd. This dessert can be prepared casually for a tea-time snack or for auspicious celebrations such as Chinese New Year or for Chinese wedding ceremony.
Ingredients
Let's talk some of the main ingredients used in this recipe. Shown here are dried bean curd sheets, barley, rock sugar, and already-prepared ginkgo nuts from the store


1. Barley
I used hulled barley in this recipe. You can also use pearl barley or job's tears. Barley is considered a cooling ingredient in Traditional Chinese Medicine, which is perfect for the hot summer weather.
2. Gingko nuts (pak koh/white nuts)
Ginkgo nuts are another popular Chinese ingredient used in both sweet and savory recipes as well. They are called nuts, but actually, they are seeds. Preparing raw gingko nuts can be a pain. So I get the already-peeled and blanched gingko nuts that come in a vacuum pack from Asian grocery store. It saves me some time.


3. Dried bean curd sheets
Make sure you get the one suitable for cooking dessert. There is the thick hard type that is usually used in cooking savory dishes. You want to get the thinner softer type
4. Rock sugar
It is very common that you will see rock sugar being used in preparing Chinese dessert soup. They can be easily found in mostly any Asian grocery store. Rock sugar is less sweet compared to regular granulated sugar. Of course, if you can't get some, you can always use regular granulated sugar or sweetener of your choice

How to make barley ginkgo nut bean curd dessert soup
The step-by-step here is for using Instant pot pressure cooker or any multicooker
1. Soak beancurd sheets in water until soften. This shouldn't take very long

2. Discard water and tear them into smaller pieces


3. Pour water into the inner pot of the cooker. Add barley, pandan leaves (I actually forgot to add them LOL), and gingko nuts (if not using precooked ginkgo nuts like I did). Close the lid. Turn the steam release valve to sealing. Press "pressure cooker" and make sure it's on high pressure set the timer to 15 minutes and then natural release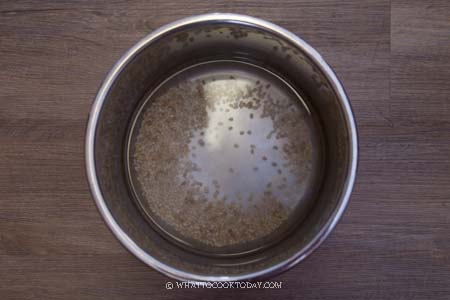 4. Carefully unlock the lid. Remove the pandan leaves. Turn to "saute" mode. Add beancurd sheets, pre-cooked ginkgo nuts, and rock sugar. Cook until the sugar dissolves. Have a taste and add more sugar as needed


5. Beat 2 eggs with fork and then slowly drizzle into the soup while stirring at the same time. Turn off saute mode. Serve warm or chill in the fridge before serving

I love mine warm, but in this hot weather, I don't mind it chilled either. Either way is good for me.

Variations
You can also add soymilk or evaporated milk for some creaminess. Pitted red dates/jujube can be added as well. Some people prefer to add only egg whites instead of whole eggs inside the soup.
How to store
Leftovers can be kept in the fridge for about 3-5 days. They are great served chilled. If you prefer warm, simply reheat on the stove or in the microwave.
Did you make this barley ginkgo nuts bean curd dessert soup recipe?
I love it when you guys snap a photo and tag to show me what you've made 🙂 Simply tag me @WhatToCookToday #WhatToCookToday on Instagram and I'll be sure to stop by and take a peek for real!

Barley Ginkgo Nut Bean Curd Dessert Soup (Fu Chuk/Foo Chuk)
Ingredients
50

gr

pearl barley

100

gr

ginkgo nut flesh

3

pandan leaves

knotted

10

cups

water

100

gr

dried beancurd sheets

100

gr

rock sugar

or to your taste

2

eggs

beaten
Instructions
Soak beancurd sheets in water until soften. This shouldn't take very long. Discard water and tear them into smaller pieces
If cooking with Instant Pot pressure cooker (or any multicooker):
There's no need to soak the barley. Rinse the barley in several changes of water. Discard the water.

Pour water into the inner pot of the cooker. Add barley, pandan leaves, and gingko nuts (if not using precooked ginkgo nuts). Close the lid. Turn the steam release valve to sealing. Press "pressure cooker" and make sure it's on high pressure set the timer to 15 minutes and then natural release

Carefully unlock the lid. Remove the pandan leaves. Turn to "saute" mode. Add beancurd sheets, pre-cooked ginkgo nuts, and rock sugar. Cook until the sugar dissolves. Have a taste and add more sugar as needed

Beat 2 eggs with fork and then slowly drizzle into the soup while stirring at the same time. Turn off saute mode. Serve warm or chill in the fridge before serving
If cooking on the stove:
Rinse the barley in several changes of water. Discard the water. Soak the barley in warm water for 1 hour

I use store-bought already-peeled and blanched ginkgo nuts so I skip this step. If you are preparing your own ginkgo nuts, put the nuts in a saucepan. Cover with some water, about one inch above the nuts. Bring water to a boil and cook for about 10 minutes. Drain off water and crack the shells and peel. Split the ginkgo nuts in half and remove the bitter cores

Bring 10 cups of water to a boil. Add pandan leaves, pearl barley and ginkgo nuts and cook for about 30 minutes or until they are soft

Discard the pandan leaves. Add beancurd sheets and rock sugar and continue to cook until the sugar dissolves. Have a taste and add more sugar to your preference if needed. Beat 2 eggs with fork and then slowly drizzle into the soup while stirring at the same time. Turn off the heat. Serve warm or chill in the fridge before serving
Recommended products: