Fish fillets along with aromatic spices and herbs are processed into a paste and then wrapped in banana leaves and grilled or steamed to perfection. You can also do the no-wrap version.

Otak otak/otah is well-beloved by the locals in Southeast Asia. Each country or even region has a variety on its own. This version I'm sharing here is more of a Nyonya-style otak otak, which is common in Malaysia and Singapore. They are spicy and have an orange hue to them. I made Indonesian otak otak a while back. I grew up with otak otak that is not spicy and white in color and served with peanut sauce. Some said that otak otak is originated in Palembang, which is well-known for its seafood dishes such as pempek/ mpek mpek. Otak otak in Palembang is served with cuko sauce, similar to the one served with mpek mpek.
Types of fish to use for otak otak
You can use Spanish mackerel, ikan kurau, cod fillet, threadfin, grouper, or other white fish fillet of your choice
Daun kaduk (wild betel leaves)
Nyonya fish otak otak is known to use these special leaves known as wild betel leaves (daun kaduk) that make it distinctive from other otak otak. Unfortunately, I can't find any daun kaduk here. So I just have to do without.
How to make Nyonya otak otak
I didn't make my Nyonya otak otak very spicy because of my kids. So that's why the color is not as vibrant orange in case you are wondering.
1. Soak the dried chilis in hot water until softened, about 15 minutes. Discard excess seeds. Place the rest of the spice paste ingredients in a blender and blend into a paste consistency. Set aside


2. Cut the fish into smaller chunks


3. Put them in a blender and process into a paste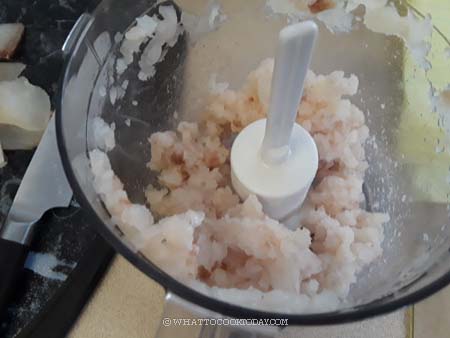 4. Add with the rest of the ingredients for fish paste and the spice paste you prepared earlier. Stir to combine into a paste consistency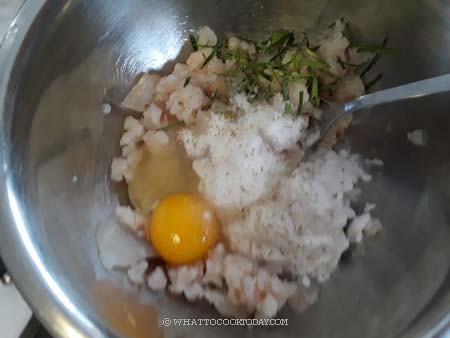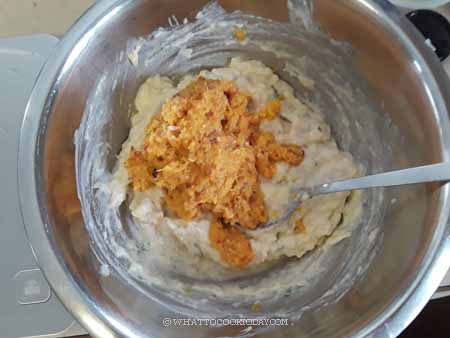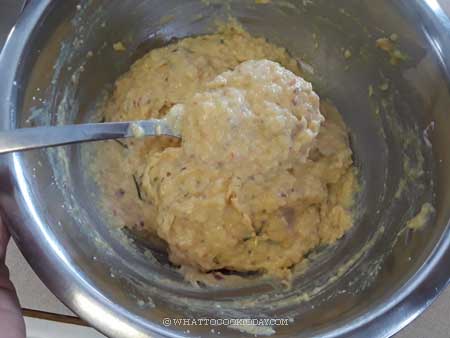 5. Place about 2 pieces of daun kaduk in the middle of the leaf if you use it. I can't find any here so I skipped. Pile about 2-3 Tbsp of the fish paste on top of the leaves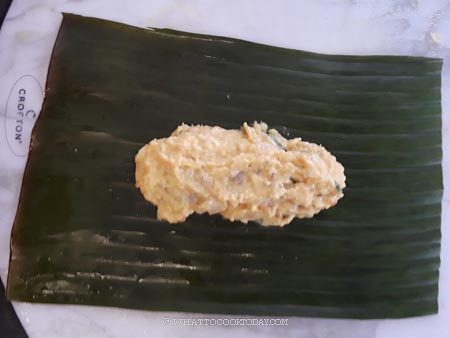 6. Fold the bottom and up over to cover the filling and then fold the two sides and secure with toothpicks on both ends. Repeat with the rest of the fish paste and banana leaves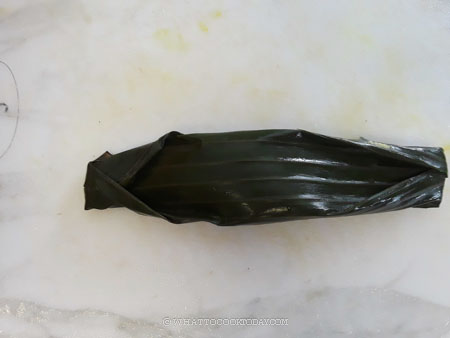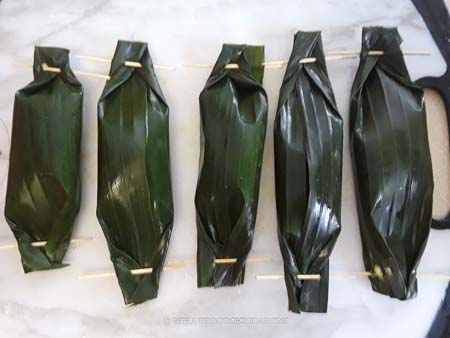 7. When ready to cook, you can steam the otak otak over high heat for 10 minutes or until they are cooked through. I grilled them on the pan. Preheat the pan until hot. Add a bit of oil. Arrange the otak otak on top and cook over medium heat until the leaves are slightly charred


8. Flip over and cook until the leaves slightly charred


9. Then drop few drops of water and cover with a lid. We will "steam cook" the otak otak to make sure they are cooked through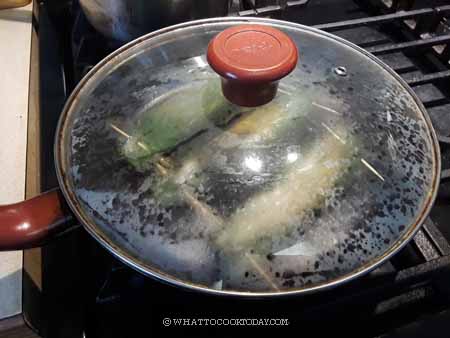 10. If you choose not to individually wrap the fish paste with a leaf, line a tray, about 7 x 7 inch or something similar. Line with banana leaves at the bottom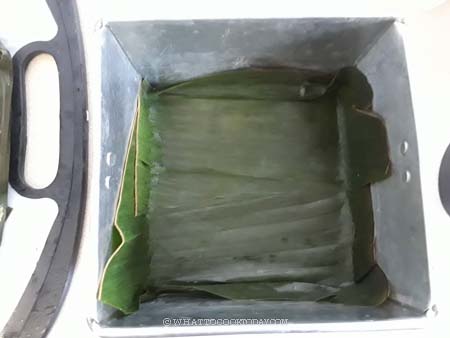 11. Spread the fish paste on top and smooth with a spatula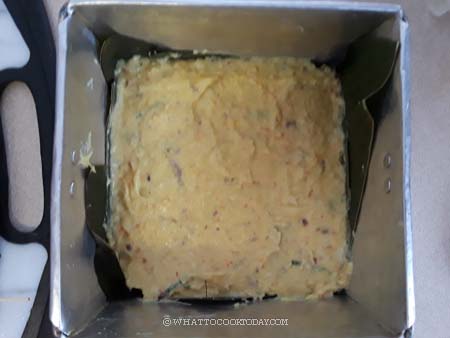 12. Steam over high heat for 15-20 minutes or until it's cooked through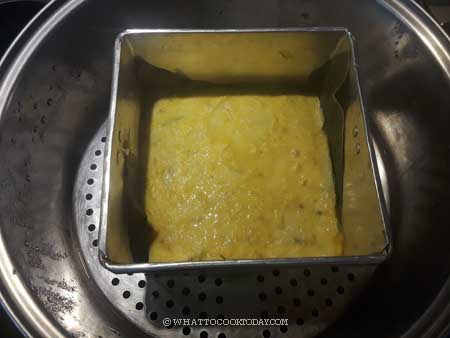 How to store leftover otak otak
They can be kept in the fridge for about 5 days. I don't recommend freezing the otak otak as the texture will change, making it more "grainy"
Did you make this Nyonya fish otak otak recipe?
I love it when you guys snap a photo and tag to show me what you've made 🙂 Simply tag me @WhatToCookToday #WhatToCookToday on Instagram and I'll be sure to stop by and take a peek for real!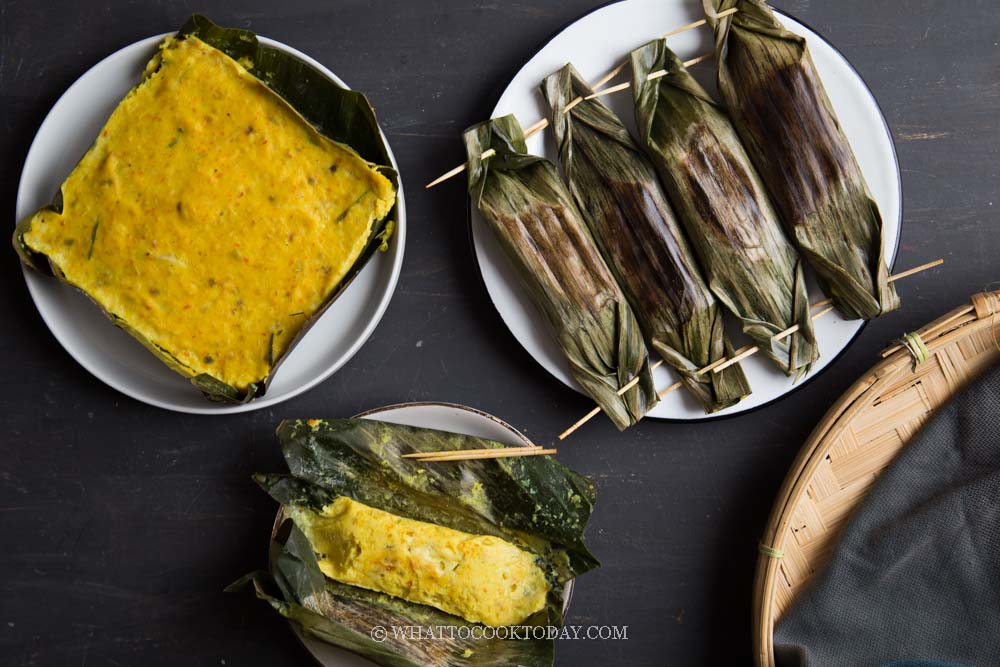 You may also like this Indonesian Otak Otak
Nyonya Fish Otak Otak (Fish Custard in Banana Leaves) - Steamed or Grilled
Ingredients
Fish paste:
500

gr

white fish fillet

see notes 1

250

ml

thick coconut milk

2

large

eggs

4

kaffir lime leaves

cut into thin strips

1

tsp

salt

1

Tbsp

sugar

2

Tbsp

rice flour

or more as needed
Spice paste:
10

dried chilis

2

red chilis

2

Thai chilis

3

stalks

lemongrass

white parts only, cut into smaller pieces. Set

1

inch

turmeric

or use 2 tsp turmeric powder

1

inch

galangal

or use 2 tsp galangal powder

5

cloves

garlic

10

shallots

¼

tsp

toasted belacan

or use 1 tsp shrimp paste
For wrapping:
10

pieces

banana leaves

20 x 16 cm (8 x 6 inches). See notes 2

20

pieces

daun kaduk (wild betel leaves)

Skip if you don't have any

20

pieces

toothpicks
Instructions
Prepare the spice paste:
Cut the banana leaves into about 20x16 cm size. Soften with hot boiling water and wipe them clean and dry. Set aside

Soak the dried chilis in hot water until softened, about 15 minutes. Discard excess seeds. Place the rest of the spice paste ingredients in a blender and blend into a paste consistency. Set aside
Prepare the fish paste:
Cut the fish into smaller chunks. Put them in a blender and process into a paste. Add with the rest of the ingredients for fish paste and the spice paste you prepared earlier. Stir to combine into a paste consistency
If you choose to wrap with banana leaves:
Place about 2 pieces of daun kaduk in the middle of the leaf if you use. I can't find any here so I skipped. Pile about 2-3 Tbsp of the fish paste on top of the leaves and then fold the bottom and up over to cover the filling and then fold the two sides and secure with toothpicks on both ends. Repeat with the rest of the fish paste and banana leaves

When ready to cook, you can steam the otak otak over high heat for 10 minutes or until they are cooked through

You can also cook them on a pan or grill pan. Preheat the pan until hot. Add a bit of oil. Arrange the otak otak on top and cook over medium heat until the leaves are slightly charred. Flip over and cook until the leaves slightly charred. Then drop few drops of water and cover with a lid. We will "steam cook" the otak otak to make sure they are cooked through
If you choose to not wrap with banana leaves:
Line a tray, about 7 x 7 inch or something similar. Line with banana leaves at the bottom. Spread the fish paste on top and smooth with a spatula. Steam over high heat for 15-20 minutes or until it's cooked through
Notes
You can use Spanish mackerel, ikan kurau, cod fillet, threadfin, grouper, or other white fish fillet of your choice
Have some extra banana leaves just in case you need them
Recommended products: