Upside-down cake was one of the thing I never baked before and when I baked Pineapple upside down cake for the very first time, I got hooked by how delicious and how easy it was actually to execute. I can definitely see why baking can be therapeutic to most people. It is therapeutic to me if the result turns out beautifully and it sure never fail to stress me out when it doesn't 🙂 But, I know my own skill with baking and somehow, part of me do prepare for the percentage of failing. Practice is the mother of skills too, so, here I was making another upside-down cake. This time it's the Caramelized blood orange Mandarin ricotta upside down cake. Try to say that very quickly 5 times !!! I used the same pineapple upside down cake and modified it a little. I love how it turned out!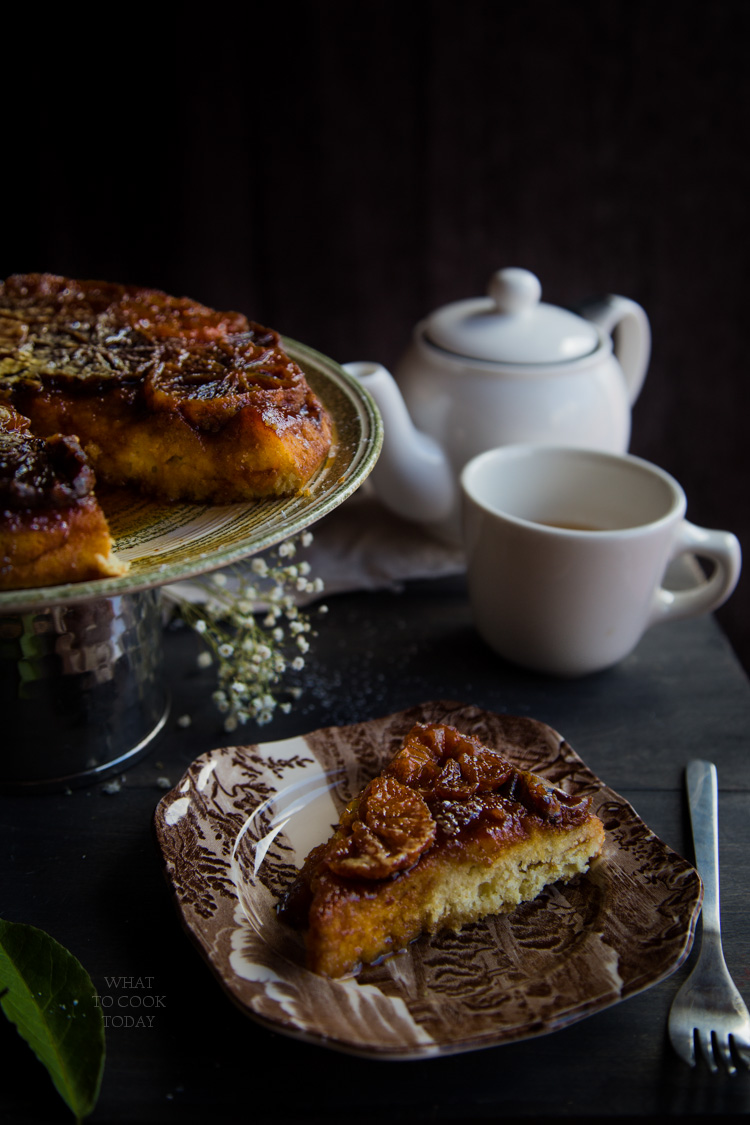 This post contains affiliate links that helps to pay for the grocery 🙂 Thank you for your support !!

For baking/ kueh making: I highly encourage to weigh ingredients with a digital kitchen scale instead of using measuring cups as they are not very accurate especially when it comes to recipe that requires precision.
GRAMS TO CUPS CONVERSION (UNSIFTED)
INGREDIENTS
1/2

cup

packed brown sugar

1/2

cup

unrefined organic coconut oil

-

divided

1/2

tsp

vanilla extract

2

medium blood oranges

2

small mandarin oranges

-

or you can just use 3 blood oranges instead

Non-stick cooking spray

1 1/4

cup

all-purpose flour

1/2

tsp

baking powder

1/2

tsp

kosher salt

1/4

tsp

baking soda

1/2

cup

ricotta cheese

2

Tbsp

of grape seeds oil or cooking oil of your choice

2/3

cup

granulated sugar

2

large eggs
INSTRUCTIONS
Preheat your oven to 350 F. Combine the sugar, half of the coconut oil and vanilla extract in a large skillet. Cook until sugar dissolves and coconut oil melted (if it's solid when you use it) and stirring frequently. Cook until the sugar started caramelized, but be careful not to burn them

Cut off the top and the bottom of the orange so it can sit on a cutting board now. Use a knife to cut off the peel following the curve of the orange. Cut the orange crosswise into about 1/4-inch slices. You can easily peel the skin off the Mandarin oranges and slice crosswise like the mandarin oranges

Spray the 9-inch pan with non-stick cooking spray. Arrange the blood orange and Mandarin orange slices in single layer in the bottom of pan and pour the caramelized sugar mixture over the pan and swirl the pan to coat the bottom evenly

Combine the flour, baking powder, salt, baking soda and stir to mix thoroughly. If the coconut oil is solid, briefly melt it and then pour in the bowl, add in ricotta cheese and grape seeds oil and whisk it. In another bowl, add in eggs and sugar and beat with a mixer at high speed until it is light and fluffy

Reduce the speed and add in flour mixture and then alternating with ricotta cheese mixture until you ended with flour mixture. Spoon this batter over the pineapple in the pan and spread evenly. Pop into the oven and bake for about 40 minutes or longer (you know your oven better) until tooth pick inserted in the center comes out clean. Let it cool in the pan for about 15 minutes on a wire rack. Run the knife at the edge of the pan to help loosen the cake. Cover the pan with a plate and invert the plate over and there you go.....caramelized blood orange Mandarin ricotta upside-down cake is waiting for you 😉
You definitely don't need the powdered sugar, but I just wanted to capture a shot of me sprinkling the powdered sugar 🙂