Learn how to make homemade har gow with soft and slightly translucent skin from scratch with this easy method. All the tips you need to know.

Our little boy could polish off 6 large har gow whenever we went for a dim sum. He absolutely loves har gow. Shrimp Har gow is sometimes called as shrimp bonnet for its pleated shape. Traditionally, har gow should have at least seven and preferably ten or more pleats imprinted on its wrapper. I still need to practice on the pleating, as mine isn't the most traditional looking har gow. Bite into this little dumpling, you will taste the sweetness and slightly "crunchy" from the shrimp. So good people! I love it and glad to know that it is very easy to make once you master how to make the wrapper from scratch.
THIS IS IT FOR ME
I have actually failed at least 6 or 7 times with different kinds of flour combinations to make the wrapper to achieve the one that is similar to the dim sum place. Practice makes perfect for sure. The first few times I made these, the dough broke often and I couldn't even properly wrap or pleat the dough.
THE MOST CHALLENGING PART IS IN MAKING THE WRAPPER
The skin of har gow is made from wheat starch (more about it below) and cornstarch for this recipe. I've tried a combination of wheat starch and tapioca starch and played with the ratio between wheat starch, cornstarch, and tapioca starch to come up with the recipe I posted here. I don't quite like using tapioca starch in this recipe because I found it too chewy and the skin is not as soft
WHY YOU WILL LIKE THIS RECIPE
1. THE DOUGH IS EASY TO WORK WITH
Which is really the most important thing in making har gow. The starches use in this recipe has no gluten (or very little if at all), which means, they do not stretch and break easily when you try to wrap or work with it. This dough is so elastic and easy to work with
2. NO FANCY TECHNIQUE OR EQUIPMENT
I used to use tortilla wrapper to press the dough really thin, but that's really not necessary, in fact, you don't want to do that. I've also tried using a Chinese cleaver to flatten the dough into a circle, which worked, but I know not everyone has a cleaver or comfortable with that method. You only need a small rolling pin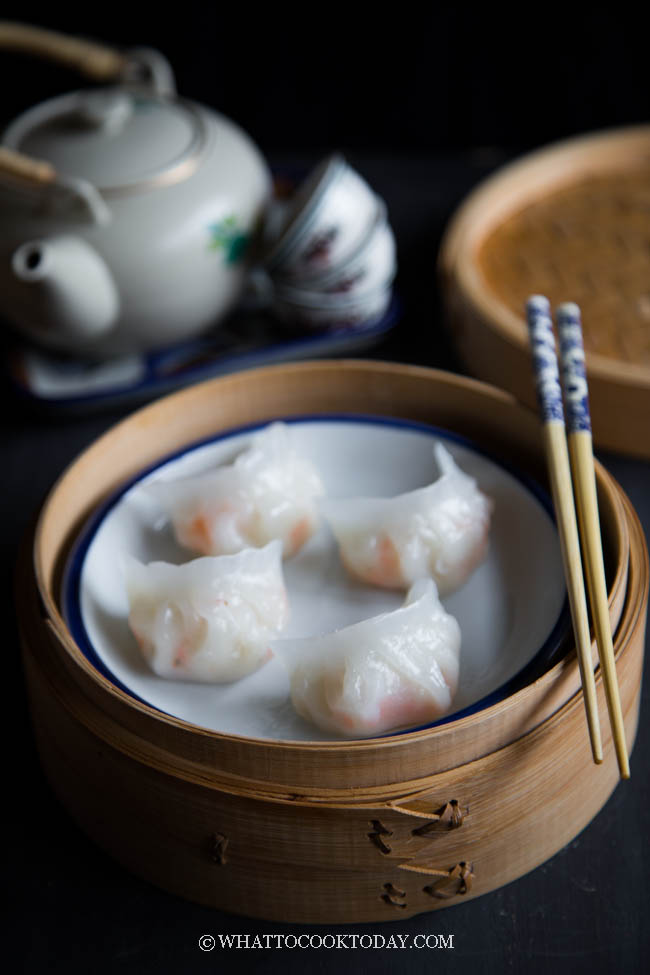 What is wheat starch?
Are wheat starch and wheat flour the same? Chinese wheat starch or known as 澄粉 (teng fen). It is different from wheat flour. I know I've mentioned that Asian use the starch and flour interchangeably most of the time, but in this case, wheat starch and wheat flour are different. The starch is a very fine powdery feeling and almost has no more gluten (I'm not sure exactly how much gluten, if at all) in it compared to wheat flour.
Is there a substitution for wheat starch?
No, not with this recipe unfortunately. Wheat starch is not replaceable for har gow dough.
HOW TO MAKE HAR GOW WRAPPER FROM SCRATCH
1. Mix the wheat starch, cornstarch, and salt in a heat-proof mixing bowl


2. Bring some water to a boil (MAKE SURE IT'S ROLLING BOIL)
This is one of the important keys in making the dough elastic. If the water is not hot enough, the dough will break


3. Pour the hot boiling water in and use a spoon or wooden/rubber spatula to stir. It will be really sticky at this point. Keep stirring until it roughly comes into a rough dough. Cover tightly and let it rest for 2 minutes so it won't be too hot for your hands to knead later


4. After 2 minutes, uncover and continue to knead until it almost comes into a smooth dough


5. Add the oil and continue to knead until the dough is smooth and absorbs the oil.

The dough can even be stretched without breaking. Continue to the next step, wrap the dumplings

HOW TO WRAP HAR GOW
1. It's best to work with the dough when it's warm. Roll the dough into a long log


2. Divide it into 28 equal pieces (if you make full recipe)


3. Roll into round balls and keep them covered and work with one at a time


4. Flatten the dough with your palm


5. Use a rolling pin to roll the dough out into about 4-inch circle, with the edge thinner than the center. The center helps to support the filling so it won't tear when you steam. Don't worry if it's not a perfect circle, just do your best


6. Place the filling in the center and then fold as if you are holding a taco


7. Start pleating on one side, about 7-9 pleats if possible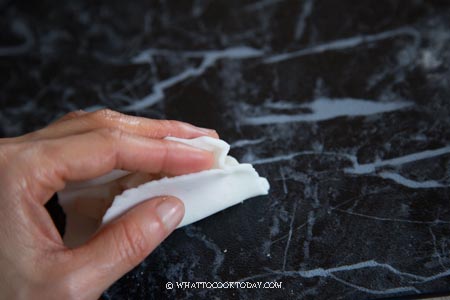 8. Then pinch to seal with the other side.

9. Use kitchen shears to trim off the excess wrapper on top to make it neat and then pinch again to make sure the top is sealed. Repeat with the rest. Proceed to either steaming or freezing for storage

HOW TO STEAM HAR GOW
1. Bring the water in the steamer to a rolling boil. Place them on a greased plate


2. Place the plate in the steamer and steam over high heat for 5 minutes. Serve warm

HAR GOW CAN BE MADE AHEAD
Place the har gow on a baking sheet lined with parchment paper, not touching each other. Put in the freezer for 1 hour. They won't be completely frozen yet. Transfer to a freezer bag and they won't stick to each other anymore. When ready to serve, they go straight from frozen to a steamer and steam over high heat for 6-7 minutes or until they are heated through.

IMPORTANT TIPS TO SUCCESSFULLY MAKE HAR GOW AT HOME
1. Make sure the water is rolling boil: I can't stress enough the importance of making sure you are using hot boiling water and not just warm water. The hot boiling water will "cook" the dough and make the dough elastic in the end and easy for you to work with
2. Work with the dough when it's still warm: Though I didn't have much trouble working with this dough after it has cooled down to room temperature, but the longer you wait, the higher chance the dough will crack when you try to wrap. So it is best to work with it right away
3. Roll the dough thinner on the edge and thicker in the center: This helps to support the weight of the filling in the center so they won't tear when you steam them
POSSIBLE VARIATIONS
You can definitely play with the filling. Make it vegan or vegetarian by using tofu, vegetables like leeks, chives, or use mushrooms like shiitake. You can also use meat filling like ground beef, chicken, or pork, or even use leftover rotisserie chicken or that Thanksgiving turkey, just some ideas.
It does take some practice to create some pleats on the dough, but if you can't be bothered by that, simply fold in half and seal it. You will still have tasty dumplings I can assure you of that!

DID YOU MAKE THIS HOMEMADE HAR GOW RECIPE?
I love it when you guys snap a photo and tag to show me what you've made 🙂 Simply tag me @WhatToCookToday #WhatToCookToday on Instagram and I'll be sure to stop by and take a peek for real!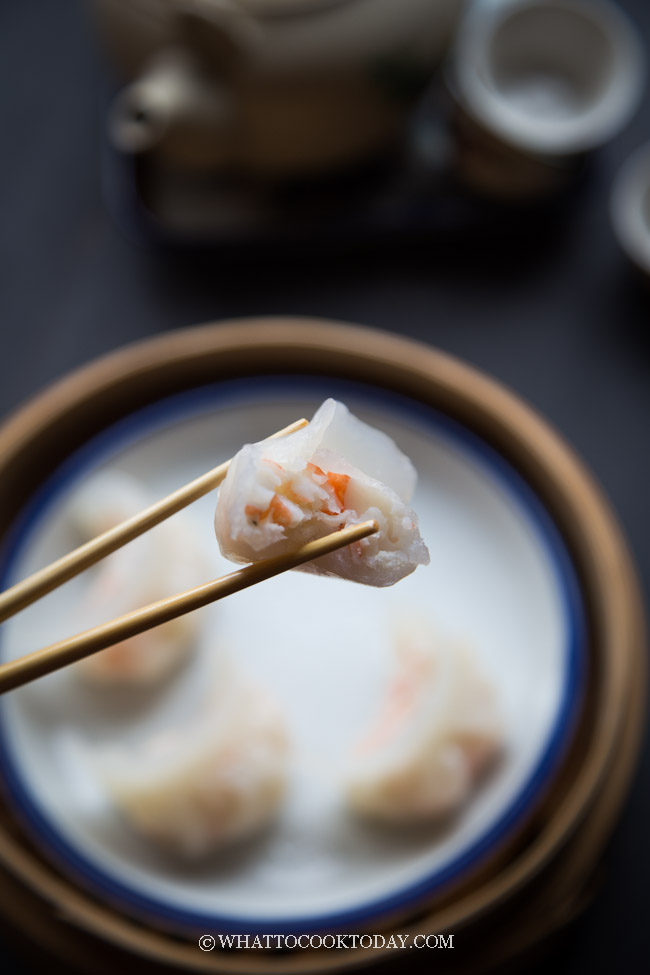 *Recipe was originally published in 2016 and now updated after rounds of experiments to make the har gow wrap tastier and easier to work with (and I'm happy with the result!). Version 2 for the har gow dough is added on January 22, 2022. I like this version 2 even better*
Easy Homemade Har gow (Crystal Shrimp Dumplings)
Ingredients
Version 2: (I like this one even better)
Filling:
400

gr

large shrimp

shelled and deveined

50

gr

water chestnuts

optional, finely chopped

20

gr

grated ginger

1

tsp

cornstarch

⅓

tsp

salt

¼

tsp

sugar

¼

tsp

pepper

1

Tbsp

sesame oil

1

Tbsp

oil
Instructions
Prepare the filling:
Place the shrimp in a food processor and pulse a few times. You don't want to grind it finely. You still want some small chunks of shrimp in the filling for better taste and texture. Combine shrimp with the rest of the filling ingredients and use a chopstick to stir in one direction until it turns sticky. Cover and chill in the fridge while you prepare the dough
Prepare the dough (for both version 1 and 2):
Mix the flour/starch and salt. Then pour the hot boiling water in. Use a wooden or rubber spatula or chopstick to stir in one direction. The dough won't come together yet. Keep stirring until it comes into a rough dough. Cover and let it rest for 2 minutes so it's not too hot to handle

After 2 minutes, uncover and transfer to a silpat (silicon mat) if you have one. It makes the job easier. Start to knead until it almost comes into a smooth dough, then add the oil and continue to knead until the dough is smooth and absorbs the oil, about 2 minutes or so. The dough needs to be soft and pliable. If it feels dry, add a bit more water, one teaspoon at a time
Wrap and shape:
It's best to work with the dough when it's warm. Roll the dough into a long log and then divide it into 28 equal pieces. I get about 32 pieces with version 2. Roll into round balls and keep them covered tightly as they dry out easily. Work with one at a time

Flatten the dough with your palm and use a rolling pin to roll the dough out into about 4-inch circle, with the edge thinner than the center. The center will help to support the weight of the filling so it won't tear when you steam. Place the filling in the center and then fold as if you are holding a taco and then start pleating on one side, about 7-9 pleats if possible. Then pinch to seal with the other side. Use kitchen shears to trim off the excess wrapper on top to make it neat and then pinch again to make sure the top is sealed. Repeat with the rest

Bring the water in the steamer to a boil. Wrap the lid of the steamer with a cloth. You don't have to do this if you use a bamboo steamer

Place them on a greased plate, about 1/2 inch apart and steam over high heat for 5 minutes. Serve warm
Recommended products:
Nutrition
Serving:
1
serving
|
Calories:
73
kcal
|
Carbohydrates:
13
g
|
Protein:
1
g
|
Fat:
2
g
|
Saturated Fat:
1
g
|
Polyunsaturated Fat:
1
g
|
Monounsaturated Fat:
1
g
|
Trans Fat:
1
g
|
Sodium:
82
mg
|
Potassium:
78
mg
|
Fiber:
1
g
|
Sugar:
1
g
|
Vitamin A:
1
IU
|
Vitamin C:
1
mg
|
Calcium:
5
mg
|
Iron:
1
mg