Noodles served in umami-rich shrimp-based gravy topped with delicious toppings. Making mie rebus Medan is one of my mom's expertise and you will love this authentic mie rebus Medan for real!
My favorite thing to eat for supper when we were young was this mie rebus Medan or famously known as emie at my hometown. I remembered I often walked to the nearby street food vendor near our house for this mee rebus.
There are many varieties of mie rebus out there. There is also a dish call mie rebus Jawa or more often known as mie godog but with totally different stock base. There are also mee rebus in Malaysia and Singapore, which also have several different varieties like gravy with peanut-base, tomato-base, dahl-base, etc. I'm sharing the one that is famous in Medan where I grew up.
Mie rebus Medan is one of the famous foods in my hometown, Medan, and hence the name mie rebus Medan. The boiled egg noodle is served with shrimps and/or dried shrimp, slices of boiled potatoes, hard-boiled eggs, and topped with crispy fried shallots, Chinese celery, prawn/emping crackers (optional) and green chili. If you are looking for mie rebus recipe, you gotta try this one for real. My mom is known for her mie rebus. It is one of her signature foods that family and friends enjoy a lot. It is so good that it really knocked my socks off and I couldn't be more excited to share this recipe with everyone.
THE GRAVY IS THE MOST IMPORTANT IN MAKING MIE REBUS MEDAN
Medan mie rebus is served in thick gravy made of shrimp stock. When the expert tastes the gravy itself, they will know whether that's a good mee rebus or not. So, the bulk of the work mainly lies on preparing the shrimp stock, which is made of shrimp shells and other aromatic spices
INGREDIENTS FOR MIE REBUS MEDAN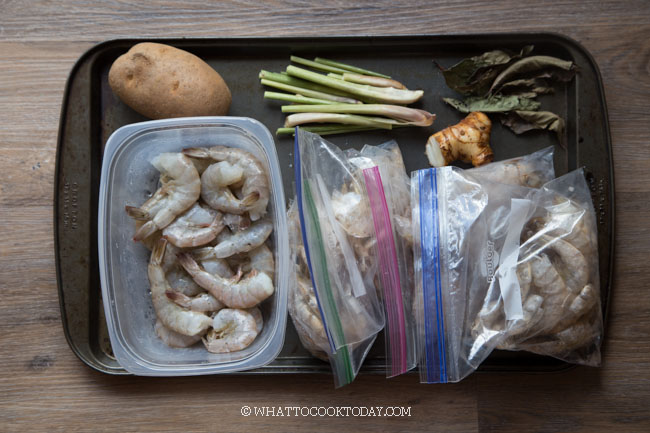 1. YELLOW EGG NOODLES (MIE TELOR)
You can get this fresh at any Asian grocery store, but feel free to use the dried version too. You can also substitute with spaghetti or lo mein noodles if you want.
2. SHRIMP
Get fresh or previously frozen raw shrimp with shells and head still intact if possible. At least have shells on if you can't find any with heads on.
3. GARLIC AND SHALLOTS
These two are almost inevitable when it comes to Asian cooking, especially Indonesian cooking. You can substitute shallot with large purple onion, it's perfectly fine.
4. LEMONGRASS STALKS
Be sure to bruise the stalks with heavy objects. This helps to release the amazing aroma. Fresh lemongrass stalks can be found in any Asian store or even some Western stores that carries some ethnic ingredients.
5. GALANGAL (LENGKUAS)
Galangal is one of the important ingredients in making mie rebus Medan. The aroma is what makes mie rebus medan distinctive. Do not substitute with ginger as it doesn't have the same aroma at all. If you must, you can use galangal powder, but the aroma is weaker and you need about 3-4 Tbsp of the powder.
6. BAY LEAVES (DAUN SALAM)
Besides lengkuas, daun salam also lend its distinctive flavor to mie rebus Medan. Gotta have this in the stock!
7. COCONUT SUGAR (GULA JAWA) and KECAP MANIS
These two ingredients contribute to sweetness and their dark brown color to the gravy.
8. OTHER SPICES AND HERBS
Star anise (bunga lawang), white cardamom pods (kapulaga), cloves (cengkeh), cinnamon stick
9. THICKENING AGENTS: TAPIOCA AND MASHED POTATO
The gravy of mie rebus is usually thickened with tapioca starch and mashed potato.
HOW TO MAKE MIE REBUS MEDAN (EMIE)
PREPARE THE SHRIMP STOCK
1. Preheat a large pot with 1 Tbsp of oil. Add in the shrimp shells and heads and saute until really fragrant and slightly char. My mom said to make sure it's slightly char as this really amplifies the aroma, about 10 minutes or so. Turn off the heat and set aside.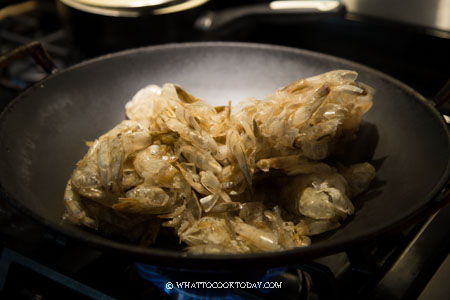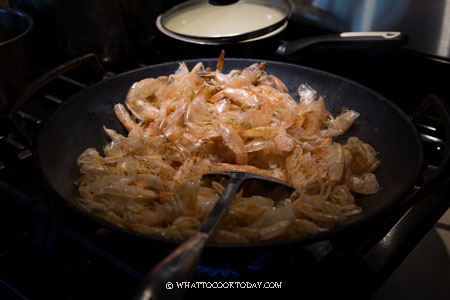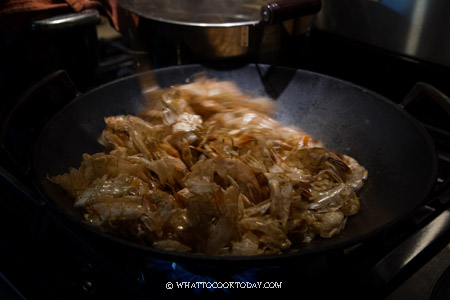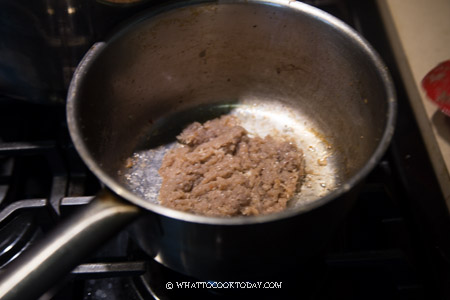 2. You can use a different pot or to the same pot you saute the shrimp shells earlier (remove the shells and set aside), preheat another 1 Tbsp of oil. Add the paste you ground earlier. Saute until aromatic, about 3 minutes. Add the herbs and spices and saute for another 2 minutes. Add the sauteed shrimp shells back followed by the seasonings. Add 10 cups of water. Bring to a boil and then lower the heat to let the stock gently simmer for the next 30 minutes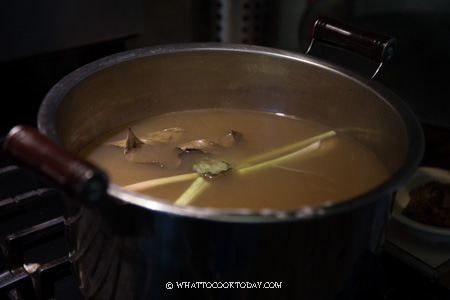 3. Strain the stock into a clean pot and discard all the solids
PREPARE THE SHRIMP
Preheat about 1/2 Tbsp of cooking oil in a small skillet. Add shrimp and stir fry until they turn pink and cooked through, about 1 minute or less. Set aside. There will be some juice ooze out from the shrimp, add this back to the shrimp stock, don't throw it away.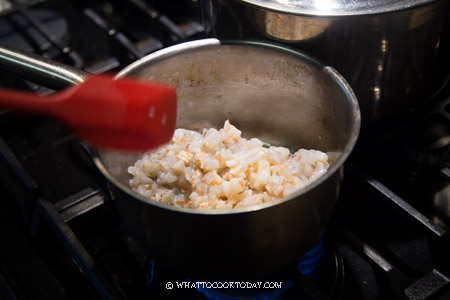 THICKEN THE GRAVY
1. Blend the mashed potato with about 2 cups some shrimp stock to combine them. You can use a blender or immersion blender.
2. Mix the tapioca with the shrimp stock. Make sure the stock is not hot when you mix or it will be lumpy. Bring the shrimp stock back to a boil. When the stock comes to a boil, add the mashed potato mixture and stir to combine. When they are well combined, with one hand stirring, the other hand slowly pours in the tapioca mixture and stir vigorously to make sure they do not curdle up. If the gravy doesn't thicken up enough for you, add a bit more tapioca starch mixed with a bit of water

HOW TO SERVE MIE REBUS MEDAN
1. Portion the noodles
2. Toppings: Top with some boiled potatoes, shrimp, boiled eggs, beansprouts
3. Sprinkle in some celery leaves, squeeze of limes for some juice
4. Top with crispy shallots and crackers (if using)
5. Serve with green chili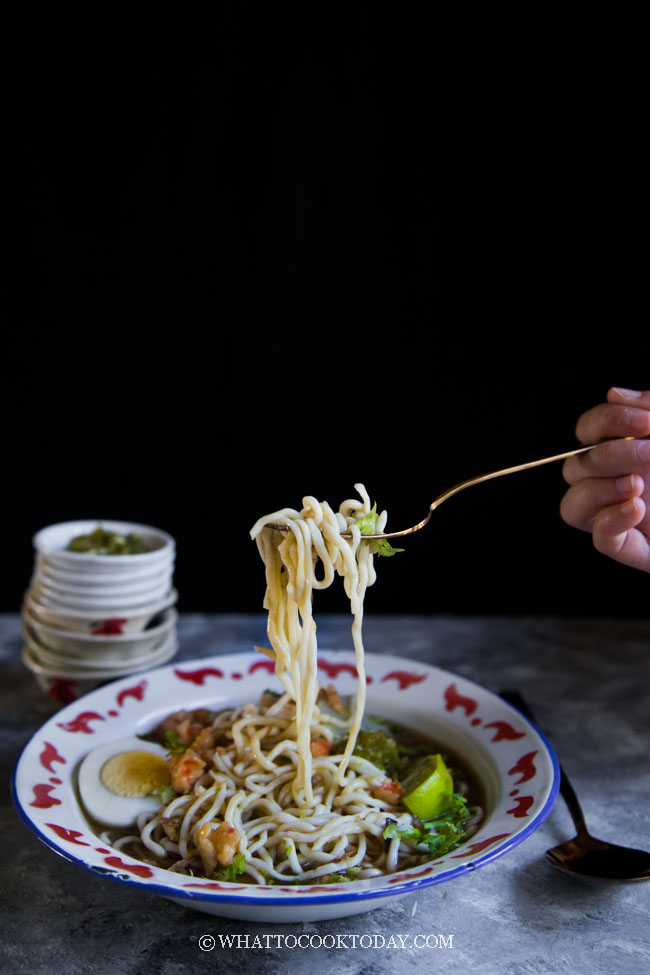 DID YOU MAKE THIS MIE REBUS MEDAN RECIPE?
I love it when you guys snap a photo and tag to show me what you've made 🙂 Simply tag me @WhatToCookToday #WhatToCookToday on Instagram and I'll be sure to stop by and take a peek for real!
This recipe was last published in 2016 and has been updated with an improved version on March 10, 2023.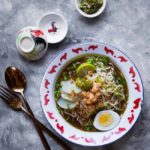 Mie Rebus Medan (Emie – Noodles in Shrimp Gravy)
Ingredients
800

g

fresh yellow egg noodles

or use 400 grams dried egg noodles
For the shrimp stock:
2 ½

Tbsp

cooking oil

divided

1

kg

large shrimp

with shells and heads on if possible

10

cups

water
Ingredients to grind:
50

g

dried shrimp

soak in warm water

4

cloves

garlic

8

large shallots

1

thumb-size galangal

Cut into 1/4 inch slices
Herbs and spices:
3

stalks lemongrass

remove few inches of the bottom and smash with heavy objects to release flavor

5

bay leaves/ daun salam

4

white cardamom pods

10

cloves

1

cinnamon stick
Seasonings:
4

Tbsp

coconut sugar

you may substitute with Thai palm sugar but you need to add dark soy sauce so the gravy will look dark brown

3

Tbsp

Kecap manis

to taste

Salt to taste
Thickening agent:
6

Tbsp

Tapioca starch

you may need more

300

g

mashed red potatoes

300

ml

shrimp stock
Toppings:
1

cup

fresh bean sprouts

400

g

potatoes (I use red potatoes)

boiled until cooked and sliced thinly

2

hard-boiled eggs

slice each in half

1

cup

Chinese celery leaves

finely chopped, you can substitute with regular celery leaves

3

limes

quartered
Chili:
8-9

long green chilis or use jalapeno peppers

2

Thai red chili

or more if you want it spicier
Instructions
Prepare the green chili:
Boil the chili in water briefly until soft. Transfer to a food processor and you can either grind it finely or coarsely chop them. Set aside. They can be kept in the fridge for up to 1 week
Preparing the noodles:
Cook the noodles in boiling water according to the package. Set aside and covered with plastic wrap until ready to serve
Preparing the shrimp stock:
Place all ingredients for grinding in a food processor and grind into a fine paste. Add a bit of water to help it goes if needed

Soak the dried shrimp in warm water for 10-15 minutes

Wash the shrimp with cold running water. Pat them dry with a paper towel. Peel the shrimp and save all the shells and heads to make the stock. You only need half of the shrimp, keep the other half for other use. Cut each shrimp into about 3-4 pieces. Place the shells in a colander to make sure they are pretty dry and don't wash it anymore. Pat them dry as much as you can

Preheat a large pot with 1 Tbsp of oil. Add in the shrimp shells and heads and saute until really fragrant and slightly char. My mom said to make sure it's slightly char as this really amplifies the aroma, about 10 minutes or so. Remove the sauteed shrimp shells onto a plate

To the same pot, add another 1 Tbsp of oil. Add the paste you ground earlier. Saute until aromatic, about 3 minutes. Add the herbs and spices and saute for another 2 minutes. Add the sauteed shrimp shells back followed by the seasonings. Add 10 cups of water. Bring to a boil and then lower the heat to let the stock gently simmer for the next 30 minutes

Strain the stock into a clean pot and discard all the solids
Preparing the toppings:
Bring a small pot of water to a boil. Blanch the beansprouts in the water for 10 seconds and run them through a cold water. You want it to be still crunchy. Set aside

Boil 3 large potatoes in water until fork tender. Let cool and then peel the skin and cut into slices or cubes, it's up to you. Set about 300 grams of boiled potato and mash it finely to add to the gravy later

Blend the mashed potato with about 2 cups some shrimp stock to combine them. You can use a blender or immersion blender.

Preheat about 1 Tbsp of cooking oil in a small skillet. Add shrimp and stir fry until they turn pink and cooked through, about 1 minute or less. Set aside. There will be some juice ooze out from the shrimp, add this back to the shrimp stock, don't throw it away
Thickening the gravy:
Mix the tapioca with the shrimp stock. Make sure the stock is not hot when you mix or it will be lumpy

Bring the shrimp stock back to a boil. When the stock comes to a boil, add the mashed potato mixture and stir to combine. When they are well combined, with one hand stirring, the other hand slowly pours in the tapioca mixture and stir vigorously to make sure they do not curdle up. If the gravy doesn't thicken up enough for you, add a bit more tapioca starch mixed with a bit of water

Have a taste and adjust by adding more salt or other seasonings to suit your taste
When ready to serve :
Portion the noodles out into an individual serving bowl. Place a few slices of boiled potatoes, some shrimp, boiled egg, sprinkle on some celery leaves and bean sprouts on top of each serving bowl. Ladle the gravy generously over the noodles. Squeeze some limes on top

Top with crispy fried shallots. Place the crackers on the side of the bowl if using. Do this last so you don't pour the gravy over the crispy stuff. Serve with the green chili
Notes
Thicken the gravy only when you are ready to serve, the whole dish must be served immediately after that
Nutrition
Serving:
1
serving
|
Calories:
583
kcal
|
Carbohydrates:
101
g
|
Protein:
21
g
|
Fat:
12
g
|
Saturated Fat:
2
g
|
Polyunsaturated Fat:
2
g
|
Monounsaturated Fat:
5
g
|
Trans Fat:
0.03
g
|
Cholesterol:
157
mg
|
Sodium:
1163
mg
|
Potassium:
947
mg
|
Fiber:
9
g
|
Sugar:
21
g
|
Vitamin A:
514
IU
|
Vitamin C:
51
mg
|
Calcium:
139
mg
|
Iron:
6
mg