These popular Indonesian cheese tapioca cookies or sagu keju have that crunchy first-bite and then melt-in-your-mouth texture. It has a similar texture to the kuih/kue bangkit santan, but is much easier to make.

If you love the traditional kue/kuih bangkit santan, you have to try this cheese bangkit or we call it sagu keju in Indonesia. You will be surprised by how tasty these cheese tapioca cookies are. When you take that first bite, it's crunchy and then you put it inside your mouth and it crumbles and melts in your mouth! Yup!! gotta make it to believe it.
You don't need to cook the tapioca flour
Yes, you read this right. One of the things that I dreaded the most when it comes to making kuih bangkit santan, is cooking the tapioca flour. Though I no longer stir-frying the flour and baking it instead, still, it's an extra step. Not with this particular cheese kuih bangkit recipe. You don't need to cook the flour, and NO, it doesn't taste raw or anything like that.
Cheese bangkit vs kuih bangkit santan
Though similar in texture and both also use tapioca starch and gluten-free, cheese bangkit is made with butter while kuih bangkit santan uses coconut cream. Cheese bangkit also uses cornstarch in addition to tapioca starch.

How to make Cheese Tapioca/Sago Cookies
1. Please note that you don't need to stir fry the tapioca flour like you would when you make kuih bangkit santan. Combine tapioca flour, cornstarch, salt, and milk powder with a whisk and set aside


2. Cream the butter and icing sugar until pale and fluffy, about 5 minutes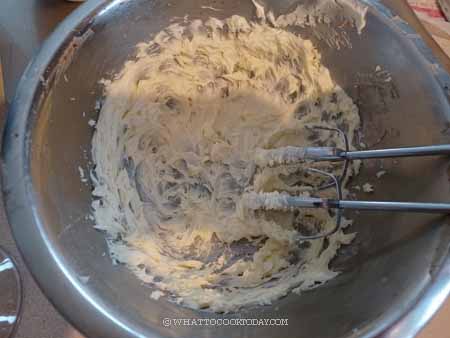 3. Add the egg yolk and cream again until combined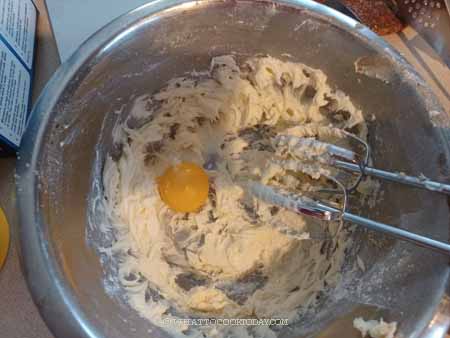 4. Sift in the flour mixture and shredded cheese


5. Wear a glove (if it's warm where you are) and use your hand to knead into a dough. When you wear a glove, the butter won't get too warm from all the kneading by hands. I didn't because it's winter at the time I made this. The dough will be at a dry side and you will be tempted to add some liquid, but don't. Just keep kneading and pressing to bring the crumbly mixture into a dry ragged dough that can easily fall apart. This texture will ensure you get that crunchy texture when you take that first bite and melt-in-the-mouth when you put the cookies inside your mouth


6. You can roll out the cookie dough and use a cookie cutter to shape or use the kuih bangkit mould to shape the cookies
If you want to use a cookie-cutter, put the crumbly dough on parchment paper and cover with another piece of parchment paper and roll with a rolling pin into about 1/2 cm in thickness


I don't have any interesting cookie-cutter, so I just use a large piping tip LOL! Dip your cookie cutter in some tapioca starch and then press onto the flattened cookie dough to cut out a shape. Cut them out as closely as possible so you don't have to keep re-rolling the dough scrape. Place them on the prepared baking sheet about 1/2-inch apart. They won't expand too much. Repeat with the rest of the dough


7. If you want to use kuih bangkit mold, dust the mold cavities with some tapioca starch and tap the mold to shake off excess starch. Pinch off some dough and press it inside the mold. Use a small knife to scrape off excess dough. Gently knock the mold on the countertop to dislodge the cookie dough


8. Put the baking sheets in the prepared rack. Bake the pants for about 25-30 minutes or until the bottom is lightly golden brown


9. Let the cookies cool down on the baking sheet for about 5 minutes and then transfer to a cooling rack to cool down completely. Store the cool-down cookies in an air-tight container and they will last for weeks

My new favorite
Take that first bite and then put the cheese bangkit inside your mouth and you will be surprised by the melty crumbly texture. So good. I love the cheese bangkit because of the hint of savoriness. Despite butter being used, it doesn't taste like butter cookies. If you don't tell me, I would think that it's regular kuih bangkit with cheese added 🙂 These cheese bangkit are so much easier to make too compared to the traditional kuih bangkit santan (which I love too, don't get me wrong!)
Did you make this recipe?
I love it when you guys snap a photo and tag to show me what you've made 🙂 Simply tag me @WhatToCookToday #WhatToCookToday on Instagram and I'll be sure to stop by and take a peek for real!

Cheese Tapioca/Sago Cookies (Sagu Keju)/ Cheese Bangkit
Instructions
Make sure the butter and egg yolk are at room temperature. The butter should be soft but not melty

Line your large baking sheet with parchment paper and set aside
Prepare the dough:
Please note that you don't need to stir fry the tapioca flour like you would when you make kuih bangkit santan. Combine tapioca flour, cornstarch, salt, and milk powder with a whisk and set aside

Cream the butter and icing sugar until pale and fluffy, about 5 minutes. Add the egg yolk and cream again until combined. Sift in the flour mixture and shredded cheese. Wear a glove and use your hand to knead into a dough. When you wear a glove, the butter won't get too warm from all the kneading by hands. The dough will be at a dry side and you will be tempted to add some liquid, but don't. Just keep kneading and pressing to bring the crumbly mixture into a dry ragged dough that can easily fall apart. This texture will ensure you get that crunchy texture when you take that first bite and melt-in-the-mouth when you put the cookies inside your mouth

Preheat oven to 320 F (160C) for a conventional oven. If you have a convection oven, please lower the heat to 300 F (150 C). If you have two trays to bake, place the oven rack 3rd from the top and 3rd from the bottom
If you want to use a cookie cutter:
Put the crumbly dough on parchment paper and cover with another piece of parchment paper and roll with a rolling pin into about 1/2 cm in thickness

Dip your cookie cutter in some tapioca starch and then press onto the flattened cookie dough to cut out a shape. Cut them out as closely as possible so you don't have to keep re-rolling the dough scrape. Place them on the prepared baking sheet about 1/2-inch apart. They won't expand too much. Repeat with the rest of the dough
If you want to use kuih bangkit mold:
Dust the mold cavities with some tapioca starch and tap the mold to shake off excess starch. Pinch off some dough and press it inside the mold. Use a small knife to scrape off excess dough. Gently knock the mold on the countertop to dislodge the cookie dough
Baking:
Put the baking sheets in the prepared rack. Bake the pants for about 25-30 minutes or until the bottom is lightly golden brown

Let the cookies cool down on the baking sheet for about 5 minutes and then transfer to a cooling rack to cool down completely
Storing:
Store the cool-down cookies in an air-tight container and they will last for weeks
Recommended products:
Nutrition
Serving:
1
cookie
|
Calories:
35
kcal
|
Carbohydrates:
4
g
|
Protein:
1
g
|
Fat:
2
g
|
Saturated Fat:
1
g
|
Polyunsaturated Fat:
1
g
|
Monounsaturated Fat:
1
g
|
Trans Fat:
1
g
|
Cholesterol:
8
mg
|
Sodium:
20
mg
|
Potassium:
5
mg
|
Fiber:
1
g
|
Sugar:
1
g
|
Vitamin A:
57
IU
|
Vitamin C:
1
mg
|
Calcium:
11
mg
|
Iron:
1
mg