Learn how to make a comforting bowl of silky smooth chicken rice congee or porridge or also known as jook.
RICE CONGEE IS A COMFORT FOOD FOR MANY
Rice porridge or congee is something that we make often at our house. It's comfort food for many. Whenever we are not feeling well, mom will make rice congee for us. So, it's not unusual for many Asians to considered rice congee as comfort food or "sick" people food 🙂 The Chinese believe that rice congee is easier to digest when one is not well.
WHAT TO EAT WITH CHICKEN RICE CONGEE
You can eat it as is with condiments like light soy sauce, sesame oil, ground white pepper, chopped green onion, and thin slices of ginger. Those are the common toppings you will see added to plain rice congee or chicken rice congee in this recipe.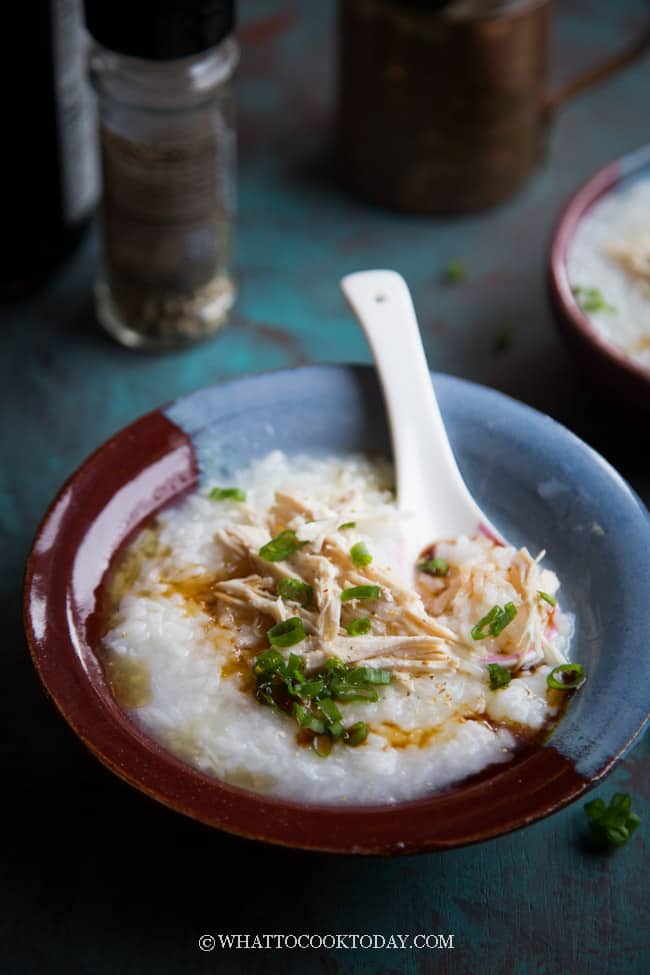 HOW TO STORE LEFTOVER CHICKEN RICE CONGEE (OR ANY CONGEE)
Storing: They can be kept in the refrigerator for up to 5 days. I don't recommend freezing rice congee.
Reheating: Simply reheat on the stove and you will need to add more water or stock to thin it out. The longer the congee sits, the thicker it gets. You can also reheat in microwave by adding more liquid to thin out the porridge.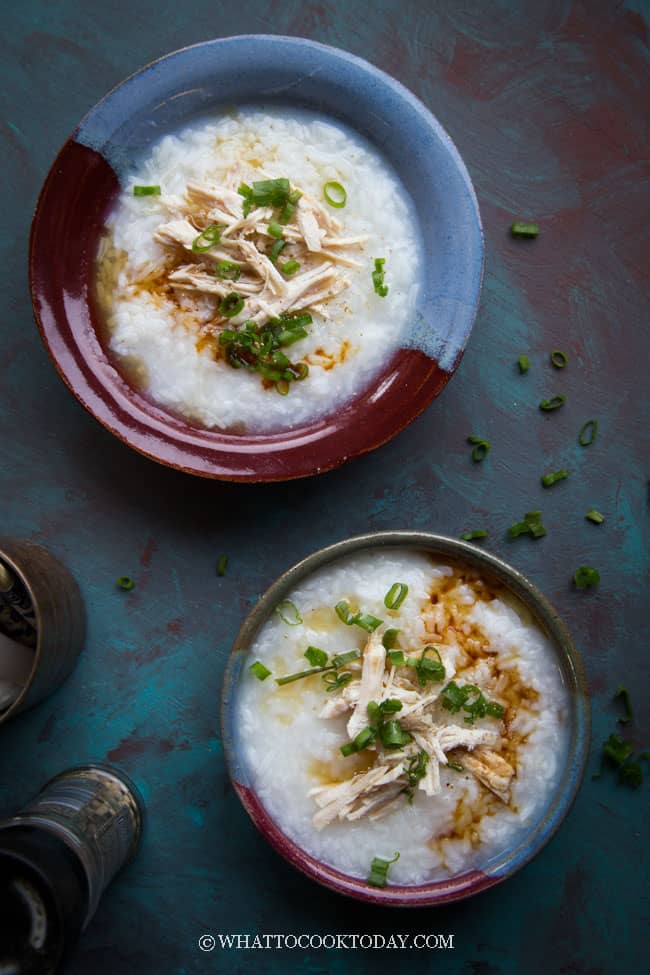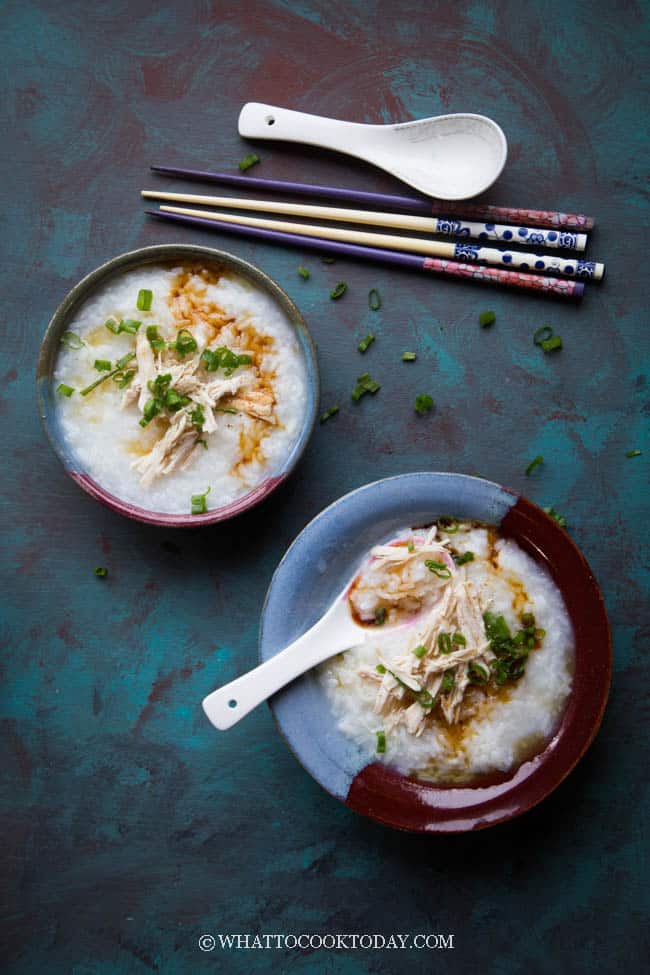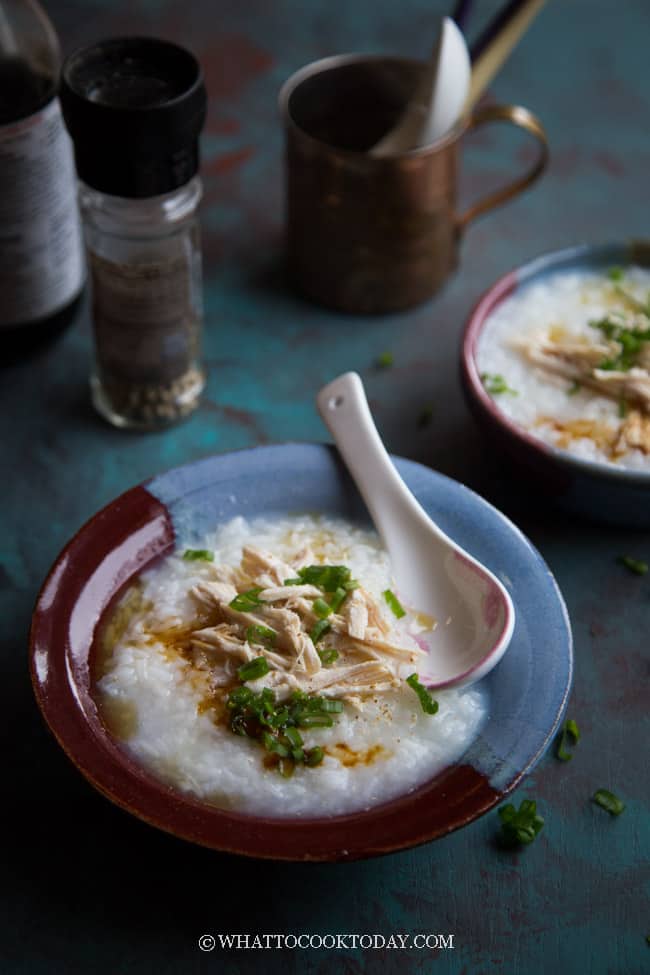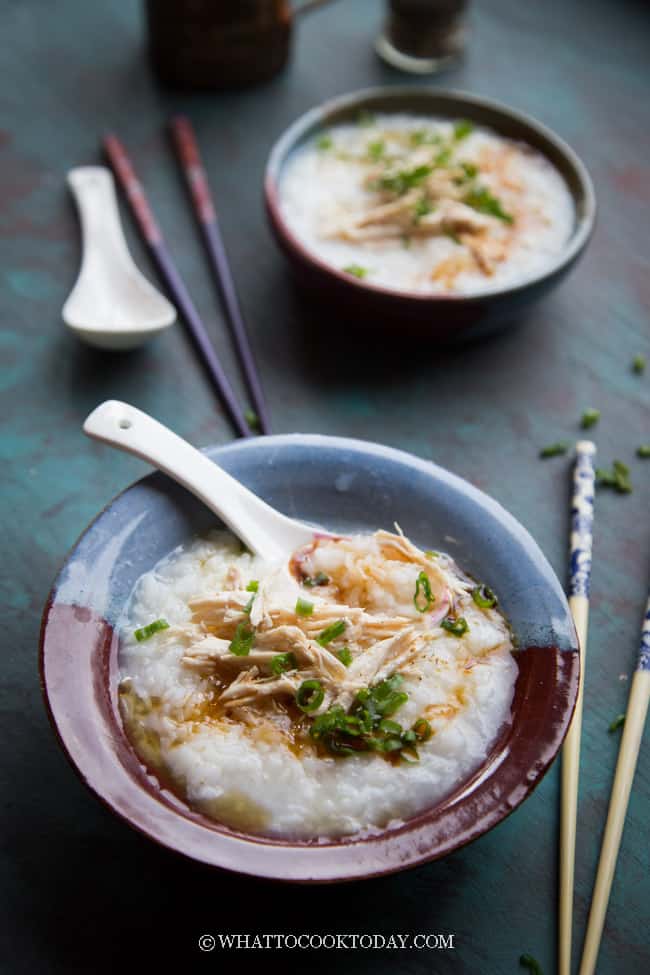 I wrote in more details in HOW TO MAKE BASIC ASIAN RICE PORRIDGE (CONGEE) post if you are interested in reading more about it.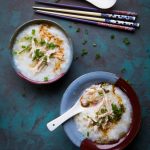 Easy Chicken Rice Porridge / Congee (Bubur Ayam)
Ingredients
1

cup

jasmine rice

briefly rinse with water

8

cups

chicken broth

300

gr

boneless skinless chicken breast

you can use bone-in chicken too

Salt

to taste
Optional Garnishes:
Chopped green onions

Julienne-cut ginger

Soy sauce

use tamari for gluten free version

White pepper powder
Instructions
Break the rice grains (optional):
Rinse the rice briefly in clean water, drain off all water. Put in a food processor and pulse a few times to break the rice. We don't want to turn the rice into powder. This step is just to break the rice grains. It helps to shorten the cooking time and make the congee "creamy" as the starch releases
Preparing the chicken:
Bring chicken broth to a boil. Place the chicken in. Bring back to a boil and then partially covered to let it simmer for 5 minutes (for chicken breast). Cooking times varies depending on size and if you use bone-in chicken it may take a bit longer. Cook until the chicken are cooked through

Remove the chicken and set aside to cool down a bit. When they are cool enough to handle, shred the meat and set aside
Cooking the congee:
Bring the chicken broth back to a boil. Add the rice in and bring it back to a boil. Reduce the heat to medium and partially cover and continue to cook until rice started to thicken, which may take about 20-30 minutes

Stir the shredded chicken meat back into the congee
To serve:
Garnish with chopped green onion, couple drops of sesame oil, ground white pepper and ginger if you like
Recommended products:
This blog post contains affiliate links. I earn a small commission when you made purchase at no extra cost to you. Learn more.