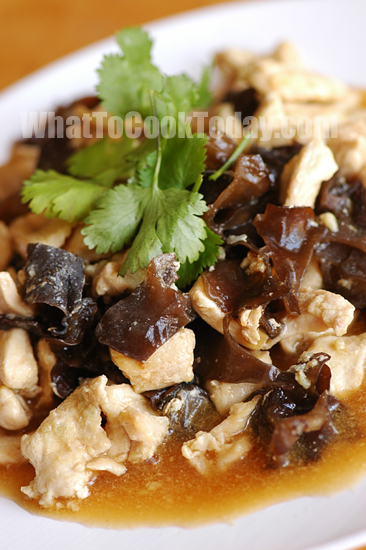 Chicken with wood ear mushroom is a simple stir-fry dish to prepare, yet it is fulfilling. My mom often made this and I've always liked the wood ear mushroom. The wood ear mushroom is available in dried form in Asian grocery store. The wood ear mushroom also known as cloud ear is named as such because it looks like an ear shape and it is woody in color. Just like dried shitake mushrooms, the wood ear mushrooms must be soaked in water prior to cooking. Don't be fooled by how small the mushrooms seem in their dried forms. Once you soak them, they will plump up and become huge. It is slightly "crunchy" and pretty much tasteless on its own. However, if you cook it with other ingredients, it will soak up their flavor.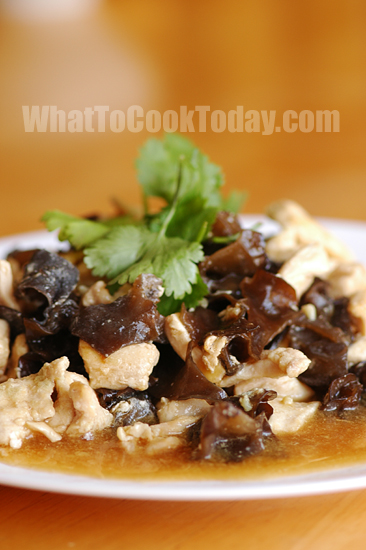 **The recipe is written in Metric and sometimes I include U.S. Measurements**
Please weigh ingredients with a digital kitchen scale instead of using measuring cups as they are not very accurate especially when it comes to recipe that requires precision.
INGREDIENTS
2

lbs

boneless chicken breast or other chicken parts you like

6-7

dried wood ear mushroom

-

soak for at least 1 hour and then cut into smaller pieces

2

cloves

garlic

-

minced

2-3

Tbsp

of oyster sauce

1

tsp

of white pepper powder

2

Tbsp

of corn starch

-

mix with about 2 Tbsp of water

1 1/2

C

of hot water

2

Tbsp

of olive oil
INSTRUCTIONS
Preheat your wok/pan with the olive oil. Sauté the garlic for about 10 seconds, add in the wood ear mushroom and chicken breast. Continue to sauté until the chicken turns white in color. Add in the oyster sauce and pepper, adjust the taste and add more if needed

Add in 1 1/2 cup of hot water and bring it to a boil and lower the heat. Let it simmer until the chicken is cooked and the mushroom is soft

Increase the heat again and bring it to a gentle boil. Stir the corn starch mixture you prepare earlier and pour into the wok. Continue to stir as the sauce will start to thicken. Turn off the heat

Serve immediately with rice
Notes
NOTES: If you don't like wood ear mushroom or just simply cannot find one, I can see this recipe works with fresh mushrooms too