Street-style Chinese Scallion Pancakes (Cong You Bing) – Learn how to make easy flaky Chinese scallion pancakes or green onion pancakes without much fuss. This recipe gives you an ultra-flaky and crispy result that you will find irresistible.
I was in the process of clearing out the fridge and I saw that I still have quite a bit of scallion in the fridge. I made Chinese scallion pancakes few years ago and been making it since then. Few weeks ago, we went to a Chinese restaurant and I decided to order their scallion pancakes. They were delicious, but they weren't as flaky as I wished they would be. This street-style Chinese scallion pancakes (cong you bing) will definitely change your life forever! They are ultra flaky, crispy and oh my gosh! SOOO GOOD!
WHAT MAKES GOOD STREET-STYLE CONG YOU BING?
1. FLAKY
When you tear the pancakes, you can literally see the flaky layers
2. THIN
They are thin and crispy
3. ENOUGH SCALLION
That's why it's called scallion (cong) pancakes. You don't want to pack too many that you have difficulty wrapping and shaping the pancakes, but you don't want to be skimpy on it either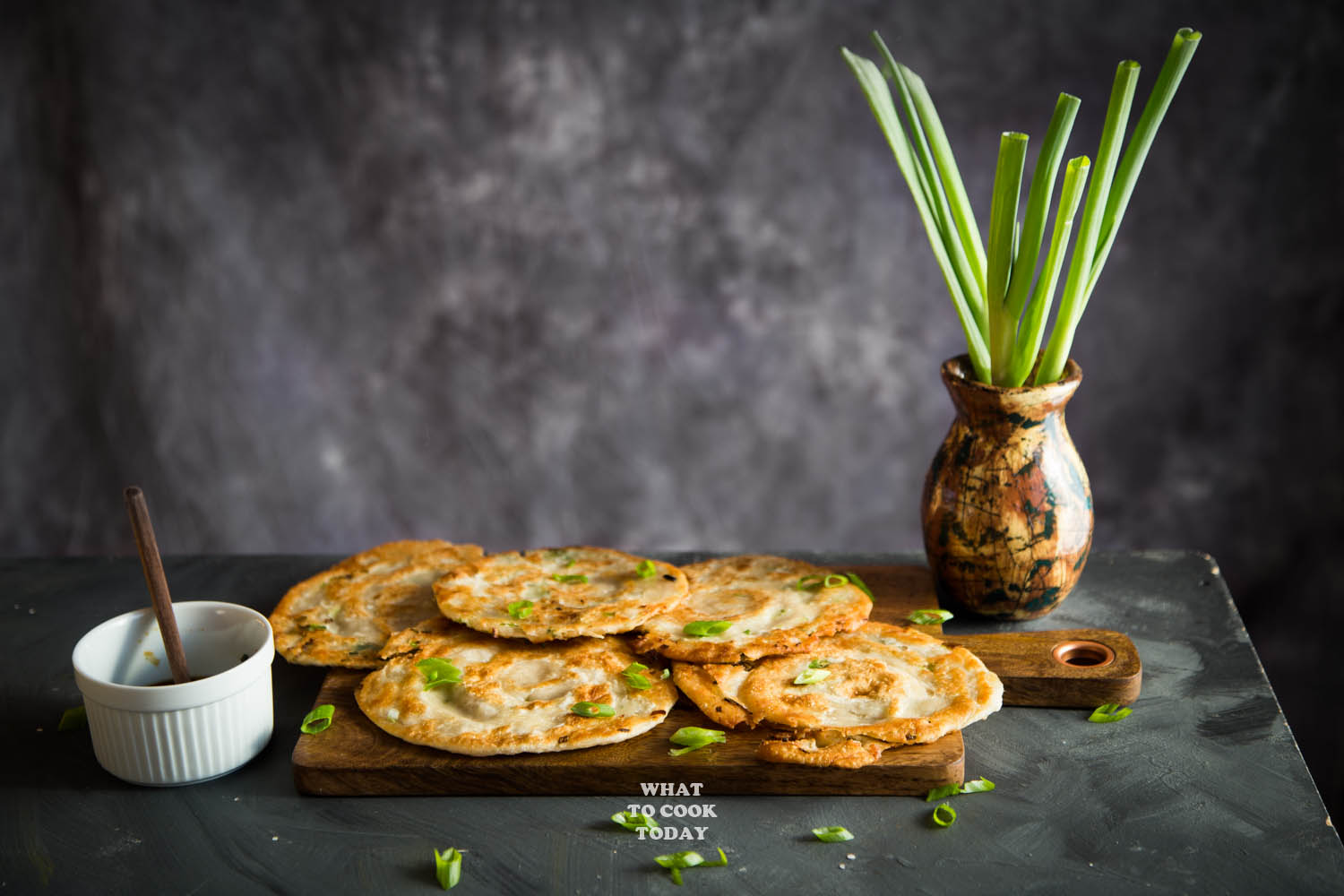 HOW TO MAKES ULTRA FLAKY CONG YOU BING?
1. Let the dough relax
It is important to let the dough rest for 30 minutes before shaping them. This step is to ensure the gluten is relax because we don't want a tough pancake. You will have much success rolling it into thin pancake too
2. Chop the scallion finely
This will make your life easier when you wrap it
3. Roll it thin
Yes, roll it thin will help to make your pancake crispy and able to develop that flaky layers
4. Use lard if you can
I use pig's lard that I made by rendering out the fat. You can use shortening, chicken fat, or coconut oil too. I swear by the lard 🙂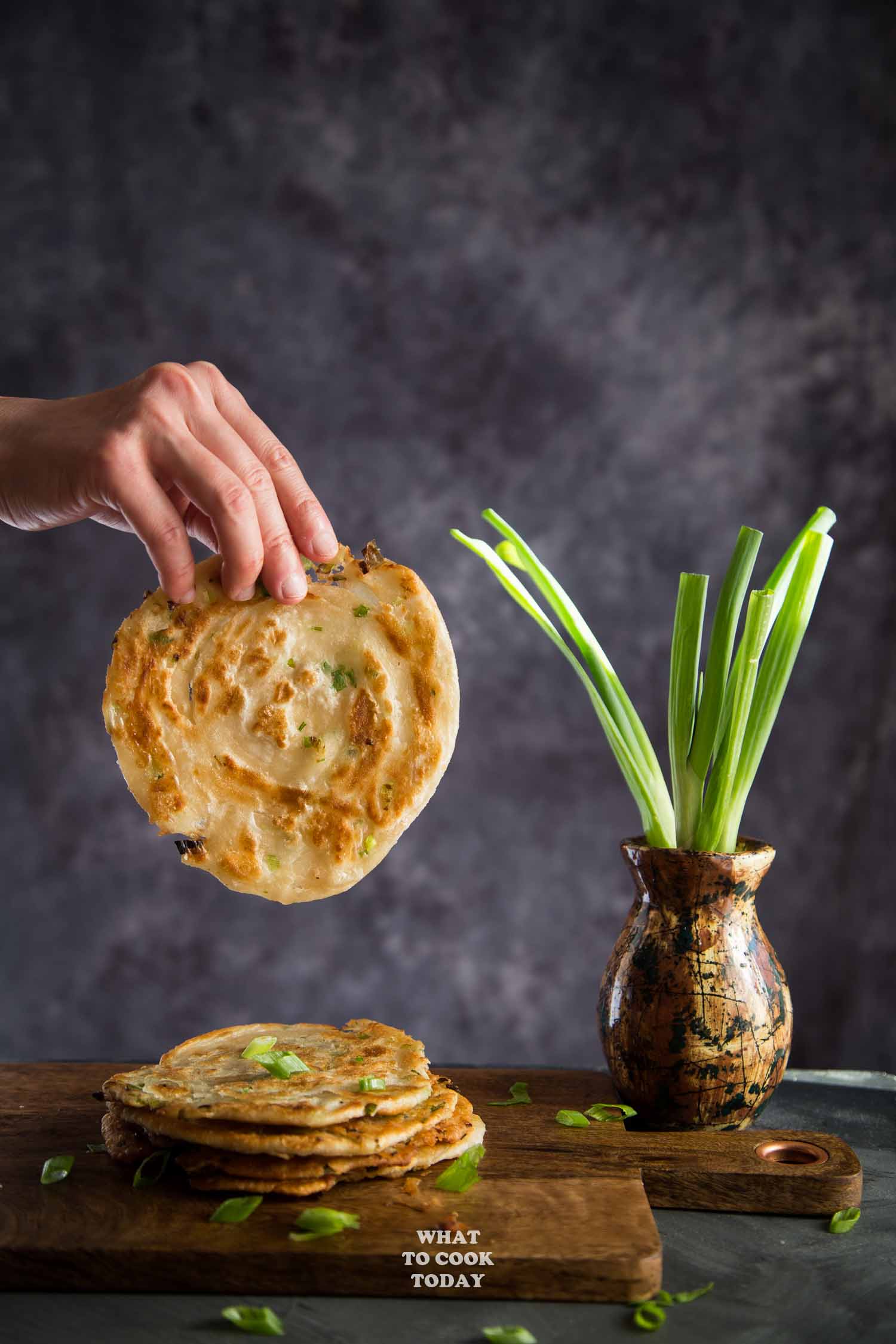 HOW TO MAKE STREET-STYLE CHINESE SCALLION PANCAKES (CONG YOU BING) IN A NUTSHELL
1. Mix flour with hot water to form a dough ball
2. Make an oil-flour paste and dipping sauce
3. Let it rest for 30 minutes
4. Separate the dough into 8 and work with one at a time while covering the rest
5. Flatten into a very thin layer and brush with oil-flour paste, sprinkle with onion
6. Roll into long jelly roll and roll into a pinwheel
7. Flatten with your palm and gently roll into thin pancakes
8. Cook for 3 minutes on each side until they are crispy and cooked through
HOW TO STORE CONG YOU BING?
1. Uncooked pancakes
The uncooked pancake can be wrapped in a plastic wrapper and then stored in an air-tight bag and freeze for one month. When ready to cook, they go from freezer to the pan (do not thaw). Cook on low heat to make sure you don't burn the pancake but it's still not cooked through inside
2. Leftover pancakes
Leftover pancake can be refrigerated or freeze. They can be reheated in an air fryer, toaster oven, and oven at 350 F for 10-15 minutes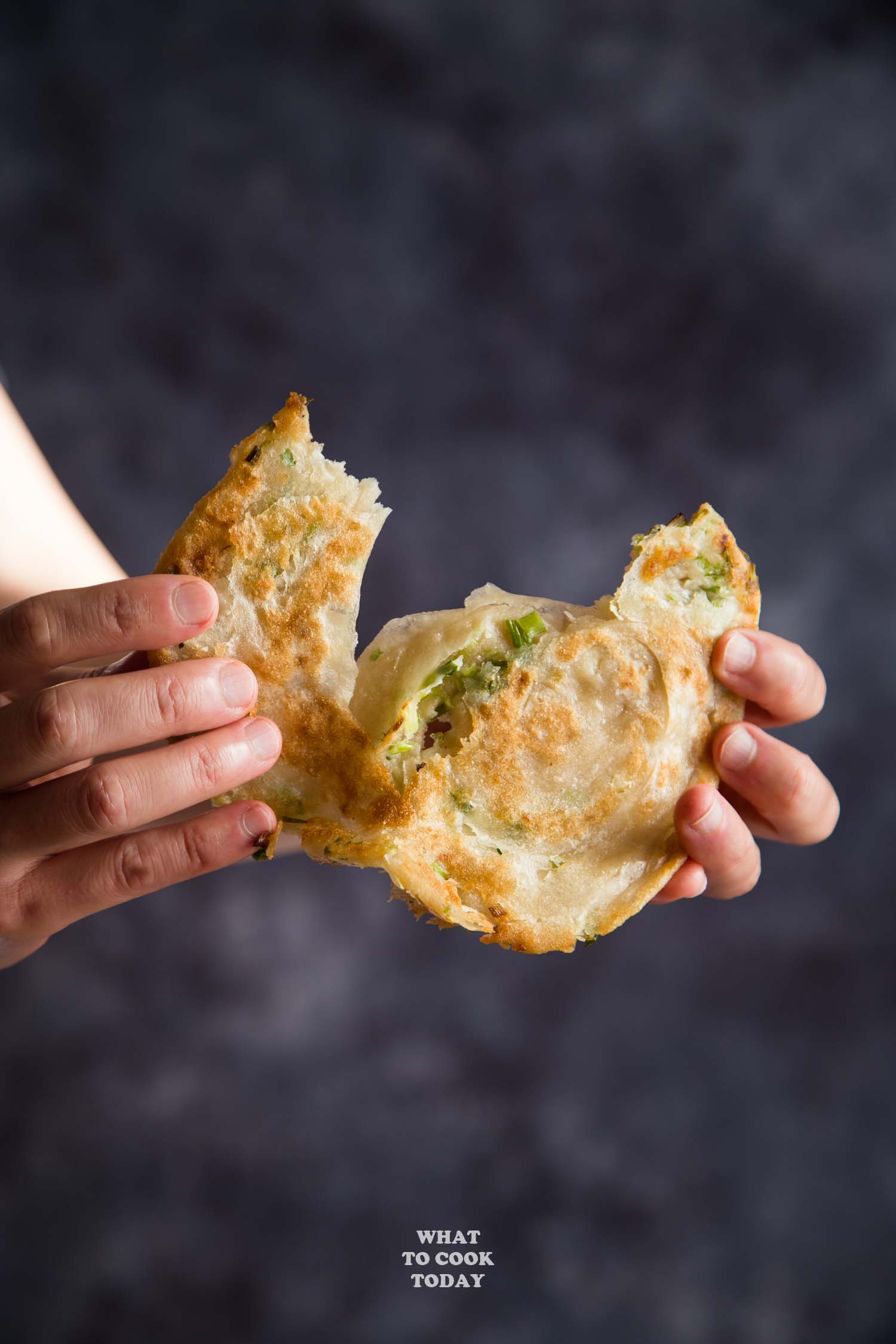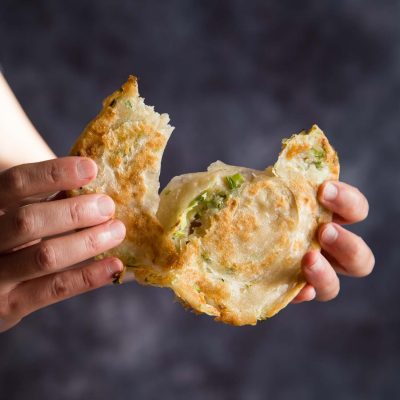 Street-style Chinese Scallion Pancakes (Cong You Bing)
Learn how to make easy flaky Chinese scallion pancakes without much fuss. This recipe gives you ultra-flaky and crispy result that you will find irresistible
PIN RECIPE
PRINT RECIPE
Ingredients
2

cups

all-purpose flour

about 260 grans

2/3

cup

hot water + more as needed

about 156 ml

2

stalks

green onion

finely chopped

Cooking oil

for frying the pancakes
Oil flour paste:
2

Tbsp

bacon fat/chicken fat

melted or use coconut oil

2

Tbsp

all purpose flour

1/4

tsp

salt
Instructions
Preparing the dipping sauce:
Place all the ingredients for dipping sauce in a small saucepan and bring to a gentle boil and let the sugar melt. Set aside
Making the dough:
Mix the oil-flour paste ingredients together and set aside

Sift the all-purpose flour. In a large mixing bowl, add hot water, start with 1/3 cups and continue to gradually add and stir until a dough ball comes together. Add a bit more water, teaspoon by teaspoon if it's too dry. Continue until the dough ball comes together and no longer sticky. Cover and let rest for 30 minutes
Shaping (each dough is rolled and flattened):
Divide the big dough into 8 equal pieces. Sprinkle your work area lightly with some flour. Working with one dough at a time and keep the rest cover so they won't dry out. Flatten each dough with a roller to form a circle or oval as thin as you can

Brush the surface with a thin layer of the oil flour paste. Sprinkle about 1/8 of chopped scallion leaving about 1/2 inch off the edge

Roll the dough starting from the side near you to the other side and you end up with a log. Roll it again from the side so it forms a pinwheel. Roll the dough up starting from the side near you to the other side and you have a long log now

Roll it again from the side

Flatten with your palm and then use a rolling pin to gently roll it into 6-inch circle and about 1/4" thick

Then place each pancake in between parchment paper to prevent sticking while working to flatten the rest. Repeat with the rest of the doughs. Cover the dough and while working on another one

Cooking:
Preheat a non-stick skillet on high heat. Add about 2 Tbsp oil and then lower the heat to medium. Place the pancake and let it cook on each side , probably about 3 minutes or until you are happy with the colors of the pancakes and it is crispy at the edge. Continue with the rest of the pancakes and add oil as needed

Serve immediately with dipping sauce on the side
If you have never heard of the Chinese black vinegar, they can be found at Asian grocery store where the soy sauce, cooking wine usually are.



This blog post contains affiliate links. I earn a small commission when you made purchase at no extra cost to you. Learn more.