Now you can easily make delicious clay pot chicken rice using your rice cooker. But this tutorial also includes instructions on how to cook clay pot chicken rice with regular pot and Instant Pot if you don't have a clay pot.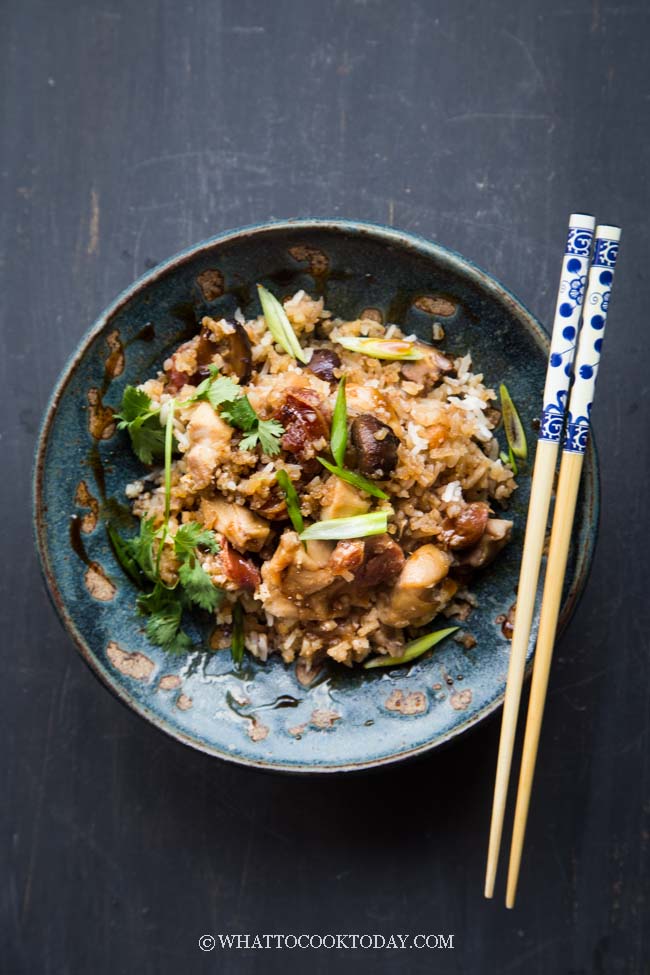 Claypot chicken rice is not something that I grew up eating as a kid in Indonesia. It is more common in the southern regions of China, Singapore, and Malaysia. I have only tasted it at a hawker center when I lived in Singapore for a short period of time. It is typically served with Chinese sausage, chicken pieces with a drizzle of savory sauce and vegetables. The crust will form at the bottom and sides of the clay pot during cooking and that's probably one of the "desirable" features in clay pot chicken rice that most people want.
TRADITIONAL CLAY POT CHICKEN RICE
Traditionally, the cooking is done over a charcoal stove, giving the dish a distinctive flavour. Due to the time-consuming method of preparation and slow-cooking in a claypot, customers might have to wait a period of time (typically 15-30 minutes) before the dish is ready.
WHAT TO EXPECT WITH THIS EASY VERSION CLAY POT CHICKEN RICE WITHOUT CLAY POT
I included instructions to cook with rice cooker, Instant Pot, and regular pot like Dutch oven.
A crust will form at the bottom of the pot when you cook clay pot chicken rice using clay pot or Dutch oven. You will not have that crust if you use rice cooker and Instant Pot. So, just to let you know first so you won't be disappointed 😉 It may not be the most authentic, but the flavor is still really good and I like the convenience too.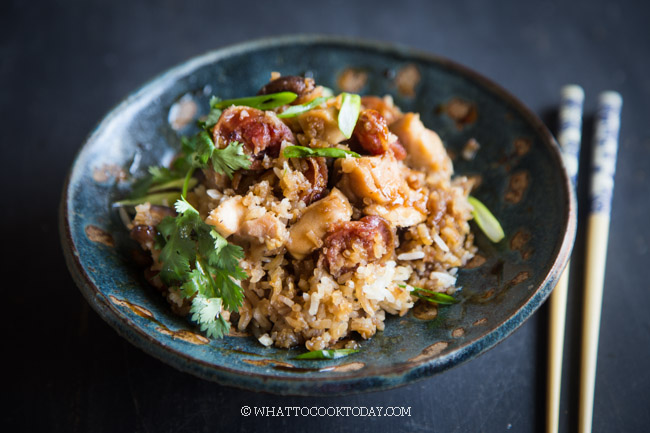 HOW TO COOK CLAY POT CHICKEN RICE WITH A RICE COOKER
Since this post focuses on a rice cooker method, this is what I'm showing here in the post and in the video.
1. SOAK MUSHROOM AND DRIED SHRIMP
Soak mushrooms and dried shrimp separately in a warm water until soften. Cut mushrooms into slices. Finely chop the dried shrimp. Save the water from soaking mushrooms and dried shrimp and top up with some water to make up 3 cups total (the same cups you use to measure the rice)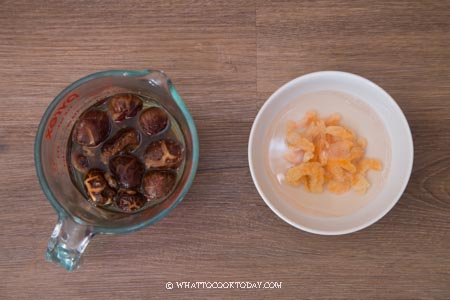 2. MARINATE CHICKEN
Cut chicken into bite-size chunks. Pour the marinade in and let it marinate for 1 hour in the fridge or overnight if you prepare ahead
3. SAUTE AROMATICS
Preheat cooking oil on a skillet or wok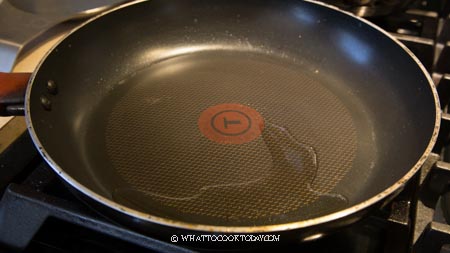 Add garlic and ginger and saute for about 10 seconds. Add the dried shrimp and saute for another 1 minute.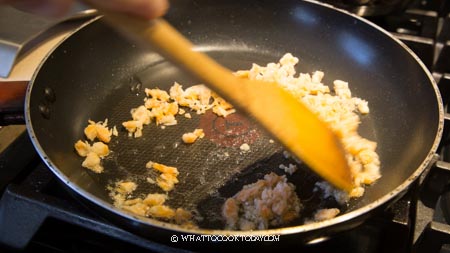 Add mushrooms and Chinese sausage and saute for another minute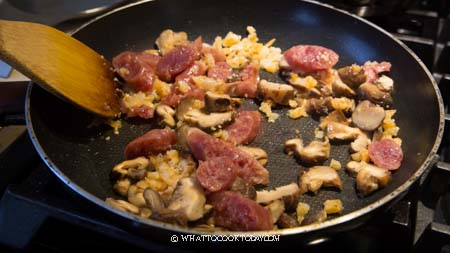 Add seasonings for stir frying and stir to mix. Turn off the heat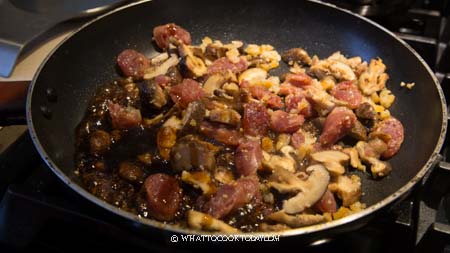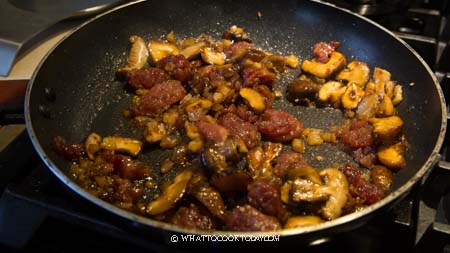 Add this into the marinated chicken and stir to mix. Set aside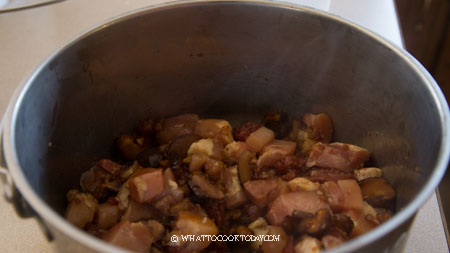 4. COOK IN THE RICE COOKER
Place the rice in the inner pot of rice cooker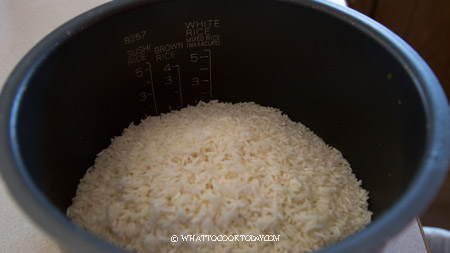 Add the liquid. Use brown rice (multi-grain) setting to cook the rice, or you can time it yourself if you don't have the setting. This will allow enough time to cook the chicken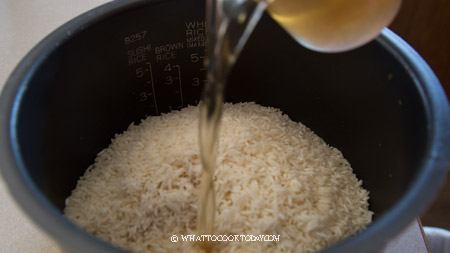 After 20 minutes of cooking, the rice would be half-way cooked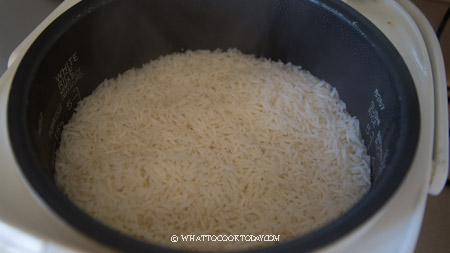 Open the lid and pour in the chicken mixture on top of the rice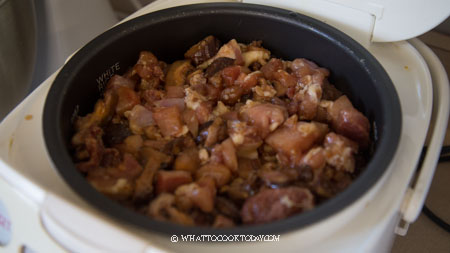 Close the lid back and let it finishes cooking. The chicken should be cooked through. If not, set another cycle to let it cook through, about 25-30 minutes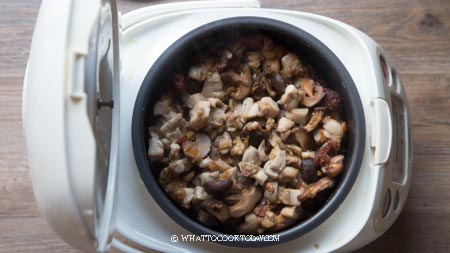 5. SERVE
Mix ingredients for drizzle sauce together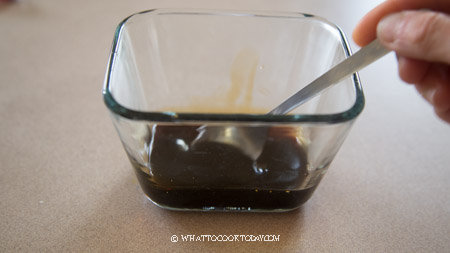 Portion the rice into individual serving bowl or plate. Drizzle with some of the drizzling sauce. Garnish with some chopped green onion and fresh cilantro. Serve immediately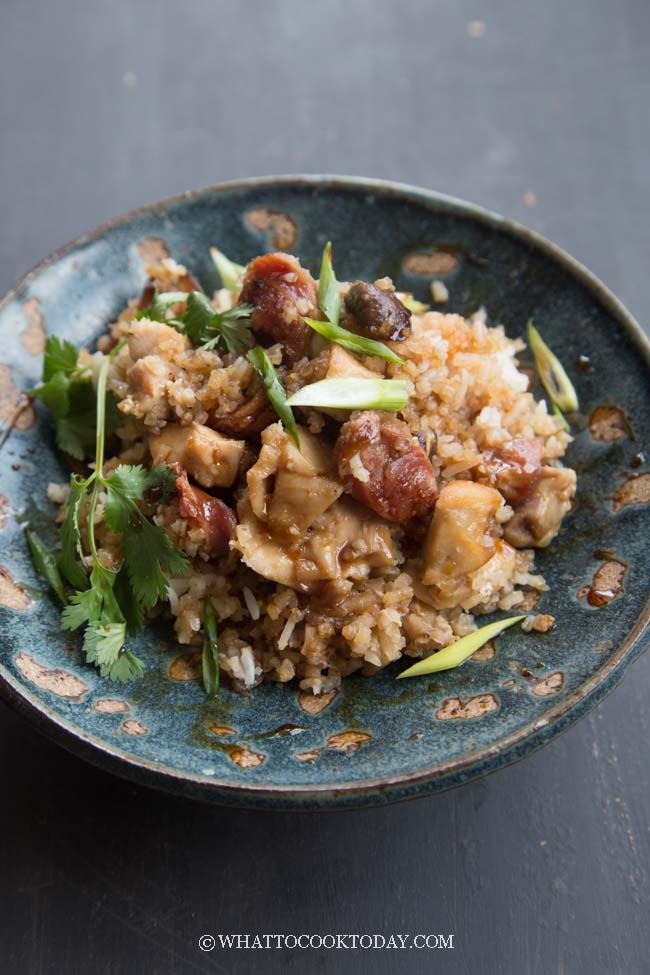 TIPS YOU NEED TO KNOW
1. Make sure you save the liquid from soaking mushrooms and dried shrimps. They add extra flavor to the rice
2. If your chicken is frozen, make sure it is thawed and discard any extra liquid or the rice will be too wet
3. If you are using pot to cook, make sure it is a heavy-bottom pot like Dutch oven for best result
4. Make sure you layer the rice in last when you cook with Instant Pot to prevent triggering the "burn" alert
DID YOU MAKE THIS EASY CLAY POT CHICKEN RICE RECIPE?
I love it when you guys snap a photo and tag to show me what you've made 🙂 Simply tag me @WhatToCookToday #WhatToCookToday on Instagram and I'll be sure to stop by and take a peek for real!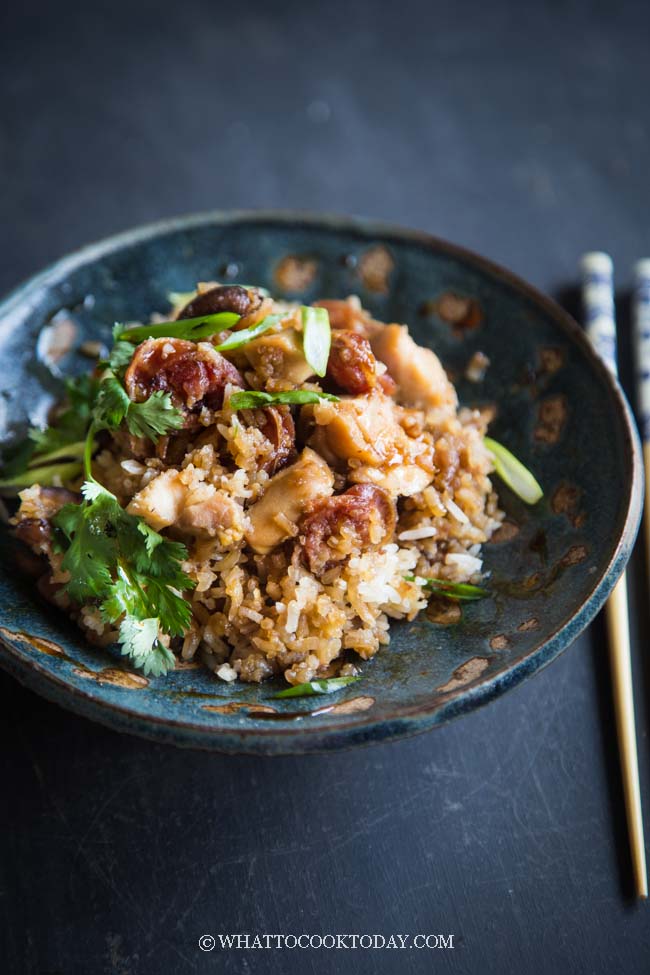 *Recipe is written for 6-quart Instant Pot. Cooking time should remain the same for 8-quart size but will take longer to pressurize. For mini duo (3-quart), I recommend to half the recipe and use the same amount of time to cook. Cooking time doesn't change because the time is based on the size of your pot not the quantity of the food*
Easy Claypot Chicken Rice - Bao Zai Fan (with Rice Cooker)
Ingredients
3

cups

white long grain rice

(washed and drain off water)

4

shitake mushrooms

(soaked and cut into long strips or just halve them)

100

gr

dried shrimp

3.5 oz, soak in warm water

3

cups

liquid from soaking mushrooms and dried shrimp

2 3/4 cups if using rice cooker or Instant Pot

1

Tbsp

cooking oil

2

Chinese sausage

slice at an angle

800

gr

boneless skinless chicken thighs

28 oz
Aromatics:
1

tsp

minced ginger

1

tsp

minced garlic
Seasonings for stir frying:
Garnishes:
1

stalk

green onion

(finely sliced)

Fresh cilantro leaves
Instructions
Wash the rice:
Rinse the rice with clean water until water runs clear. Drain off all water completely using a sieve if you have one to make sure all liquid is drained off. Set aside
Soak mushrooms and dried shrimp:
Soak mushrooms and dried shrimp separately in a warm water until soften. Cut mushrooms into slices. Finely chop the dried shrimp. Save the water from soaking mushrooms and dried shrimp and top up with some water to make up 3 cups total (the same cups you use to measure the rice)
Marinate chicken:
Cut chicken into bite-size chunks. Pour the marinate in and let it marinate for 1 hour in the fridge or overnight if you prepare ahead
Saute aromatics:
Preheat cooking oil on a skillet or wok. Add garlic and ginger and saute for about 10 seconds. Add the dried shrimp and saute for another 1 minute. Add mushrooms and chinese sausage and saute for another minute. Add seasonings for stir frying and stir to mix. Turn off the heat

Add this into the marinated chicken and stir to mix. Set aside
If using rice cooker to cook:
Place the rice in the inner pot of rice cooker. Add the liquid. Use a brown rice (multi-grain) setting to cook the rice. You can time it yourself if you don't have such setting. This will allow enough time to cook the chicken. After 20 minutes of cooking, the rice would be half-way cooked, open the lid and pour in the chicken mixture on top of the rice. Close the lid back and let it finishes cooking. The chicken should be cooked through. If not, set another cycle to let it cook through, about 25-30 minutes

When it's done cooking, gently fluff the rice to mix everything. Proceed to the serving step
If using clay pot or regular pot to cook:
If you are using unglazed clay pot, soak the clay pot and its lid in cold water for 15 minutes and then pat dry and proceed with cooking. If your clay pot is glazed, you can go straight to the cooking part

Place the washed rice into the clay pot (or other pot you choose to use, preferably a heavy-bottomed pot ly like Dutch oven) along with the chicken stock. Bring to a boil and then lower the heat and cover with the lid and cook for 15 minutes. The water will be absorbed by the end of 15 minutes but the rice is not fully cooked yet. Place the chicken mixture on top of the rice. Cover the lid again and continue to cook for another 15-30 minutes or maybe longer until the rice is fluffy and the chicken is cooked through

When it's done cooking, remove from the heat and gently fluff the rice and proceed to the serving step
If using Instant Pot to cook:
With Instant pot, we need to approach it differently to prevent triggering the "burn" alert. Saute the aromatics using saute mode for about 3 minutes, add seasonings and stir fry for another 10 seconds, and then pour in the liquid and really scrape the bottom of the pot to deglaze it. Make sure nothing is stuck at the bottom. Add the chicken pieces in. Layer the rice on top and gently push the rice into the liquid

Close the lid and turn the steam release valve to "sealing". Push "pressure cooker" and makes sure it's on "high pressure" and set the timer to 8 minutes. Wait 10 minutes and then release pressure. Gently fluff the rice. Proceed to the serving step below
Serving:
Mix the ingredients for drizzle sauce together. Portion the rice into individual serving bowl or plate. Drizzle with the sauce. Garnish with some chopped green onion and fresh cilantro. Serve immediately
Recommended products: