Make this easy, quick, and delicious omelette using Chinese sausage. A quick dinner that goes well with a bowl of plain cooked rice or Asian rice congee.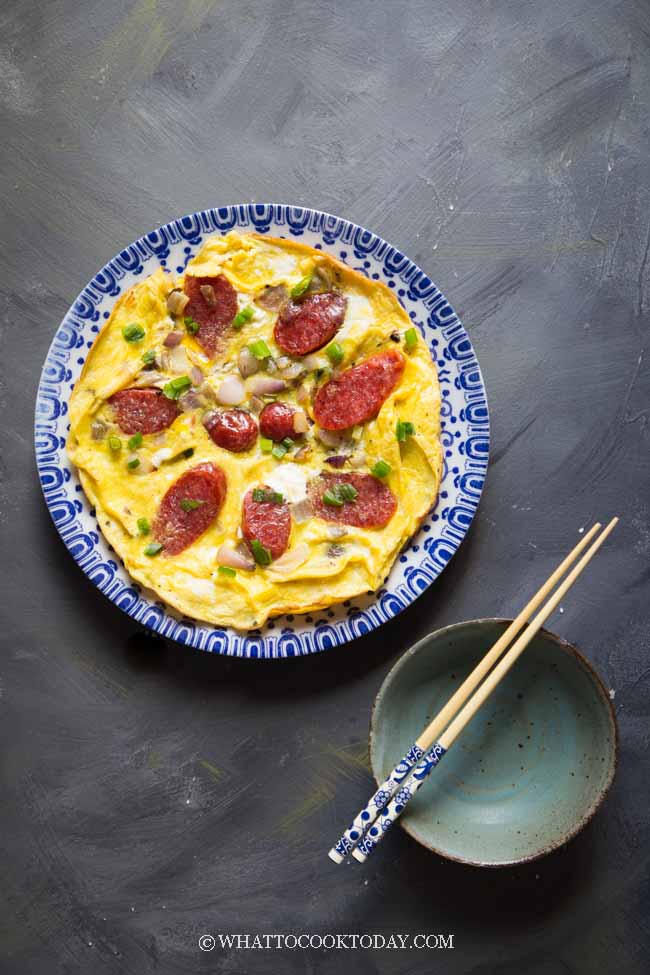 This lap cheong omelette was another dish I grew up eating as a kid. Mom would make this when she didn't have much time to spend in the kitchen. It seriously comes together very quickly and my kids love Chinese sausages. There are so many different varieties of Chinese lap cheong (la chang in Mandarin). They are usually in dried form and shelf-stable if it's vacuum-packed in dried form. Some are made with pork and pork fat and some are made with a mixture of offals like liver, blood, and some have glutinous rice in it.
In general, lap cheong tastes slightly sweet and most people like it for that. Some lap cheong has chili added in it that makes it spicy too (I love those!)
SUBSTITUTE FOR LAP CHEONG
Lap cheong can be found at Asian stores in a refrigerated section and dry goods section. If you can't find any, you can use Western sausage like franks or other sausage links.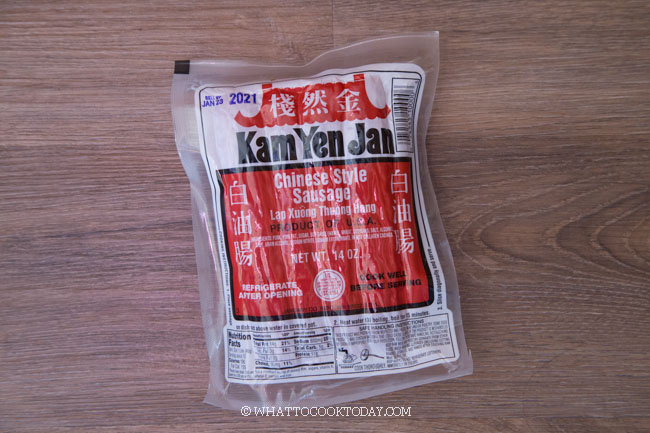 HOW TO MAKE LAP CHEONG OMELETTE
1. Thinly slice the sausage at an angle and set aside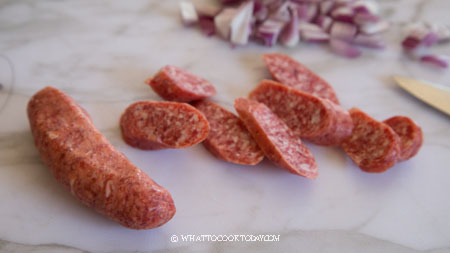 2. Combine eggs and seasonings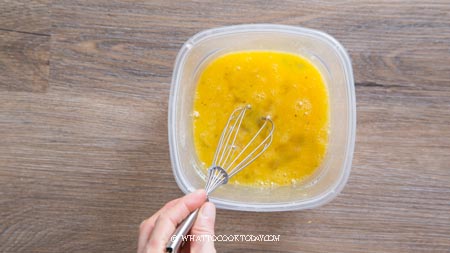 3. Preheat oil in a non-stick skillet. An 8-inch pan can make 2 omelettes. If you have 10-12 inch pan, you can make one thicker omelette. It's up to you. I made two omelettes with an 8-inch pan. Saute half of the onion, until fragrant, about 2-3 minutes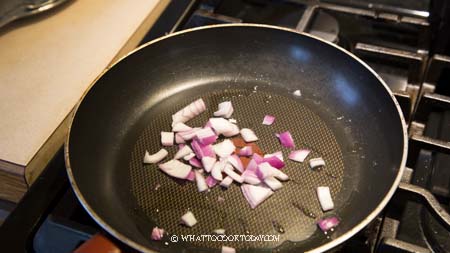 4. Add half of the sausage and cook briefly until lightly browned and aromatic and then arrange the sausage decoratively if you like on the pan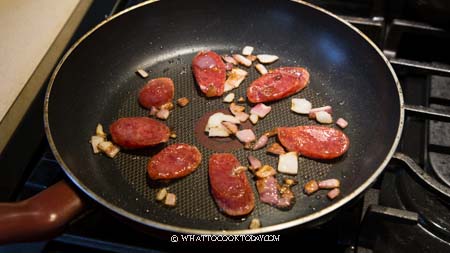 5. Lower the heat to medium and gently pour in half of the egg mixture and gently swirl the pan to cover the base of the pan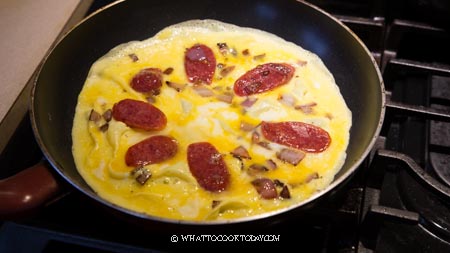 Let it cook over medium heat until the bottom just started to set


6. Cover with a lid and lower the heat to low to let the top cook for another 1 minute. This way you don't have to flip over the omelette (I'm bad at doing that!)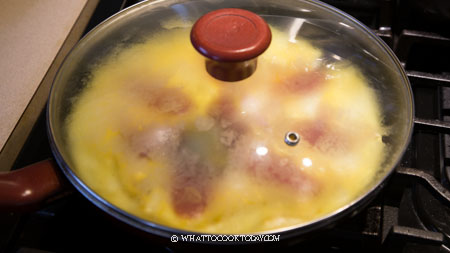 7. Uncover the lid and transfer to a serving plate. Continue cooking the second omelette. Garnish with chopped green onion and serve warm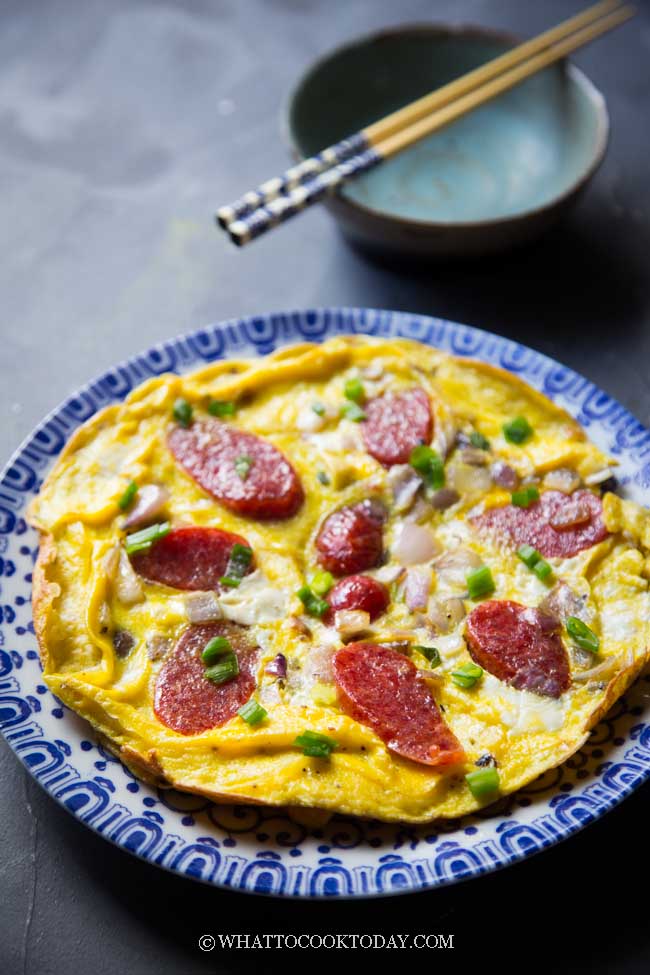 TIPS YOU NEED TO KNOW
1. Gently push the cooked omelette from the edge to the centre so the runny eggs can touch the hot pan and cook
2. Using a pan with a lid will make the job easier because you don't have to flip the omelette over. When you cover with a lid, the top of the omelette will "steam" cook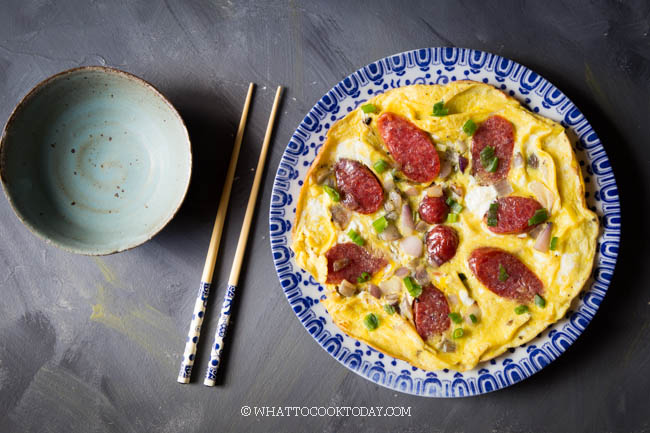 VARIATIONS
There are so many things you can add to this lap cheong omelette. Here are just a few ideas:
Veggies and herbs: sweet peppers, chopped tomatoes (seeded), fresh herbs like basil, fresh slices mushrooms. Saute them together with the onion before adding Chinese sausage pieces
Cheese: my son loves anything with cheese. You can add shredded cheese like cheddar, gruyere, fontina. Simply sprinkle on top right after you open up the lid and then fold over so the cheese can melt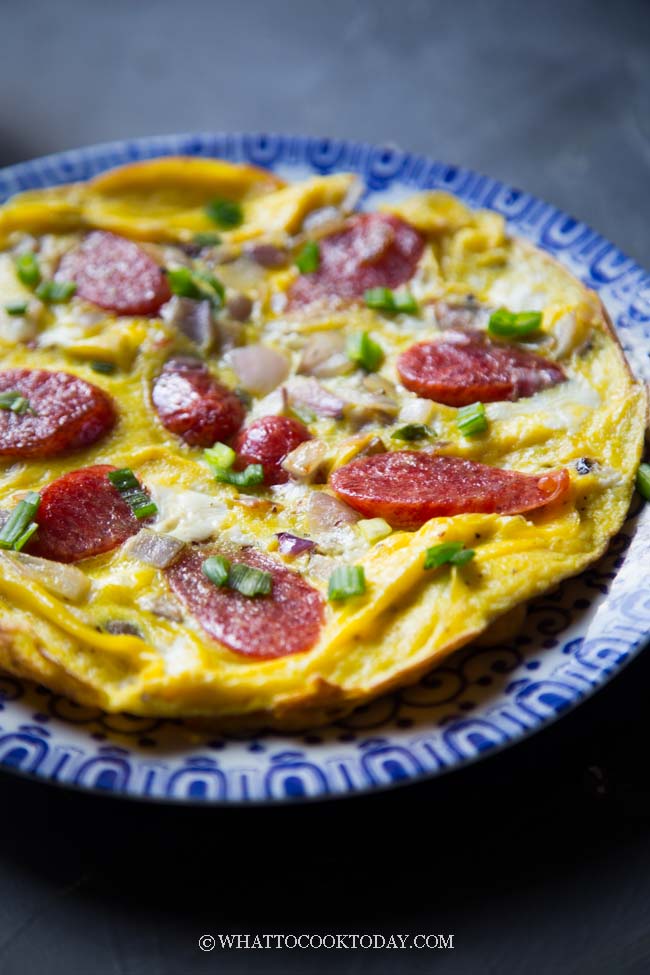 DID YOU MAKE THIS EASY LAP CHEONG OMELETTE RECIPE?
I love it when you guys snap a photo and tag to show me what you've made 🙂 Simply tag me @WhatToCookToday #WhatToCookToday on Instagram and I'll be sure to stop by and take a peek for real!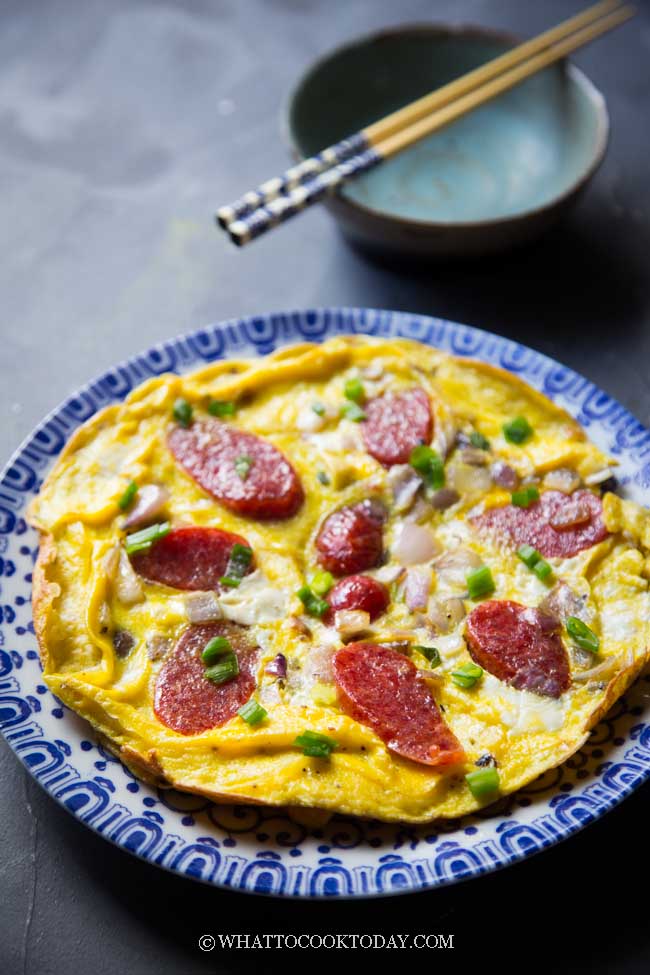 Easy Lap Cheong Omelette (Chinese Sausage Omelette)
Ingredients
4

large eggs

lightly beaten

2

links

Chinese sausage

or other sausage links or franks

½

small

purple onion

peeled and chopped, you can use 3 shallots too

2

Tbsp

cooking oil
Seasonings:
¼

tsp

sugar

½

tsp

salt

¼

tsp

ground pepper

1

tsp

sesame oil
Garnish (you can put this in the omelette too instead of as a garnish):
1

stalk

green onion

finely chopped
Instructions
Thinly slice the sausage at an angle and set aside. Lightly beat the eggs with the seasonings and chopped green onion (if you choose to use)

Preheat oil in a non-stick skillet. An 8-inch pan can make 2 omelettes. If you have 10-12 inch pan, you can make one thicker omelette. It's up to you. I made two omelettes with an 8-inch pan. Saute half of the onion, until fragrant, about 2-3 minutes. Add half of the sausage and cook briefly until lightly browned and aromatic and then arrange the sausage decoratively if you like on the pan

Lower the heat to medium and gently pour in half of the egg mixture and gently swirl the pan to cover the base of the pan. Let it cook over medium heat until the bottom just started to set. Cover with a lid and lower the heat to low to let the top cook for another 1 minute. This way you don't have to flip over the omelette (I'm bad at doing that!)

Uncover the lid and transfer to a serving plate. Continue cooking the second omelette. Garnish with chopped green onion and serve warm
Recommended products:
Other recipes with Chinese sausages you may like:
Mini Lap Cheong Sausage Pigs in a Blanket


Shanghai Siu Mai (上海烧卖)