These colorful unicorn sugar cookies are buttery with the right amount of sweetness. The dough is easy to work with and the cookies do not spread out as much. They are perfect for your holiday cookie gift with a pastel color palette inspired by those of unicorns.

Sugar cookies are one of those ubiquitous cookies during the holiday season. Kids love them. The adults love them too. I don't personally like sugar cookies decorated with icing on top, but I like sugar cookies without icing. These unicorn sugar cookies are one of my favorites. They are buttery, just lightly sweetened
What is unicorn sugar cookie?
A unicorn is considered a mythical creature with healing power. It also often represents beauty, kindness, elegance, purity, and many more. Though they are described as pure and white, in these modern days, the unicorn is often portrayed with colorful rainbow colors on their mane, tail, and horn. So these sugar cookies may not shape like a unicorn, but the gentle color palette is inspired by a unicorn and hence I named it colorful unicorn sugar cookies.
Why you'll like these colorful unicorn sugar cookies
1. Fun and colorful
The cookies have nice pastel colors, making them fun to look at (and eat of course!)
2. The dough is easy to handle and doesn't expand a lot during baking
Some cookie dough requires long hours of chilling to maintain their shapes during baking and/or to prevent them from spreading out too much. This cookie dough doesn't spread out much
3. Buttery but not too sweet
You can smell the nice aroma of butter, not overwhelming, but you know it's there and the cookies have just the right amount of sweetness and won't send you running and screaming toothache
How to make colorful unicorn sugar cookies
1. Cream butter and sugar over medium speed until creamy and fluffy about 3 minutes


2. Add egg and vanilla extract and continue to cream for another minute


3. Sift in flour and salt and mix over the lowest speed until just combined. Do not overmix


4. Divide the dough into three equal portions. Add food coloring to each one and knead to mix the color into the dough.


5. Pat the doughs into disc shapes and wrap with cling wraps and chill them in the fridge for at least one hour


6. Preheat the oven to 325 F (165 C) for a conventional oven. For the convection oven, lower the temperature by 15 degrees. If you are baking two trays at the same time, position the racks in the upper and lower thirds of the oven.
Portion out each dough into 24 small dough (I did 12 because I only did half recipe in this photo), roughly the same size. Roll them into round balls


7. Take 6 balls, 2 balls from the same color dough, and place them to form a circle


8. Lightly pinch them close together


9. Put them on your palm. Cup with your other palm and use a circling motion on your palm on top to create a "swirl" effect. It may not be a perfect swirl, but don't sweat it. You will still get a fun pattern


10. Put this on baking pan lined with parchment paper, about 2 inches apart. Repeat with the rest of the dough


11. Bake the cookies for 17 minutes. If you are using two pans, rotate the pans, front to back and top to bottom, halfway through. The cookies will not be golden brown. The cookies will still be very soft. Let cool on the cookie sheet for 5 minutes, then transfer to the cooling rack and let them cool completely before storing

To make ahead
Prepare the cookie dough ahead of time and bake later. Simply follow the recipe up to the point before baking. Put the shaped cookies on a baking tray lined with parchment paper and then put the tray in the freezer for about 30 minutes until they firm up. Transfer to a freezer bag or container. Push all the air out and seal. Unbaked-shaped cookie dough can be kept for up to 2 months. Simply remove it from the freezer and let it sit on the counter until the dough is just soft enough to be shaped but not melty. If they started to get wet, simply put the dough back in the fridge to firm up again before continuing to shape the cookie dough
Tips for success
1. Make sure the butter and eggs are at room temperature
The butter needs to be soft but not melty. When you press on it, it will yield but it shouldn't be melty
2. Chill the dough for at least 1 hour so it's easier to work with
3. Do not bake at high temperature to maintain the color without too much browning
How to store unicorn sugar cookies
1. Let them cool down completely on a cooling rack
2. Transfer to an air-tight container and they can be kept at room temperature for 2 weeks
3. The baked cookies also freeze well. Simply transfer completely cooled down cookies to freezer bag, push all the air out and seal. Keep in the freezer for about one month for the best result
Did you make this colorful unicorn sugar cookies recipe?
I love it when you guys snap a photo and tag to show me what you've made 🙂 Simply tag me @WhatToCookToday #WhatToCookToday on Instagram and I'll be sure to stop by and take a peek for real!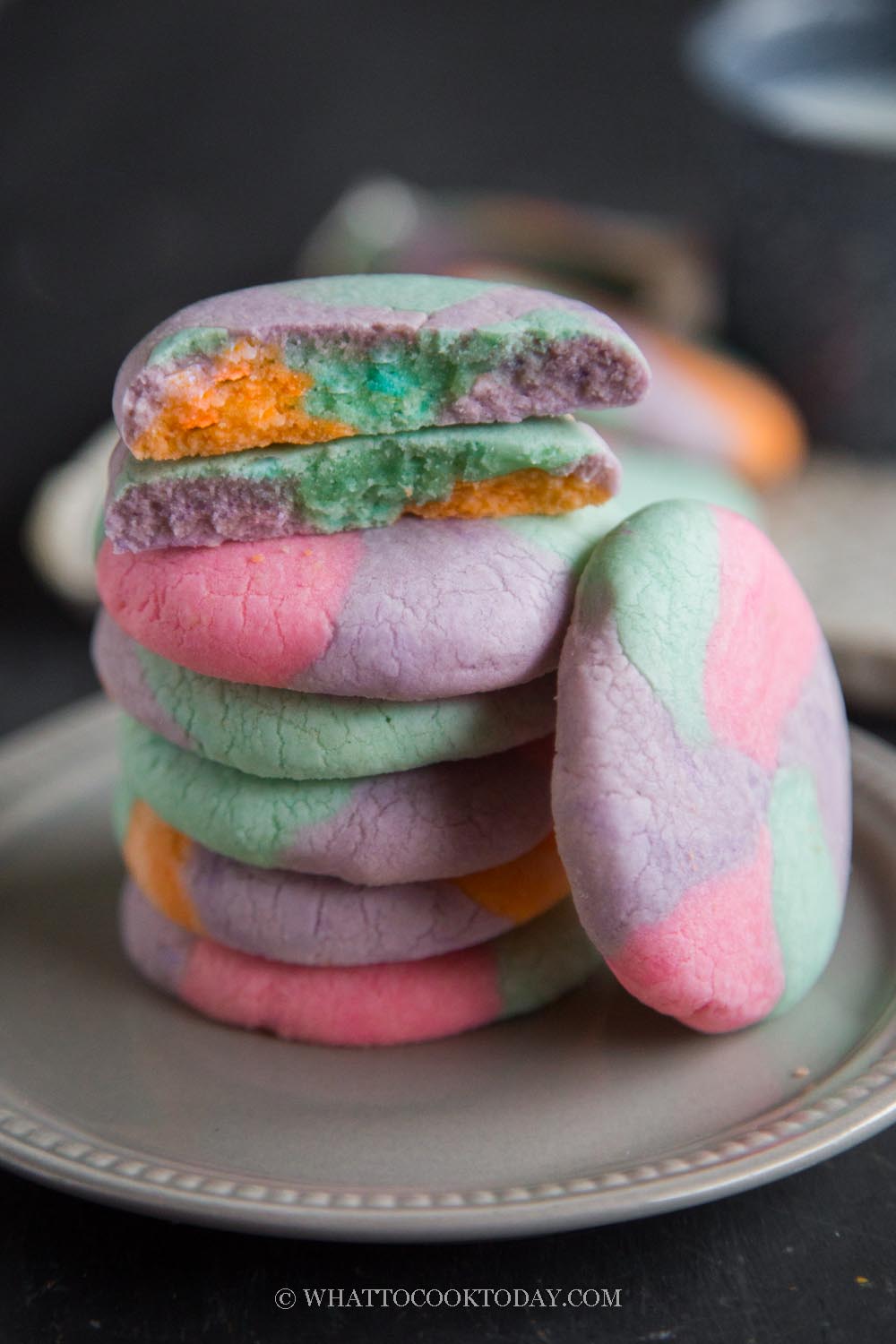 Colorful Unicorn Sugar Cookies
Ingredients
80

gr

butter

unsalted, softened

70

gr

icing sugar

⅛

tsp

salt

½

tsp

pure vanilla extract

1

large egg

room temperature

200

gr

cake flour
Food coloring:
Red

or you can use orange too

Teal

Purple
Instructions
Prepare cookie dough:
Cream butter and sugar over medium speed until creamy and fluffy about 3 minutes. Add egg and vanilla extract and continue to cream for another minute. Sift in flour and salt and mix over the lowest speed until just combined. Do not overmix

80 gr butter,

70 gr icing sugar,

1/2 tsp pure vanilla extract,

1 large egg,

200 gr cake flour,

1/8 tsp salt

Divide the dough into three equal portions. Add food coloring to each one and knead to mix the color into the dough. Pat the doughs into disc shapes and wrap with cling wraps and chill them in the fridge for at least one hour
Shape the cookie:
Preheat the oven to 325 F (165 C) for conventional oven. For convection oven, lower the temperature by 15 degrees. If you are baking two trays at the same time, position the racks in the upper and lower thirds of the oven.

Portion out each dough into 24 small dough, roughly the same size. Roll them into round balls. Take 6 balls, 2 balls from the same color dough, and place them to form a circle and lightly pinch them close together. Put them on your palm. Cup with your other palm and use a circling motion on your palm on top to create a "swirl" effect. It may not be a perfect swirl, but don't sweat it. You will still get a fun pattern

Put this on baking pan lined with parchment paper, about 1 inch apart. They don't spread out much. Repeat with the rest of the dough
Baking:
Bake the cookies for 17 minutes. If you are using two pans, rotate the pans, front to back and top to bottom, halfway through. The cookies will not be golden brown. The cookies will still be very soft. Let cool on the cookie sheet for 5 minutes, then transfer to the cooling rack and let them cool completely before storing
Nutrition
Serving:
1
cookie
|
Calories:
130
kcal
|
Carbohydrates:
17
g
|
Protein:
2
g
|
Fat:
6
g
|
Saturated Fat:
4
g
|
Polyunsaturated Fat:
1
g
|
Monounsaturated Fat:
2
g
|
Trans Fat:
1
g
|
Cholesterol:
28
mg
|
Sodium:
78
mg
|
Potassium:
22
mg
|
Fiber:
1
g
|
Sugar:
6
g
|
Vitamin A:
187
IU
|
Calcium:
6
mg
|
Iron:
1
mg