Uhmm…9 days before Christmas ?!? I was cleaning my kitchen (doesn't happen very often) and I saw the holiday cookie cutters sitting pretty in the container and I realized…I haven't started on my Christmas cookies yet! Well…not that I freaked out or anything. I sincerely had forgotten about that. I pulled the container out and took a look at a pantry…SWEET !!! I HAVE EVERYTHING I NEED! Which kinda surprised me considering the non-baker in me. So, the missions were : start on the cookie dough, gym, dinner, entertaining the kids and vice versa and hopefully can put them to bed early, ice the cookie. Sounds like quite a game plan!!
By the time I was done it's pretty close to midnight AGAIN !! I should start another blog call midnight baker or something you think ? But all in all, it's done ! mission accomplished!! I actually had lots of fun decorating the cookies. I was going to wait for Fiorina to do the decoration, but then these cookies are going to be gifts, so, I decided to go ahead and do them my own and praying that they will turn out professional enough. I'll start another batch of cookies and let Fiorina and Iven "decorate" their own.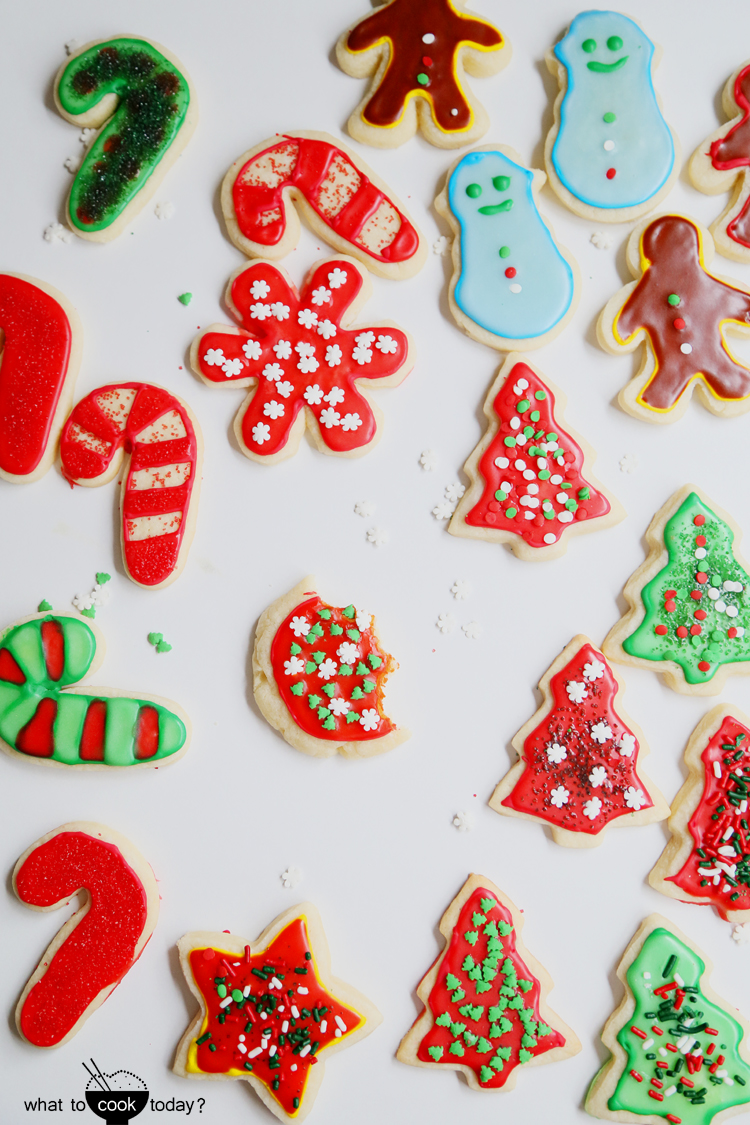 They say practice is the mother of skill, and sure it is. With more of the baking I've done this year, I felt more confident making these cookies and icing them. They definitely turned out better too. Let the kids have a "taste-drive" and they love the cookies. I thought they might not like the scent of rose syrup in the cookies, but they gobbled them down in a flash of light. So, I supposed that's a good sign right there !!!
Christmas cookies with rose water icing (40-45 large cookies)
Ingredients
Rose water icing (border):
1

cup

powdered sugar

½

tsp

rose water

1

Tbsp

milk
Rose water icing (flooding):
1

cup

powdered sugar

½

tsp

rose water

2

Tbsp

milk
Instructions
Place the flour, baking powder, and salt in a mixing bowl and stir to mix everything. Place the beaten egg and milk in a small bowl. Place the butter, sugar in another mixing bowl, we are going to cream the butter and sugar together until it is light and smooth using a mixer. Add in the egg and milk mixture and continue to mix. Gradually, add in the flour mixture and continue to beat until the dough come together and doesn't stick to the side of the mixing bowl

Generously sprinkle powdered sugar on your work surface and your hands (using too much flour will make the cookies tough). Place the dough on top of it and gently roll to flatten it into about 1.5-inch disc circle. Use a parchment paper to wrap the dough up nicely and refrigerate for at least 2 hours

After 2 hours, preheat oven to 350F. Place the cookie dough on a working surface with some powdered sugar, and use a rolling pin to roll the dough out into 1/2-inch thickness. Position your cookie cutters so you get as many cookies out of the dough as possible. This also to prevent re-rolling the dough too many times which makes the cookies tough. Press the cutters straightly down, do not twist and turn your cutter. Lift the cookie up along with the cutter and transfer to the baking sheet lined with parchment paper. Place it on top of the baking sheet and then gently push the cookie down to release from the cookie cutter. Repeat with the rest of the dough. Place the baking sheet into the refrigerator for about 10 minutes to firm them up. These will help to retain shape and preventing the dough from spreading too much during baking

Pop them into the oven and bake for about 10-12 minutes for soft cookies. They may look like they are not done when you pull them out from the oven, but trust me, they are. You need to know your oven too of course. Let them sit on the baking sheet for 5 minutes and then remove to let them cool down completely on the cooling rack. You need to let them cool down completely before starting on the icing (Trust me on this one!!)

Start on the icing. We are going to make the border icing first. Place all the ingredients in the mixing bowl and use a hand mixer or stand-mixer to mix it until it's thickened. If you use a white border, then you are good to go here, just transfer them to a condiment dispenser, which has a pointed tip to help with doing the border. If you choose to color your border, then this is the time to do it. Separate it into different bowls and drop in the colors you want and transfer to the dispenser. Carefully border all the cookies and let them dry completely before you start icing the rest of the cookies

While waiting for them to dry, start on the flooding icing. This is more "fluid" so you can color the cookie with ease and give a smooth result. You can choose to transfer to condiment dispenser or use a spoon for flooding. I use a spoon with pointed end (like grapefruit spoon). It helps when you need to do the corner. You can of course always use toothpick too. Once you are done with the flooding, if you choose to use sprinkles, this is the time to sprinkle, so they stick to the icing

I let them air dry for 12 hours before packing them for gifts. The cookies are still moist and delicious at this point