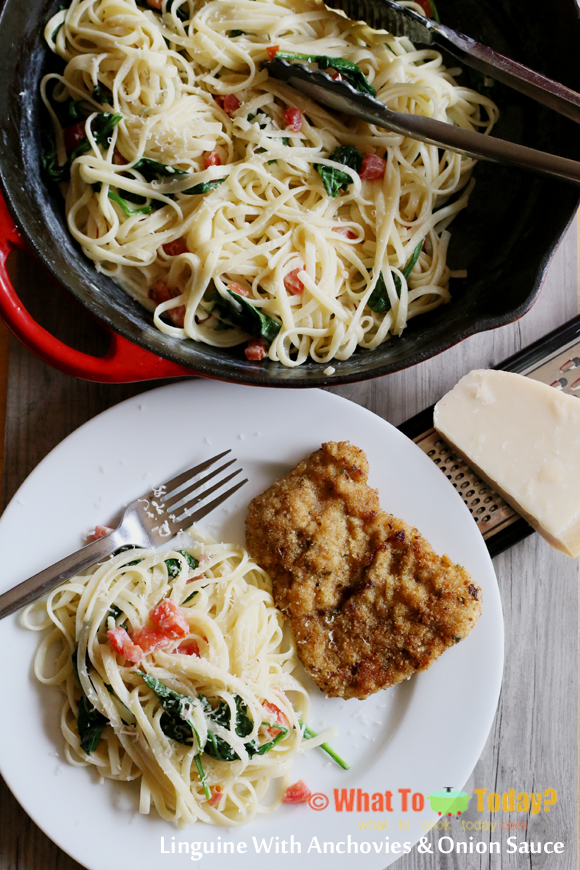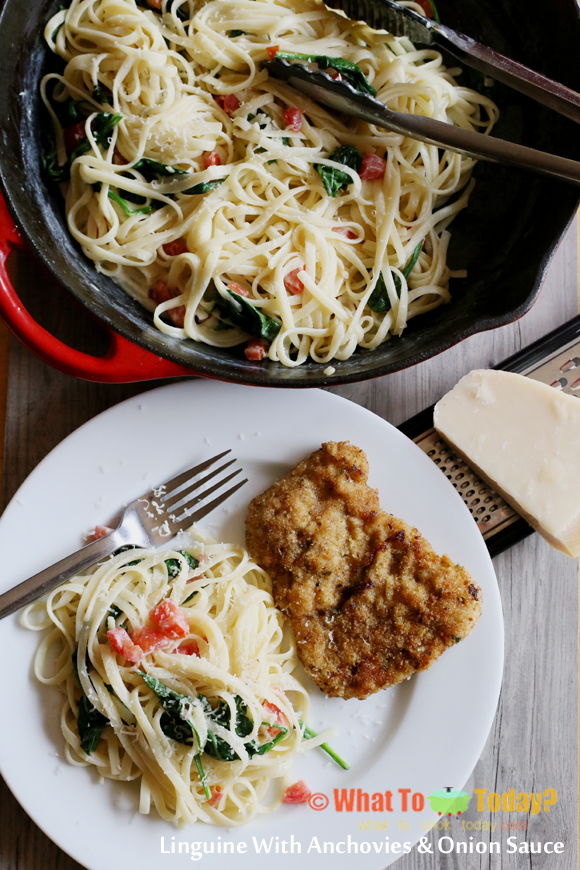 Anchovies may not be everyone's favorite food, but they certainly are mine. In Southeast Asian kitchen, anchovies are common ingredients too. From flavoring soup to being side dishes and anything in between.
Using the anchovies in this pasta dish sure gives the dish that umami taste. And I love umami 🙂 Onion on its own is sweet and so this balance really well with the savory anchovies. If you never cook with anchovies before, this may be a good dish to try. You won't see the anchovies because it is pulverized in the sauce. Who knows you might like it. Like I always tell Fiorina "you don't have to like it, but at least give it a try". This linguine with anchovies and onion sauce is so good on its own or if you fancy a piece of meat to go with it, try the schnitzel…nothing can go wrong with the schnitzel (at least in our house).
Check out other recipes with anchovies.
LINGUINE WITH ANCHOVIES AND ONION SAUCE (4 servings)
Ingredients
1

lb

linguine

1

large onion

1

small tin of high-quality anchovies in oil

2 oz

2

roma tomatoes

peeled, seeded, and diced

4

cups

spinach

blanched briefly in boiling water and set aside

4

Tbsp

of olive oil

1

cup

of freshly grated Parmigiano Reggiano

more for serving

Salt and pepper to taste
Instructions
Bring a large pot of slated water to a boil and then cook the linguine according to the package instruction (to al dente). Take care not to overcook the noodle. Reserve 1 cup of the cooking water and drain off the rest

While the pasta is cooking, peel the large onion and cut into quarters. Place the chopped onions and anchovies in the food processor and blitz into a thick puree consistency

Preheat a large skillet with 4 Tbsp of oil. Add in the onion mixture and cook until it starts bubbly. Add in tomatoes and spinach and cook for about 1 minute. Toss to coat everything. Add in a bit of the reserve cooking water to loosen up if the linguine get sticky. Stir in the cheese and toss to make sure the noodles are well coated. Off the heat. Have a taste and season with more salt and pepper to your taste. Grate more cheese on top if you like. Serve immediately