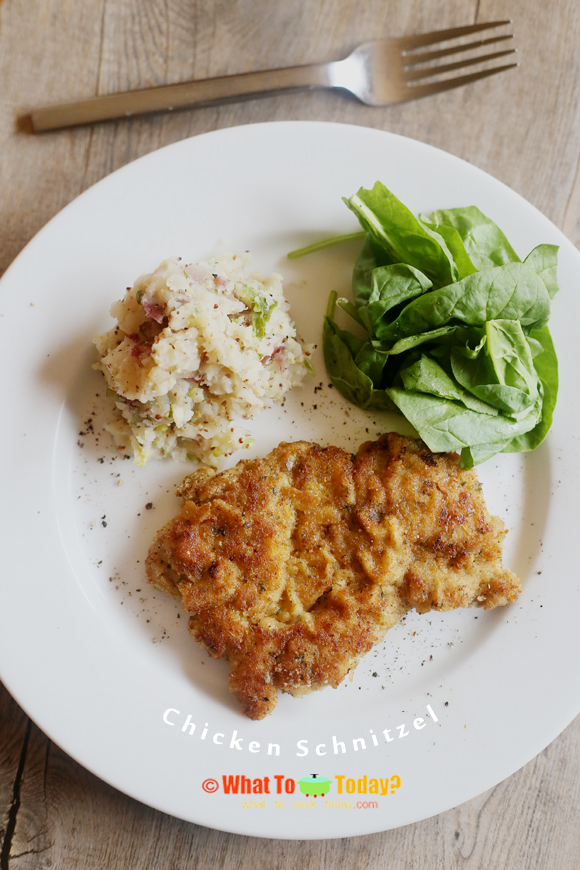 I'm a HUGE fan of schnitzel. Actually the whole family of ours are too. The first time I made it several years ago, we all got hooked. I made the Veal cutlet that time and it was a big hit ! Recently I tried it on the chicken and as expected, it was delicious. I think most of the work comes from pounding the chicken (if you want to consider that a "work"). It isn't complicated or required much of your energy. Pounding the chicken sure makes it tender and the thinness is just so perfect for little kids too. My two kiddos love it when I make schnitzel 🙂 So, it's a real winner!
**The recipe is written in Metric and sometimes I include U.S. Measurements**
Please weigh ingredients with a digital kitchen scale instead of using measuring cups as they are not very accurate especially when it comes to recipe that requires precision.
INGREDIENTS
4

pieces

of chicken thighs

-

trim off excess fat

1

cup

of whole-wheat flour

-

or use all-purpose flour if you prefer

2

eggs lightly beaten with 2 Tbsp cold water

1

generous cup dry

-

fine breadcrumbs

4

to 5 tablespoons butter

Salt and pepper to taste
INSTRUCTIONS
Place a piece of chicken thigh in between plastic wrap and pound it (but not break the meat) until about 1/4-inch thickness. Sprinkle with some salt

Prepare three shallow dishes. First one for flour, second one for egg mixture and the last one for bread crumbs

Dip salted cutlets lightly into flour on both sides and shake off any excess flour, and then into beaten egg. Let excess egg drip off and dredge cutlets with breadcrumbs. Let stand at room temperature 15 to 30 minutes. Melt butter in a large skillet. There should be enough in pan for cutlets to "swim". Do not crowd cutlets into pan. Fry in batches. Add more butter if needed

Put cutlets into pan when butter is very hot and bubbling starts to subside. Fry first side slowly until golden brown. Turn over with spatula or flat turner; do not pierce with fork. By the time second side is golden brown (allow 4-6 minutes for each side) the cutlet should be finished

Place finish cutlets on a platter, pan or sheet of aluminium foil, in a 250 to 275 F oven, so they will keep hot while the rest are being fried