Learn how to make Vienna style tender and juicy Schnitzel with this easy no fuss recipe.

According to Mimi Sheraton in her The German Cookbook, no single cut of meat is more beloved in Germany than the Schnitzel-literally a slice or cutlet, and always from the veal leg. It is the same long, flat, palm-shaped cut that the Italians call scallopini, and the French, escalope.
The meat is cut with the long grain, or, more exactly, at a slightly diagonal to it, so that it does not fall apart when it is pounded. It is this pounding, done with a wooden mallet, that gives the Schnitzel its tenderness and delicacy. After being cut, the slice of veal is placed between several thicknesses of waxed paper and is then pounded to about 1/16″ to 1/8″ thickness. The butcher can best do this for you. If you ever have to do this yourself and no wooden mallet is around, sandwich each slice of veal between waxed paper, lay on a board and flatten with the bottom side of a dinner plate.
Vienna's Schnitzel is a standard menu all over the world and is just as popular in Germany as in its homeland, Austria. It was, by the way, the forerunner of northern Italy's great specialty, Veal Cutlet Milanese. I love Milanese and Schnitzel is also another favorite of mine. All I have to say that you gotta try this recipe. It is quite amazing!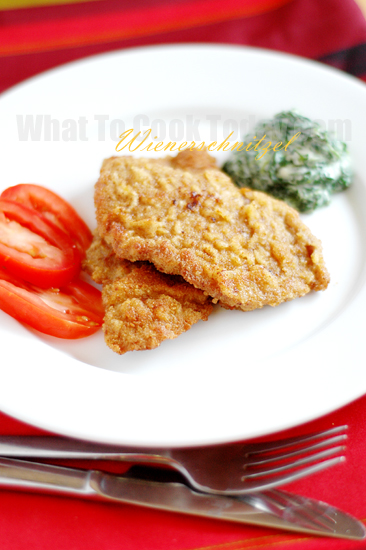 Vienna-style Veal Cutlet/ Wiener schnitzel
Ingredients
6

veal cutlets

pounded

Lemon juice

optional

½ to 1

cup

flour

2

eggs lightly beaten with 2 Tbsp cold water

2

Tbsp

cooking oil

optional

1

generous cup dry

fine breadcrumbs

4 to 5

tablespoons

butter

lard or vegetable shortening
Instructions
Veal cutlets may be marinated in a sprinkling of lemon juice for 30 minutes before they are breaded. Whether or not they are marinated, sprinkle with salt on both sides before breading

Measure flour onto a sheet of waxed paper or a flat plate. Beat eggs and water in wide flat bowl; beat in oil if you are using it. The oil is supposed to hold breading on securely and help to make it crisp. Measure breadcrumbs onto a sheet of waxed paper or a flat plate

Dip salted cutlets lightly into flour on both sides, and then into beaten egg. Let excess egg drip off and dredge cutlets with breadcrumbs. Let stand at room temperature 15 to 30 minutes. Heat fat in a large skillet. There should be enough in pan for cutlets to "swim". Do not crowd cutlets into pan. Fry in batches. Add fat if needed

Put cutlets into pan when butter is very hot and bubbling starts to subside. Fry first side slowly until golden brown. Turn over with spatula or flat turner; do not pierce with fork. By the time second side is golden brown (allow 4-6 minutes for each side) the cutlet should be finished

Place finish cutlets on a platter, pan or sheet of aluminium foil, in a 250 to 275 F oven, so they will keep hot while the rest are being fried
This blog post contains affiliate links. I earn a small commission when you made purchase at no extra cost to you. Learn more.