Pan-seared salmon is glazed in sweet kecap manis soy sauce and smothered with tender onion and mushrooms on top. Absolutely easy, quick, and delicious meal in less than 15 minutes.

KECAP MANIS (SWEET SOY SAUCE) GLAZED SALMON
One of things that I worried the most not being able to find when I first moved to Minnesota was Indonesian kecap manis 🙂 Mom packed me one small bottle to get me started (mom is the best right?). Kecap manis is a staple in Indonesian kitchen, used in many dishes for stir-frying, marinating, soups, stews, as a condiment, you name it! I was extremely happy to see kecap manis at Asian grocery store for the first time! This kecap manis glazed salmon is inspired by Indonesian semur kecap. I made semur daging kecap a while ago. While semur has a bit more complex flavor, this kecap manis glaze is uber simple. The addition of sliced onions and mushrooms cooked in the kecap manis glaze really kick this dish up a notch!
SUBSTITUTE FOR KECAP MANIS
Kecap manis is available in most Asian grocery store. I have yet to see it at other non-Asian grocery store so far. Maybe it's just Minnesota!
Kecap manis is viscous and sweet. Kecap manis is made with light soy sauce (I call it regular salty soy sauce) with palm sugar added for its sweetness and reduced until it is the consistency of a viscous but pourable syrup.
If you absolutely cannot find kecap manis, you can try making your own kecap manis:
1/2 cup soy sauce + 1/2 cup palm sugar/coconut sugar (gula Jawa). If you can't find palm/coconut sugar, use light brown sugar. Put this in a saucepan and cook over low to medium heat until sugar melted and the soy sauce started to thicken. Don't walk away during this process. Let it cool down and it will thicken further. You can store the extra in a jar at room temperature for up to a month
RECIPE WORKS FOR BOTH SALMON WITH SKIN OR SKINLESS SALMON
Some people prefer skinless salmon, some like it with the skin on. I like salmon with skin 🙂 This recipe works for both. The only difference with skin-son salmon is when you first pan-sear the salmon, sear the skin side down first and then flip over to the other side. Simple as that
FRESH OR FROZEN SALMON AND HOW TO DEFROST FROZEN SALMON QUICKLY
I've cooked with both fresh or frozen salmon steak before and honestly, they were both equally good. Just make sure once you thaw the salmon, do not refreeze again as the quality will deteriorate. The best way to thaw frozen salmon is to put thaw them overnight in the refrigerator. If you are pressing for time, submerge the frozen salmon (usually vacuum packed) in a bowl of cold water (I won't suggest using warm or hot water) or filled up kitchen sink with cold water and let the salmon submerged until fully thawed.
HOW TO EASILY MAKE KECAP MANIS GLAZED PAN-SEARED SALMON
1. Preheat a non-stick pan with oil and put the skin side down (if you use skin-on salmon) and sear for 3 minutes, then flip to the other side and sear for 2 minutes. The skin side should be nicely golden brown and crispy. Remove to serving platter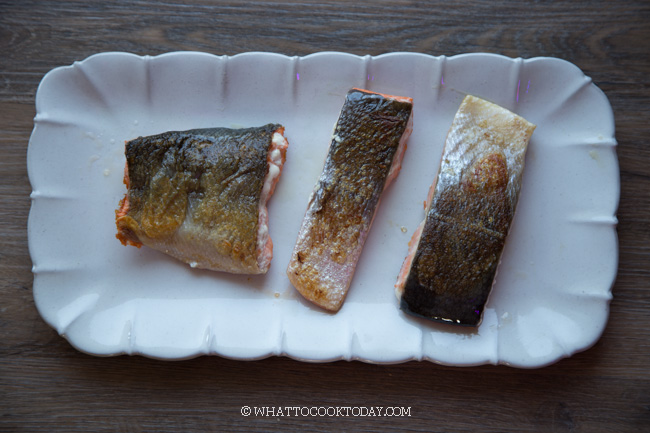 2. In the same pan, add more cooking oil and cook the onion until soft and slightly char, about 3 minutes


3. Add the mushrooms and cook until the water that ooze out from the mushrooms evaporates and the mushrooms are soft


4. Add kecap manis, soy sauce, and ketchup (if using)


5. Continue to cook until the glaze is thickened slightly


6. You can either add the pan-seared salmon back into the pan to let the glaze coats the salmon or simply pour the glaze and everything else over the salmon. Garnish with fresh cilantro leaves

SERVING IDEAS
You can serve this kecap manis glazed salmon with rice, salad, quinoa, couscous, or some crusty bread. I served it with plain jasmine rice and salad this round.


My kids love the kecap manis glaze and they usually don't care about eating the mushrooms, but they did this time 🙂

All I can say is that this recipe is one of our family's favorites. It's easy to make and literally ready to be served in less than 15 minutes! What not to love about that! More reason to eat salmon 😉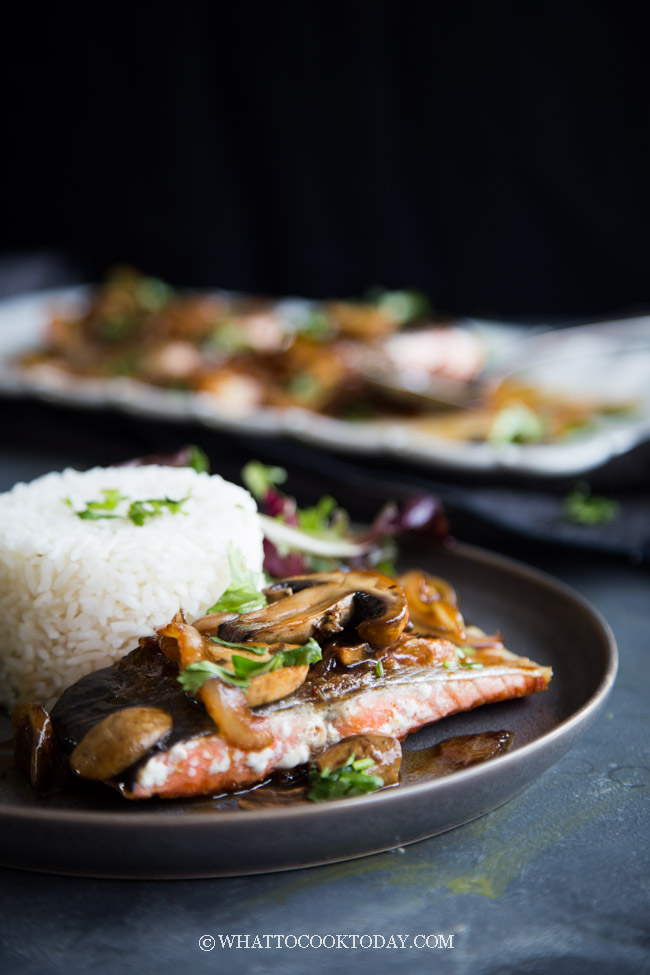 Super Easy Kecap Manis Glazed Pan-Seared Salmon
Ingredients
1 ¼

lbs

boneless salmon steak (skinless or not)

about 1-inch thick, 5 oz each

3

Tbsp

cooking oil

divided

1

large

onion

peeled and thinly sliced

8

oz

cremini mushrooms

sliced or buy the pre-sliced
Instructions
Check for pin bones by gently pressing on the flesh of salmon, remove if you feel any. Pat the salmon dry with kitchen towel.

Heat a large non-stick pan with 2 Tbsp cooking oil over medium heat. If using skin-on salmon, place the skin side down first and sear for about 3 minutes and then flip over and sear for another 2 minutes. Remove the salmon steak from the heat into serving platter and set aside

In the same pan, add another 1 Tbsp of cooking oil and add onion. Saute until the onion are soft and slightly charred, about 3 minutes. Add the mushroom and cook until the mushrooms are soft and water oozing out from the mushrooms evaporates. Add kecap manis, soy sauce, and ketchup (if using). Continue to cook until the glaze is bubbly and slightly thickened

At this point, you have a choice of adding the pan-seared salmon back into the pan and bathe with the glaze briefly or simply pour everything on top of the pan-seared salmon. It's up to you

Garnish with fresh cilantro leaves. Serve with rice and/or salad immediately
This blog post contains affiliate links. I earn a small commission when you made purchase at no extra cost to you. Learn more.