Super Easy and Versatile Stir-fried Asparagus and Shrimp – Learn how to make a perfect asparagus stir-fry with shrimp and other veggies. This will become your favorite and easy weeknight meal solution. Can be a side dish or an entree.
Asparagus is in peak season when I made this super easy and versatile stir-fried asparagus and shrimp. My kids love stir-fried asparagus. I'm even more delighted that they actually love asparagus. I myself never really liked asparagus when I was a kid. I'm happy to report that it's one of my favorite veggies now though.
HOW TO CHOOSE FRESH ASPARAGUS
They are best when in season. Look for bright firm fresh green stalks and tender tips, but not mushy. If it's mushy, it's no good.
HOW TO STORE ASPARAGUS
I like to cook them within a day or two. Like many other vegetables, the longer you store them, the less nutrients you get. I suggest to cook in within one week after getting them. Trim off about 1-inch of the bottom stalks. Place them in a wide-mouth jar filled with water, covering about 3-inch from the bottom. Loosely cover the rest of the top with plastic bag and keep them in the refrigerator for up to 1 week.
TIPS ON HOW TO COOK ASPARAGUS
1. Blanching
I know my mom will briefly blanch them in boiling water for few minutes and then refresh with cold water. This save a little bit of time when you do the stir-frying. You don't have to blanch. I didn't. See point no.2
2. Stir-fry and steam
It helps a lot to cook them in a wok or skillet that has a lid as this will help to stir-fry and then "steam" it in the same wok/skillet

HOW VERSATILE IS THIS STIR-FRIED ASPARAGUS AND SHRIMP
1. Veggies of your choice
You can add other colorful vegetables like green peas, corn kernels or baby corn to this dish for colorful presentation.
2. Protein of your choice
I like to use shrimp for veggie stir-fry simply because we love shrimp and it's quick to cook. You can use other meat like beef, chicken, pork. You can use meatless protein like firm tofu.
3. As a side dish or a meal on its own
For this super easy and versatile stir-fried asparagus and shrimp, it can be a meal on its own. Just serve with some rice and dinner is settled. If you don't use any protein, then it is more suitable as a side dish.
4. For women on confinement diet
Double the amount of ginger, add sesame oil, and use DOM benedictine instead of shaoxing wine. You can also add goji berries at the very last step of cooking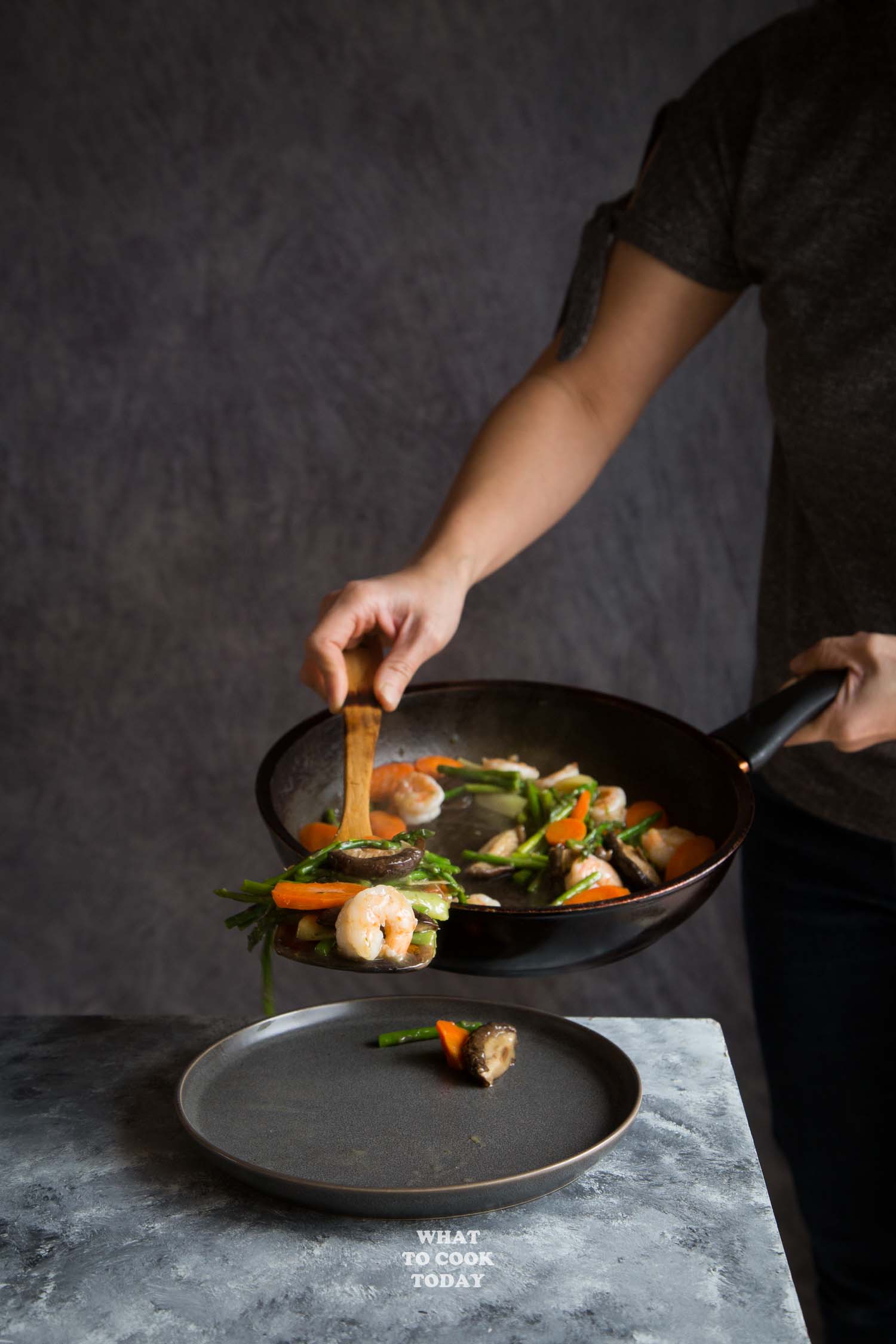 TIPS ON HOW TO MAKE GOOD STIR-FRIED ASPARAGUS AND SHRIMP
1. Save the liquid from soaking mushrooms
I used shitake mushrooms and the liquid from soaking them has that extra umami punch when you use them in cooking
2. Use a wok/skillet that has a lid
This will allow you to stir-fry and "steam" the asparagus in the same wok/skillet. Less pot to wash. Just stir-frying will take a bit longer to soften the asparagus. When you close the lid, this will allow the steam to cook the asparagus quickly and also prevent overcooking the asparagus.
3. Cook the protein first
If you use meat or seafood (like shrimp in this case), cook them first and dish out. This will prevent overcooking them.
4. Cook in the same pan
The brown bits from cooking the meat or seafood first, will add extra flavor to the overall dish. If you dump everything at the same time, overcooking will happen and they end up being "steamed" instead of stir-fry
5. Thicken the sauce
When you thicken the sauce, this will nicely coat everything in the wok/skillet and you are able to taste the maximum flavor of the final dish
What's your favorite dish made with asparagus? Please share with me. We simply can't have enough of them!
Super Easy and Versatile Stir-fried Asparagus with Shrimp
Ingredients
4

oz

large shrimp

peeled and deveined

1

lb

asparagus stalks

1

large

carrots

peeled and slice at angle

3

large

dried shitake mushrooms

or mushrooms of your choice

1

Tbsp

cooking oil
Aromatics:
2

stalks

green onion

cut into 3-inch section

2

cloves

garlic

peeled and finely chopped

1

inch

fresh ginger

peeled, thinly sliced and smashed to release flavor
Seasonings:
1

Tbsp

Shaoxing wine

or dry sherry

½

tsp

salt

1

Tbsp

oyster sauce

¼

tsp

sugar
Instructions
Soak shiitake mushrooms in hot water for 15-20 minutes. When the caps are soft when you squeeze them, cut the stalks off and slice the caps into 1/2-inch slices. Save 1/2 cup of the soaking water for later

Pat the shrimp dry with paper towel, set aside. Peel off tough skins from the asparagus and trim off about 2-3 inches of the tough bottom parts. Cut into 2 sections.

Heat some oil in a large wok or skillet. Add the shrimp and let them cook until they turn pink on both sides. Dish out and set aside. In the same wok/skillet, add a bit oil if needed, add green onion, garlic, and ginger. Stir fry until fragrant, about 1 minute. Add slices of shitake mushrooms and stir fry for another 30 seconds

Add the asparagus stalks and carrots, and seasonings. Stir fry for about 1 minute. Add cooking wine and it will sizzle. Scrape the good flavorful bottom bits from cooking shrimp earlier. Cover the wok/skillet with a lid and let it cook for about 1-2 minutes (longer if you have "fatter" stalks)

Uncover the lid. The asparagus stalks and carrots should be soft but still somewhat crunchy. Pour in liquid from soaking mushrooms and bring to a gentle simmer. Add shrimp back to the wok/skillet. Stir to mix everything. Have a taste and adjust with salt if necessary. Give the cornstarch solution a stir and pour in and continue to stir until the sauce thickened. Transfer to a serving platter and serve immediately
This blog post contains affiliate links. I earn a small commission when you made purchase at no extra cost to you. Learn more.