Learn how to make these ultra-thin and crispy French almond tuile/almond crisp made without any dairy and eggs. They are perfect thin wafer cookies for any occasion.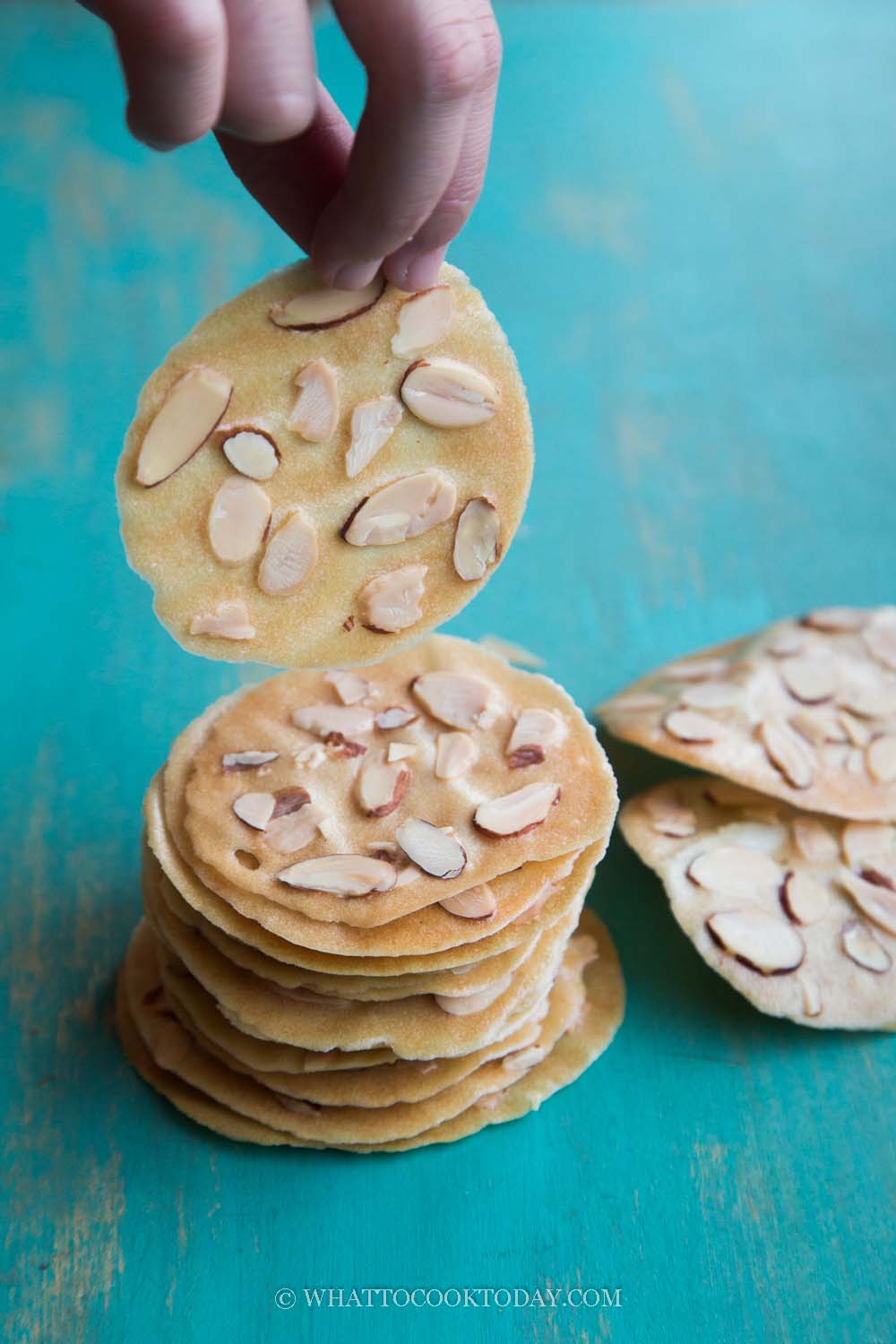 What is almond tuiles?
These popular French cookies are made with simple ingredients such as egg whites, flour, butter, sugar, and almond flakes. Tuiles mean tile in French. The cookies have that signature curve shape that looks like tiles.
Who doesn't like thin, ultra-crispy French almond tuiles? They are perfect on their own or to accompany desserts like mousse, pudding, ice cream, or anything delicate and soft to give that contrast of texture. I'm a happy camper to have them with a cup of hot tea in the morning or afternoon!
Eggless almond tuiles
The eggless version of almond tuiles are equally delicious. No eggs and dairy are used in this eggless version. They are so crispy and stay crispy for a few days at least.
Ingredients for eggless almond tuiles
1. Almond flakes/Sliced almond
2. Nut milk
You can use any nut milk or even coconut milk
3. Oil
I use neutral-tasting oil such as grapeseeds oil
4. Sugar
I usually use granulated sugar unless otherwise specified
5. All-purpose flour
All-purpose flour I use have a gluten content of about 11%
6. Salt
A small pinch of salt makes a difference in baking and I usually use fine sea salt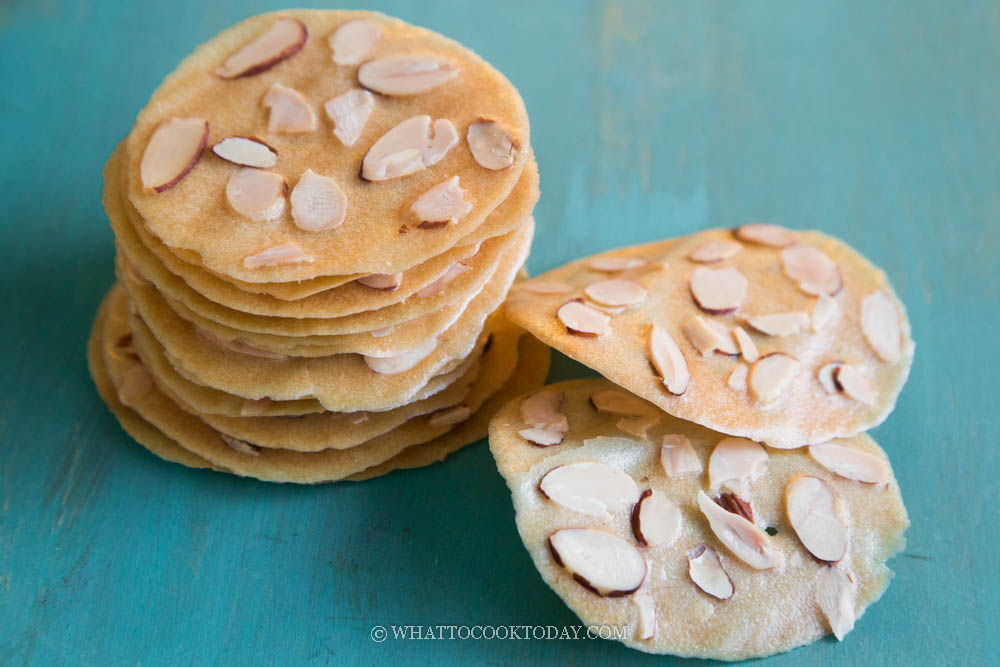 How to bake eggless crispy almond tuiles
1. Whisk soy milk, oil, sugar, and salt in a large mixing bowl until sugar dissolves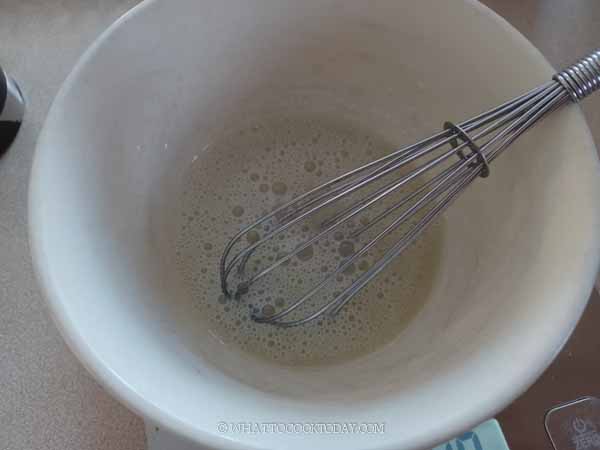 2. Sift in the flour. Use a whisk to combine and break up any lumps. The batter should be smooth. Strain if necessary to get rid of lumps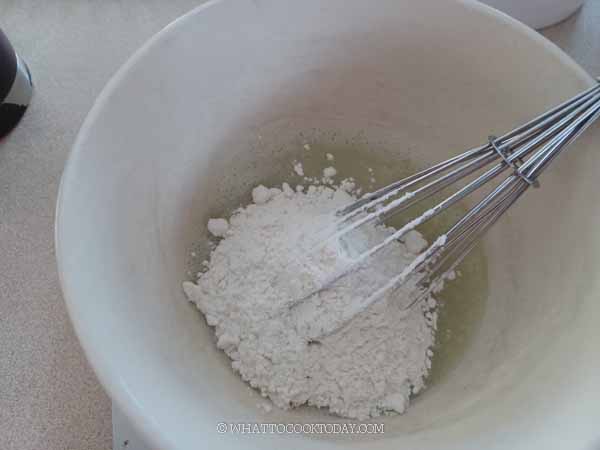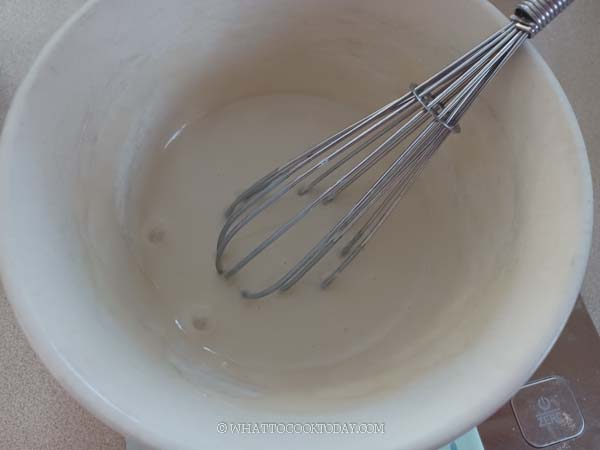 3. If you want to make the curve tile shape: Preheat oven to 350 F (180 C) for a conventional oven. For a convection oven, preheat at 330 F (165 C). Line two large baking sheets with parchment paper. Prepare 3-4 round tall glass bottles or large rolling pin to drape the cookies over to shape them into a curve tile shape
Spoon about 1 tablespoon of the batter and spread it thinly on the parchment paper and use the back of the spoon to help you spread, about 3-4 inches in diameter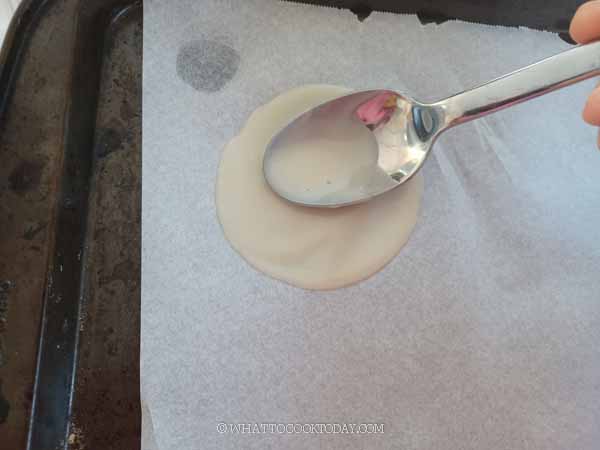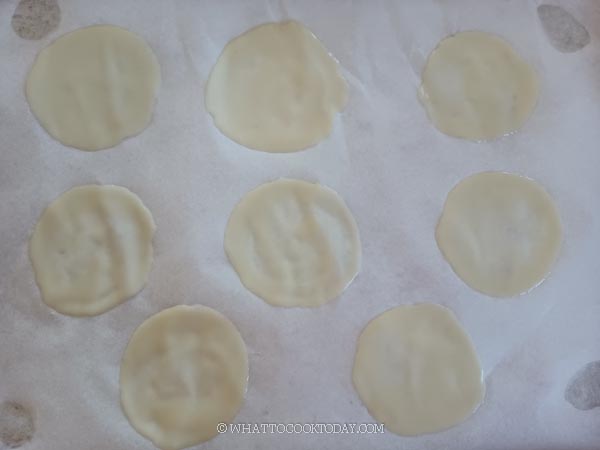 4. Sprinkle some sliced almonds on top. I recommend baking only 3-4 at a time so you have enough time to work with the cookies as they harden pretty quickly once they are out of the oven


5. Bake the cookies at the middle rack for 9-10 minutes (depending on the size and thickness) or until slightly golden brown on the edge. I suggest doing a trial baking by doing 2 cookies so you get the feel of it and the workflow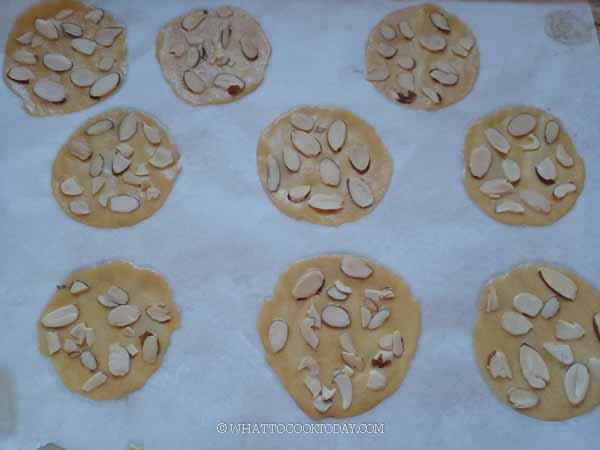 6. Remove from the oven and carefully lift the cookie up from the parchment using an offset spatula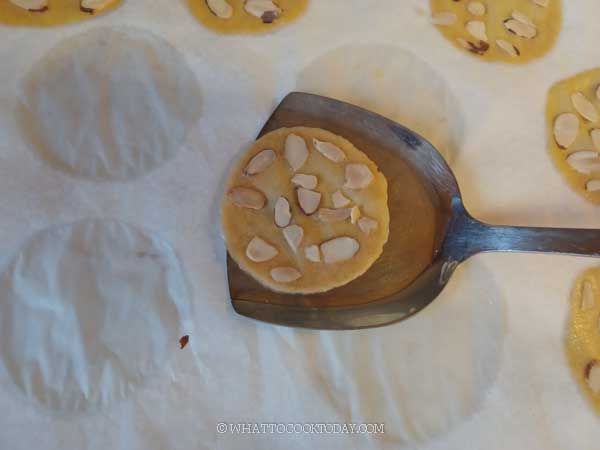 7. Drape the still-soft cookies on the glass bottle or rolling pin. You need to move fast to avoid cookies from hardening before you have the chance to bend them into shape. let them cool down completely. They will harden and crispy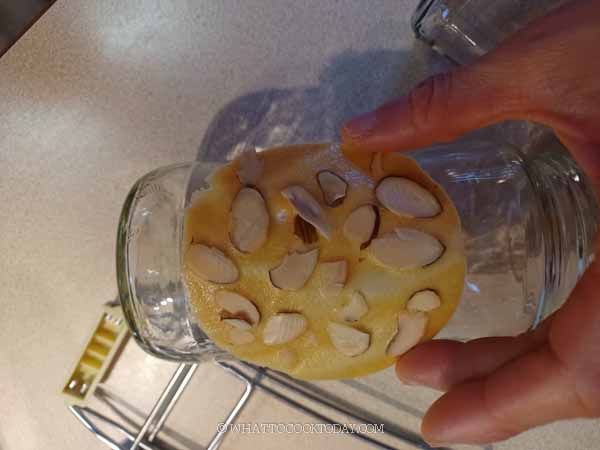 8. If you just want a flat shape tuile, the process is the same to what I've mentioned above, but preheat the oven to 320 F (160 C) for a conventional oven. For a convection oven, preheat at 300 F (150 C). Bake the cookies at the middle rack for 15-18 minutes (depending on the size and thickness) or until slightly golden brown on the edge.

Tips for crispy almond tuiles
1. Measure the ingredients by weight, not volume for accuracy
2. Spread the batter really thin
3. Do a trial baking
Try to bake 2 for the first time to get a feel of the workflow as you need to move fast if you want to shape the cookies into a curve tile shape. This also gives you a chance to understand your oven and the time you need to bake these cookies just enough so you can still shape them into a curve. If you overbake them, they will crisp up immediately they come out from the oven

Did you make this recipe?
I love it when you guys snap a photo and tag to show me what you've made 🙂 Simply tag me @WhatToCookToday #WhatToCookToday on Instagram and I'll be sure to stop by and take a peek for real!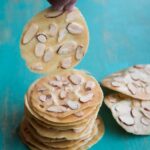 Eggless Crispy Almond Tuile (Chinese New Year Cookies)
Instructions
Prepare the batter:
Whisk soy milk, oil, sugar, and salt in a large mixing bowl until sugar dissolves. Sift in the flour. Use a whisk to combine and break up any lumps. The batter should be smooth. Strain if necessary to get rid of lumps
Shaping and baking (if you plan to make the curve tile shape):
Preheat oven to 350 F (180 C) for a conventional oven. For a convection oven, preheat at 330 F (165 C). Line two large baking sheets with parchment paper. Prepare 3-4 round tall glass bottles or large rolling pin to drape the cookies over to shape them into a curve tile shape

Spoon about 1 tablespoon of the batter and spread it thinly on the parchment paper and use the back of the spoon to help you spread, about 3-4 inches in diameter. Sprinkle some sliced almonds on top. I recommend baking only 3-4 at a time so you have enough time to work with the cookies as they harden pretty quickly once they are out of the oven

Bake the cookies at the middle rack for 9-10 minutes (depending on the size and thickness) or until slightly golden brown on the edge. I suggest doing a trial baking by doing 2 cookies so you get the feel of it and the workflow

Remove from the oven and carefully lift the cookie up from the parchment using an offset spatula and drape the still-soft cookies on the glass bottle or rolling pin. You need to move fast to avoid cookies from hardening before you have the chance to bend them into shape. let them cool down completely. They will harden and crispy
Shaping and baking (if you plan to make the flat tile shape):
Preheat oven to 320 F (160 C) for a conventional oven. For a convection oven, preheat at 300 F (150 C). Line two large baking sheets with parchment paper.

Spoon about 1 tablespoon of the batter and spread it thinly on the parchment paper and use the back of the spoon to help you spread, about 3-4 inches in diameter. Give about 1-inch space in between cookies. Sprinkle some sliced almonds on top. I recommend baking one tray at a time

Bake the cookies at the middle rack for 15-18 minutes (depending on the size and thickness) or until slightly golden brown on the edge. Remove from the oven and let the cookies cool down on the pan. The cookies will crisp up as they cool down. If your tuile are chewy and soft, it's possible that your didn't spread the batter thin enough and/or they just need longer baking time. You can pop them back into the oven and bake for a few more minutes
Storage:
Almond tuile stays crispy in an air-tight container for 3-4 days. If it's really humid where you are, it may get soggy faster

Almond tuile freezes well when I tried doing that. They stay crispy too. Simply thaw at room temperature for a few minutes and they are ready for consumption
Recommended products:
Nutrition
Serving:
1
cookie
|
Calories:
100
kcal
|
Carbohydrates:
8
g
|
Protein:
2
g
|
Fat:
7
g
|
Saturated Fat:
1
g
|
Polyunsaturated Fat:
2
g
|
Monounsaturated Fat:
4
g
|
Trans Fat:
1
g
|
Sodium:
21
mg
|
Potassium:
63
mg
|
Fiber:
1
g
|
Sugar:
4
g
|
Vitamin A:
1
IU
|
Vitamin C:
1
mg
|
Calcium:
19
mg
|
Iron:
1
mg