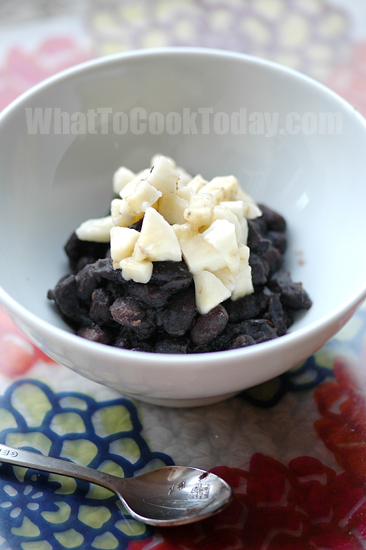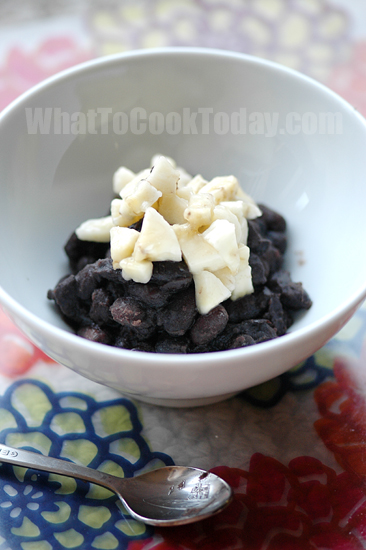 I know what you are thinking when you see this title. Black beans and banana ? Hmmm…. not too convincing eh ? I wasn't either. The only thing that convinced me to give it a try was the nutrition profile of black beans and banana. Protein, fiber, vitamins and minerals-packed. After all, this was for Fiorina and I wanted her to have nutritious food.
I think I mentioned before that Fiorina is so not into Baby Food. She would not open her mouth if I tried to feed her something that has been pureed. It's almost like the girl has a radar for pureed food. I couldn't "trick" her either. But you know, it wasn't a bad thing that she wouldn't take pureed food. It actually save me lots of time from pureeing.
This black beans and banana actually tasted good. I personally like it. I gave hubby a spoon to try and he was like "hmm…pretty good actually". The sweet banana offers a nice contrast to the beans. If you are preparing this for babies older than one year, you can top up with cream fraiche, which is tangier than a plain cream and less sour than sour cream. This is a very healthy meal/snack for everyone, not just the baby.
Another great baby recipes (that is not so typical baby food) that Fiorina really enjoys from Feeding Baby by Joachim Splichal and Christine Splichal.
BLACK BEANS AND BANANA (4 servings)
Suitable for Babies: nine months and older
2 Tbsp extra virgin olive oil
1/2 medium onion, minced
1 1/2 cups black beans, rinsed and picked over
8 cups low-sodium chicken broth/home-made chicken broth
Leaves of 2 sprigs fresh thyme
2 ripe bananas, cubed
COOKING METHOD:
1. Heat the oil in a large, heavy-bottomed pan over medium-high heat for 1 minute. Add the onion and saute for about 3 minutes, until translucent
2. Add the beans, broth, and thyme leaves, and bring to a boil. Decrease the heat to medium, cover, and cook for 1 1/2 hours until the beans are tender and most of the liquid has been absorbed. Check occasionally to skim any foam from the surface, if necessary
3. To serve, place a serving of beans into a bowl and top with the banana pieces. Mash for babies younger than one year. Garnish with 1 tsp creme fraiche for babies older than one year and adults
Creme fraiche, for garnish (optional)