Finland itself has always been special to me for the longest time. I've never been there myself if you wonder why. Finland is special because I have a special friend there 🙂 A friend that I got to know before I knew how to use a desktop computer and connect to the internet (the word "internet" was an alien at that time too!). A friend that I got to know when I was still in middle school in Indonesia through snail mail 🙂
I remember a friend of mine at school was asking whether I was interested in making friend with people from other countries through writing, or they called it pen pal at that time (my kids will probably grow up never knowing this term "pen pal" lol!). I was really interested and I thought it's good for practicing my written English at that time too. I couldn't remember exactly now, how we got it all started, but there was a program that's going on for this pen pal thing and the next thing I know, I had started to write to this special friend of mine from Finland. I was so excited to receive the first letter from her. It was a BIG DEAL to me!
We continued writing to each other throughout college off and on. We kinda out of touch for certain period of time and then got back into writing again and then we were out of touch again for at least 10 years I believe, until I found her back through facebook about one year ago. I've never met her in person, however, I feel connected to her and writing to her always reminds me of all the fond memories of being a teenager 🙂
Okay, sorry, hope you guys are not dozing off at the other side reading this. I just have to share this story because it's just something dear to me. Trust me, will get on the cooking part very soon! After re-connecting to her again, it hit me that I had not tried Finnish cuisine all this time. Doh!! So, I consulted her and asking for recommendations on what I should try for Finnish cuisine. She did give me wonderful recommendations. Finnish meatballs or lihapyorykat was the first dish I tried. Meatballs never fail to comfort majority of people (including me), doesn't matter where you are from. Of course every family has its own version of meatballs and the combination of ingredients you can put into meatballs are endless too. This Finnish meatballs are absolutely soft and scrumptious. This recipe is adopted from The Best Of Finnish Cooking by Taimi Previdi.
Thank you Anne, for your recommendations and friendship 🙂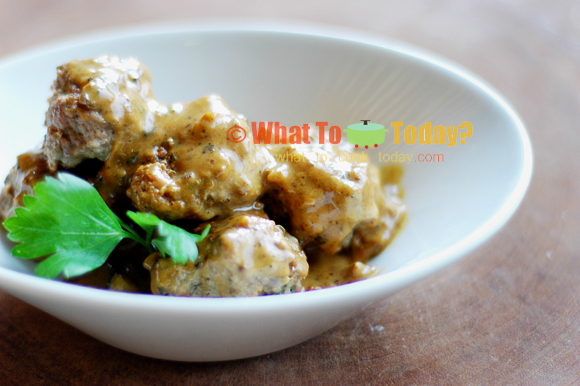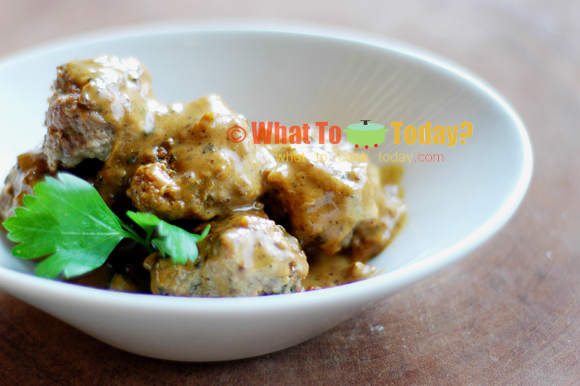 FINNISH MEATBALLS / LIHAPYORYKAT
Ingredients
1

lb

lean ground beef

2

slices

white bread

, crumbled

½

cup

milk or club soda

1

medium onion

(peeled and chopped)

2

Tbsp

butter

1

tsp

salt

1

tsp

ground allspice powder

1

large egg

1

Tbsp

all-purpose flour

1

cup

beef broth or water

1

Tbsp

heavy cream
Instructions
In a bowl, soak the crumbled bread in the milk. Saute the chopped onion in 1 Tbsp of butter until soft and lightly browned. Add to the bowl with the meat, salt, allspice and eggs. Beat well with a wooden spoon or with an electric mixer. Chill for 15 minutes

With hands dipped in cold water form small balls and brown them in the rest of the butter in a skillet, turning them often. Remove from the skillet and set aside. Keep the drippings on the skillet
Preparing the sauce:
In the same skillet you use to cook the meatballs, stir in flour and cook in the drippings briefly. Add the broth or water, and the heavy cream, and cook until the sauce thickens. Add the meatballs to the sauce, cover and let simmer for 15 minutes. Add salt to taste
Serving:
Serve with lingonberries (if you have some) and boiled potatoes