The second recipe I tried after a success of making sous vide chicken by Korean celebrity chef Edward Kwon, was this seafood fricassee. Fricassee is a French term for stew.
The popular fricassee is usually made with chicken, however, it's not limited to just that. The meat and the sauce is usually prepared separately in fricassee. The sauce is usually thick and rich, however, for this seafood fricassee, it is not as thick as the one that is usually prepared with chicken or other meat.
Contrary to the usual chicken fricassee (usually pale in color), this seafood fricassee is vibrant in color. The seafood fricassee has a nice refreshing flavor from the wine, parsley and tomatoes.
The garlic puree is definitely a big bonus in this seafood fricassee. I don't mind eating the seafood fricassee on its own, topping it with the garlic puree really bring the dish up to another level (better!!).
This seafood fricassee's recipe is adapted from chef Edward Kwon. Thank you for wonderful recipes and for the opportunity for trying out the sous vide chicken as well. I'm glad we can cook "7-star" at home too. We are definitely happy campers 🙂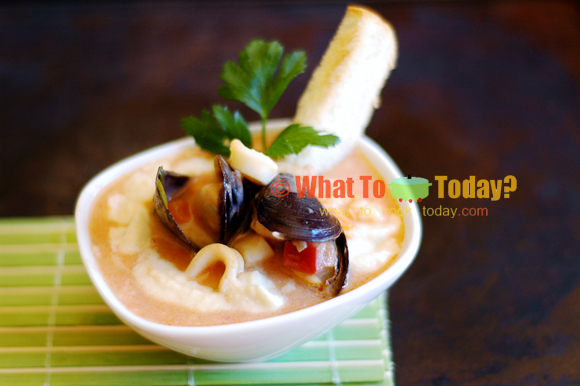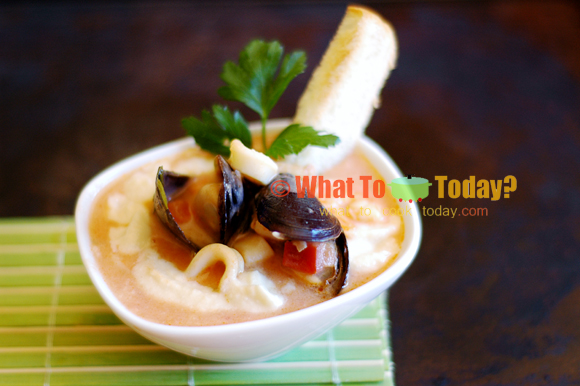 SEAFOOD FRICASSEE
Ingredients
2.2

lbs

(1 kg) mussels

1

lb

seafood mix

(such as calamari, prawns, scallops or any seafood you like)

½

cup

dry white wine

1

Tbsp

chopped garlic

1

small bunch of parsley stock

1

cup

ketchup

½

cup

water

1

Tbsp

parsley leaves

, save some for garnish and chop the rest

2

oz

cherry tomatoes

, chopped

1

clove

garlic

, peeled and smashed with side of cleaver or heavy object

1

Tbsp

butter

1

Tbsp

extra virgin olive oil
Garlic puree:
2

oz

(50 g) garlic, chopped

1

medium onion

, roughly chopped

4

fl oz

(100 ml) heavy cream

1

Tbsp

butter

Salt and pepper to taste
Garnish:
Parsley leaves

1

loaf of baguette

(sliced and toast)
Instructions
Preparing the garlic puree:
In a small saucepan, melt the butter and saute the garlic and onion until they are soft, about 8-10 minutes. Add in the heavy cream and bring to a slight boil and simmer gently until it started to thicken. Pour the content into a blender and blend until smooth. Set aside
Preparing the stock:
Preheat a large pot. Add 1 Tbsp olive oil. Add in the garlic and saute for about 10 seconds until fragrant. Add in the mussels

Pour in the white wine and if you can spark some fire (flambe) with the wine, that's great, if not, don't worry! Follow with water and parsley stalks. Bring to a boil and cook until the mussels open up. Discard the ones that do not open . Add in the ketchup and cook for another minutes. Turn off the heat. Use a slotted spoon to pick up all the cooked mussels and set aside
Preparing the Fricassee:
In another large pot, melt about 1 Tbsp of butter, add in the garlic and chopped tomatoes and saute until the tomatoes are soft

Pour in about 1/2 cup of the mussel stock along with the mussels you prepare earlier, follow by the chopped parsley and bring to a boil. Add in the seafood mix, in my case, I have calamari, prawns and scallops. They should cook very quickly, about 1 minute or so. Once you see they turn color, add in the heavy cream and bring them to a boil again. Have a taste and season with salt and pepper to your taste. Remove the pot from the heat
Plating:
In a serving bowl, ladle some of the sauce into individual serving bowls. Divide the mussels, calamari, prawns and scallops among the serving bowls. Top with garlic puree and parsley leaves. Tuck the toasted baguette slices on the side of the plate. You can also place the baguette slices on other serving platter. Serve immediately