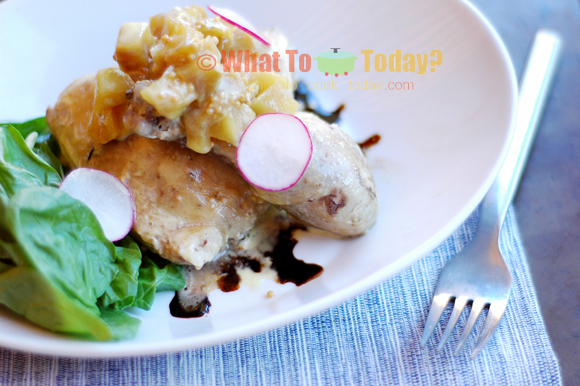 Few weeks ago I got a message from Strategic Public Relation Group's (SPRG) associate in Singapore for an opportunity to try out a Korean celebrity chef, Edward Kwon's exclusive recipes that hasn't been published on his television show. I'm always excited to try out anything new. I had known little about Chef Edward Kwon , so I decided to read up about him. Quoting from the litvchannel, Edward Kwon was born in Korea 1971, Kwon worked as an intern at the Ritz-Carlton Hotel in Seoul 1995, and then went on to work for the Ritz Carlton in San Francisco in 2001. Upon his return to Korea, he was part of the opening team at the W Hotel Seoul as their Executive Sous Chef.
Chef Edward Kown has honed his skills through international travels and working in different countries, including China and Middles East. His recent show Edventures in Asia presents an opportunity for the viewer to delve deeper into Asia's colourful culture through its cuisine as Chef Ed dissects ingredients and innovates new fusion dishes that represents Asia's taste as a whole.Reading all that, of course I couldn't wait to try out his recipes. I love fusion cuisine and he is an impressive chef who loves to create gastronomic food by fusing Korean with other Asian food. So, I decided to give Sous Vide Chicken with apple chutney, orange pommery cream and balsamic vinegar reduction a try.
You probably will ask, what is Sous Vide ? Sous Vide is basically a cooking method originated from France by placing the meat inside a vacuum-sealed bag and cook in a water bath on low heat for several hours. This cooking method results in a very tender and juicy meat. Sous Vide cooking method has been adopted widely by gourmet restaurants throughout the world. This was my first time cooking Sous Vide and I love how it turned out.
When I presented my husband with the whole dish and asked him how it was, I didn't get much answer other than "uhmm…..yummm….ohh…yummm. It's a keeper" So, this dish is definitely a success. The chicken is incredibly tender, juicy and flavorful. Pair it with the delicious apple chutney, the orange pommery sauce and the balsamic vinegar reduction…boyyy!!! it's one bombastic meal!!! I love how all the different elements work together without overwhelming one another. This is seriously a very tasty and pretty easy gourmet meal to prepare, just need to plan ahead. I adapted the recipe slightly to make it more household "friendly".
SOUS VIDE CHICKEN WITH APPLE CHUTNEY, ORANGE POMMERY CREAM AND BALSAMIC VINEGAR REDUCTION
Ingredients
Sous Vide Chicken:
2.2

lbs

(1 kg) of chicken ( combination of chicken legs and breast if you like, I used leg quarters with skin on)

About 1/4 cup

(50 ml) of extra virgin olive oil

About 1/2 Tbsp of fresh rosemary leaves
Apple Chutney:
½

cup

water

1

Tbsp

sugar

3

medium size red apples

(peeled, cored and cut into 1/4-inch dice)

½

cup

orange juice

1

Tbsp

mustard seed

1

small cinnamon stick

1

Tbsp

extra virgin olive oil

2

oz

butter
Orange Pommery Cream:
3.5

fl oz

(100 ml) orange juice

3.5

fl oz

(100) heavy cream

About 1 Tbsp pommery mustard

Sugar

, salt, pepper to taste
Garnishes:
About 4 oz

(125 g) watercress or other greens of your choice, I think alfalfa sprouts will work well too (I use baby spinach)

1

small red radishes

¼

cup

balsamic vinegar
Instructions
Preparing The Chicken:
Place the chicken in a large vacuum sealed bag or large zip lock bag. Push all the air out as much as you can before sealing it. If you have vacuum sealer, that will be the best. Marinade the chicken breasts and legs with salt, rosemary, extra virgin olive oil for one day

Gently boil the vacuum sealed bag in water with the temperature of about 158-160 F degrees (70 C) for about 4 to 5 hours or until the chicken pieces are cooked through
Apple Chutney:
Cut the apples in 1 1/2 inch dices

In a skillet, add the butter, oil, apples, and cook until golden brown and started to get soften

In a separate small pot, make the syrup by adding the orange juice, water, sugar and boil in low heat. Then add star anise, cumin, cinnamon stick and bring to boil, then simmer to reduce the syrup.

Pour the apples into the syrup, and gently cook until the apples are soft. Add salt to taste. Turn off the heat. Discard the cinnamon stick and star anise after that

Add the mustard seeds into the apple mixture and stir to mix
Orange pommery cream:
In a small sauce pan, pour in all the ingredients, bring to a boil and lower the heat to simmer until the sauce is thickened. Set aside
Balsamic Reduction
Prepare this when you have all the elements ready for plating. In a small sauce pan or pot, bring the balsamic vinegar to boil, then lower the heat to let it simmer until it thickens (about 5 minutes). The longer you let it sit, the thicker it will get, so don't let it sit around for too long
Plating:
On one side of the plate, add dots or drizzle the balsamic vinegar reduction

Cut the chicken pieces into half and place on a serving platter

Top the chicken with the apple chutney, the orange cream sauce, the greens, and garnish with 2-3 thin slices of radish