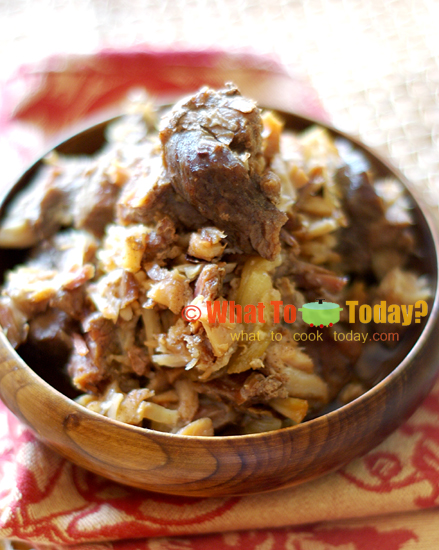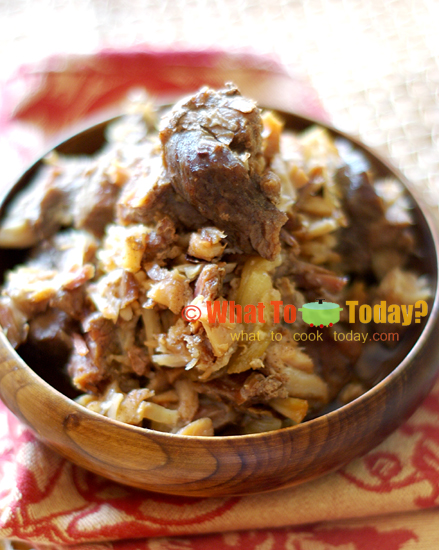 Karelian hot pot or known as Karjalanpaisti in Finland, is one of the national dishes in Finland. Originated from Karelia region, this stew is usually prepare with at least two different type of meats, usually beef and pork, but lamb is also common. The stew was traditionally prepared with wood-burning ovens in Karelia and Karelian hot pot is usually prepared after bread had been baked and the leftover oven heat was utilized to slowly cooked the hot pot. This reminds me of the preparation of Cholent-Asheknazi Hamin by using residual heat.
The hot pot is seasoned with several ingredients such as bay leaf, allspice, salt and onions. Like most other Karelian foods, the Karelian hot pot is traditionally cooked in a pot placed inside an oven. In Karelia, it is usually referred to as just 'oven stew'. The term Karelian hot pot can be used to refer to nearly any food that contains meat and that is prepared in this traditional Karelian fashion.
I find this Karelian hot pot very easy to make and it's mind blowing that I didn't put many seasonings in the cooking, other than salt and bay leaf and it turned out so delicious. The meat are cooked in its own juice and they are so tender that they just melt in your mouth!! The only thing about preparing it was, having to wait and waiting can be a pain sometime lol! The cooking time is pretty long, about 5 hours, but it does worth every second of it. Recipe is adopted from The Best Of Finnish Cooking by Taimi Previdi.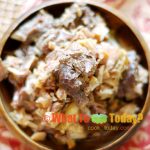 KARELIAN HOT POT / KARJALANPAISTI
Ingredients
1

lb

beef chuck

, cut in 1-inch cubes

½

pork shoulder

, cut in 1-inch cubes

1

medium onion

, peeled and quartered

1

bay leaf

½

tsp

allspice powder

1-2

tsp

salt

¼

cup

water
Instructions
Preheat oven to 275 F. Use a heavy casserole or pot with a tight-fitting lid. Place the meat in the pot with the onion, bay leaf, allspice and water. Sprinkle with salt

Use a smaller amount first, and add to taste later on. Cover tightly, place the casserole in the oven and let cook for 5 hours, stirring once. You should not need anymore water, but if the meet seems to be drying out, add some more. The meat should basically cook in its own juices

Serve with boiled potatoes, fresh rye bread and a salad, if desired