Chinese Four Herbs Soup (Sibut) – Learn how to make this nutritious Chinese Four Herbs Soup or often known as sibut. Both stove-top and pressure cooker (Instant pot) recipe are included.
My mom made this Chinese four herbs soup (四物汤) or what she often call sibut for me as a in-between "snack" during
Confinement time when I just had our two kids. I like this Chinese four herbs soup because it is easy to make and mild in terms of flavor from the herbs.
WHAT IS FOUR HERBS (SIBUT) SOUP?
Sibut soup is a soup made with four type of Chinese traditional herbs (or more in most cases). The four herbs my mom packs normally include Dang Gui (Angelica Root), Shu Di (Rehmannia glutinosa)-which contributes to the black color of the soup, Dang Shen (Codonopsis Root), Chuan Xiong (Ligusticum Striatum). Sibut is also conveniently sold in a packet with all the herbs already included at the Chinese Medicine Hall.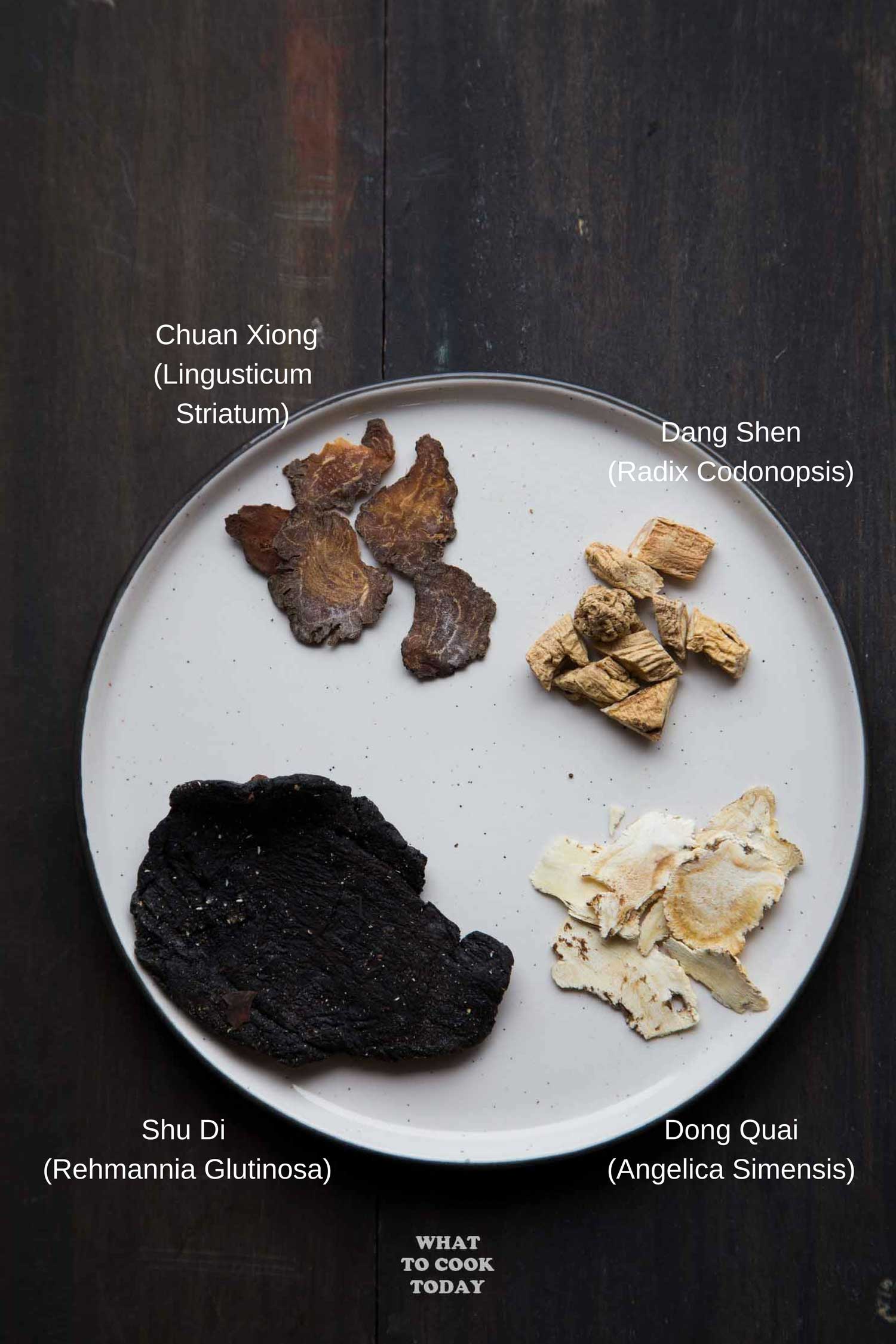 But apparently, it is not confined to only 4 herbs. Sometime mom will add red dates, black dates, goji berries and other herb like yu Zhu (Solomonseal Rhizome) to the soup to improve the taste of the soup. Some people do not want their soup to be black in color and so they don't use Shu Di in the soup. My mom said the type of herbs can be swapped and catered to whatever one wants. I used four herbs (sibut) plus the other four optional herbs in this recipe (picture below). You can just do four herbs.
WHY IS THIS FOUR HERBS (SIBUT) SOUP IS BLACK IN COLOR?
The black color is contributed by the black looking piece of herb calls Shu Di Huang (Rehmannia Glutinosa Root). They are usually sold in dried form. Once cooked, they will plump up and actually quite tasty. But, as with all traditional Chinese Medicine, one piece is usually all you need in this recipe and more is not always better too.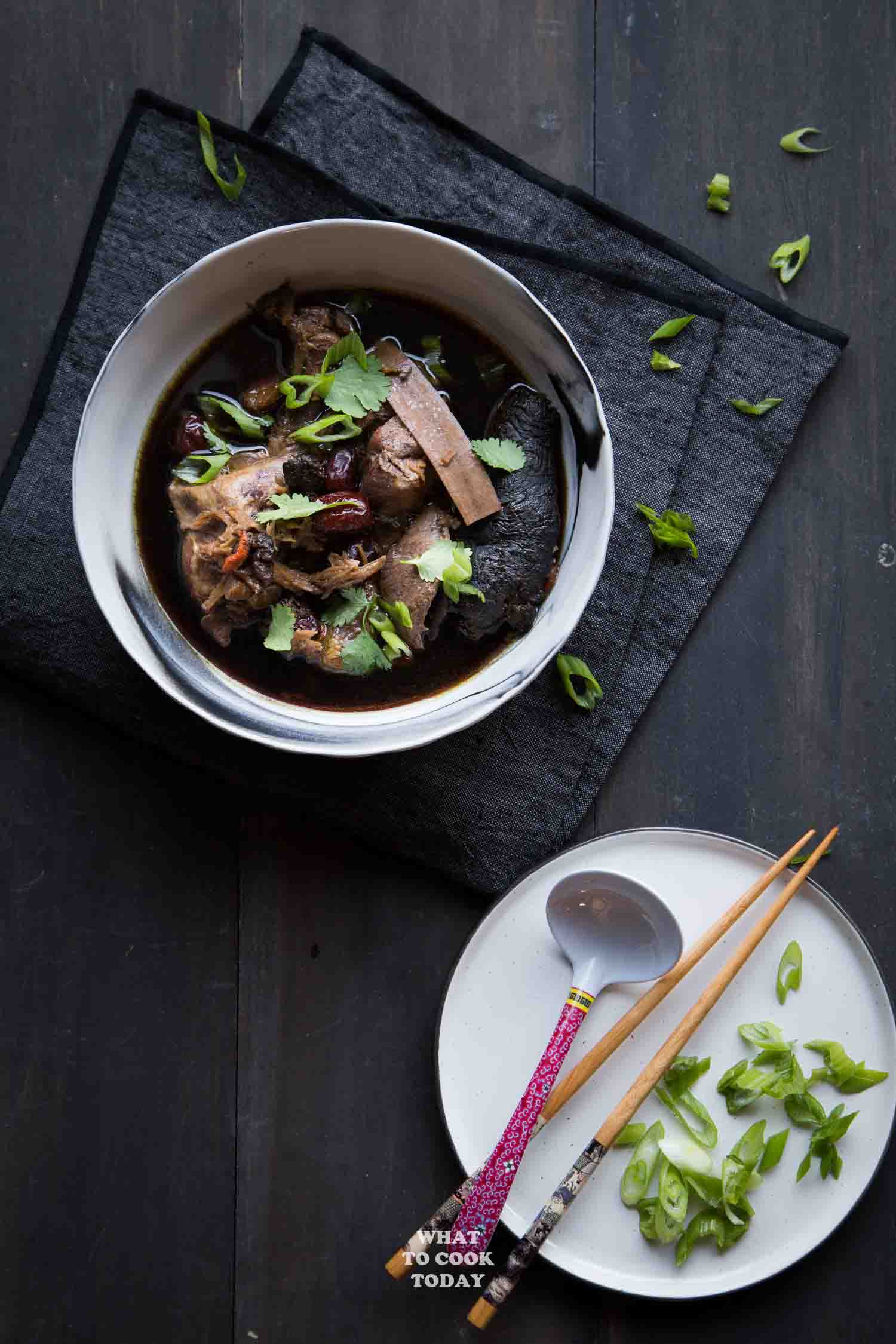 BENEFITS OF CONSUMING FOUR HERBS (SIBUT) SOUP
Each of the Chinese herb has its own medicinal properties. It is said that in general, sibut can help to tonify the body especially for post-partum women, BUT, that doesn't mean only post-partum women will consume this. Any adult with no specific medical condition should be able to consume this. The Chinese believe that it helps to strengthen body and improve blood circulation in general. I'm not a medical professional or TCM professional, so you should always consult your physician if in doubt.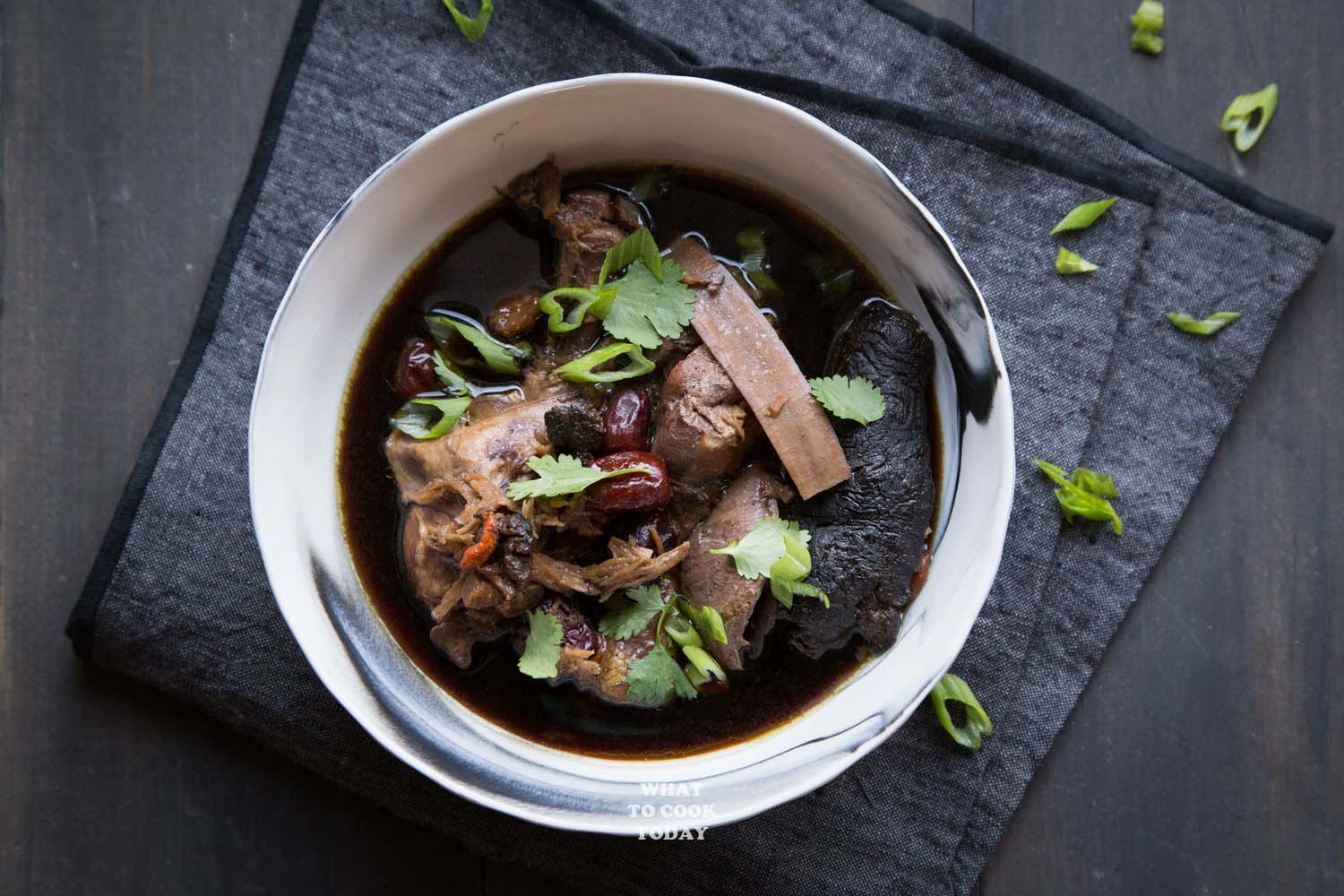 WHERE TO GET TRADITIONAL CHINESE MEDICINE?
I do not recommend getting them online, unless you really know their reputation. I include the scientific name of each of the Chinese herb, so you can bring this list to the Chinese Medicine Hall and get them, or easy yet, get the prepacked sibut. Goji berry is okay to be purchased online if you want to because it is a common ingredient now here in the U.S. and you can get good quality ones as many are selling them now.
WHAT IS THE REASON OF ADDING GOJI BERRIES LAST TO THE SOUP?
Mom often tells me not to overcook goji berries for a long time because they will make the soup "sour" when they are cooked for too long. So, I always add the goji berries last, they get soft quickly and still retain its sweetness that way.
HOW TO MAKE A GOOD CHINESE FOUR HERBS (SIBUT) SOUP
1. Always source your Chinese herbs from a trusted source
2. Always rinse the dried herbs in water
3. Use organic and free range chicken if possible
4. Parboil the chicken and then get rid of the scum
5. Place chicken, water, and herbs (except for goji berries) in a pot. Bring to a boil and then slowly simmer for 1 hour
6. Add the goji berries last. Season with salt to taste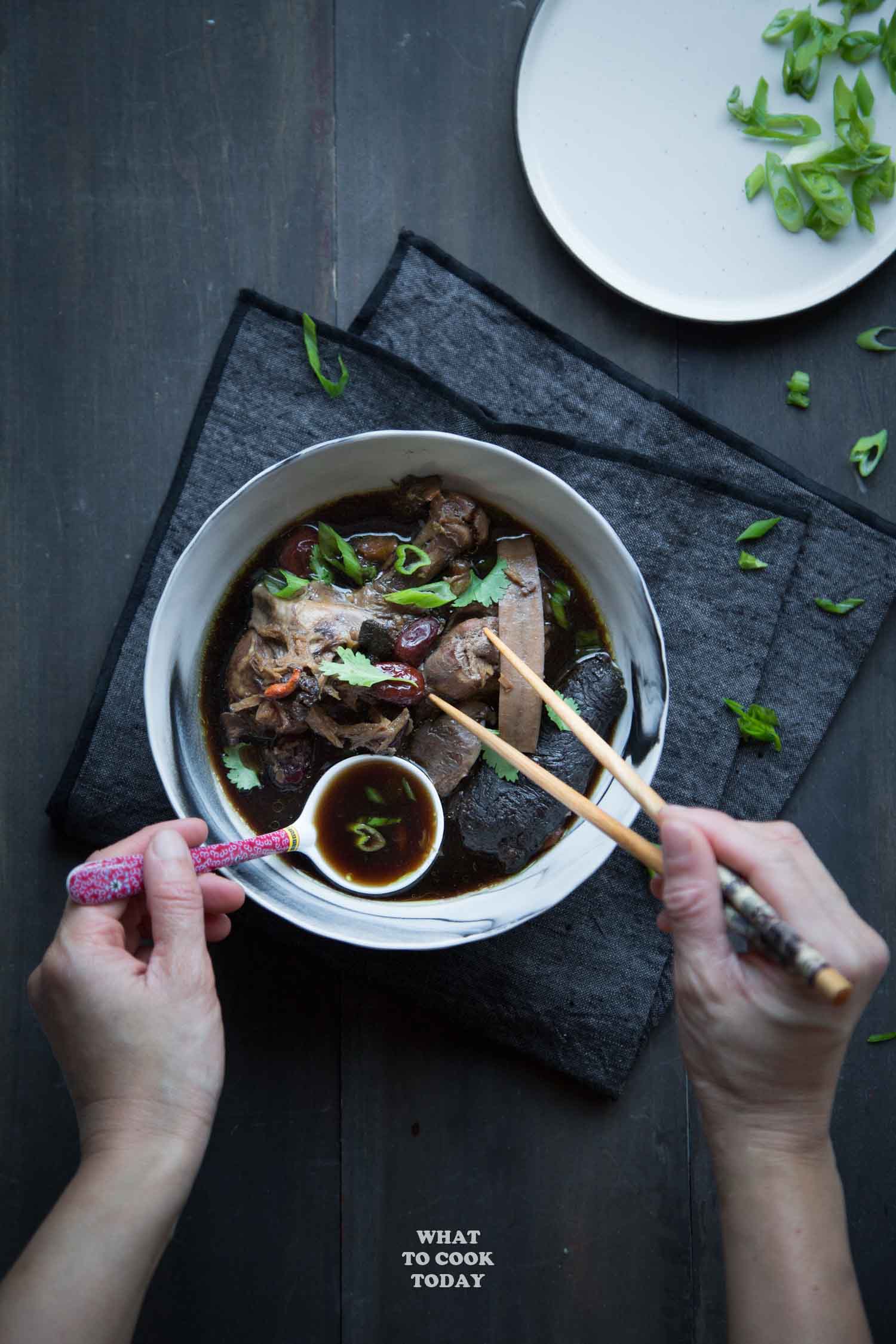 Chinese Four Herbs Soup (Sibut)
Ingredients
2

lbs

bone-in skin-on organic free range chicken

drumsticks or thighs, skin removed

6

cups

water

Salt to taste
Sibut herbs (or use 1 prepackaged sibut pack):
10

gr

Shu Di (Rehmannia Glutinosa)

5

gr

Dong Quay (Angelica Simensis)

5

gr

Dang Shen (Radix Codonopsis)

4

piece Chuan Xiong (Ligusticum Striatum)
Garnishes:
Few sprigs of fresh cilantro leaves

1

stalk

green onion

thinly sliced
Instructions
Wash all the Chinese herbs before cooking. Make a few shallow slits on red and black dates. You can remove the pits too if you want. This helps to release the sweetness to the soup. Put the herbs, except for goji berries and the dates, inside a soup bag if you have one. This is optional. You can put the herbs directly into the water without the soup bag too

Bring a large pot of water to a boil, parboil the chicken for about 5 minutes. Discard the water and rinse the chicken to get rid of the scum
Stove-top method:
Pour in 6 cups of water. Add the meat and Chinese herbs, except for goji berries. Bring to boil and then lower the heat and let it gently simmer for about 1 hour

You may need to skim off the foam as they form. Add the goji berries and let it cook for another 1 minute. Have a taste and season with salt to your taste
Instant pot method:
Pour in 6 cups of water. Add the meat and Chinese herbs, except for goji berries. Cover the lid and turn the steam release valve to seal. Press "pressure cooker" and set the timer for 30 minutes

When the timer is up, wait 5 minutes and then release pressure. Once the pressure valve has collapsed, open the lid and add the goji berries. Close the lid back and let the residual heat soften the goji berries for about 2 minutes. Open the lid, have a taste and season with salt to your taste
Serving:
Garnish with cilantro leaves and green onion. Can be served with rice or noodles