Seafood lovers will surely enjoy this Vietnamese Banh Canh Cua Tom served in thick umami-rich broth topped with succulent shrimp, crabs, shrimp balls. I'm sharing the easy version too.
I'm seriously a noodle addict like beyond help. Actually, I don't want to be helped! It doesn't matter if it's winter of summer, I always make room for noodle soup. Perhaps I grew up in a tropical country where it's warm all year long and yet people are slurping noodles while sweat is rolling down their faces and backs. Anyway, another delicious Vietnamese noodle soup I think everyone must try is this banh canh cua tom.
WHAT IS BANH CANH ?
Banh canh is a thick noodle that is made with tapioca and rice flour combination. Depending on the ratio of tapioca to rice flour, more tapioca flour will give you a more chewy texture while rice flour will give a more softer noodles. It looks like udon, but udon is made with wheat flour. Banh canh certainly reminds me of the khao piak sen noodles I made a while ago. Banh canh is readily available at Asian grocery stores. If you want to make a fresh one, use this khao piak sen recipe.
BANH CANH CUA TOM
Cua means crab and tom means shrimp in Vietnamese. You probably have heard of banh canh cua, that is without the shrimp. Simple as that 🙂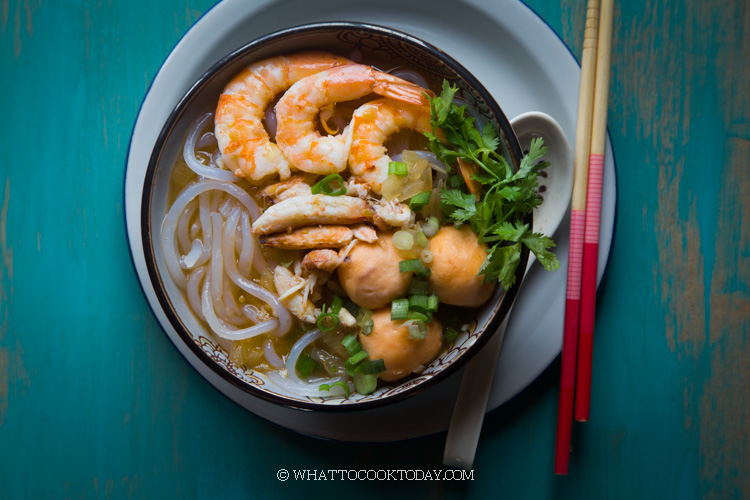 THIS BANH CANH CUA TOM RECIPE IS SIMPLIFIED BUT STILL DELICIOUS
I said simplified because I did not make the pork stock from scratch, I did not make the shrimp/prawn balls from scratch, and I also did not make the banh canh from scratch. I can tell you though, it is still loaded with delicious seafood and soup. How I simplified the recipe:
1. I use chicken stock
2. I use store-bought shrimp balls
3. I use store-bought crab paste
4. I use store-bought banch canh
So, my Vietnamese friends, please don't bite my head off for taking some short cuts 😉 I'm pretty happy with the result without having to slave at the kitchen all day. Though, some days I do love to subject myself to that kind of torture!!
This blog post contains affiliate links. I earn a small commission when you made purchase at no extra cost to you. Learn more.
TIPS FOR MAKING GOOD BANH CANH CUA TOM
1. Good quality seafood
That goes without saying since the crab and the shrimp are the stars in this dish. Now, I didn't make the shrimp balls from scratch and I bought the frozen ones. Make sure you get good-quality ones
2. Crab paste
The
crab paste
adds that extra depth of flavor to the soup base.
3. Annatto oil
The annatto oil adds the rich orangey hue to the soup base. It's not hard to prepare. I've seen people using paprika powder to replace annatto oil in this recipe. It's up to you
4. Cook the noodles only when ready to serve
This is especially important if you use fresh banh canh because you cook the noodles in the soup directly. So make sure you only cook when you are ready to serve. The longer the noodle sits in the soup, the softer it will get and turn into mush
Bánh Canh Cua Tôm (Crab and Shrimp Tapioca Noodle Soup)
Ingredients
2

packs

(about 2 lbs) banh canh

or substitute with Udon noodles if you must

12

-16 shrimp balls
For crab and shrimp toppings:
1

Tbsp

cooking oil

3

shallots

peeled and finely chopped

2

cloves

garlic

peeled, finely chopped

1

lb

large shrimp

peeled and deveined

16

oz

crab meat

or use 15-20 crab claws
Seasonings:
2

Tbsp

fish sauce

more to taste

1

Tbsp

sugar

1

tsp

salt
Thickening agent:
4

Tbsp

tapioca starch + 1/2 cup water
Garnishes:
3

stalks

green onion

finely chopped

Small bunch of fresh cilantro leaves
Instructions
Prepare annatto seeds oil:
Preheat the oil in a small frying pan over medium heat. Add in the annatto seeds and fry for about 2 to 3 minutes and keep stirring to avoid burning the seeds. Remove from the heat and strain the oil into a glass container and discard the seeds.
Cook noodles (if using store-bought banh canh):
Cook the banh canh or udon noodles according to the package instruction. Set aside
Prepare toppings:
Preheat a large pot with 1 Tbsp annatto oil. Add the shallots, and garlic and saute for about 1 minute until fragrant. Add crab paste and stir fry for another minute. Add the shrimp and stir fry until they turn pink. Remove the shrimp pieces to set aside for topping later and transfer the rest to the soup below when ready
Prepare soup:
Pour chicken stock in a large pot. If you are using crab claws, add the claws in when the stock comes to a boil and cook until the crab claws are cooked through

Add the shallots, garlic, and crab paste you sauteed earlier into the soup and bring to a boil. If you are using crab meat, this is the time to add it in along with the shrimp balls. Add seasonings and adjust to your liking by adding more fish sauce and/or sugar if needed

If using fresh banh canh, cook the noodles in the soup. The noodles will float to the top when cooked and thickening the soup at the same time. Continue to ladle the noodles and soup into bowls and continue to assembling
Thickened the soup (skip if using fresh made banh canh):
Mix the tapioca flour with water and stir until mixture has no lumps and smooth. While the soup is gently simmering, slowly pour the tapioca mixture into the soup while the other hand keeps stirring. The soup will thicken and shiny because of the tapioca flour
Assembling:
Portion the noodles out into an individual serving bowl. Portion the shrimp, shrimp balls, crab meat or crab claws into each bowl

Ladle the thickened soup over the noodles. Garnish with chopped green onions and cilantro leaves. Few turns of fresh ground black pepper is a great addition too. Serve immediately
Notes
The annatto seeds oil will give the soup its redish color without affecting much of the taste. It's commonly used in Mexican cuisines too.