Crispy on the edge and soft and moist on the inside fried oyster cake/patty or also known as UFO in Singapore and Malaysia, is a popular hawker fare. Learn how to make this in your very own kitchen.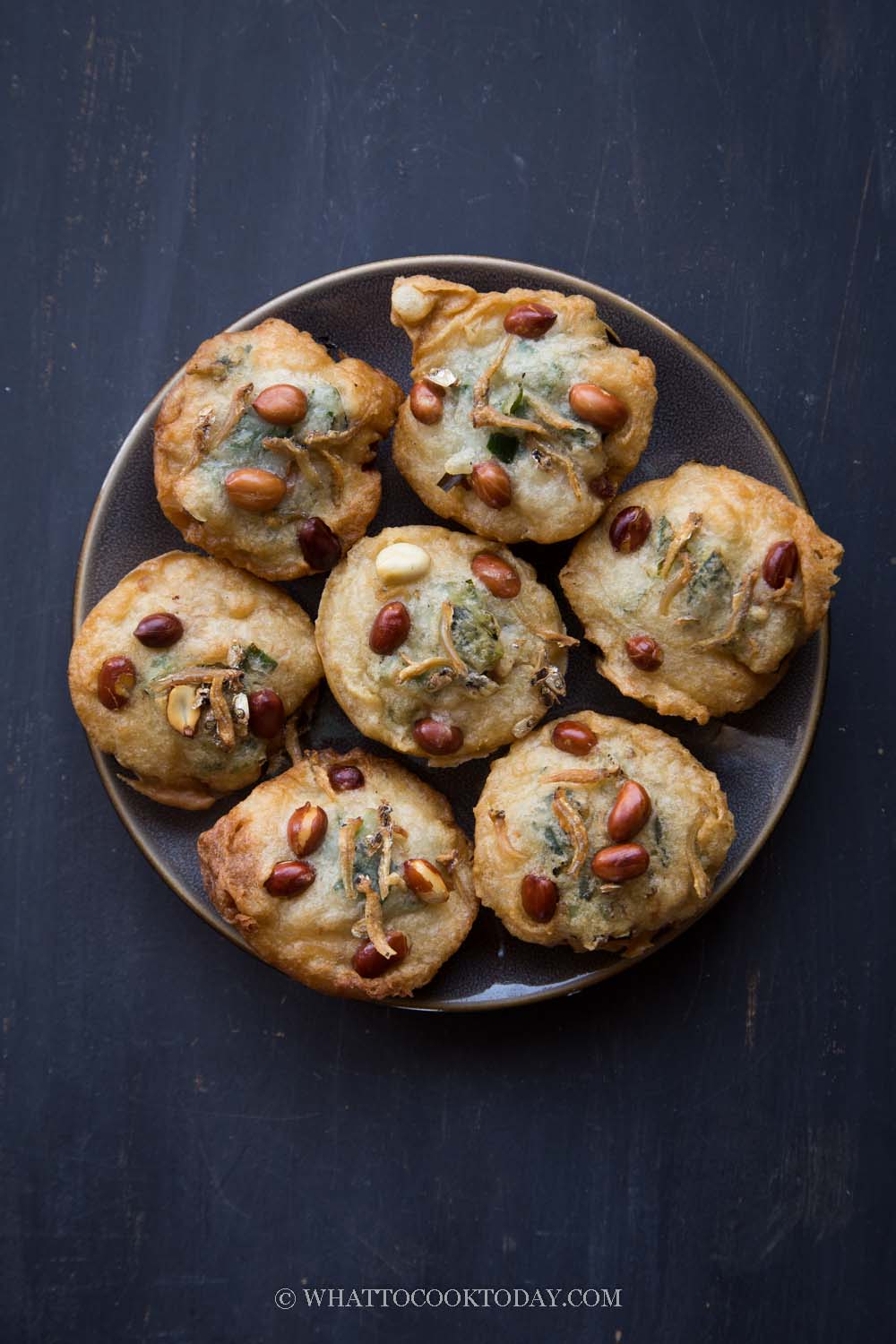 A friend told me about this Fuzhou-style fried oyster cake a few years ago that is so popular in Singapore. I have noted it down to try to make it one day. This fried oyster cake sounds like the French beignet stuffed with oyster, shrimp, meat and studded with ikan bilis (dried anchovies) and peanuts on the outside. Bite into it and you feel happy all over! It is crisp on the edge but pillowy soft, airy, light, and moist in the middle. It's almost similar to cucur in some way too, but this Fuzhou fried oyster cake is thicker and better LOL! It has a shape like a UFO (and hence the nickname). Poh Hwa Fuzhou Oyster Cake in Singapore is very well-known for this.
How to prepare Fuzhou fried oyster cake
1. Place all ingredients for the meat in a bowl and stir to combine. You can do a taste test by microwaving or boil a small amount of the meat so you can taste and adjust the seasoning. Cover and let it marinate for about 20 minutes while you prepare other things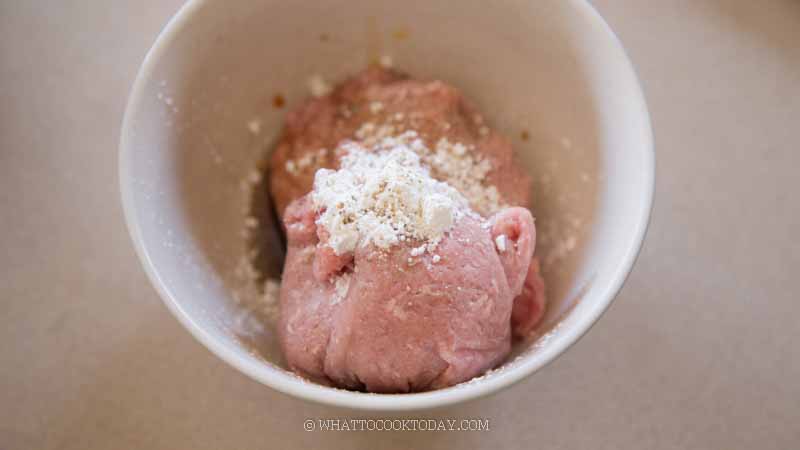 2. Preheat about 2 inches deep of oil. When you put a skewer in, there should be bubbles around it. Preheat the soup ladle you are going to use to cook the oyster cake. Mine has a capacity of about 50 ml. Let it heat up for about 1 minute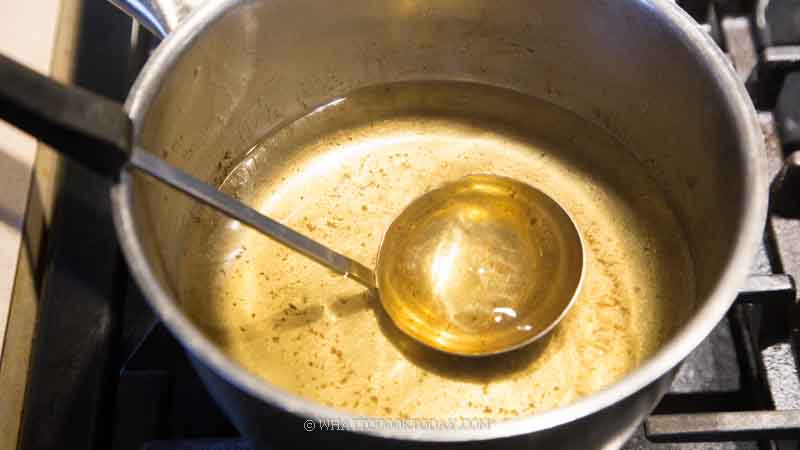 3. Prepare the batter just when you are ready to cook the oyster cake. Don't prepare ahead and let the batter sits around. Put all the ingredients, except for water, in a mixing bowl. Whisk to combine these dry ingredients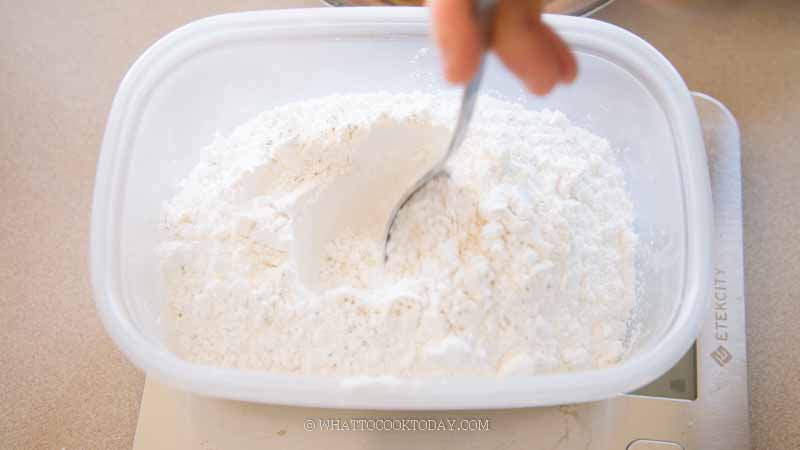 4. Add the water and whisk to combine until you get a smooth batter, but don't overstir either or the fried products may turn gummy and greasy. The consistency should be medium thick but still pourable consistency. You can add water a bit by a bit if it's too thick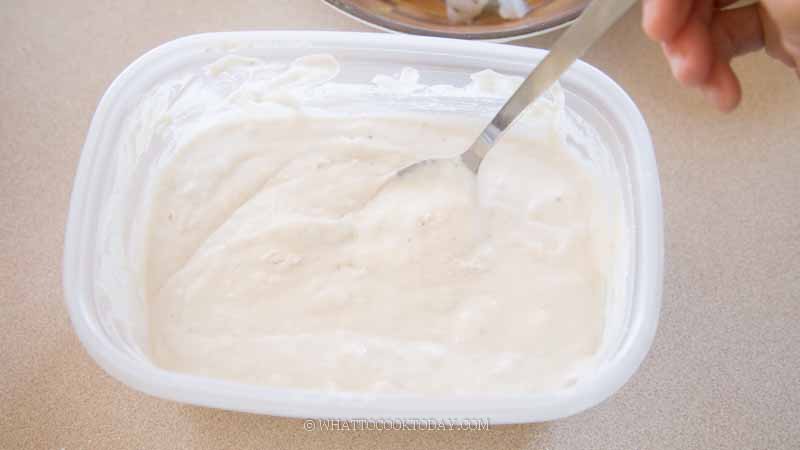 5. When the ladle is done preheating, scoop about 2 Tbsp of batter on the ladle,


6. Top with about 1 Tbsp of meat, one oyster, 2-3 chunks of shrimp, chives and then cover with another 2 Tbsp of batter.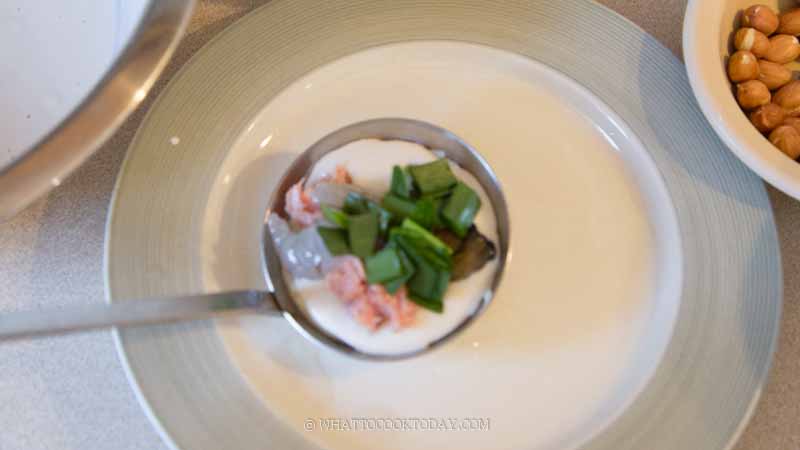 7. Sprinkle with some peanuts and some ikan bilis on top.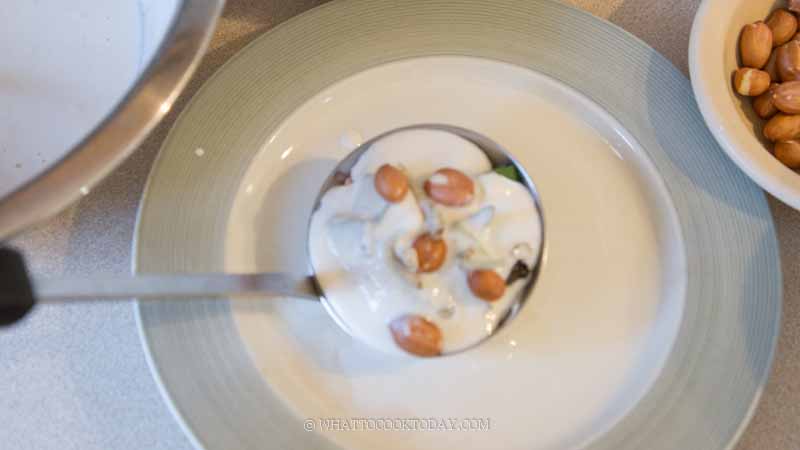 8. Gently lower the ladle into the hot oil and fry for about 1 minute.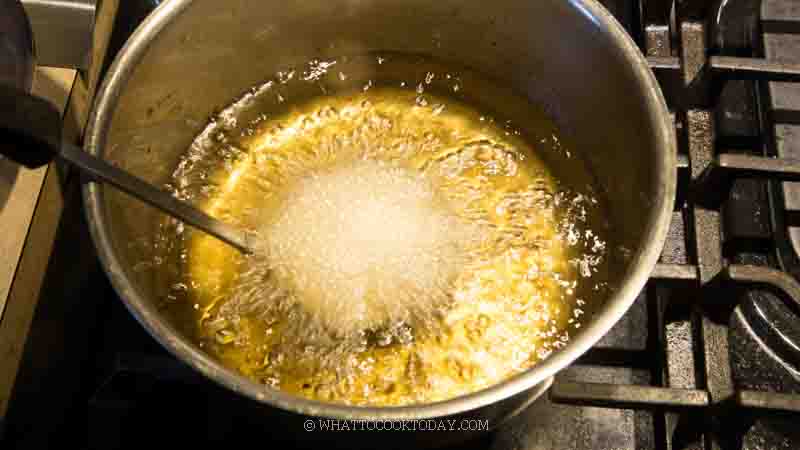 9. If you preheat the ladle pretty well, the cake usually can detach itself into the oil. If not, you can use a spoon to help you release the cake from the ladle into the oil.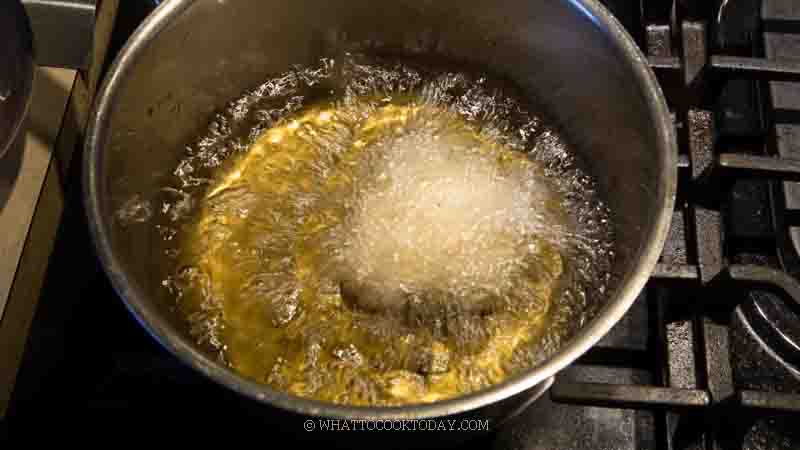 10. Let it fry until golden brown on both sides on medium heat. Remember to control the heat. If the oil is too hot, the outside might get too dark, while the batter and filling is still not cooked through inside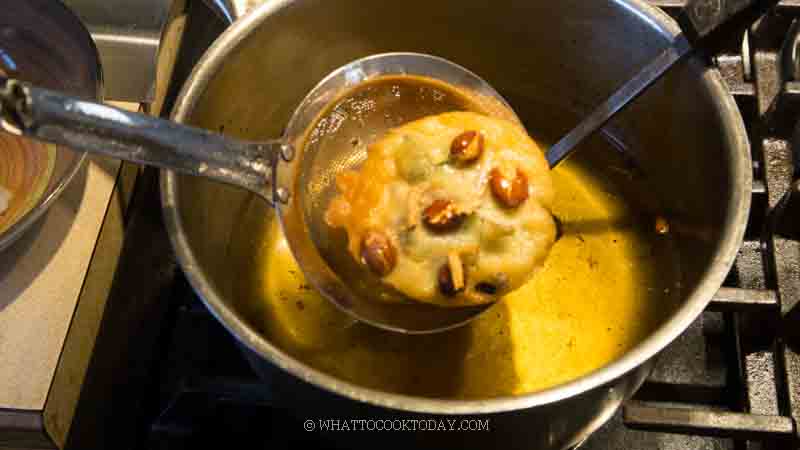 11. Remove from the oil and place the fried oyster cake on an absorbent paper towel. Repeat the process and remember to preheat the ladle each time before you scoop the batter to the ladle. If the cake gets stuck pretty bad when you fried the cake, you may have not preheated the ladle hot enough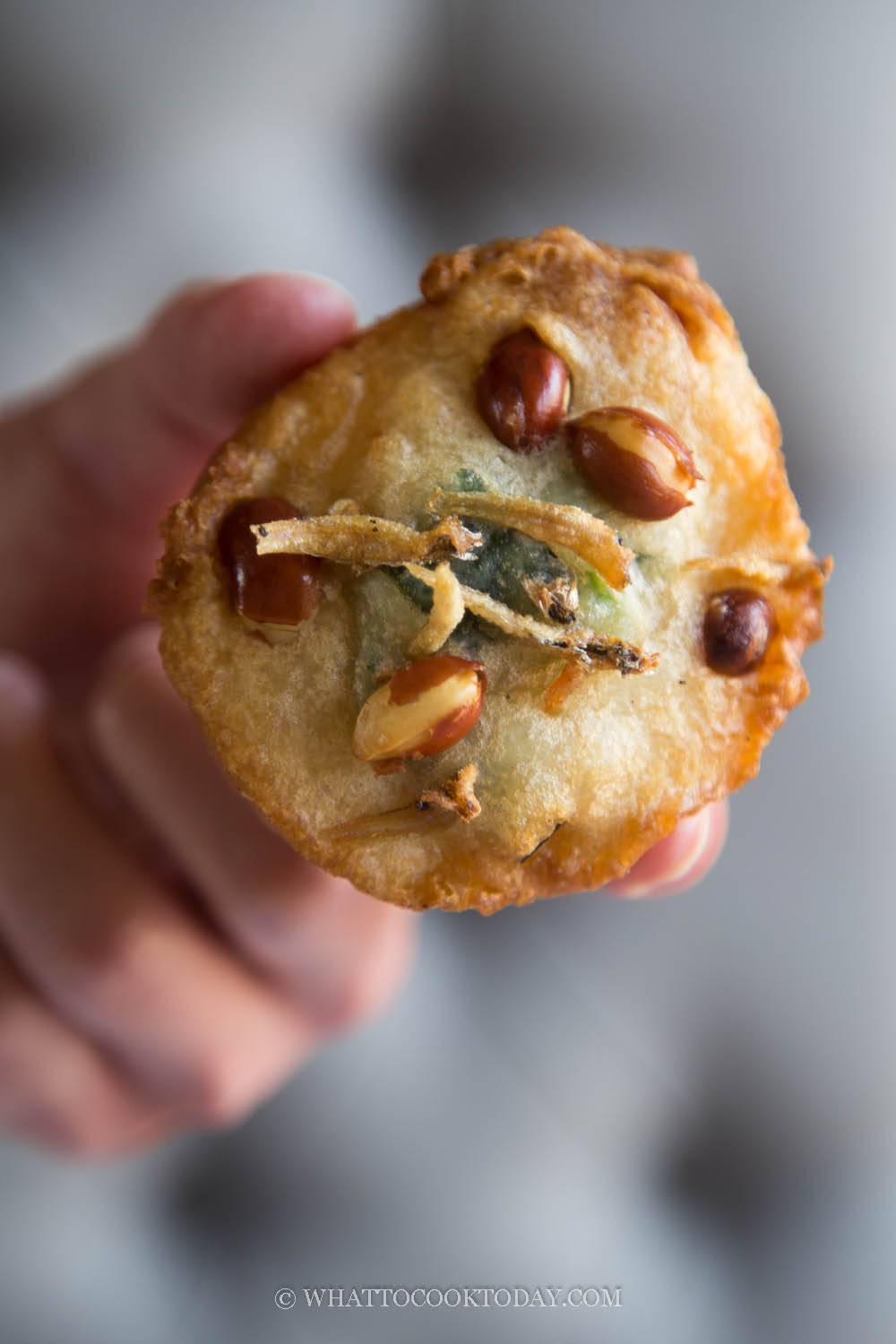 Tips for success
1. Only prepare the batter when you are ready to fry the oyster cake
2. Preheating the ladle before cooking is important. If it's not hot enough, the batter will stick to it pretty badly and you will have to use a spoon to help you release the cake from the ladle
3. Control the heat. You want to fry over medium heat to make sure the inside is cooked through and the outside is not getting too dark
Can I pan fry instead of deep-fry?
You can but you won't get a thick cake as shown in the photo. Simply scoop the batter directly onto the pan and then top with the topping and pan fry until golden brown on both sides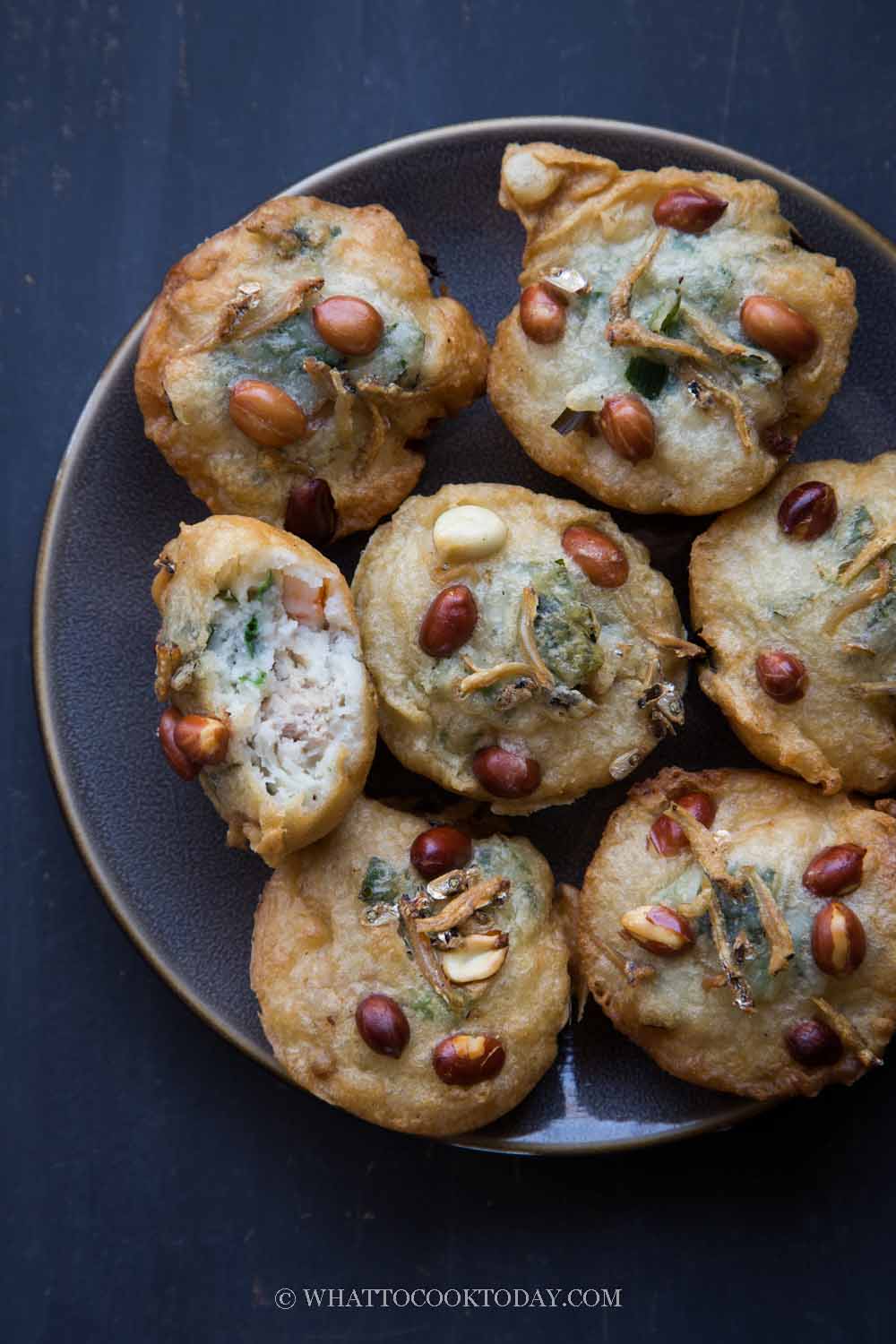 Did you make this Fuzhou fried oyster cake recipe?
I love it when you guys snap a photo and tag to show me what you've made 🙂 Simply tag me @WhatToCookToday #WhatToCookToday on Instagram and I'll be sure to stop by and take a peek for real!

You may like this orh jian/orh luak recipe too
The recipe is adapted from The Meatmen

Fuzhou Fried Oyster Cake (Singapore UFO Oyster Cake)
Ingredients
Other ingredients for the filling:
250

gr

large fresh oyster

120

gr

medium-size shrimp

shelled and deveined, cut into 1/2-inch chunk

50

gr

garlic chives

50

gr

peanut with skin

20

gr

small dried anchovies (ikan bilis)
Other ingredients:
5

cups

Oil

for deep frying
Instructions
Marinate the meat:
Place all ingredients for the meat in a bowl and stir to combine. You can do a taste test by microwaving or boil a small amount of the meat so you can taste and adjust the seasoning. Cover and let it marinate for about 20 minutes while you prepare other things
Preheat oil:
Preheat about 2 inches deep of oil. When you put a skewer in, there should be bubbles around it. Preheat the soup ladle you are going to use to cook the oyster cake. Mine has a capacity of about 50 ml. Let it heat up for about 1 minute
Prepare the batter:
Prepare the batter just when you are ready to cook the oyster cake. Don't prepare ahead and let the batter sits around. Put all the ingredients, except for water, in a mixing bowl. Whisk to combine these dry ingredients. Gradually dd the water and whisk to combine until you get a batter that is about medium thick but still a pourable consistency. Don't overstir either or the fried products may turn gummy and greasy. Add water as needed if the batter is too thick
Cooking:
When the ladle is done preheating, scoop about 2 Tbsp of batter on the ladle, top with about 1 Tbsp of meat, one oyster, 2-3 chunks of shrimp, chives and then cover with another 2 Tbsp of batter. Sprinkle with some peanuts and some ikan bilis on top

Gently lower the ladle into the hot oil and fry for about 1 minute. If you preheat the ladle pretty well, the cake usually can detach itself into the oil. If not, you can use a spoon to help you release the cake from the ladle into the oil. Let it fry until golden brown on both sides on medium heat. Remember to control the heat. If the oil is too hot, the outside might get too dark, while the batter and filling is still not cooked through inside

Remove from the oil and place the fried oyster cake on absorbent paper towel. Repeat the process and remember to preheat the ladle each time before you scoop the batter to the ladle. If the cake gets stuck pretty bad when you fried the cake, you may have not preheated the ladle hot enough

You can keep the fried oyster cake warm in the oven at 200 F (93 C) on a rack while frying the res
Recommended products:
Nutrition
Serving:
1
cake
|
Calories:
215
kcal
|
Carbohydrates:
13
g
|
Protein:
5
g
|
Fat:
15
g
|
Saturated Fat:
1
g
|
Trans Fat:
1
g
|
Cholesterol:
23
mg
|
Sodium:
255
mg
|
Potassium:
76
mg
|
Fiber:
1
g
|
Sugar:
1
g
|
Vitamin A:
110
IU
|
Vitamin C:
2
mg
|
Calcium:
33
mg
|
Iron:
1
mg