Learn how to make hawker-style orh jian / or luak that you order often when you eat out. It's way healthier and less oily but with the same crispy gooey batter.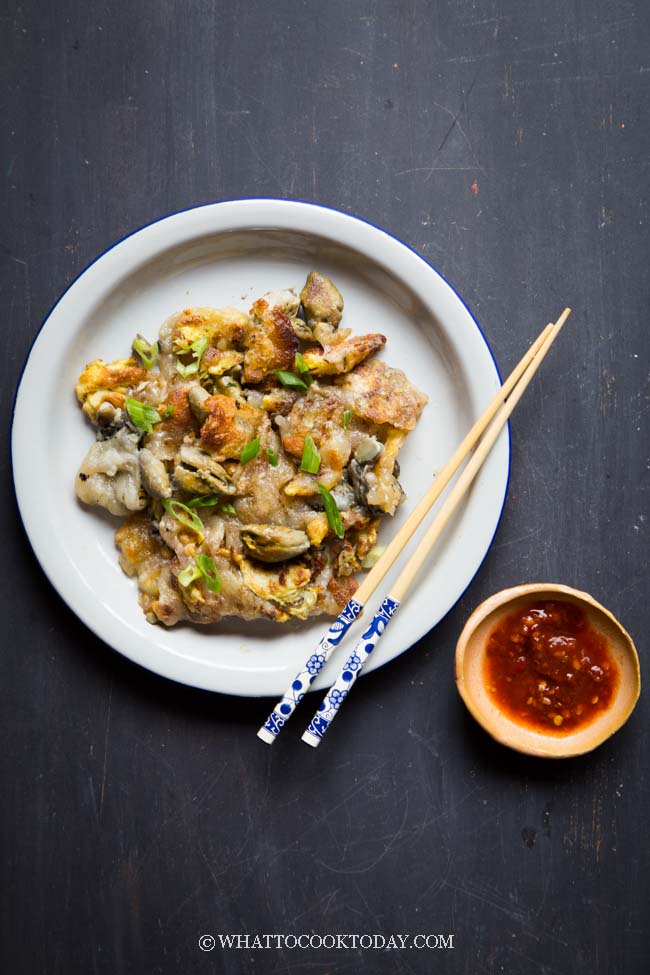 CRISPY AND GOOEY OYSTER OMELETTE
I love orh jian a lot. This hawker fried oyster omelette is one of the versions I've tried at Singapore hawker center. It is made with a thin layer of batter. The eggs and oysters are then cooked with the batter to give you that crispy edges and gooey texture. It's kinda weird description for an omelette, but trust me, it's good!
WHY YOU'LL LIKE THIS RECIPE
1. The batter has crispy edges with gooey texture
2. Good balance between the batter and eggs
Too much batter will make the omelette too gooey because there's tapioca flour that contributes to that. However, a good ratio of the batter and eggs will give you nice crispy with slightly gooey omelette.
3. Not as oily as the hawker version
Have you ever watched how they prepare orh jian at hawker center? Well, I did and the amount of oil used to fry the batter and eggs give me goose bumps ha.ha…! They are swimming in oil basically 🙂 BUT, I'm not going to deny that it's good. This home version is tasty too with WAY LESS calories 😉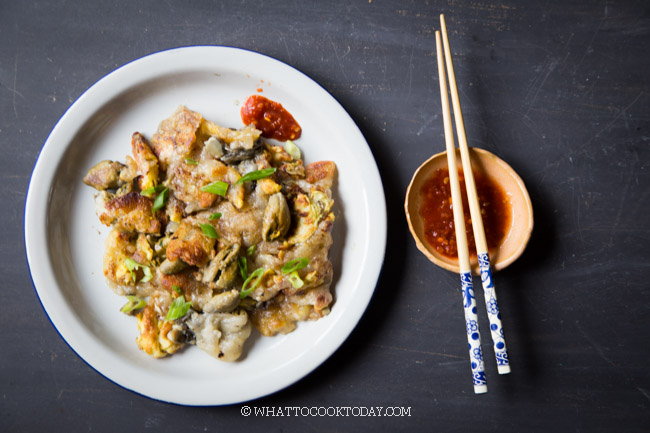 WHAT KIND OF OYSTER TO USE
Use fresh or previously frozen if possible. Canned oysters can be used too if that's all you have access to.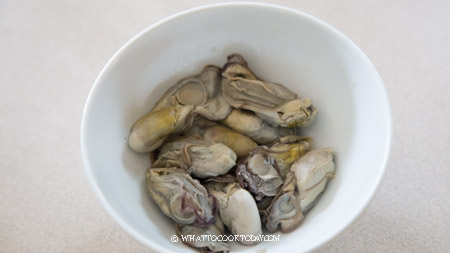 INGREDIENTS FOR BATTER
The batter is made with a mixture of tapioca starch, all-purpose flour, and sweet potato starch. I've made several versions with different flour/starches combination and I like this combination the best. If you can't find sweet potato starch, you can use potato starch or cornstarch. Though I prefer potato starch over cornstarch, but it's okay if you must substitute.
HOW TO MAKE HAWKER STYLE ORH JIAN
I highly recommend watching the video if you have the time (It's not a long one) on how to cook it
1. PREPARE BATTER
In a mixing bowl, mix all ingredients for the batter and set aside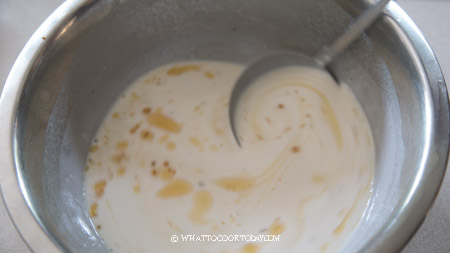 2. COOKING
Preheat a non-stick pan. Add 2 Tbsp of oil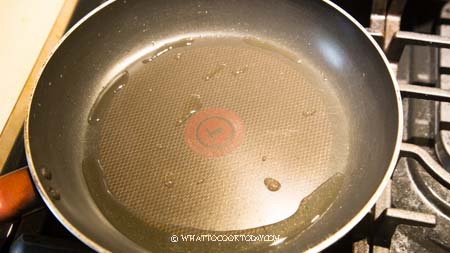 Give the batter a stir as some starches may have settled at the bottom and pour about 2 ladles of the batter on the pan and swirl around to spread the batter thin. Fry until it's crispy at the edge but the middle is still soft and gooey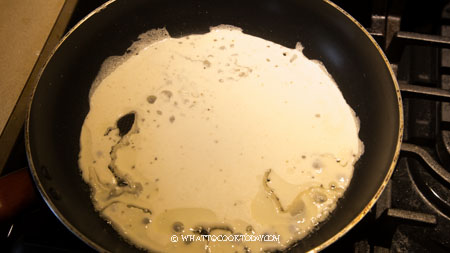 I like lots of crispy edges so I break up the batter into larger chunks. You can leave it whole if you prefer it that way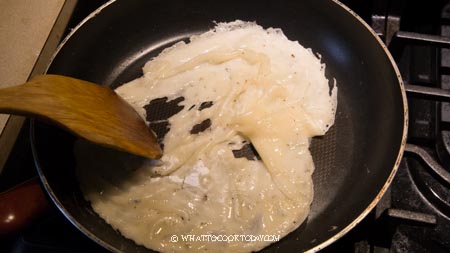 Add half of the beaten eggs and fry until the eggs just started to solidify but still slightly wet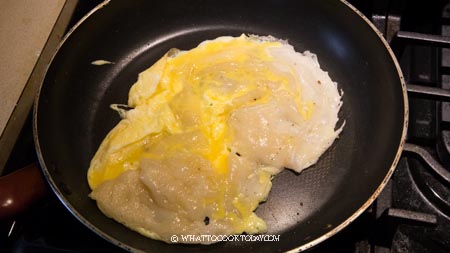 Flip over to the other side. Drizzle a bit more oil, add another half of the eggs and fry again until the eggs are set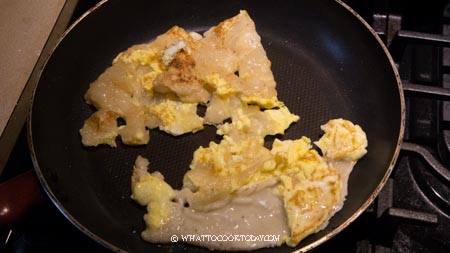 Flip over again and push to the side once you are happy with the crispy edges. Drizzle a bit more oil to fry the oyster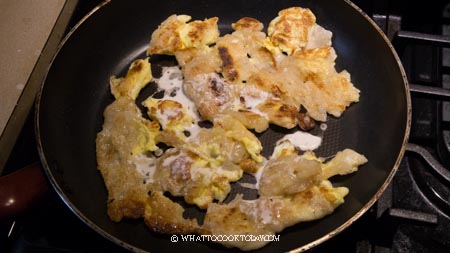 Fill the ladle about 1/2 full of the batter.


Add about 6-8 pieces of oyster and some fish sauce.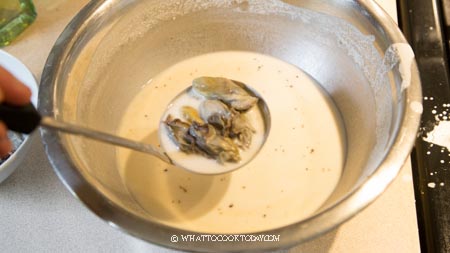 Pour this on the pan and quickly stir fry for about 30 seconds or so. It doesn't take long to cook the oysters, don't overcook them.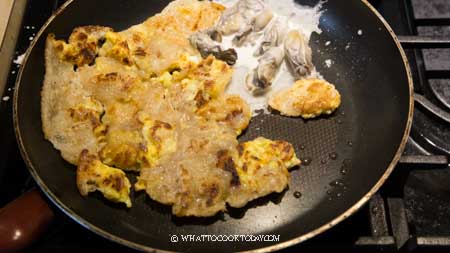 Mix them around with the batter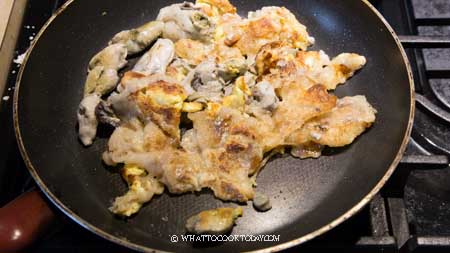 Then dish out onto a serving platter. Garnish with fresh cilantro leaves and chopped green onion on top. Orh jian is best served immediately after it's cooked. Served with the chili sauce on the side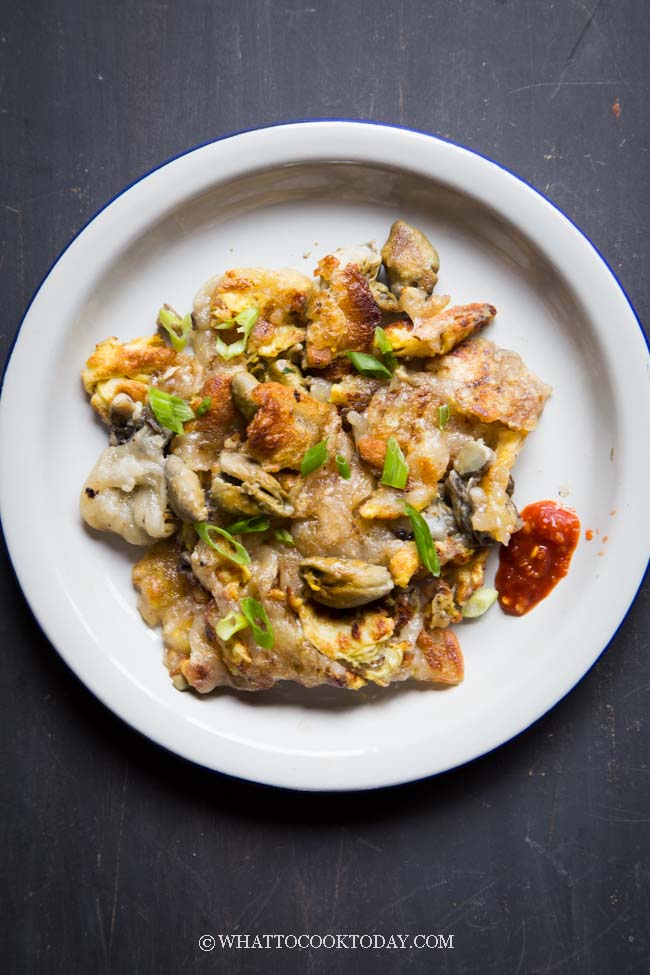 IMPORTANT TIPS
1. Do not prepare the batter ahead of time
I've tried to prepare the batter few hours before I plan to serve and the result is the batter is too gooey and it's hard to get it crispy. The batter has absorbed too much liquid. Only prepare batter when you are ready to cook
2. Stir the batter mixture every time before you ladle it
3. Break the batter up into smaller pieces will give you more crispy edges
4. Don't overcook the oysters. They only take a minute or a bit longer if they are bigger to cook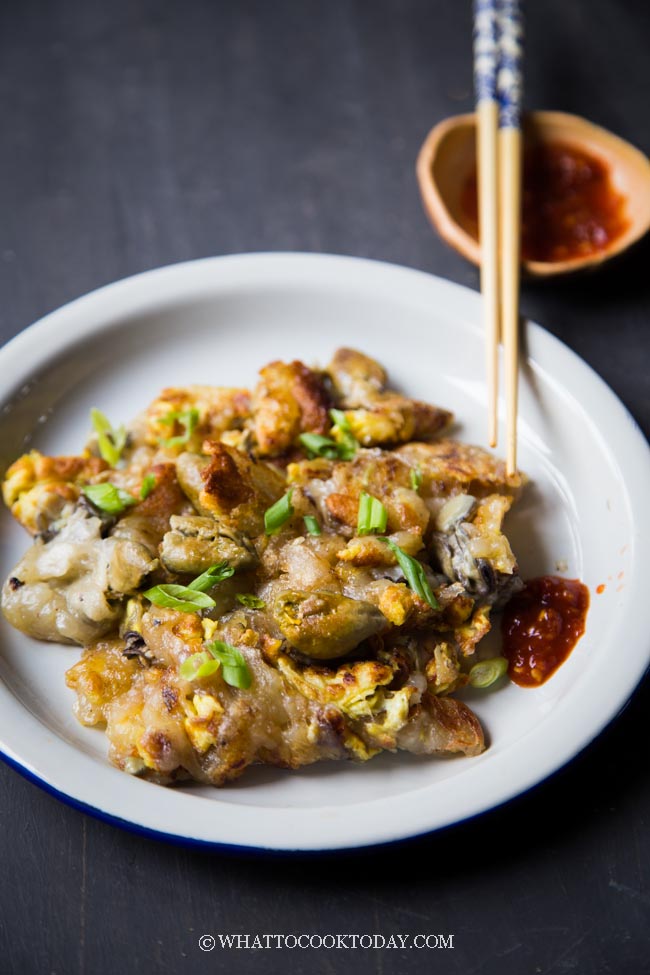 DID YOU MAKE THIS HAWKER ORH JIAN RECIPE?
I love it when you guys snap a photo and tag to show me what you've made 🙂 Simply tag me @WhatToCookToday #WhatToCookToday on Instagram and I'll be sure to stop by and take a peek for real!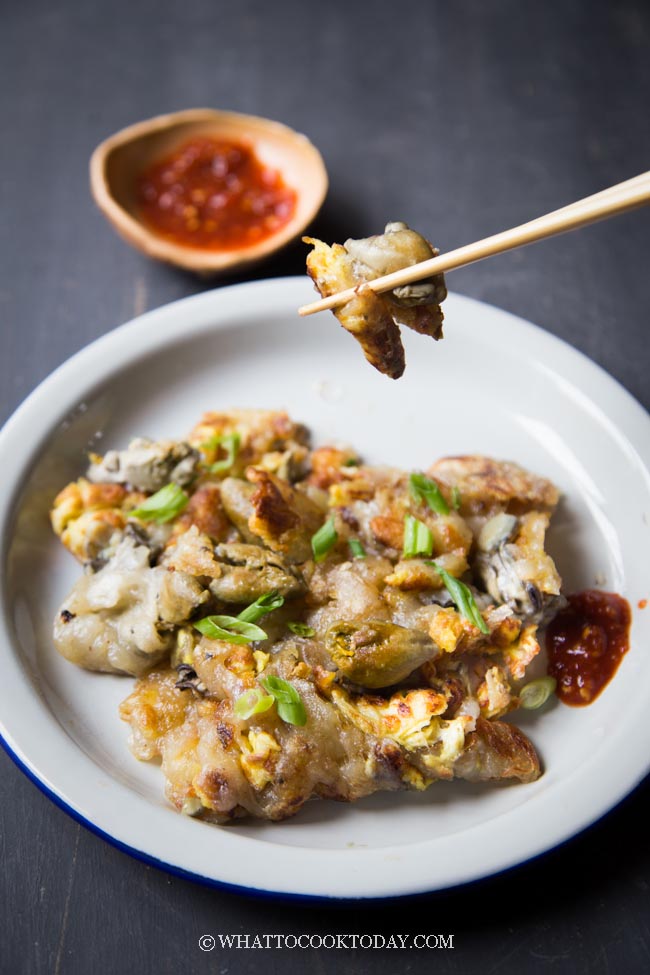 You may want to check out this Fuzhou fried oyster cake too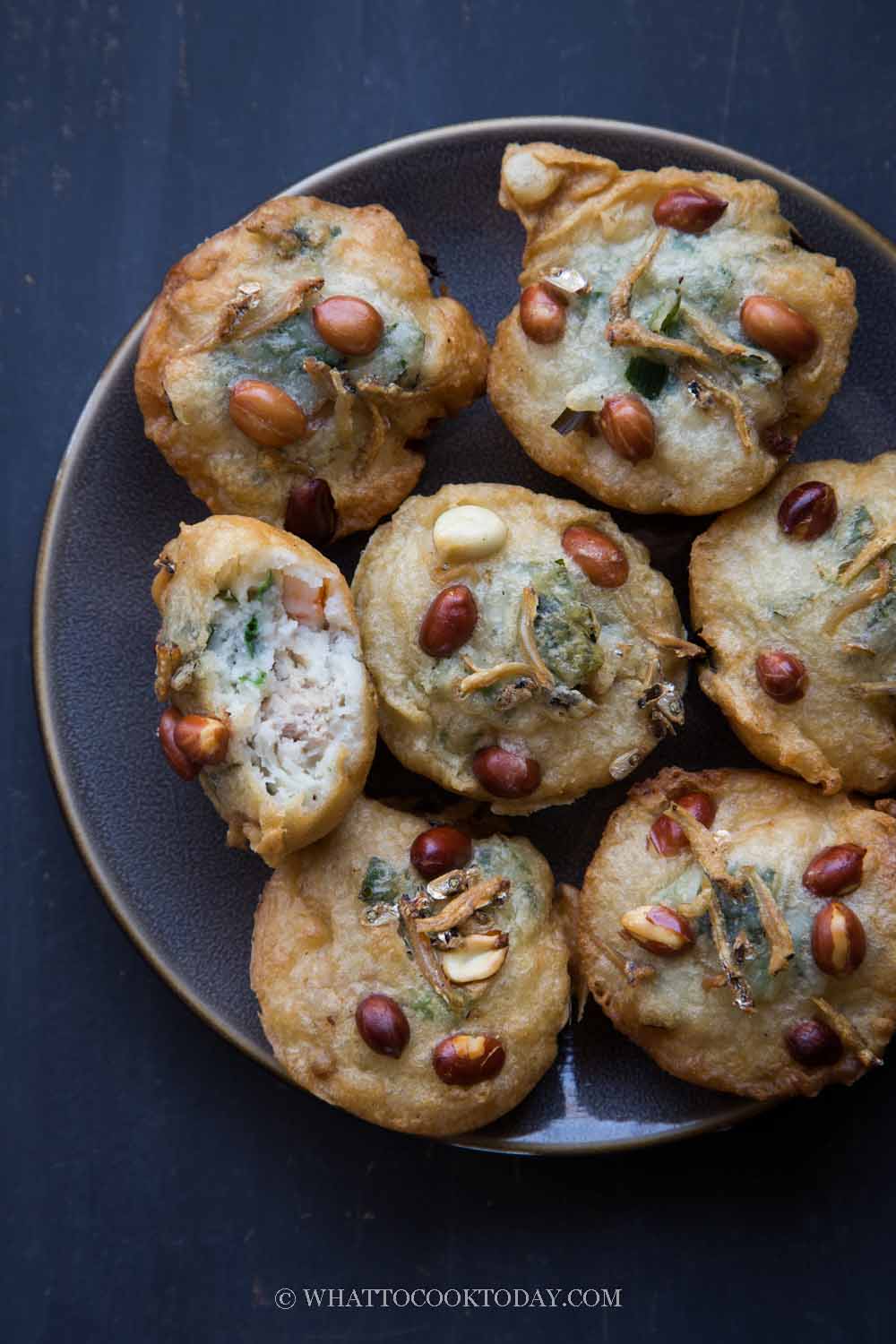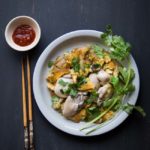 How To Make Orh Jian (Hawker Fried Oyster Omelette)
Ingredients
For ONE serving only (It's best to cook one serving at a time):
Batter mixture (enough for THREE servings):
Chili sauce to serve with:
Garnish:
1

stalk

green onion

finely sliced

Fresh cilantro leaves
Instructions
Prepare batter (the batter is enough to make 3 servings):
In a mixing bowl, mix all ingredients for the batter and set aside
Cooking (I highly recommend cooking 1 serving at a time):
Drain off any excess liquid from the oyster and pat dry with absorbent paper towel

Preheat a non-stick pan. Add 2 Tbsp of oil. Give the batter a stir as some starches may have settled at the bottom and pour about 2 ladles of the batter on the pan and swirl around to spread the batter thin. Fry until it's crispy at the edge but the middle is still soft and gooey

I like lots of crispy edges so I break up the batter into larger chunks. You can leave it whole if you prefer it that way

Add half of the beaten eggs and fry until the eggs just started to solidify but still slightly wet, flip over to the other side. Drizzle a bit more oil, add another half of the eggs and fry again until the eggs are set. Flip over again and push to the side once you are happy with the crispy edges. Drizzle a bit more oil to fry the oyster

Fill the ladle about 1/2 full of the batter. Add about 6-8 pieces of oyster and some fish sauce. Pour this on the pan and quickly stir fry for about 30 seconds or so. It doesn't take long to cook the oysters, don't over cook them. Mix them around with the batter and then dish out onto a serving platter
Serving:
Garnish with fresh cilantro leaves and chopped green onion on top. Orh jian is best served immediately after it's cooked. Served with the chili sauce on the side