Two-layer soft and wobbly Nyonya kueh you will enjoy eating. The bottom layer is made with aromatic and sweet gula Merah/gula Melaka (Palm sugar) and the top white layer is made with coconut milk and lightly salted for that sweet-salty combination.


Palm sugar and coconut milk are two ingredients you can be assured you will see a lot in Southeast Asian cooking. The first kuih talam I made was this kuih talam ubi followed by kuih talam pandan. The collection of sweet kuih talam is not complete without the addition of the gula Melaka version 🙂 The recipe is pretty similar to the kuih talam pandan with some adjustments.
How to make kuih talam gula Melaka/gula Merah
1. For gula Melaka layer: Mix mung bean starch, tapioca starch, rice flour, and sugar in a saucepan. Whisk to mix.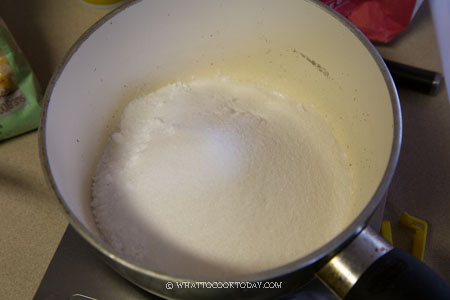 2. Simmer gula Melaka and water until the sugar melts. Strain and let it cools down to warm. Add the mung bean mixture


3. Whisk until smooth with no lumps. Strain if necessary. Add alkaline water


4. Cook this mixture over low heat until it thickens slightly. It will coat the back of your spatula and there will be bits of curdles here and there. Turn off the heat. It's important not to cook until it becomes too thick like a dough. The consistency should be pourable. Don't worry about the curdles. They will even out during steaming


5. Pour this into a prepared pan and steam over medium high heat for 20 minutes or until the layer is set on top


6. The layer will still be wobbly, but it shouldn't be wet anymore


7. For coconut layer: Mix rice flour, tapioca starch, and salt. Whisk to mix. Pour in the coconut milk and water and mix again. Keep whisking until the mixture is smooth. Strain if necessary to get rid of lumps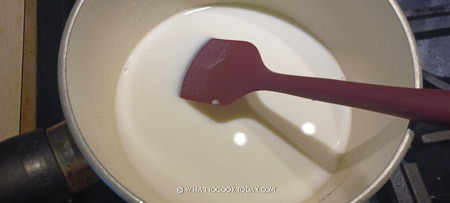 8. Cook this mixture over low heat until it thickens slightly. Just coat the back of the spatula and then remove from the heat
Gently pour this layer over the green layer and steam over medium heat for 15-17 minutes or until the layer is set. It's important not to crank up the heat for this layer or the surface can be bumpy and not smooth


9. Let the kuih talam cools down completely, which may take 2 hours or so


10. Rub the knife with some oil or use a plastic knife to cut the kuih talam into the size and shape you like and serve. Wipe the knife with a paper towel after each cut

Did you make this Kuih Talam Gula Merah/Gula Melaka recipe?
I love it when you guys snap a photo and tag to show me what you've made 🙂 Simply tag me @WhatToCookToday #WhatToCookToday on Instagram and I'll be sure to stop by and take a peek for real!

Kuih Talam Gula Merah/Gula Melaka (Steamed Palm Sugar Cake)
Ingredients
Coconut milk layer (option 1):
Coconut milk layer (option 2):
Instructions
Brush your pan with some oil and then lined with parchment paper. I only line the bottom this time. You can line the sides too if you want. Bring the water in the steamer to a boil. Wrap the lid with a cloth to prevent water condensation drips on the cake
Prepare the gula Melaka layer (bottom layer):
Mix mung bean starch, tapioca starch, rice flour, and sugar in a saucepan. Whisk to mix.

Simmer gula Melaka and water until the sugar melts. Strain and let it cools down to warm. Add the mung bean mixture and whisk until smooth with no lump. Strain if necessary. Add alkaline water

Cook this mixture over low heat until it thickens slightly. It will coat the back of your spatula and there will be bits of curdles here and there. Turn off the heat. It's important not to cook until it becomes too thick like a dough. The consistency should be pourable. Don't worry about the curdles. They will even out during steaming

Pour this into a prepared pan and steam over medium high heat for 20 minutes or until the layer is set on top. The layer will still be wobbly, but it shouldn't be wet anymore
Prepare the coconut milk layer (top layer):
You can use either option 1 or 2 for the coconut layer. Option 1 requires cooking on the stove. Option 2 doesn't. I use option 2 in my Kuih Talam Pandan recipe. Both work just fine
For option 1:
Mix rice flour, tapioca starch, and salt. Whisk to mix. Pour in the coconut milk and water and mix again. Keep whisking until the mixture is smooth. Strain if necessary to get rid of lumps

Cook this mixture over low heat until it thickens slightly. Just coat the back of the spatula and then remove from the heat

Gently pour this layer over the gula Melaka layer and steam over medium heat for 15-17 minutes or until the layer is set. It's important not to crank up the heat for this layer or the surface can be bumpy and not smooth
For option 2:
Mix rice flour, tapioca starch, and salt. Whisk to mix. Pour in the coconut milk and mix again. Gradually add in the hot boiling water and keep whisking until the mixture is smooth. Strain if necessary to get rid of lumps

Gently pour this layer over the gula Melaka layer and steam over medium heat for 15-17 minutes or until the layer is set. It's important not to crank up the heat for this layer or the surface can be bumpy and not smooth
Serving:
Let the kuih talam cools down completely, which may take 2 hours or so. Rub the knife with some oil or use a plastic knife to cut the kuih talam into the size and shape you like and serve. Wipe the knife with a paper towel after each cut
Storage:
If it's not humid where you are, you can keep it at room temperature for about a day, after that keep them in air-tight container in the fridge for about 3 days for best result. The longer you keep, the tougher the kueh will be. I find them still have great texture for 3 days in the fridge, then it starts to toughen a bit. A quick reheat in the microwave or steamer will bring the soft wobbly texture back
Nutrition
Serving:
1
serving
|
Calories:
149
kcal
|
Carbohydrates:
25
g
|
Protein:
1
g
|
Fat:
6
g
|
Saturated Fat:
5
g
|
Sodium:
191
mg
|
Potassium:
64
mg
|
Fiber:
1
g
|
Sugar:
10
g
|
Vitamin C:
1
mg
|
Calcium:
7
mg
|
Iron:
1
mg