Moist and perfectly spiced old-fashioned gingerbread layer cake is frosted with mascarpone cream and decorated with lebkuchen cookies is simply out of this world. It makes a perfect Christmas cake.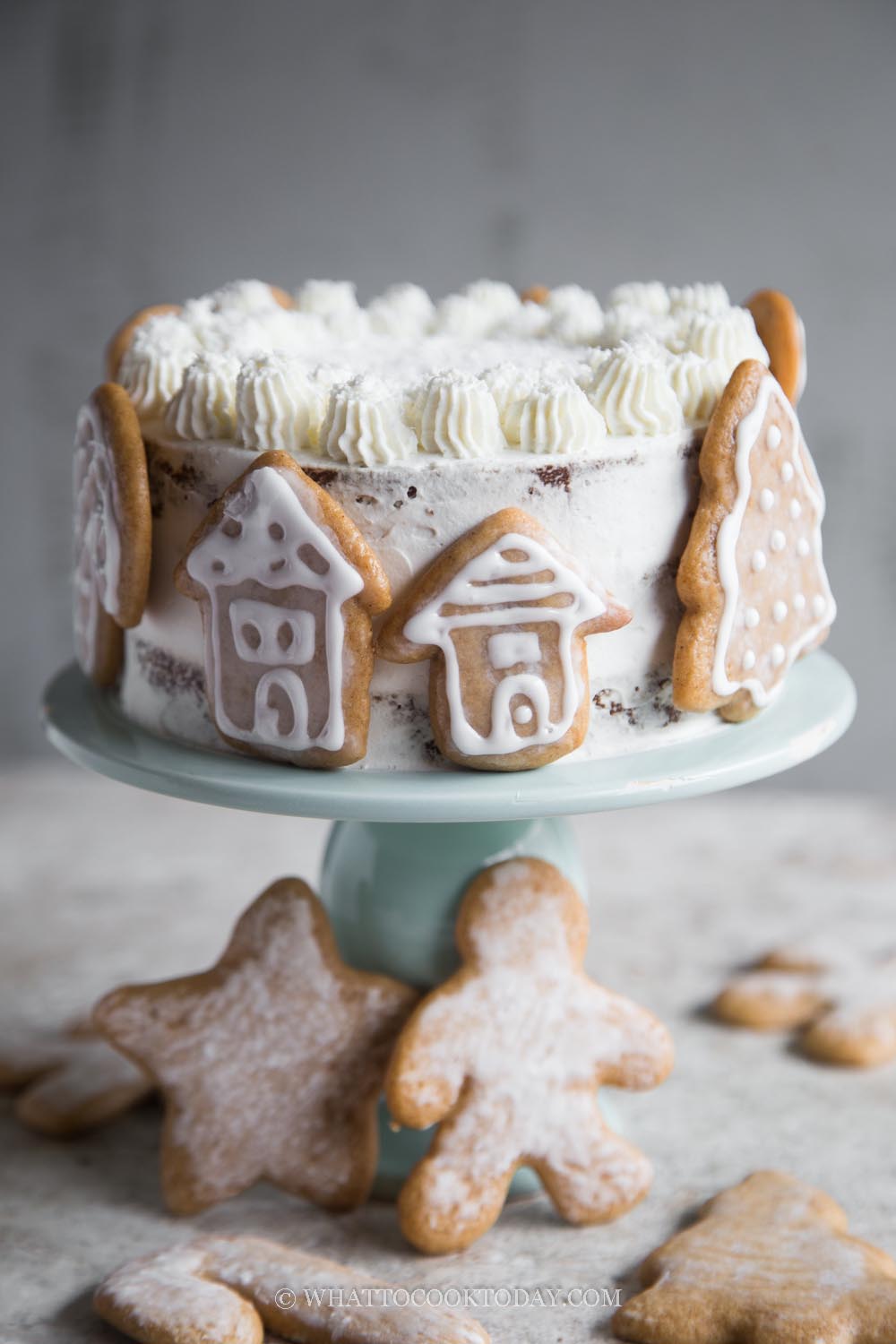 Christmas celebration is not complete at our house without gingerbread cookies. This year I made lebkuchen, which from now on, will be the one I make instead of regular gingerbread cookies. The spices of gingerbread cookies just give you the warmth and festive feeling. I decided to add gingerbread cake to my holiday baking collection 🙂
Why you will like this recipe
1. The cake is moist and oh..the spices and the molasses!! It is certainly not gingerbread without those spices and the scent of molasses and brown sugar
2. The cake has the right amount of sweetness and is not overly rich
3. It's a perfect size for a small celebration and you can also scale it up for the larger crowd

How to make old-fashioned gingerbread layer cake
1. Mix milk with vinegar to make a "buttermilk". Let it sit for 5 minutes. You will see some small curds after that


2. Preheat the oven at 350 F (180 C) for a conventional oven. For a convection oven, you may need to lower the temperature by 15-20 degrees. Mix all the dry ingredients and set aside. Please make sure the butter,eggs, and milk are at room temperature. Butter should be soft but not melty. Place butter and sugar in a mixing bowl. I use a stand mixer fitted with a paddle attachment. Cream the butter and sugar until creamy and fluffy on medium speed


3. Add the molasses and vanilla and continue to beat for another 30 seconds


4. Gradually add in eggs, in 4-5 addition. Make sure it's well-combined before adding more


5. Switch to a low speed and add 1/3 of the flour mixture and alternate with 1/3 of the homemade buttermilk. Stop the mixer


6. The batter won't be fully combined yet, but that's ok


7. Use a spatula and manually fold everything to combine. Take care not to overmix. As long as you don't see any more pockets of flour, the batter is ready


8. Divide the batter equally into the prepared pans if you use multiple pans. I recommend using a scale to weigh each pan after that to see if you divide the batter equally, if not, you can always transfer some batter around to make sure they have roughly the same amount. Smooth the batter after that and give them a few tap on the counter to pop any large bubbles inside the cake batter
9. Place them on the middle rack and bake for 20-35 minutes if you bake in 3 pans, 40-45 minutes if you bake in two pans, and about 60 minutes if you bake in one pan or until a cake tester inserted into the cake comes out clean with no wet crumbs
10. Let the cakes cool down in the pan for 15 minutes and then invert them out onto a cooling rack to let them cool down completely. If you are not assembling the cake on the same day, wrap each cake with cling wraps to prevent them from drying out. They can be kept at room temperature for no more than 2 days


11. Add mascarpone, softened butter, icing sugar in a mixing bowl. Use a hand mixer or stand mixer to cream them until combined. Add the heavy cream and whip until just firm. Do not overbeat the heavy cream or it will turn grainy. Cover and keep in the fridge while you prepare other things


12. If you bake in one pan, trim off the dome top and then slice the cake horizontally into three slices, same thickness. Use a cake leveler to help you if you have one


13. Put a bit of the frosting on a cake stand or whatever you are using to display the cake. Put the first layer of cake. Brush the cake with some simple syrup. Spread some cream on top with an offset spatula and then top with the second layer and repeat the same step until you lay the third layer. Cover with some cream on top and the side of the cake. Use the offset spatula to "tidy up" the cream.


14. I did not fully frost the entire cake so I can get that semi-naked look


15. Use the lebkuchen cookies to decorate the side of the cake. Transfer the remaining cream into a piping bag fitted with a nozzle of your choice and pipe around the edge of the cake. Sprinkle with desiccated coconut on the center of the cake. Chill in the fridge for about an hour before serving

Tips for success
1. Ingredients like butter, milk, and eggs need to be at room temperature. Butter should be soft but not melty
2. It is highly recommended to use digital kitchen scale and not cup measurement to make this cake (or any cake really!)
3. Eggs need to be added to the batter very gradually. If you add too much at a time, the batter will separate
4. Do not overmix the flour. As long as you don't see anymore pockets of flour in the batter, you are done mixing. Overmixing will give you dense and dry cake
5. Simple syrup helps to keep the cake moist. So I highly recommend it

How store frosted gingerbread cake
1. Put the cake in the fridge for about 15 minutes to let the cream harden
2. Cover the cake with a cling wrap after that.Try not to keep longer than a week as the quality deteriorates
3. When ready to serve, simply thaw at room temperature for about 30 minutes
Did you make this recipe?
I love it when you guys snap a photo and tag to show me what you've made 🙂 Simply tag me @WhatToCookToday #WhatToCookToday on Instagram and I'll be sure to stop by and take a peek for real!

Recipe for the gingerbread cake is adapted from here. The lebkuchen cookie recipe is here.
Old-Fashioned Christmas Gingerbread Layer Cake
Ingredients
113

gr

butter

unsalted, softened

150

gr

dark brown sugar

120

gr

unsulfured molasses

1

tsp

vanilla extract

2

large

eggs (room temperature)

120

ml

whole milk

14

gr

vinegar
Mascarpone cream frosting:
340

gr

mascarpone cheese

or you can use cream cheese

30

gr

butter

softened

30

gr

icing sugar

170

gr

heavy cream
Simple syrup to brush on the cake:
1

Tbsp

sugar

1

Tbsp

hot water
For decoration:
Instructions
Things to prepare before you start preparing the cake batter:
Mix milk with vinegar to make a "buttermilk". Let it sit for 5 minutes. You will see some small curds after that

Preheat the oven at 350 F (180 C) for a conventional oven. For convection oven, you may need to lower temperature by 15-20 degrees

You can bake this cake in 3 6-inch cake pan, or 2 6-inch cake pan, or one 6-inch cake pan. Oil your pan and then lightly flour them and shake off excess flour, for easier release later. You can also use a non-stick spray with flour

Please make sure the butter,eggs, and milk are at room temperature. Butter should be soft but not melty
Prepare the cake batter:
Mix all the dry ingredients and set aside

Place butter and sugar in a mixing bowl. I use a stand mixer fitted with a paddle attachment. Cream the butter and sugar until creamy and fluffy on medium speed. Add the molasses and vanilla and continue to beat for another 30 seconds and gradually add in eggs, in 4-5 addition. Make sure it's well-combined before adding more

Switch to a low speed and add 1/3 of the flour mixture and alternate with 1/3 of the homemade buttermilk. Stop the mixer. The batter won't be fully combined yet, but that's ok. Use a spatula and manually fold everything to combine. Take care not to overmix. As long as you don't see any more pockets of flour, the batter is ready

Divide the batter equally into the prepared pans if you use multiple pans. I recommend using a scale to weigh each pan after that to see if you divide the batter equally, if not, you can always transfer some batter around to make sure they have roughly the same amount. Smooth the batter after that and give them a few tap on the counter to pop any large bubbles inside the cake batter
Baking:
Place them on the middle rack and bake for 20-35 minutes if you bake in 3 pans, 40-45 minutes if you bake in two pans, and about 60 minutes if you bake in one pan or until a cake tester inserted into the cake comes out clean with no wet crumbs
Cooling down:
Let the cakes cool down in the pan for 15 minutes and then invert them out onto a cooling rack to let them cool down completely. If you are not assembling the cake on the same day, wrap each cake with cling wraps to prevent them from drying out. They can be kept at room temperature for no more than 2 days
Assembling:
Prepare simple syrup by dissolving sugar in hot water

Mascarpone is soft and doesn't need to be softened at room temperature. If you use cream cheese, it needs to be softened at room temperature

Add mascarpone, softened butter, icing sugar in a mixing bowl. Use a hand mixer or stand mixer to cream them until combined. Add the heavy cream and whip until just firm. Do not overbeat the heavy cream or it will turn grainy. Cover and keep in the fridge while you prepare other things

If you bake in one pan, trim off the dome top and then slice the cake horizontally into three slices, same thickness. Use a cake leveler to help you if you have one

Put a bit of the frosting on a cake stand or whatever you are using to display the cake. Put the first layer of cake. Brush the cake with some simple syrup. Spread some cream on top with an offset spatula and then top with the second layer and repeat the same step until you lay the third layer. Cover with some cream on top and the side of the cake. Use the offset spatula to "tidy up" the cream. I'm not fully frosting the entire cake to get that semi-naked look

Use the lebkuchen cookies to decorate the side of the cake. Transfer the remaining cream into a piping bag fitted with a nozzle of your choice and pipe around the edge of the cake. Sprinkle with desiccated coconut on the center of the cake. Chill in the fridge for about an hour before serving
Nutrition
Serving:
1
serving
|
Calories:
711
kcal
|
Carbohydrates:
69
g
|
Protein:
9
g
|
Fat:
44
g
|
Saturated Fat:
27
g
|
Polyunsaturated Fat:
1
g
|
Monounsaturated Fat:
7
g
|
Trans Fat:
1
g
|
Cholesterol:
163
mg
|
Sodium:
348
mg
|
Potassium:
334
mg
|
Fiber:
1
g
|
Sugar:
36
g
|
Vitamin A:
1447
IU
|
Vitamin C:
1
mg
|
Calcium:
199
mg
|
Iron:
1
mg