Soft German cookies with the perfect combination of spices, and citrus zest make lebkuchen a must-to-bake for Christmas. The cookie dough is aged for a few days for maximum flavor. This is the easier version compared to the traditional lebkuchen, but they are still very tasty.


One of my favorite times of the year going to Aldi (not sponsored) is from November to December. I get to see all these different cookies and sweets from Europe, especially Germany. I saw lebkuchen there and so here I am, baking some and never looking back.
What is lebkuchen?
Lebkuchen is a German-style spiced soft cookie, originated in Nuremberg,  Germany. They are sweetened with honey with an amazing aroma from the spices and zest of citrus. Traditional lebkuchen doesn't use wheat flour, so it's almost gluten-free (if you don't use backoblaten) . It also uses a blend of spices known as Lebkuchengewürz (German gingerbread spice blend) and is baked on backoblaten wafers, which is an edible wafer. The cookies are then coated with chocolate or icing sugar.
It has that resemblance to the gingerbread cookies, in terms of spices I guess, but the taste and texture-wise, lebkuchen are WAY better.
This version of lebkuchen
I cannot claim that this is the traditional or authentic lebkuchen because it's not. However, I can tell you that my family still loves this easier version of lebkuchen a lot. This lebkuchen is not gluten-free as all-purpose flour is used. I didn't use Lebkuchengewürz but I use a blend of spices pretty close to it, just a lack of mace in there since I can't find any. I don't have back oblaten wafers and so I baked them without any. I coated the cookies with icing sugar.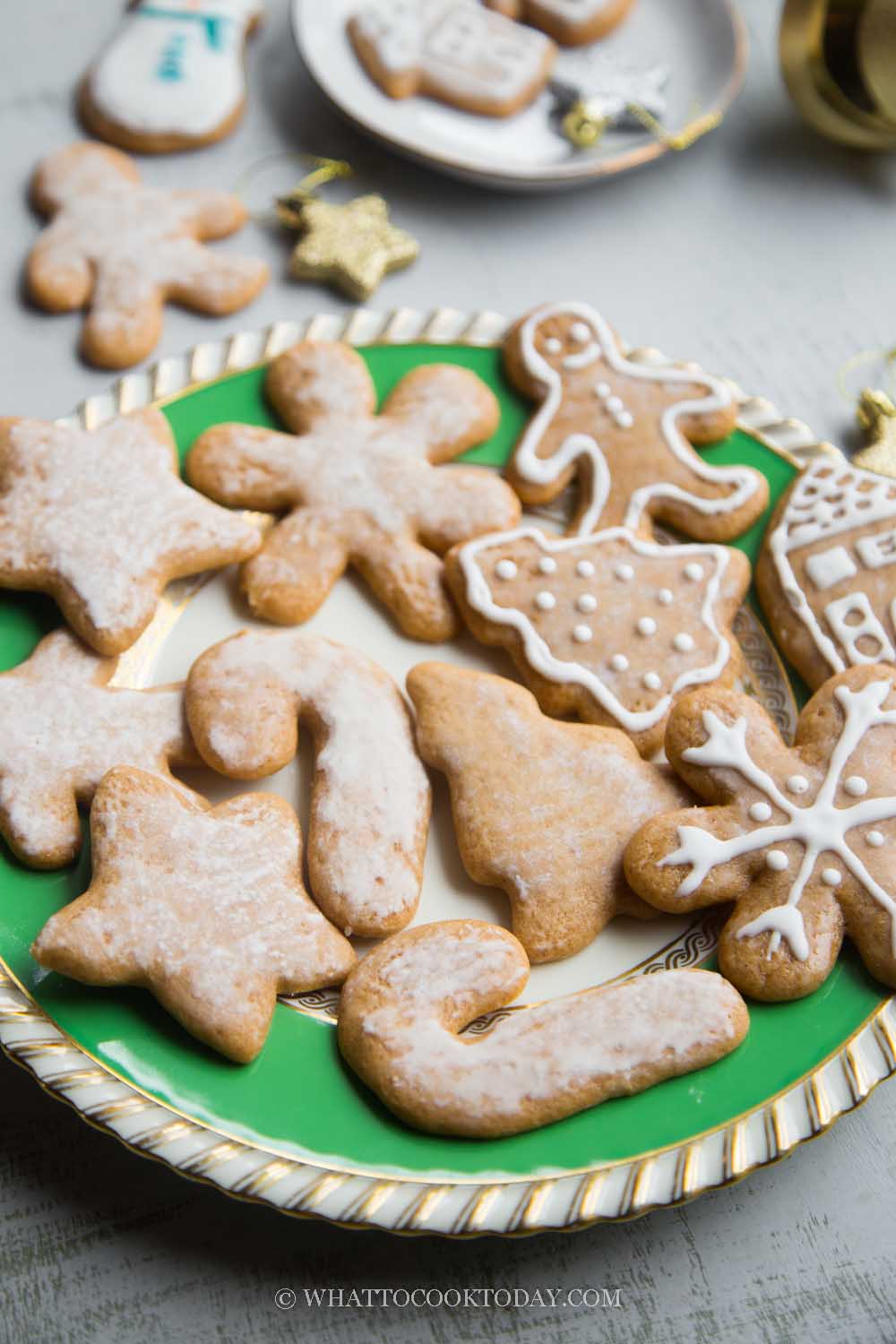 The recipe rundown
Taste: lightly sweetened with an amazing blend of spices and the aroma of citrus
Texture: soft and almost cake-like
Pros: despite being an "easier" version of lebkuchen, the cookies still turn out really good
Cons: some passive waiting time for the dough and the baked cookies if you want maximum flavor
How to make easy lebkuchen
1. Put honey and sugar in a saucepan over medium heat and cook until the sugar dissolves. Stir in butter. Let it cools down to lukewarm. Crack one egg in a bowl and then whisk. Add 1/2 of the egg, lemon zest and juice into the honey mixture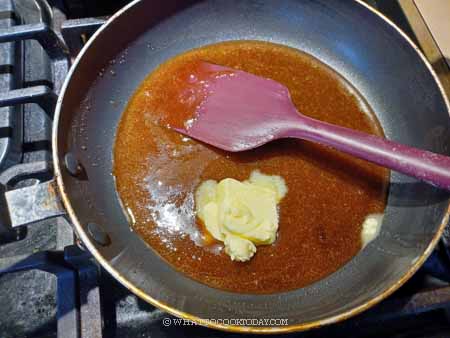 2. Whisk all the dry ingredients together in a large mixing bowl


3. Add wet ingredients and stir into a sticky dough. Cover tightly with a cling wrap and keep in the fridge for at least 12 hours, but I recommend 24 hours if you can. The flavor gets better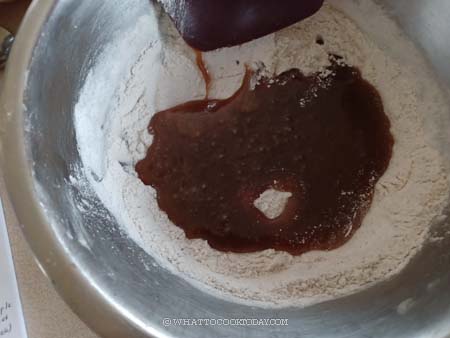 4. Preheat oven to 350 F (180 C) for a conventional oven. If you use top and bottom heat, lower the temperature to 330 F (165 C). Line 2 baking pans with parchment paper. Lightly flour your working surface and rolling pin. The dough is cold and easier to work with at this point. Lightly dust the dough with a bit of flour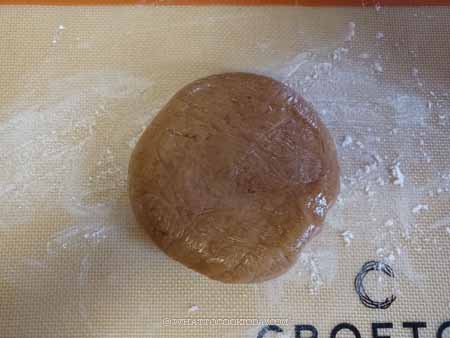 5. Roll it out to 1/4 inch (6 mm) thickness, don't roll too thin.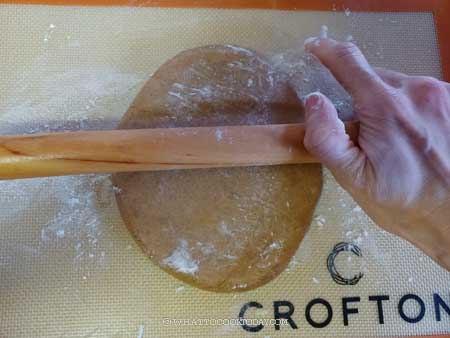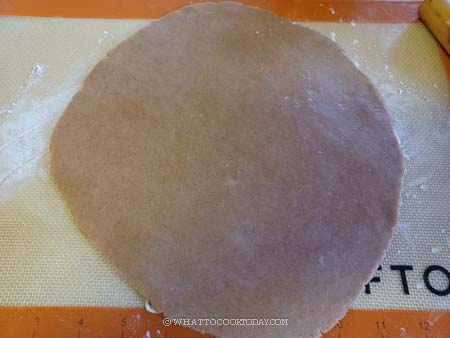 6. Use a cookie cutter to cut into shapes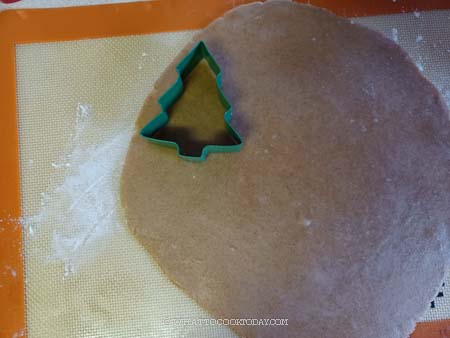 7. Place on a baking pan lined with parchment paper, about 1 inch apart. Dust off excess flour with a pastry brush. Gather the dough scrap and roll again into 1/4 inch thick and cut to shape again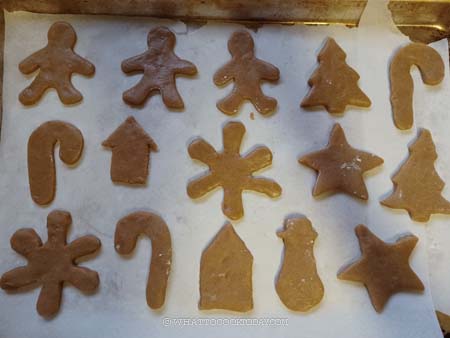 8. Position the baking pans on the upper and lower third of the oven. Put the baking trays on the upper and lower third rack and bake for 12 minutes, rotating the tray front to back, top to bottom halfway through baking. Watch the time closely as the honey may get burnt easily if you overbake
9. Mix the icing sugar with water or apple juice or brandy, whichever you choose to use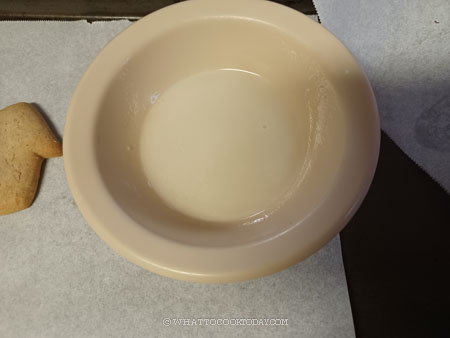 10. Let the cookies cool down on the baking pan for about 5 minutes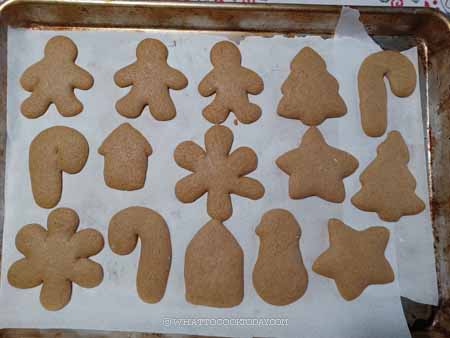 11. Loosen them with an offset spatula but leave on the baking pan.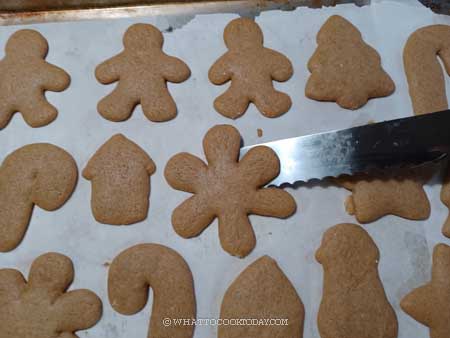 12. The cookies are still warm at this point. Immediately brush the cookies with the glaze and then transfer to a cooling rack and let them cool down and the icing dry completely


13. If you are patient enough, transfer the completely cooled-down cookies to air-tight containers separated by layers of parchment paper. Let the cookies "age" for at least another day or 3 days if you are that patient. The flavor seriously gets better
Tips for success
1. Please make sure the honey mixture is lukewarm before adding the egg as we don't want to cook the egg
2. Chill the dough for at least 12 hours or 24 hours if you can
3. Make sure you roll the dough out into about 1/4 inch (6 mm) and not thinner than that. The cookies may get burnt easily if you roll too thin and the texture will be crispy instead of soft
4. I highly recommend to age the freshly baked cookies for at least one day. The flavor gets even better the longer they sit
Did you make this easy lebkuchen recipe?
I love it when you guys snap a photo and tag to show me what you've made 🙂 Simply tag me @WhatToCookToday #WhatToCookToday on Instagram and I'll be sure to stop by and take a peek for real!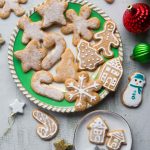 Easy Lebkuchen (German Spiced Cookies)
Ingredients
Wet ingredients:
125

gr

honey

85

gr

dark brown sugar

30

gr

unsalted butter

25

gr

egg

about 1/2 large egg

1

tsp

zest of lemon

1

Tbsp

lemon juice
Dry ingredients:
190

gr

all-purpose flour

⅓

tsp

baking soda

¼

tsp

salt

1

tsp

ground cinnamon

¼

tsp

ground all-spice

¼

tsp

ground nutmeg

⅛

tsp

ground ginger

⅛

tsp

ground cloves

⅛

tsp

ground coriander
Instructions
Prepare cookie dough:
Put honey and sugar in a saucepan over medium heat and cook until the sugar dissolves. Stir in butter. Let it cools down to lukewarm. Crack one egg in a bowl and then whisk. Add 1/2 of the egg, lemon zest and juice into the honey mixture

125 gr honey,

85 gr dark brown sugar,

30 gr unsalted butter,

1 tsp zest of lemon,

1 Tbsp lemon juice,

25 gr egg

Whisk all the dry ingredients together in a large mixing bowl. Add wet ingredients and stir into a sticky dough. Cover tightly with a cling wrap and keep in the fridge for at least 12 hours, but I recommend 24 hours if you can. The flavor gets better

190 gr all-purpose flour,

1/3 tsp baking soda,

1/4 tsp salt,

1 tsp ground cinnamon,

1/4 tsp ground all-spice,

1/4 tsp ground nutmeg,

1/8 tsp ground ginger,

1/8 tsp ground cloves,

1/8 tsp ground coriander
On the day you plan to bake:
Preheat oven to 350 F (180 C) for conventional oven. If you use top and bottom heat, lower the temperature to 330 F (165 C). Line 2 baking pans with parchment paper. Lightly flour your working surface and rolling pin. The dough is cold and easier to work with at this point. Lightly dust the dough with a bit of flour and roll it out to 1/4 inch (6 mm) thickness, don't roll too thin. Use a cookie cutter to cut into shapes and place on a baking pan lined with parchment paper, about 1 inch apart. Dust off excess flour with a pastry brush

Gather the dough scrap and roll again into 1/4 inch thick and cut to shape again
Bake:
Position the baking pans on the upper and lower third of the oven. Put the baking trays on the upper and lower third rack and bake for 12 minutes, rotating the tray front to back, top to bottom halfway through baking. Watch the time closely as the honey may get burnt easily if you overbake
Prepare the glaze while cookies are baking:
Mix the icing sugar with water or apple juice or brandy, whichever you choose to use

60 gr icing sugar,

1 Tbsp water, apple juice, or brandy
Cool down:
Let the cookies cool down on the baking pan for about 5 minutes and then loosen them with an offset spatula. The cookies are still warm at this point. Immediately brush the cookies with the glaze and then transfer to a cooling rack and let them cool down and the icing dry completely
Age the cookies:
If you are patient enough, transfer the completely cooled-down cookies to air-tight containers separated by layers of parchment paper. Let the cookies "age" for at least another day or 3 days if you are that patient. The flavor seriously gets better

The cookies can be stored at room temperature for about 2 weeks
Nutrition
Serving:
1
cookie (about 2 inches)
|
Calories:
77
kcal
|
Carbohydrates:
16
g
|
Protein:
1
g
|
Fat:
1
g
|
Saturated Fat:
1
g
|
Polyunsaturated Fat:
1
g
|
Monounsaturated Fat:
1
g
|
Trans Fat:
1
g
|
Cholesterol:
7
mg
|
Sodium:
43
mg
|
Potassium:
20
mg
|
Fiber:
1
g
|
Sugar:
10
g
|
Vitamin A:
37
IU
|
Vitamin C:
1
mg
|
Calcium:
7
mg
|
Iron:
1
mg