Mashed purple sweet potato ball is wrapped in smooth, almost translucent, soft and chewy dough served in brown sugar ginger syrup.

Crystal tang yuan is a new addition to my tang yuan collection this year 🙂 I'm a little late to the game, but better late than never.
What is crystal tang yuan 水晶汤圆 ?
Traditional tang yuan is made with glutinous rice flour (sweet rice flour/mochiko flour). They can be made plain without filling or with sweet or savory filling. Crystal tang yuan is made solely with tapioca starch/flour with colorful filling inside. When cooked, the dough turn translucent or almost transparent, revealing the colorful filling on the inside. Almost like marbles if you ask me. I'm not sure the origin of this crystal tang yuan, but these are popular in Hong Kong and Singapore.
How to make crystal tang yuan with purple sweet potato filling
1. Cut the sweet potato into cubes and steam for 10 minutes over high heat or until you can easily mash with a fork. Mash with butter and condensed milk while the potatoes are hot and use a rubber spatula to keep stirring until you get a smooth paste. Cover with a cling wrap to prevent the filling from drying. Chill in the fridge for at least 1 hour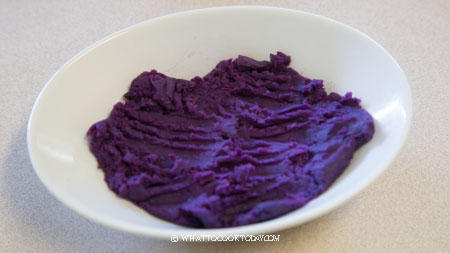 2. Lightly oil your palms and roll the mashed sweet potatoes into 24 round balls, about 10 grams each. Put this in the freezer to let it harden while you prepare the dough


3. Bring 4 cups of water to a boil. Add in ginger, screwpine leaves, and sugar. Bring it back to a boil and then lower the heat to let it simmer for about 30 minutes. Have a taste and add more sugar to your taste if necessary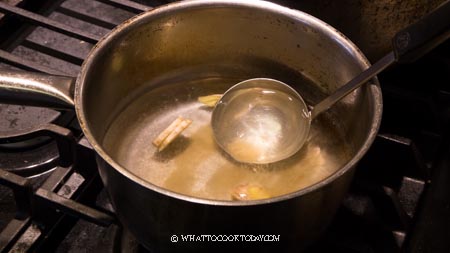 4. Put the tapioca flour in a large mixing bowl. Pour the hot boiling water (it has to be really hot) and stir with a spatula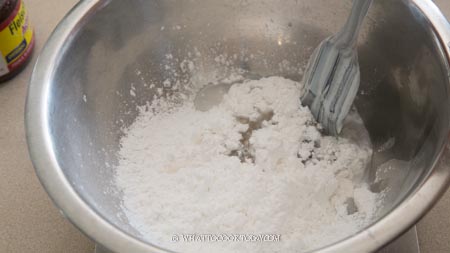 5. When it's not too hot anymore, knead into a dough. If it's a bit too wet, add a bit of flour. If it's a bit too dry, you can add more hot water, teaspoon by teaspoon to get a smooth dough. Cover tightly with a cling wrap and let it rest for 5 minutes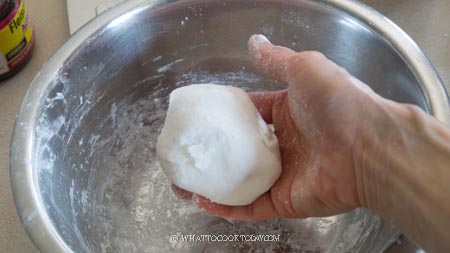 6. Roll the dough into a long log and cut into 24 equal portions. Keep them covered and work with one dough at a time


7. Flatten the dough and roll into a disc, as thin as possible, about 1-2 mm . The thinner the dough, the more translucent the dough will be, but take care not to roll it too thin or it may break during boiling too. Put one filling on the center


8. Gather the edge to seal and pinch off any excess dough. Roll into a smooth round ball


9. Make sure the dough ball is smooth. Dab your palms with a bit of water and roll the dough ball if the dough turns dry. Repeat with the rest of the dough and filling


10. Bring a large pot of water to a boil


11. Put the tang yuan balls in and lower the heat to medium. Stir once or twice to make sure the tang yuan do not stick to the bottom of the pot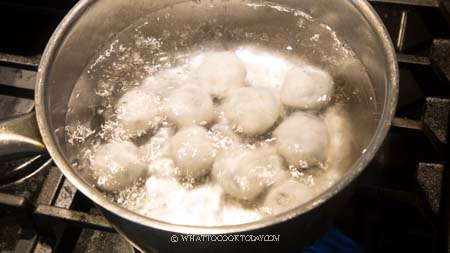 12. Let them cook until they float to the top, about 8 minutes


13. Turn off the heat and cover. Let them sit for 15 minutes. This is when the tang yuan will turn translucent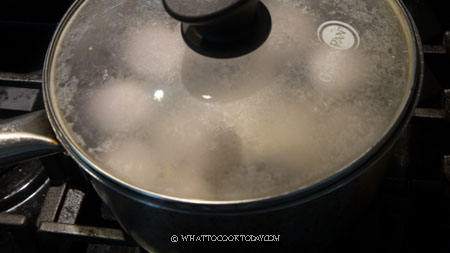 14. Remove with a slotted spoon into cold water to stop the cooking process. Keep them in the bowl of cold water until you are ready to serve. These also prevent them from sticking to each other


15. Portion out the crystal tang yuan and ladle the brown sugar ginger soup over and tuck in

Tips for success
1. Make sure the water is boiling hot when you mix it with tapioca starch
The hot boiling water will gelatinize the starch, making it pliable and easier to work with
2. The dough needs to be rolled as thin as possible, well, not too thin that it will break during boiling, but reasonably thin, about 1-2 mm so they can turn almost transparent after boiling
3. Boil the tang yuan over medium heat. Vigorous boiling can break the dough and the filling will leak out
4. It is important to let the tang yuan rests after boiling. The dough will gradually turn transparent during this time
How to store crystal tang yuan
1. For cooked crystal tang yuan: This is best served the day they were made after you have cooked them. Once refrigerated, they will harden. You can always reheat in the microwave or reheat briefly in simmering water until they are softened again
2. For uncooked crystal tang yuan: Crystal tang yuan freezes well. Put the shaped and filled crystal tang yuan on a tray lined with parchment or wax paper, not touching each other. Put it in the freezer for about 30 minutes or so. They won't be completely frozen yet. Transfer to a freezer bag or container. They can be kept frozen for up to 2 months. When ready to cook, simply bring water to a boil and then lower to simmer and cook frozen tang yuan. You may need to add 5 minutes extra since they are frozen
Did you make this crystal tang yuan with a purple sweet potato filling recipe?
I love it when you guys snap a photo and tag to show me what you've made 🙂 Simply tag me @WhatToCookToday #WhatToCookToday on Instagram and I'll be sure to stop by and take a peek for real!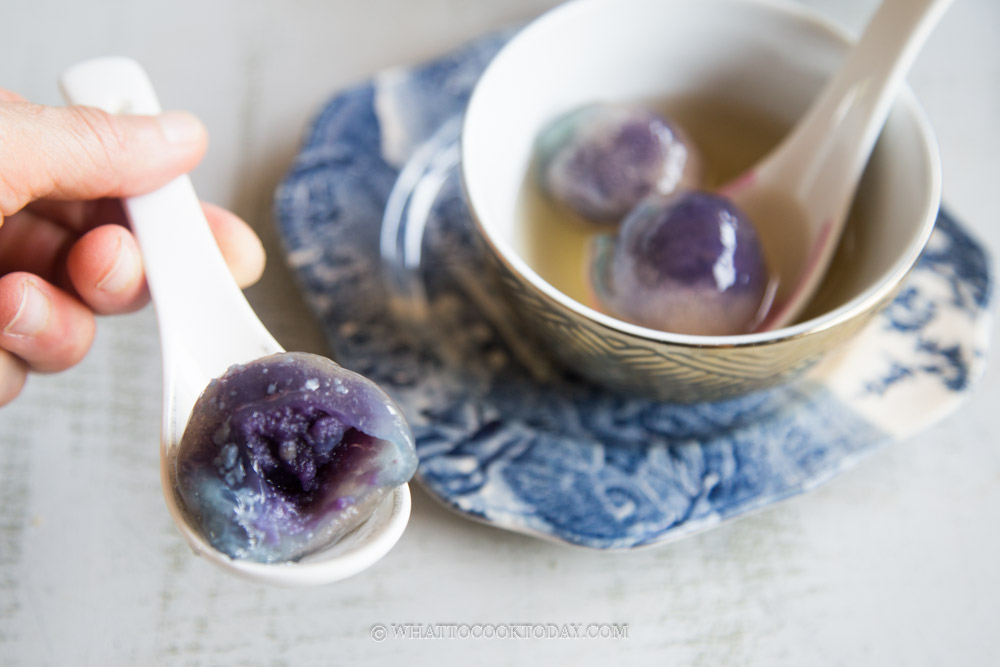 Crystal Tang Yuan with Purple Sweet Potato Filling (水晶汤圆)
Ingredients
Dough:
140

gr

tapioca flour/starch

or more as needed

90

ml

hot boiling water

or more as needed
Brown sugar ginger syrup:
4

cups

water

50

gr

ginger slices

100

gr

brown sugar

3

blades

pandan leaves

knotted
Instructions
Prepare the filling:
Cut the sweet potato into cubes and steam for 10 minutes over high heat or until you can easily mash with a fork. Mash with butter and condensed milk while the potatoes are hot and use a rubber spatula to keep stirring until you get a smooth paste. Cover with a cling wrap to prevent the filling from drying. Chill in the fridge for at least 1 hour

220 gr purple sweet potato,

10 gr condensed milk,

10 gr butter

Lightly oil your palms and roll the mashed sweet potatoes into 24 round balls, about 10 grams each. Put this in the freezer to let it harden while you prepare the dough
Prepare the brown sugar ginger syrup:
Bring 4 cups of water to a boil. Add in ginger, screwpine leaves, and sugar. Bring it back to a boil and then lower the heat to let it simmer for about 30 minutes. Have a taste and add more sugar to your taste if necessary

4 cups water,

50 gr ginger slices,

100 gr brown sugar,

3 blades pandan leaves
Prepare the dough:
Put the tapioca flour in a large mixing bowl. Pour the hot boiling water (it has to be really hot) and stir with a spatula. When it's not too hot anymore, knead into a dough. If it's a bit too wet, add a bit of flour. If it's a bit too dry, you can add more hot water, teaspoon by teaspoon to get a smooth dough. Cover tightly with a cling wrap and let it rest for 5 minutes

140 gr tapioca flour/starch,

90 ml hot boiling water
Assembling:
Roll the dough into a long log and cut into 24 equal portions. Keep them covered and work with one dough at a time

Flatten the dough and roll into a disc, as thin as possible, about 1-2 mm . The thinner the dough, the more translucent the dough will be, but take care not to roll it too thin or it may break during boiling too

Put one filling on the center and then gather the edge to seal and pinch off any excess dough. Roll into a smooth round ball. Make sure the dough ball is smooth. Dab your palms with a bit of water and roll the dough ball if the dough turns dry. Repeat with the rest of the dough and filling
Cooking:
Bring a large pot of water to a boil. Put the tang yuan balls in and lower the heat to medium. Stir once or twice to make sure the tang yuan do not stick to the bottom of the pot. Let them cook until they float to the top, about 8 minutes. Turn off the heat and cover. Let them sit for 15 minutes. This is when the tang yuan will turn translucent

Remove with a slotted spoon into cold water to stop the cooking process. Keep them in the bowl of cold water until you are ready to serve. These also prevent them from sticking to each other
To serve:
Portion out the crystal tang yuan and ladle the brown sugar ginger soup over and tuck in
Nutrition
Serving:
1
tang yuan
|
Calories:
49
kcal
|
Carbohydrates:
12
g
|
Protein:
1
g
|
Fat:
1
g
|
Saturated Fat:
1
g
|
Polyunsaturated Fat:
1
g
|
Monounsaturated Fat:
1
g
|
Trans Fat:
1
g
|
Cholesterol:
1
mg
|
Sodium:
12
mg
|
Potassium:
48
mg
|
Fiber:
1
g
|
Sugar:
5
g
|
Vitamin A:
1312
IU
|
Vitamin C:
1
mg
|
Calcium:
9
mg
|
Iron:
1
mg