Learn how to make Norwegian traditional sugar cookies characterized by their shell-like shape and sandy texture. They can be eaten as is or filled with cream and fresh fruit, like mini tarts.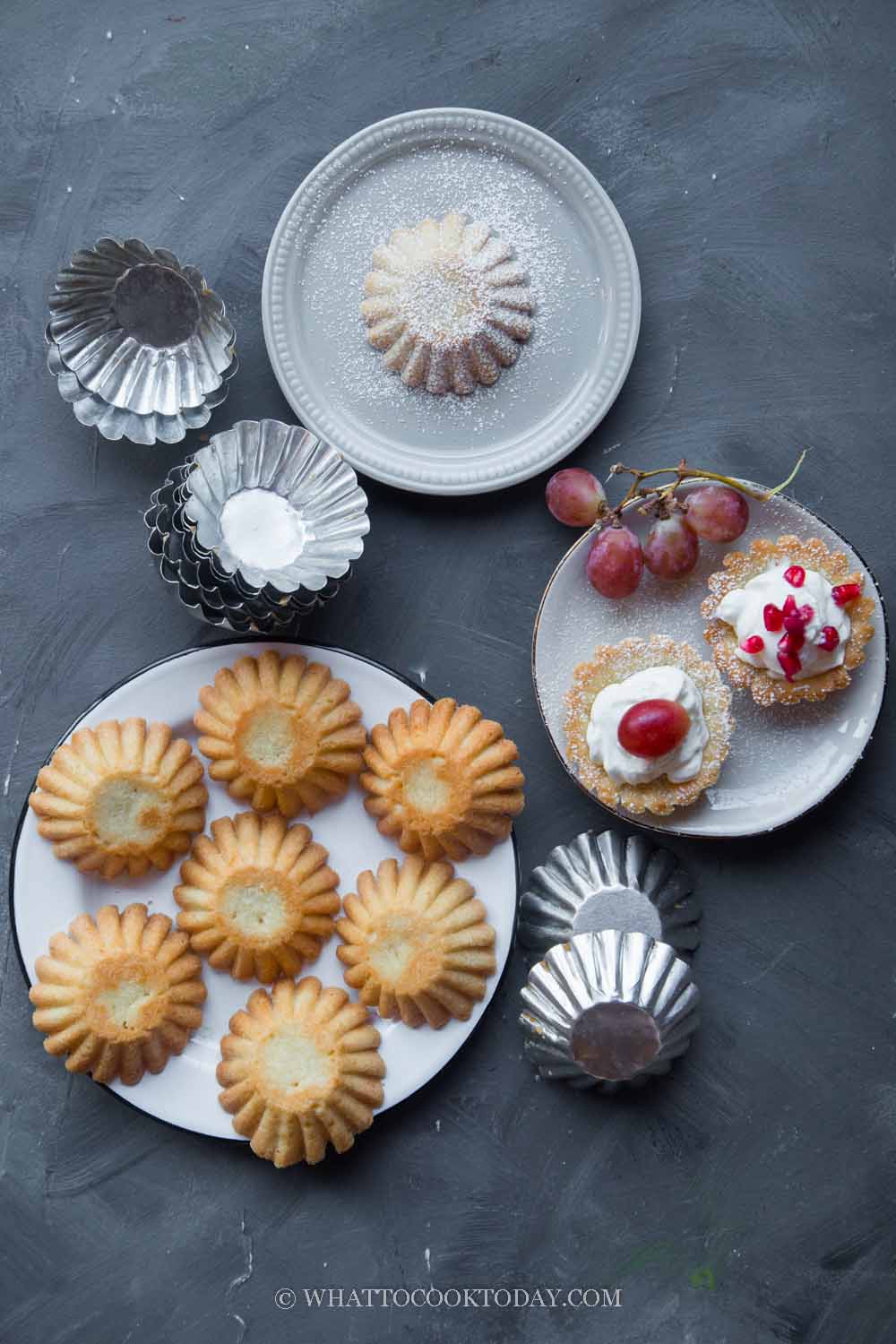 What is sandbakkels?
Sandbakkels or also known as sandbakelse or sandkaker are Norwegian buttery sugar cookies that have a crisp and sandy texture (in a good way). They are cookies that look like tarts and if you don't tell me, I would think it's tarts. They are usually baked in special sandbakkels mold, which is like mini fluted tart pan. Traditional sandbakkels have almond flour added for the sandy texture. But I've seen recipes without it too. Some will add spice like cardamom. I used vanilla and almond extract as I really almond extract, butyou can skip if you don't fancy.
How to make sandbakkels
1. Combine all-purpose flour, almond flour, and salt in a bowl and whisk to combine. Cream butter and sugar until creamy and fluffy, about 3 minutes over medium speed.


2. Add room temperature egg, vanilla, and almond extract and beat until combined


3. Reduce the speed to low and add the flour mixture in and mix to combine. Scrape down the side of the bowl and make sure everything is well incorporated. Pat into a disc and wrap tightly with a cling wrap. Put in the fridge to chill overnight, 8-24 hours. I prepare the dough at night and the next morning I start shaping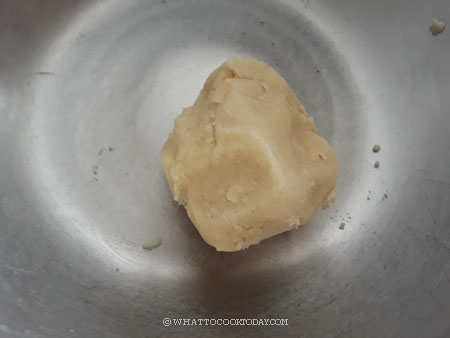 4. Preheat oven at 375 F (190C) for a conventional oven. Lower the temperature by 20 degrees if you use a convection oven. I don't have sandbakkels tin molds and I just use the regular mini tart tin I used to make egg tart. Oil each tin or use non-stick cooking spray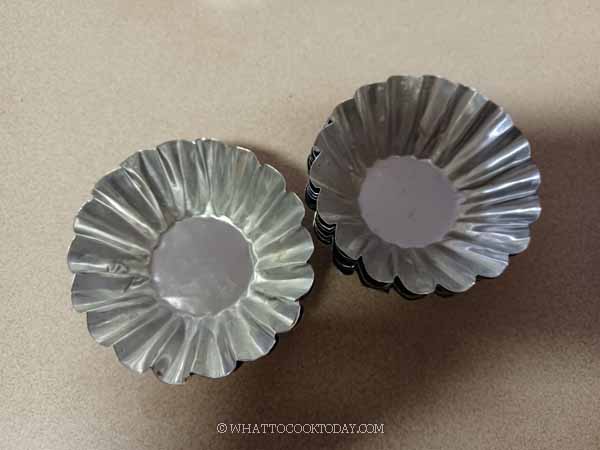 5. The cookie dough is cold now and it's easier to work with. I weigh the dough, about 25 grams to fit into my mold. The mold I have is about 2 inches in size. You don't have to weigh each one, but you can eyeball the rest. Press the dough onto the base of the mold and then spread it out with your thumbs to cover the side of the mold. You don't want the dough to be too thick or too thin, about 1/8 inch (about 3 mm). Don't have to be exact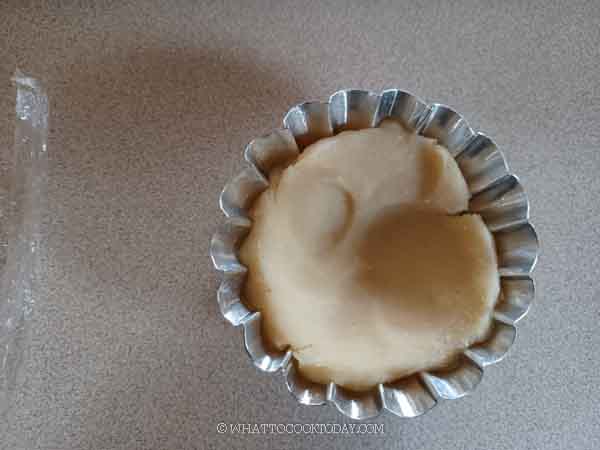 6. Place the mold on a baking sheet and put inside the oven, middle rack and bake for 8-10 minutes or until the tarts are golden brown. Remove from the oven and let them cool down in the mold for about 5 minutes


7. Lay a piece of parchment paper or newspaper (that's how it was done back in the old days). Take one baked sandbakkels and gently flip it upside down on the paper, give it a gentle tap and the cookie will flip right out. Continue with the rest. Let them cool down upside down on top of the paper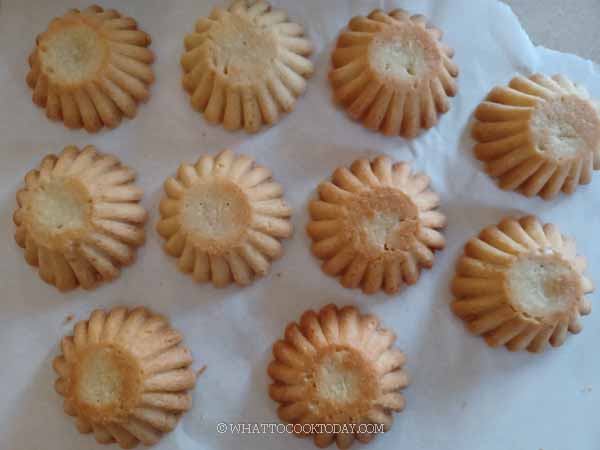 8. They can be eaten as is or fill them up with, custard, or whipped cream and top with some fresh fruit

Tips for success
1. Butter and eggs need to be at room temperature
2. Grease each mold with oil or non-stick cooking spray
3. Let the cookie cools down in the mold for 5 minutes before unmolding
4. Simply invert upside down and then gently tap the mold and it should flop right out
Did you make this sandbakkels recipe?
I love it when you guys snap a photo and tag to show me what you've made 🙂 Simply tag me @WhatToCookToday #WhatToCookToday on Instagram and I'll be sure to stop by and take a peek for real!

Sandbakkels / Sandbakelse / Sandkaker (Norwegian Sugar Cookies/Sand Tarts)
Ingredients
You will also need:
Instructions
Prepare the cookie dough:
Combine all-purpose flour, almond flour, and salt in a bowl and whisk to combine

Cream butter and sugar until creamy and fluffy, about 3 minutes over medium speed. Add room temperature egg, vanilla, and almond extract. Reduce the speed to low and dd the flour mixture in and mix to combine. Scrape down the side of the bowl and make sure everything is well incorporated. Pat into a disc and wrap tightly with a cling wrap. Put in the fridge to chill overnight, 8-24 hours. I prepare the dough at night and the next morning I start shaping
Shaping:
Preheat oven at 375 F (190C) for a conventional oven. Lower the temperature by 20 degrees if you use a convection oven. I don't have sandbakkels tin molds and I just use the regular mini tart tin I used to make egg tart. Oil each tin or use non-stick cooking spray

The cookie dough is cold now and it's easier to work with. I weigh the dough, about 25 grams to fit into my mold. The mold I have is about 2 inches in size. You don't have to weigh each one, but you can eyeball the rest. Press the dough onto the base of the mold and then spread it out with your thumbs to cover the side of the mold. You don't want the dough to be too thick or too thin, about 1/8 inch (about 3 mm). Don't have to be exact
Baking:
Place the mold on a baking sheet and put inside the oven, middle rack and bake for 8-10 minutes or until the tarts are golden brown
Cooling down:
Remove from the oven and let them cool down in the mold for about 5 minutes. Lay a piece of parchment paper or newspaper (that's how it was done back in the old days). Take one baked sandbakkels and gently flip it upside down on the paper, give it a gentle tap and the cookie will flip right out. Continue with the rest. Let them cool down upside down on top of the paper
How to eat sandbakkels:
They can be eaten as is or fill them up with, custard, or whipped cream and top with some fresh fruit
Storing:
Once they have cooled down completely, you can transfer them to an air-tight container. If you stack them up, separate each layer with parchment paper. They can be kept at room temperature for about a week
Nutrition
Serving:
1
cookie
|
Calories:
80
kcal
|
Carbohydrates:
14
g
|
Protein:
2
g
|
Fat:
2
g
|
Saturated Fat:
1
g
|
Polyunsaturated Fat:
1
g
|
Monounsaturated Fat:
1
g
|
Trans Fat:
1
g
|
Cholesterol:
12
mg
|
Sodium:
44
mg
|
Potassium:
14
mg
|
Fiber:
1
g
|
Sugar:
7
g
|
Vitamin A:
18
IU
|
Calcium:
10
mg
|
Iron:
1
mg