This super easy Greek yogurt honey soda bread takes inspiration from the traditional Irish soda bread made with buttermilk. This bread is so easy and quick to put together. It's a no-knead bread and it doesn't use yeast, eggs, and butter. It is one of our family's favorite quick bread. The Greek yogurt gives an amazing flavor to the bread.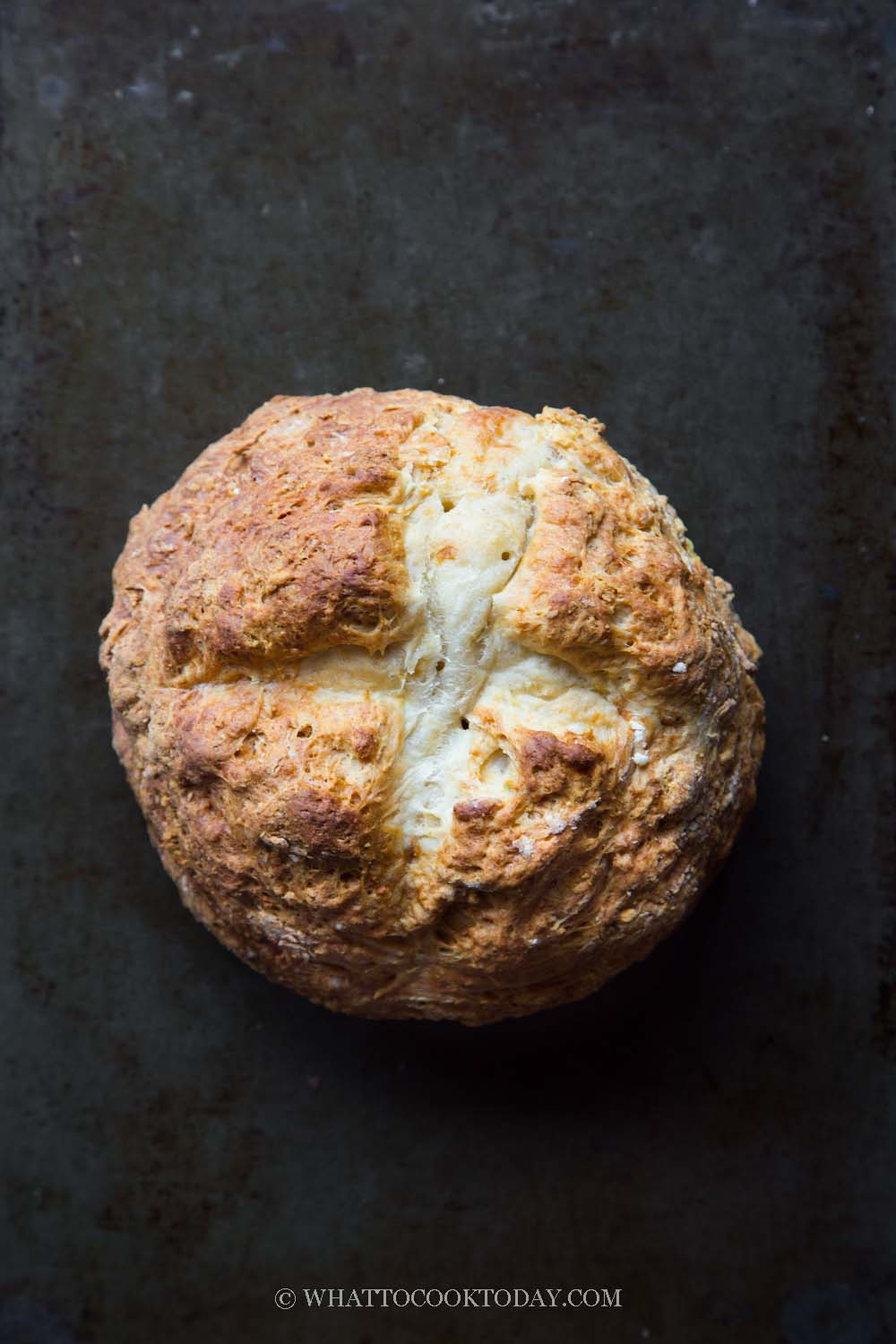 What is Greek yogurt honey soda bread?
This bread is inspired by the traditional Irish soda bread. Irish soda bread use baking soda and buttermilk to leaven the bread (hence the name "soda bread") and no yeast is used. Instead of buttermilk, I use Greek yogurt instead. The acidity of the Greek yogurt works well with the baking soda to leaven the bread. I also added honey to the bread and it gives an amazing aroma of honey that I love so much.
The recipe rundown
Taste: The bread has a nice hint of sweetness (just a hint) and the yogurt gives that faint milky aroma that I really like
Texture: It has some density to it, in a good way, yet nice tender crumbs and crusty outside. It's like a cross between buttermilk biscuit and scones where the inside is tender but the outside is crusty and crumbly
Difficulty: Easy
Ingredients
Let's talk ingredients for a sec! It's important that you follow the recipe exactly to yield nice tender crumbs with a crusty outside
1. Pastry flour or cake flour or low-gluten flour
This is basically a no-knead bread and so we want to handle the dough as little as possible. I strongly encourage that you use flour with low gluten content, around 7-9% is ideal. Can you use all-purpose flour? most all-purpose flour has a gluten content of around 8-11%, depending on the brand too. Pastry flour and cake flour are made with soft wheat. All-purpose flour is made with both hard and soft wheat. So, I would say yes, but you want to make sure not to work the dough too much or your soda bread will be tough
2. Baking soda
This is the only leavener in this recipe. So you cannot skip this. Make sure your baking soda is fresh too
3. Salt
Needless to say, salt helps to add flavor to pretty much anything
4. Greek yogurt
I use whole milk Greek yogurt with 5% milk fat. I've made this bread with low-fat and fat-free Greek yogurt before too. While the latter turned out okay, the family voted that the one with whole milk Green yogurt has the best flavor. So, it's your call! Can you use regular yogurt? I have never tried making this bread with a regular yogurt because I hardly buy regular yogurt, but I would say you can, but the amount might not be the same considering that regular yogurt is more "watery" compared to Greek yogurt, which is very thick. You might want to start with 350 grams instead
5. Honey
I use raw honey and I love how the bread has that faint aroma of honey
6. Oil
The oil helps to keep the bread moist and tender. I don't recommend cutting down on the oil. The recipe doesn't use a whole lot of oil either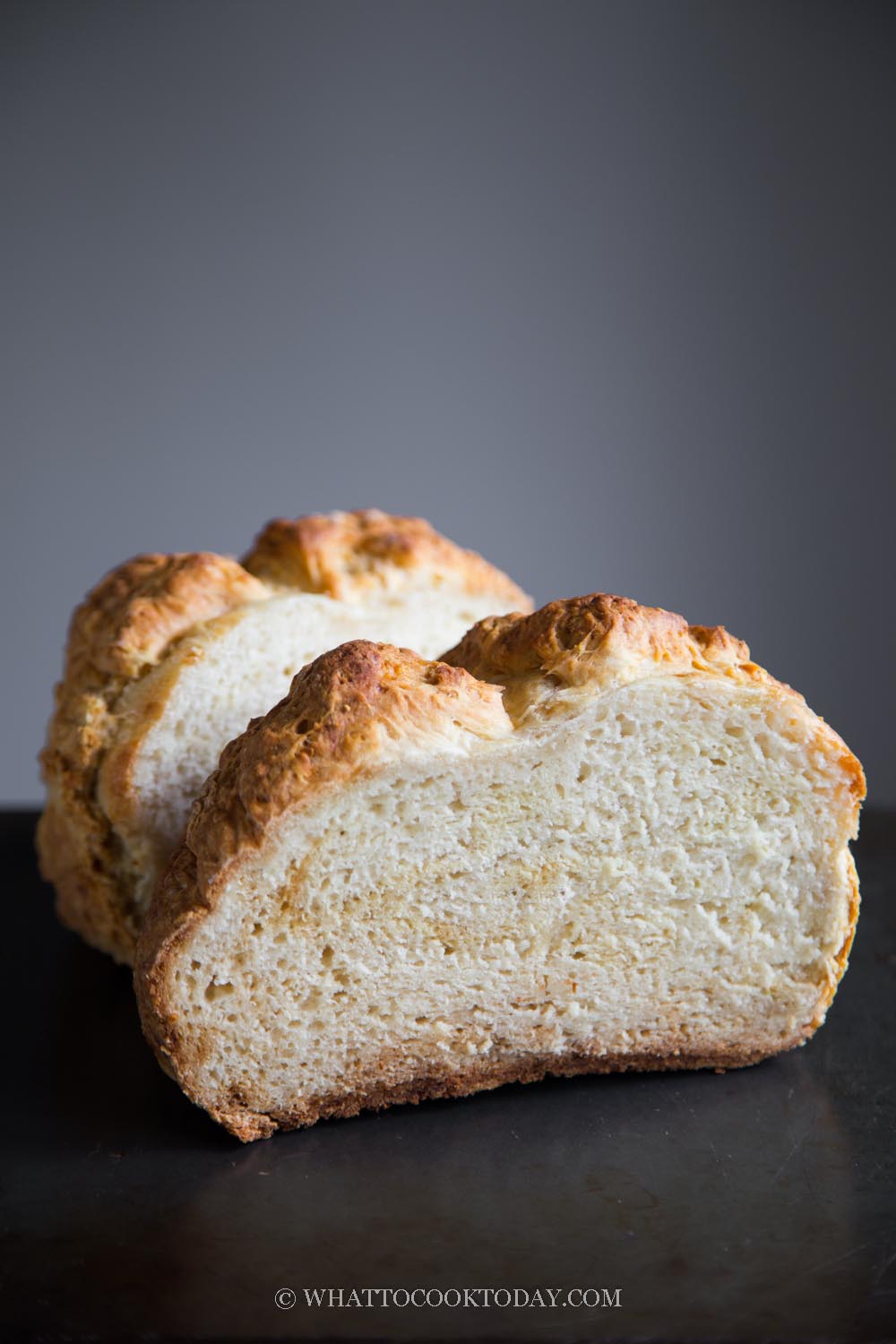 How to make easy Greek yogurt honey soda bread
1. Preheat oven to 400 F (200 C) for a conventional oven, 380 F (190 C) for a convection oven. Position the rack in the middle of the oven. Line a baking sheet with a parchment paper. If you have a cast-iron skillet, you can use that too. Line with a parchment paper
2. Combine flour, salt, and baking soda and whisk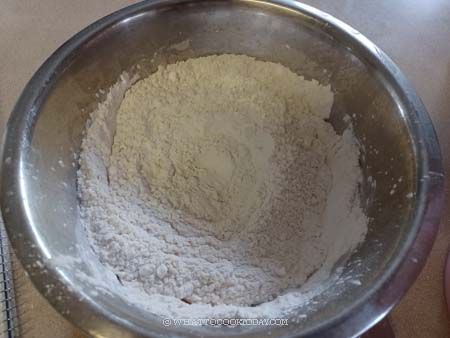 3. Whisk Greek yogurt, honey, and oil in a separate bowl or container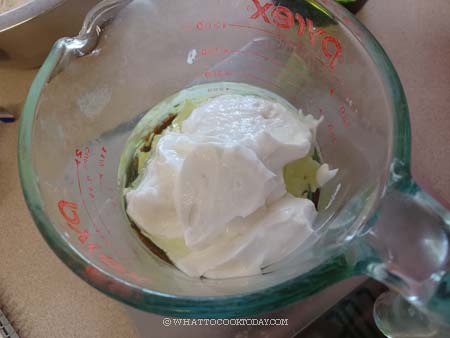 4. Add the yogurt mixture to the flour mixture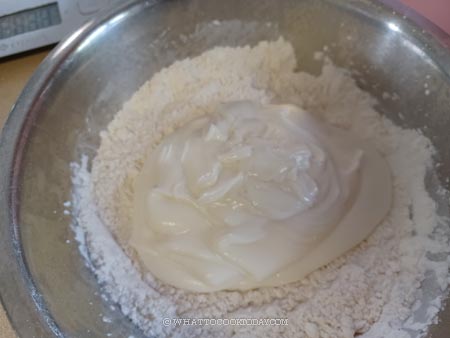 5. Use a spatula to stir to combine. It may seem dry at first but keep stirring until you get a rough dough with some loose flour is okay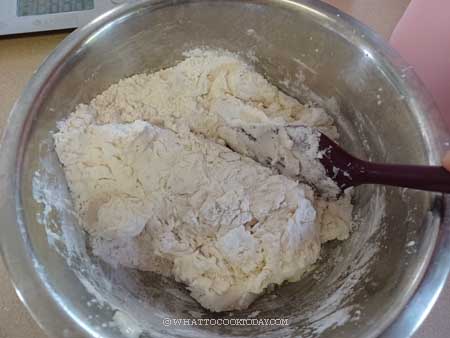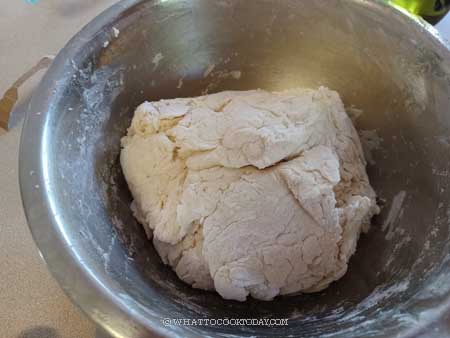 4. Dust your work surface with some flour. Transfer the dough to that work surface. Dust your hands with some flour too.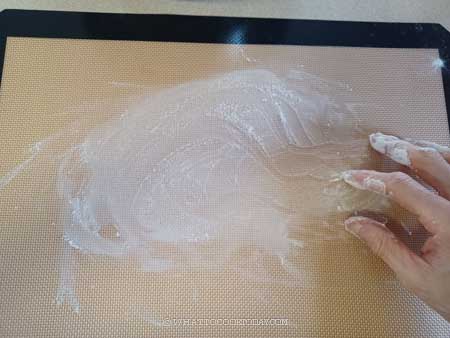 5. Fold the dough from edge to center 2-3 times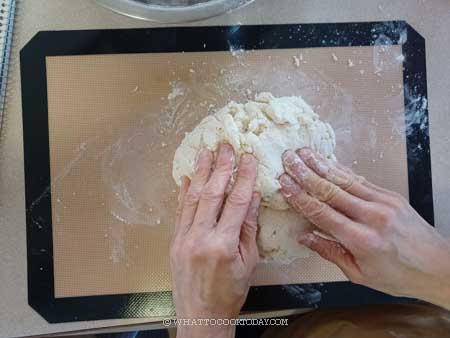 6. Then flip over and use your hands to cup and twist the dough to form a round dough, roughly! Try not to work the dough too much. The less you handle it, the better. It's a very rough-looking dough and that's the way it is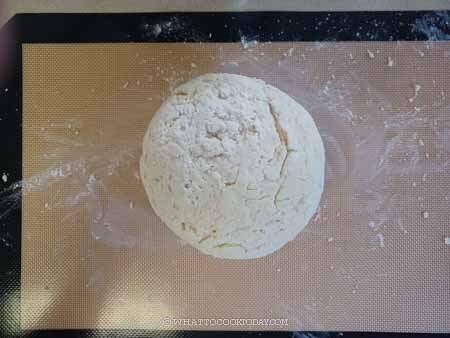 5. Transfer to a baking sheet or cast-iron skillet. Use a sharp knife to cut about 1/2-inch deep "X" on the surface of the bread. This is important as it helps the bread to bake evenly and to expand so the shape of the bread won't get skewed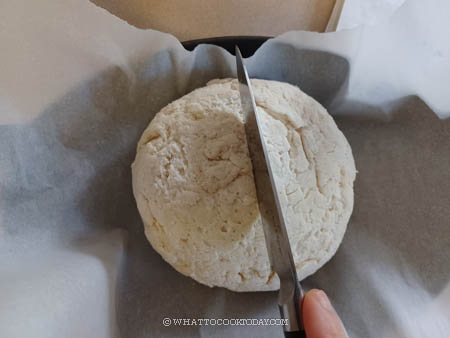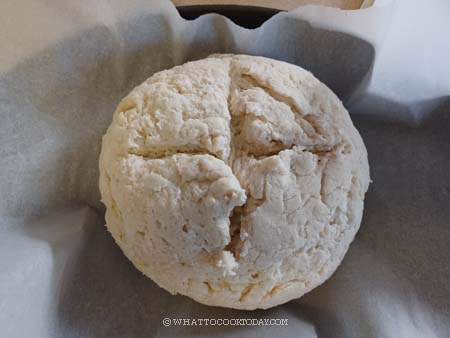 6. Bake the bread on the middle rack for about 45-55 minutes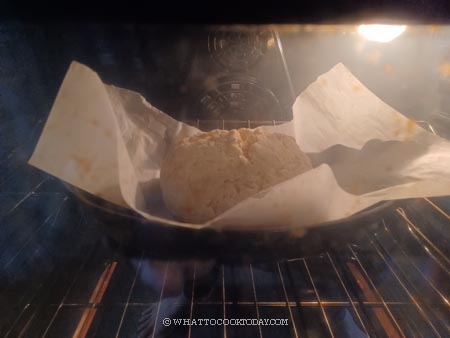 7. I have to tent the top of the bread loosely with an aluminum foil (shiny side facing outside) after about 15 minutes of baking. There's honey in the recipe so the bread tends to brown faster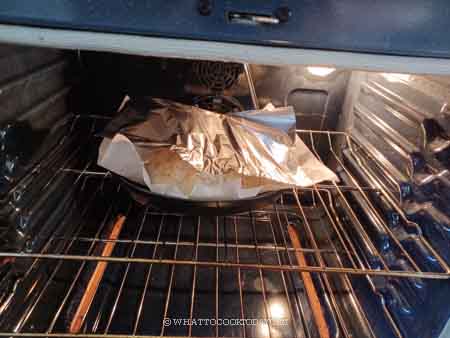 8. Start checking for doneness at around 45 minutes. I use a thermometer to check the internal temperature of the bread, it should be at least around 190 F (88 C). I tested on several different spots. If the temperature is not there yet, bake another 5 minutes or so and check again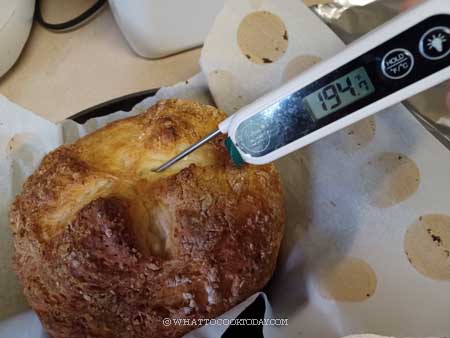 8. Remove the bread from the oven and let it cool on the pan for 5 minutes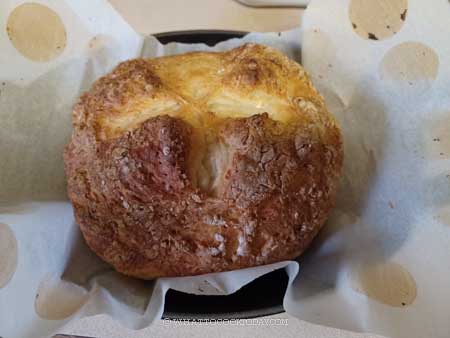 9. Then transfer it to a cooling rack to let it cool down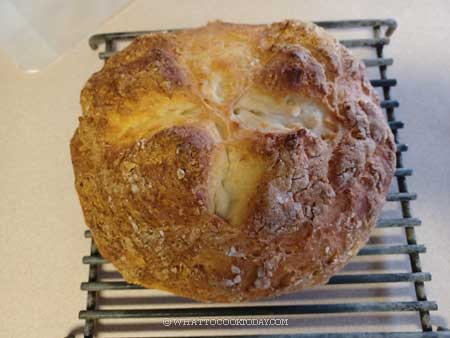 This Greek yogurt soda bread is best served warm. You'll love its slightly crusty outside and soft tender crumbs inside. They taste great the next day too. The inside of the bread stays soft too.
How to store Greek yogurt soda bread
1. Let the bread cool down completely at room temperature
2. Keep them in an air-tight container for 2-3 days if it's not humid where you are
3. The bread freezes well too. Simply wrap in a plastic wrap and then another layer of foil and put in a freezer bag, pushing all the air out. Simply thaw at room temperature before serving and a quick reheat in the microwave for a few seconds to warm it up if you prefer. It can also go to the toaster without thawing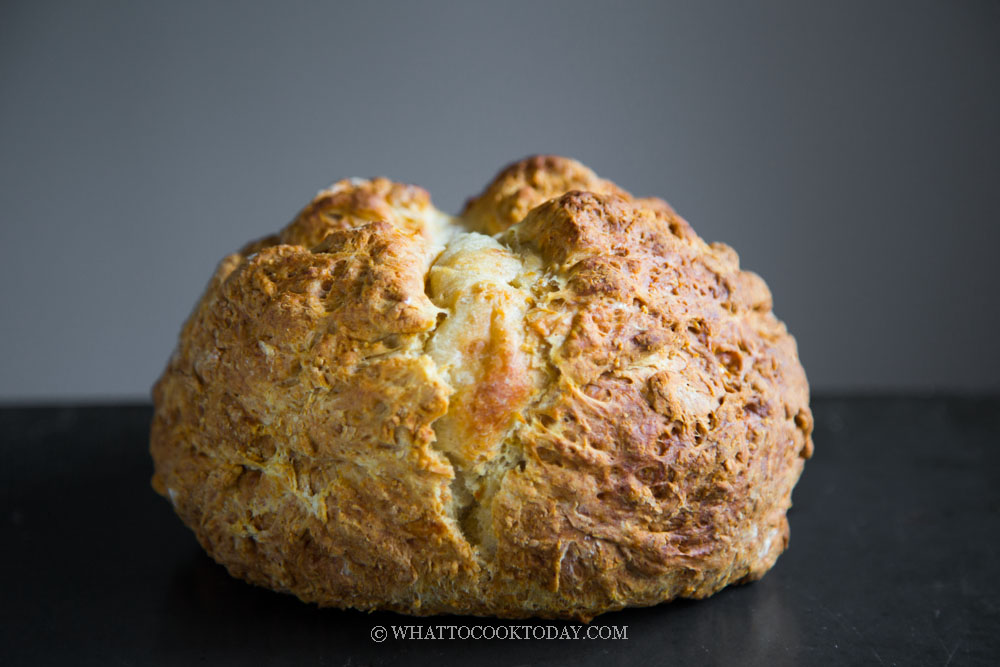 Did you make this easy Greek yogurt honey soda bread recipe?
I love it when you guys snap a photo and tag to show me what you've made 🙂 Simply tag me @WhatToCookToday #WhatToCookToday on Instagram and I'll be sure to stop by and take a peek for real!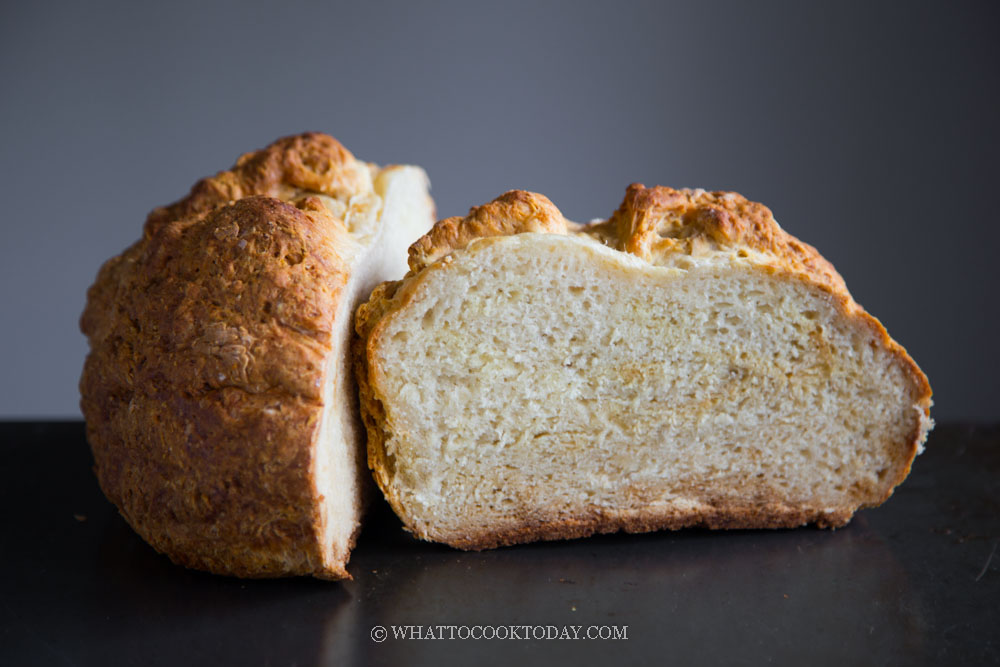 Easy Greek Yogurt Honey Soda Bread (No Yeast, No Knead)
Ingredients
400

gr

pastry flour or cake flour

plus more for dusting

1 ½

tsp

baking soda

1

tsp

salt

530

gr

whole-milk Greek yogurt (5% fat)

40

gr

honey

30

gr

oil
Instructions
Preheat oven to 400 F (200 C) for a conventional oven, 380 F (190 C) for a convection oven. Position the rack in the middle of the oven. Line a baking sheet with a parchment paper. If you have a cast-iron skillet, you can use that too. Line with a parchment paper
Prepare the dough:
Add Greek yogurt, honey, and oil to a mixing bowl. Whisk to combine. Sift in flour, baking soda, and salt

Use a spatula to stir to combine. It may seem dry at first but keep stirring until you get a rough dough with some loose flour is okay

Dust your work surface with some flour. Transfer the dough to that work surface. Dust your hands with some flour too. Fold the dough from edge to center 2-3 times then flip over and use your hands to cup and twist the dough to form a round dough, roughly! Try not to work the dough too much. The less you handle it, the better. It's going to be a very rough-looking dough and that's the way it is

Transfer to a baking sheet or cast-iron skillet. Use a sharp knife to cut about 1/2-inch deep "X" on the surface of the bread. This is important as it helps the bread to bake evenly and to expand so the shape of the bread won't be skewed
Bake the bread:
Bake the bread on the middle rack for about 45-55 minutes. I have to tent the top of the bread loosely with an aluminum foil (shiny side facing outside) after about 15 minutes of baking. There's honey in the recipe so the bread tends to brown faster.

Start checking for doneness at around 45 minutes. I use a thermometer to check the internal temperature of the bread, it should be around 190 F (88 C). I tested on several different spots. If the temperature is not there yet, bake another 5 minutes or so, tent with a foil on the top
Cooling:
Remove the bread from the oven and let it cool on the pan for 5 minutes and then transfer it to a cooling rack to let it cool down

The bread is best served warm. It can be kept at room temperature for 2-3 days. Make sure to let the bread cool down completely before storing it in air-tight container
Recommended products:
Nutrition
Serving:
1
slice
|
Calories:
215
kcal
|
Carbohydrates:
35
g
|
Protein:
7
g
|
Fat:
5
g
|
Saturated Fat:
1
g
|
Polyunsaturated Fat:
1
g
|
Monounsaturated Fat:
2
g
|
Trans Fat:
1
g
|
Cholesterol:
7
mg
|
Sodium:
428
mg
|
Potassium:
124
mg
|
Fiber:
1
g
|
Sugar:
6
g
|
Vitamin A:
53
IU
|
Vitamin C:
1
mg
|
Calcium:
71
mg
|
Iron:
1
mg