Shrimp and sweet potato sticks are fried in crispy batter. Banh tom makes a perfect appetizer.
What is Bánh Tôm?
Bánh Tôm is popular street food in Hanoi, Vietnam. It is also known as the West Lake fried shrimp cake. There are several restaurants along the West lake that serve banh tom. Whole shrimp and sweet potato sticks are fried in a batter until crispy. Banh tom is usually served with veggies such as lettuce and nuoc mam cham sauce.
How to make banh tom
1. You can leave the shell and tail on or you can remove the shell and leave the tail on. Either way, you want to devein the shrimp. If you leave the shell on, you can use a kitchen shear to cut through the shell on the back to remove the vein. Mix the shrimp with salt, garlic powder, ground white pepper and cornstarch. Set it aside while you prepare other things


2. Peel and cut the sweet potato on a bias into 1/4-inch thick rounds and then stack 4-5 rounds and cut into about 1/4-inch wide and about 3-4 inches long


3. Soak these potatoes in water. Add salt and vinegar. Let them soak for 30 minutes. Drain off the water and rinse the sweet potato with the salt and then pat them dry with an absorbent paper towel and set aside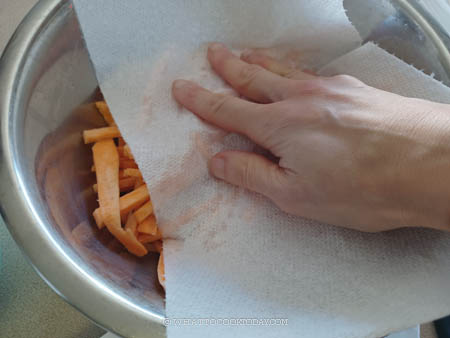 4. Combine rice flour, all-purpose flour, cornstarch, salt, turmeric powder, baking powder, and sugar in a large mixing bowl


5. Add the water and whisk until you get a runny batter with no lumps. Cover and let the batter rests for 15 minutes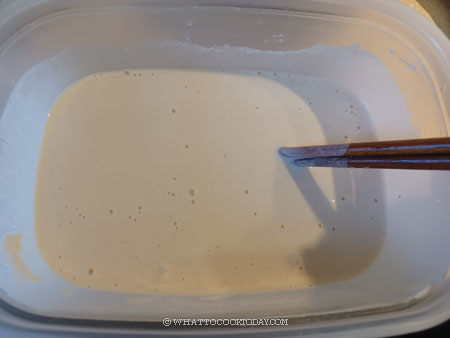 6. Preheat cooking oil over medium heat, about 2 inches high. You want to make sure there's enough oil to get a good result. When you put a skewer in, there will be lots of bubbles around it or you can drizzle a bit of the batter and it will sizzle. The oil is ready


7. Put about 10-15 sweet potato sticks in the batter


8. Then scoop them up with a spoon and gently lower into the oil to let them fry for about 1 minute


9. Then dip a piece of shrimp in the batter and put on top of the sweet potato


10. Let it fry for about 4-5 minutes or until the shrimp turn pink and crispy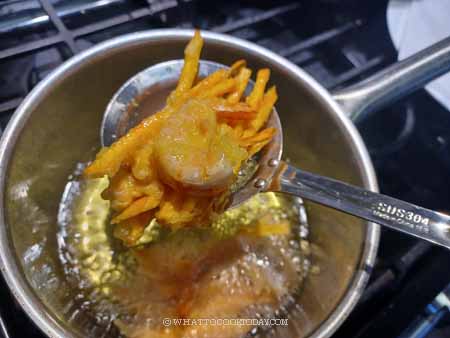 11. Remove from the oil and put on an absorbent paper towel. Continue with the rest of the batter, sweet potato sticks and shrimp


12. Once you are done frying all of them, bring the oil back to hot. Remove crumbs in the oil if any. Start from the first one that you fried and put it back into the oil and let it fry for about 1 minute or less. This round will be quick. We just want to crisp the fritter up. Fry until they are golden brown and crispy. Remove and put on absorbent paper towel. Keep them on a cooling rack in the oven at 200 F (93 C) to keep them warm and crispy when you fry the rest


13. Serve them while they are warm and crispy with some lettuce and fresh herbs like mints, cilantro leaves and nuoc mam cham sauce. Alternatively, you can also serve with store-bought sweet chili sauce or any chili sauce of your choice if you prefer

Important tips
1. Pat the shrimp dry before adding marinade so they stick to the shrimp
2. Cut the sweet potato sticks as evenly in size as possible so they cook at the same time
3. Soak the sweet potato sticks in a salt water to help crisp them up. The salt helps to draw out moisture from the sweet potatoes, making them crispier when you fry them
4. Double frying will give you very crispy fritters. Make sure you allow the fritter to cool down a bit before the second frying
Did you make this banh tom recipe?
I love it when you guys snap a photo and tag to show me what you've made 🙂 Simply tag me @WhatToCookToday #WhatToCookToday on Instagram and I'll be sure to stop by and take a peek for real!

Bánh Tôm (Vietnamese Shrimp and Sweet Potato Fritters)
Ingredients
For the sweet potato:
500

gr

sweet potatoes

weight before peeling

3

cups

water

1

tsp

salt

2

tsp

vinegar
Nuoc mam cham:
3

Tbsp

sugar

¼

cup

hot water

3

Tbsp

fish sauce

Juice of 1 lime

1

red chili

seeded if you like and finely chopped
For frying:
Serve with (optional):
Lettuce

Fresh mints

Cilantro leaves
Instructions
Prepare nuoc mam cham:
Place the hot water and sugar in a heat-proof jar and stir until sugar dissolves. Add the rest of the ingredients. Let it cool and then store it in a jar container in the refrigerator. It will keep for about a week
Marinate the shrimp:
You can leave the shell and tail on or you can remove the shell and leave the tail on. Either way, you want to devein the shrimp. If you leave the shell on, you can use a kitchen shears to cut through the shell on the back to remove the vein

Mix the shrimp with salt, garlic powder, ground white pepper and cornstarch. Set it aside while you prepare other things
Prepare the sweet potato:
Peel and cut the sweet potato into 1/4-inch thick rounds and then stack 4-5 rounds and cut into about 1/4-inch wide and about 3-4 inches long

Soak these potatoes in water. Add salt and vinegar. Let them soak for 30 minutes. Drain off the water and rinse potato with the salt and then pat them dry with absorbent paper towel and set aside
Prepare the batter:
Combine rice flour, all-purpose flour, cornstarch, salt, turmeric powder, baking powder, and sugar in a large mixing bowl. Add the water and whisk until you get a runny batter with no lumps. Cover and let the batter rests for 15 minutes
First frying:
Preheat cooking oil over medium heat, about 2 inches high. You want to make sure there's enough oil to get a good result. When you put a skewer in, there will be lots of bubbles around it. The oil is ready

Put about 10-15 sweet potato sticks in the batter and then scoop them up with a spoon and gently lower into the oil to let them fry for about 1 minute and then dip a piece of shrimp in the batter and put on top of the sweet potato and let it them fry for about 4-5 minutes or until the shrimp turn pink and crispy

Remove from the oil and put on an absorbent paper towel. Continue with the rest of the batter, sweet potato sticks and shrimp
Second frying:
Once you are done frying all of them, bring the oil back to hot. Remove crumbs in the oil if any. Start from the first one that you fried and put it back into the oil and let it fry for about 1 minute or less. This round will be quick. We just want to crisp the fritter up. Fry until they are golden brown and crispy. Remove and put on absorbent paper towel

Keep them on a cooling rack in the oven at 200 F (93 C) to keep them warm and crispy when you fry the rest
Serving:
Serve them while they are warm and crispy with some lettuce and fresh herbs like mints, cilantro leaves and nuoc mam cham sauce. Alternatively, you can also serve with store-bought sweet chili sauce or any chili sauce of your choice if you prefer
Recommended products:
Nutrition
Serving:
1
serving
|
Calories:
484
kcal
|
Carbohydrates:
82
g
|
Protein:
6
g
|
Fat:
15
g
|
Saturated Fat:
1
g
|
Polyunsaturated Fat:
4
g
|
Monounsaturated Fat:
9
g
|
Trans Fat:
1
g
|
Sodium:
2353
mg
|
Potassium:
548
mg
|
Fiber:
5
g
|
Sugar:
17
g
|
Vitamin A:
17842
IU
|
Vitamin C:
19
mg
|
Calcium:
150
mg
|
Iron:
2
mg