Super easy Chinese cookies that are popular in Indonesia and known for their crunchy, crumbly, and nutty aroma despite the fact that these cookies do not contain any nuts.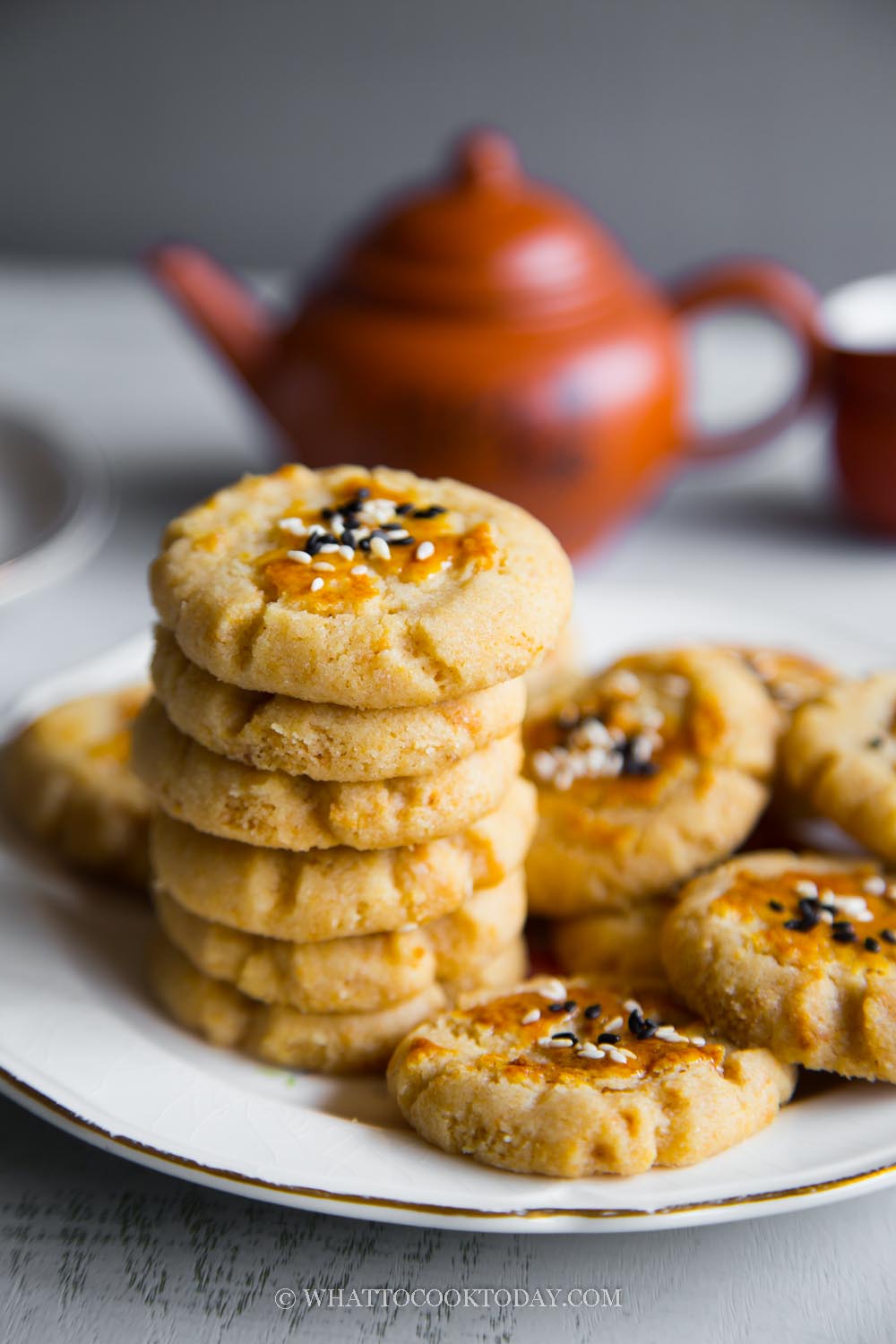 What is chui kao so?
Chui kao so is very popular in Medan, a little town where I grew up. Chui (脆) means crunchy/crispy, kao (烤) means "to bake" and so (酥) also means "crisp/crunchy" in Cantonese. This is just my own theory, but chui kao so I believe is very similar to the Cantonese hup toh soh (Chinese walnut cookies, which traditionally, also does not contain any walnuts). Chui kao so wasn't very well known outside of Medan. Then few years ago, chui kao so was introduced to the rest of the country by Indonesian-Chinese chef, Thomas Law, who made the mini chui kao so. They have been extremely popular all over Indonesia ever since to this date.
Story behind the tradition of having chui kao so in Medan
In Medan, people of Chinese descent, especially the Cantonese, when they are going to get married, part of the traditional culture is the future husband's family has to come over to the future wife's family to propose by bringing boxes of cookies/cakes/kueh. One of the cookies is chui kao so. The future wife's family can request as many boxes as they want. Usually, those boxes are distributed to relatives and family when they personally deliver the wedding invitation to them.
So, imagine when our family received wedding invitations and these boxes of goodies, I'm eyeing one thing and one thing only, the chui kao so LOL and there is only one in there!! (big one!). When it's "busy" months, meaning when we get many wedding invitations, I couldn't be happier LOL!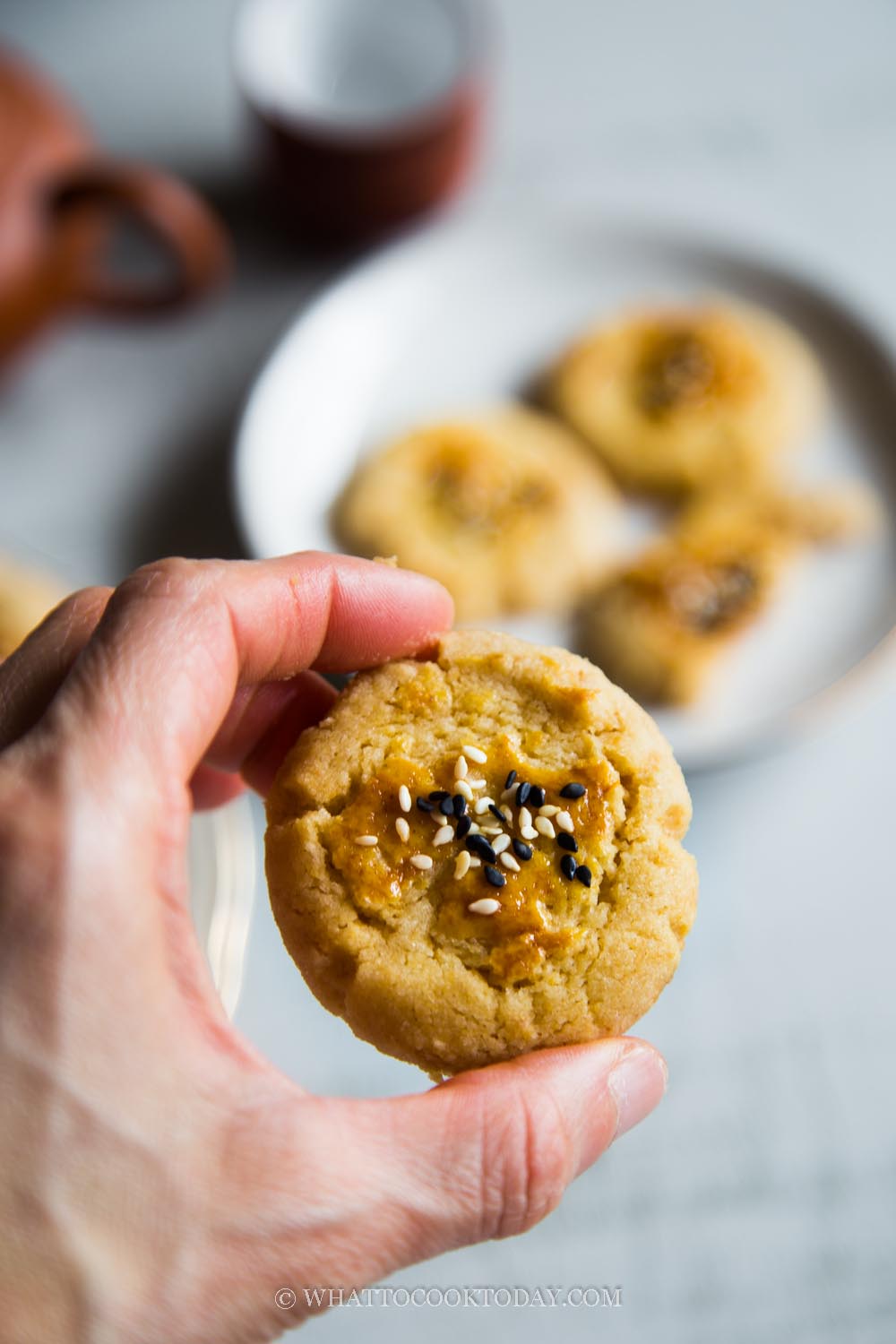 Characteristic of chui kao so cookies/biscuit
1. Size
Chui kao so is usually made very large in size, about 4-inch in diameter and about 3/4 inch in thickness. We are not going to make it that big though. I made them in bite-size
2. Appearance
It has a very rustic and crackly look (probably that's why I like it, to begin with, I have a thing for rustic!)
3. Texture
Crunchy and crumbly in a good way
4. Taste
Just lightly sweet, with a hint of savory, and the nutty aroma

Ingredients
Chui kao so is an incredibly easy cookies/biscuits to put together. They are made with easy-to-find ingredients in most people's pantries
1. All-purpose flour
This is also known as tepung terigu in Indonesia. All-purpose flour has a medium gluten content. I won't recommend using cake flour because it's not necessary in chui kao so. The texture is supposed to be crunchy and crumbly
2. Granulated sugar
It is important to use granulated sugar to achieve that crisp/crunchy texture. Do not substitute with icing sugar, brown sugar, or any other type of sugar (if you want that authentic taste that is)
3. Oil
Traditional old-fashioned chui kao so is made with lard from what I heard. Over the year, there have been many modifications by using oil, vegetable shortening, butter, margarine, and any combination of those. This recipe uses mainly oil and a bit of butter
4. Butter
I use unsalted butter. The addition of butter add a nice aroma but don't worry that it does not alter the original taste and aroma of chui kao so. When I made chui kao so using this recipe, it reminds me of how chui kao so supposed to be like when I ate them in Medan. You can also use margarine if you wish.
5. Egg yolk
The egg yolk also adds a nice aroma to chui kao so
6. Baking powder
This act as a leavener in the cookie. It makes the cookies airy and light
7. Baking soda
Besides a leavening agent, the addition of baking soda contributes to that "nutty" aroma in this chui kao so. So, DO NOT omit this. You will see some recipe uses alkali water (lye water)
8. Salt
A pinch of salt simply ties everything together
How to make chui kao so at home
1. Preheat the oven to 340 F (170 C) for a conventional oven, 320 F (160 C) for a convection oven
Put all ingredients for the dough in a mixing bowl. Mix baking powder, baking soda , and water and stir to combine. Only get 1 1/2 teaspoon of this baking powder mixture and add this to the rest of the ingredients in the mixing bowl. You won't need the rest of the baking powder mixture. Mix until you get a dough. The dough shouldn't be sticky and just slightly dry, just slightly. This will give you a crispy crunchy texture. If it's too dry that you can't even form a dough, then add a bit more oil. This shouldn't be the case though


2. Pinch off about 1 Tbsp of cookie dough and roll into a ball


3. Use your thumb or the back of a small spoon to gently press the middle to slightly flatten the cookie and to create an indentation in the middle and rough crackly edges. Place on a baking sheet about 1/2-inch apart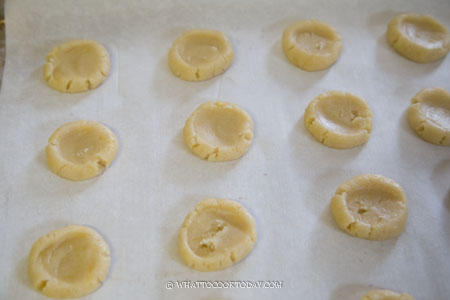 4. Brush the cookies with egg wash and sprinkle with a mixture of white and sesame seeds


5. Place the baking sheet on the middle rack and bake for 30-35 minutes or until golden brown. Let them cool on the pan for 5 minutes and then remove to a cooling rack to cool completely

You may also like this hup toh soh
Did you make this chui kao so recipe?
I love it when you guys snap a photo and tag to show me what you've made 🙂 Simply tag me @WhatToCookToday #WhatToCookToday on Instagram and I'll be sure to stop by and take a peek for real!
How To Make Chui Kao So
Ingredients
For the dough:
150

gr

all-purpose flour

35

gr

granulated sugar

50

ml

oil

neutral-tasting oil

10

gr

egg yolk

about 1/2 egg yolk (save other 1/2 to brush on cookies later)

25

gr

butter

softened
Baking powder + Baking soda solution:
To brush on cookies:
½

egg yolk

or more as needed

tiny pinch of salt
Instructions
Preheat the oven to 340 F (170 C) for a conventional oven, 320 F (160 C) for a convection oven

Put all ingredients for the dough in a mixing bowl. Mix baking powder, baking soda , and water and stir to combine. Only get 1 1/2 teaspoon of this baking powder mixture and add this to the rest of the ingredients in the mixing bowl. You won't need the rest of the baking powder mixture. Mix until you get a dough. The dough shouldn't be sticky and just slightly dry, just slightly. This will give you a crispy crunchy texture. If it's too dry that you can't even form a dough, then add a bit more oil. This shouldn't be the case though
Shaping:
Pinch off about 1 Tbsp of cookie dough and roll into a ball. Use your thumb or the back of a small spoon to gently press the middle to slightly flatten the cookie and to create an indentation in the middle and rough crackly edges. Place on a baking sheet about 1/2-inch apart. Brush the cookies with egg wash and sprinkle with a mixture of white and sesame seeds
Baking:
Place the baking sheet on the middle rack and bake for 30-35 minutes or until golden brown. Let them cool on the pan for 5 minutes and then remove to a cooling rack to cool completely
Storing:
Once the cookies cool down completely, store them in air-tight container and they last for weeks
Recommended products:
Nutrition
Serving:
1
piece
|
Calories:
77
kcal
|
Carbohydrates:
8
g
|
Protein:
1
g
|
Fat:
4
g
|
Saturated Fat:
1
g
|
Polyunsaturated Fat:
1
g
|
Monounsaturated Fat:
2
g
|
Trans Fat:
1
g
|
Cholesterol:
14
mg
|
Sodium:
23
mg
|
Potassium:
12
mg
|
Fiber:
1
g
|
Sugar:
2
g
|
Vitamin A:
50
IU
|
Calcium:
7
mg
|
Iron:
1
mg