Learn how to make this delicious and easy dessert using agar agar and and leftover stale bread to make this fun marbled agar agar bread pudding.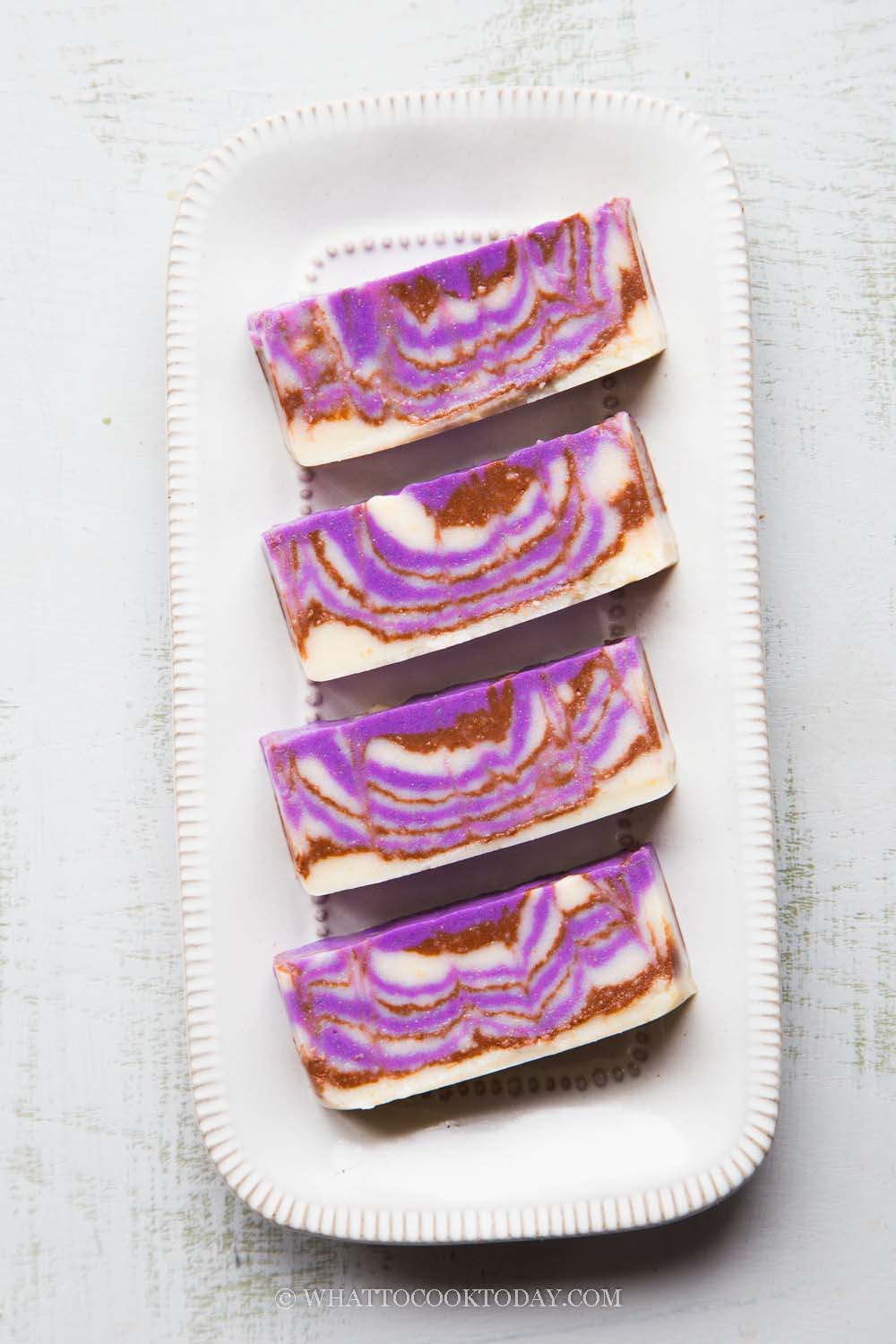 If you are looking for an easy no-bake dessert and also to use up some leftover stale bread, you should try this easy marbled agar agar bread pudding. The dessert comes together in less than an hour, minus the chilling time to let the cake set. I guess that's the only thing about it is that you have to wait for a few hours for it to set in the fridge. Other than that, it' pretty straightforward.
How to make agar agar bread pudding
1. Mix cocoa powder with hot water and set aside

2. Cut the bread into large pieces. You can trim off the crust, but I didn't. I feel like it's a waste to trim them off since we will be blending them anyway


3. Put them inside the blender with milk, water, condensed milk, and eggs. Blend until smooth


4. Combine all ingredients for agar agar in medium-large pot. Bring it to a simmer and then cook until agar agar and sugar dissolves. You shouldn't see any more specks of agar agar powder. This is important or your pudding won't set later


5. Lower the heat and add the bread mixture into the pot and keep stirring and cook until just slightly thickened


6. It just coats your spatula thinly


7. Wet the loaf pan with water and then drain off excess water.
Divide 250 ml of the mixture into one container (preferably with a spout so it's easier to pour) and add cocoa powder. Then 250 ml into another container with a spout and add ube extract or any color or extract you wish. If you don't have any container with a spout, you can use a spoon too. Leave the rest of the white mixture in the pot


8. Pour 1/3 of the white mixture into the pan, covering the base of the pan.


9. Then pour 1/2 of the chocolate mixture in the middle (as shown in the photo above).


10. Then 1/3 of the white mixture in the middle


11. Then 1/2 of the purple mixture in the middle.


12. Repeat again with the rest of the white mixture, pour in the middle. Then follow by the rest of the chocolate, pour in the middle, then purple. This is just the order of the color I did, you can do it however you like


13. Use a skewer or chopstick to create a marble effect. You can run it up and down to create that effect. No hard and fast rule here


14. Let this chill in the fridge for at least 4 hours or overnight. The pudding will detach from the pan if you gently shake it. Alternatively, you can run a knife around the edge to release. Put a rectangle shape plate or cutting board on top of the pan and invert


15. Then slice into serving portions
How to store agar agar bread pudding
Simply keep them in an air-tight container and consume them in 3 days for the best result. I do not recommend freezing as it affects the texture.
Did you make this agar agar bread pudding recipe?
I love it when you guys snap a photo and tag to show me what you've made 🙂 Simply tag me @WhatToCookToday #WhatToCookToday on Instagram and I'll be sure to stop by and take a peek for real!

Easy Marbled Agar Agar Bread Pudding (Agar Agar Roti)
Ingredients
Bread mixture:
150

gr

white bread

250

ml

milk

250

ml

water

80

gr

condensed milk

2

large

eggs
Instructions
Mix cocoa powder with hot water and set aside

Cut the bread into large pieces. You can trim off the crust, but I didn't. I feel like it's a waste to trim them off since we will be blending them anyway. Put them inside the blender with milk, water, condensed milk, and eggs. Blend until smooth

Combine all ingredients for agar agar in medium-large pot. Bring it to a simmer and then cook until agar agar and sugar dissolves. You shouldn't see any more specks of agar agar powder. This is important or your pudding won't set later. Lower the heat and add the bread mixture into the pot and keep stirring and cook until just slightly thickened, it just coats your spatula thinly
Assembling:
Wet the loaf pan with water and then drain off excess water.

Divide 250 ml of the mixture into one container (preferably with a spout so it's easier to pour) and add cocoa powder. Then 250 ml into another container with a spout and add ube extract or any color or extract you wish. If you don't have any container with a spout, you can use a spoon too. Leave the rest of the white mixture in the pot

Pour 1/3 of the white mixture into the pan, covering the base of the pan. Then pour 1/2 of the chocolate mixture in the middle (as shown in the photo above). Then 1/3 of the white in the middle, then 1/2 of the purple

Repeat again with the rest of the white mixture, pour in the middle. Then follow by the rest of the chocolate, pour in the middle, then purple. This is just the order of the color I did, you can do it however you like

Use a skewer or chopstick to create a marble effect. You can run it up and down to create that effect. No hard and fast rule here
Chill:
Let this chill in the fridge for at least 4 hours or overnigh
Unmolding:
The pudding will detach from the pan if you gently shake it. Alternatively, you can run a knife around the edge to release. Put a rectangle shape plate or cutting board on top of the pan and invert and then slice into serving portions
Nutrition