If you ever wonder what else you can do with okara (soybean pulp), you should try this okara dinner rolls recipe. They are so soft and yummy.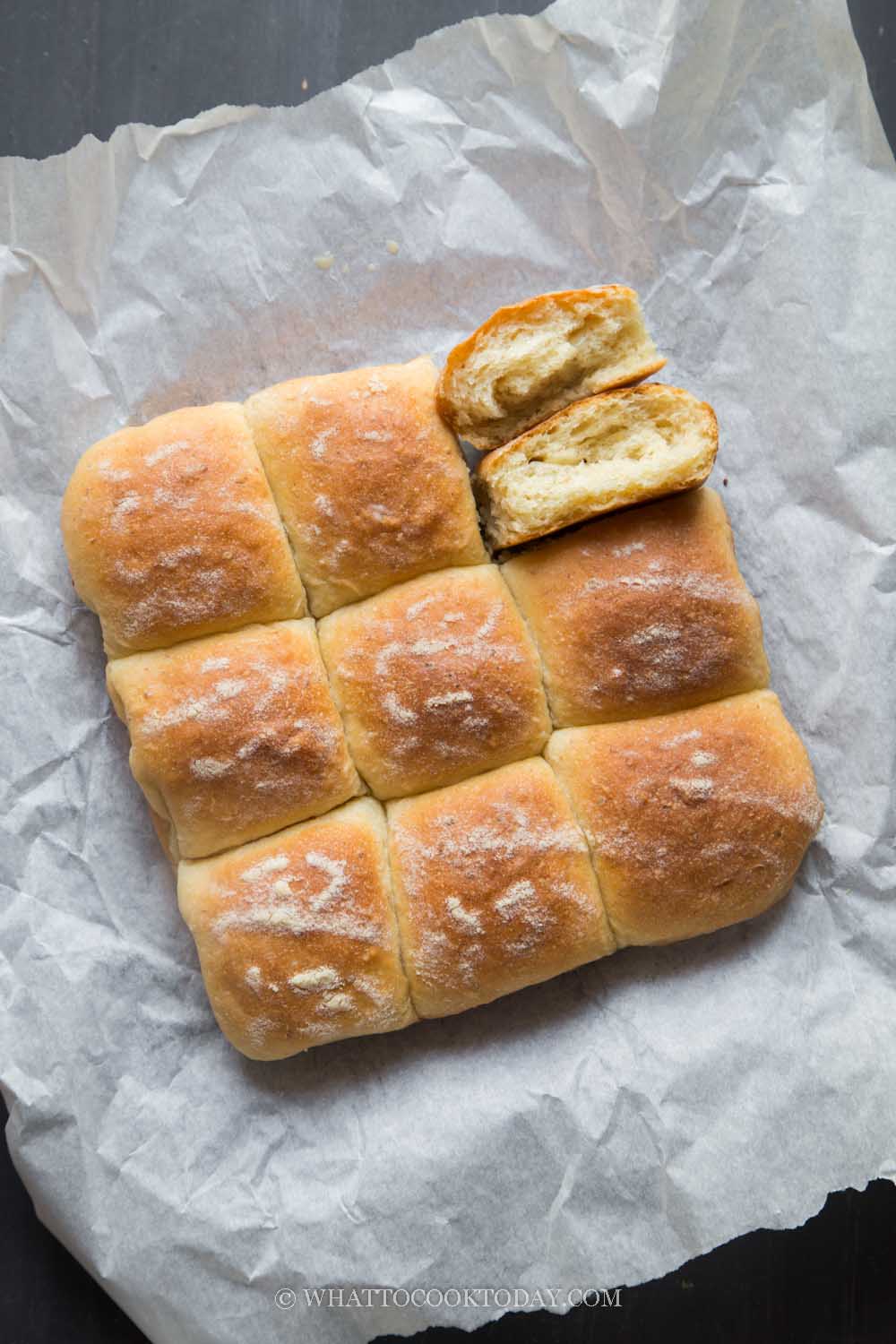 What is okara?
Okara is the Japanese word for soybean pulp. It's the pulps that are left behind after making soy milk and tofu. It is also known as dòuzhā in Chinese and kongbiji in Korean. It has a gritty texture and has high content of calcium, fiber, some protein and carbohydrates, which is mainly insoluble fiber. They are very popular in Japan and usually sold in grocery store too.
How to use okara
Fresh okara needs to be refrigerated and used in 2-3 days or it will turn rancid. You can however, freeze okara for up to 3 months. With the vegan diet being so popular these days, okara has been used in all kinds of recipes. From bread, beverages, cakes, cookies, dessert, imitation meat, etc.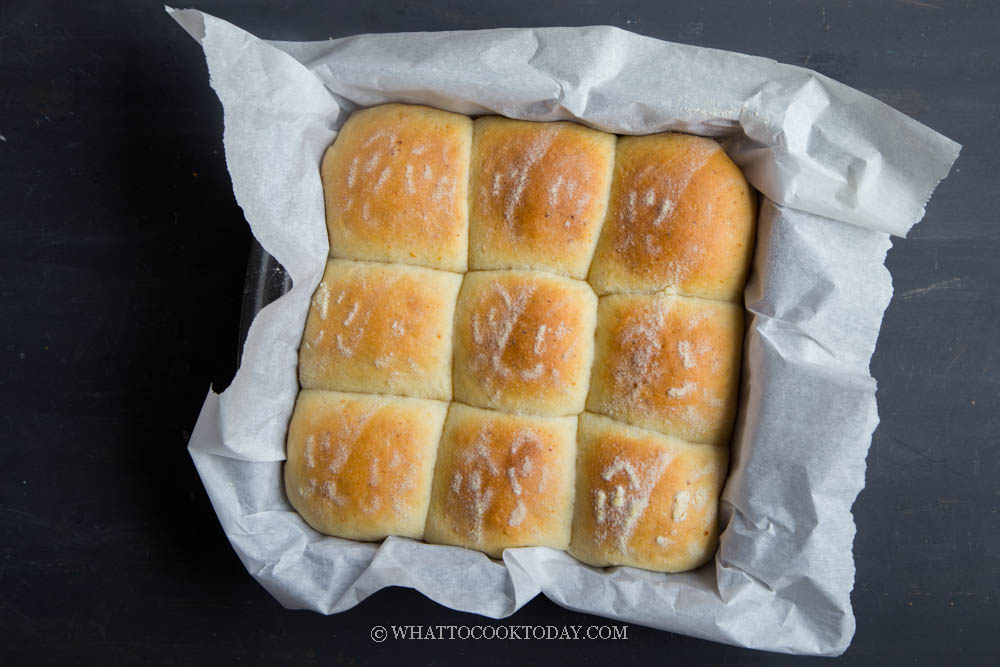 How to make soft okara dinner rolls
1. Activate the yeast in 50 ml (1/4 cup) of the warm milk. Let it sit for 10 minutes and it will turn foamy. If it doesn't, the yeast is no longer good and do not proceed with the recipe until you get a new batch of yeast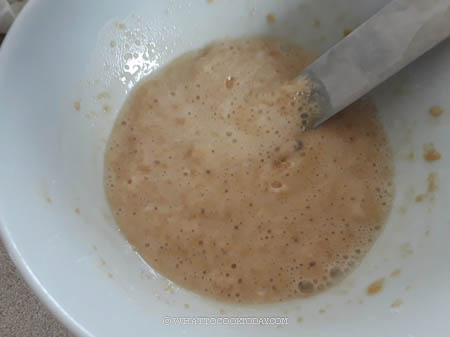 2. Combine the okara, softened butter (I use coconut oil), egg, sugar, flour, and salt in the bowl of a stand mixer fitter with a dough hook attachment


3. Knead on medium-low speed (speed 4 on KA) for 6-7 minutes. The dough forms a ball around the hook. If the dough feels dry, you can add a bit more milk, one teaspoon at a time. It may feel slightly sticky, but it shouldn't stick to the side of the bowl after kneading, if it is, then you may need to add a bit of flour


4. Oil the bowl and put the dough back and cover. Let it rise in a warm place for 1-2 hours or until it doubles in size. This depends on the temperature where you are. It takes longer when the room temperature is colder


5. Line a 9 x 9 square pan or something similar with a parchment paper overlapping so it's easier to remove them from the pan.
When you poke your finger into the dough, the indentation stays. The dough is done proofing.


6. Lightly dust your work surface and transfer to a work surface and deflate the dough and shape it into a long log. Cut into 9 equal pieces or 12 smaller ones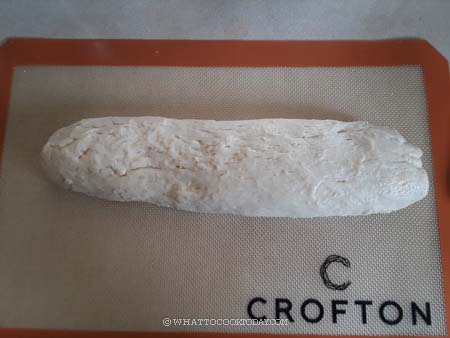 7. Round each dough into a ball and put each one in the pan, seam side down. Kinda space them out to allow some room for the dough to rise


8. Cover with a damp towel or a plastic wrap and let them rise again until they are puffy and double in size, may take about 1 hour or longer. 15 minutes before the end of proofing, preheat the oven to 350 F (180 C) for a conventional oven. You can dust the top with some flour for a more rustic look if you want to or simply omit this step


9. Put the pan on the middle rack and bake for 20-25 minutes or until golden brown or if you have an instant thermometer, it should read 195-200 F (90-93 C)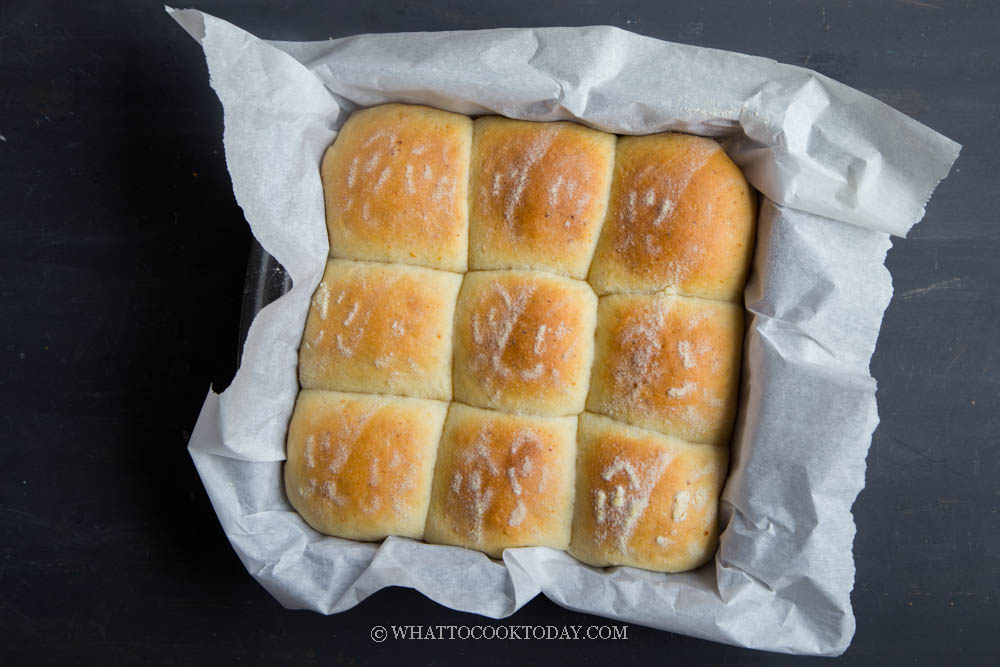 10. If you didn't dust the top with flour, you can brush with some melted butter while they are still warm. They are best served warm

Variation
You can also bake this okara dinner rolls recipe into bread.
This recipe will fit into 8 1/2 x 4 1/2 loaf pan. Simply shape it into a log and put it inside a loaf pan and bake at 325 F (160 C) for 50 minutes or until a toothpick comes out clean and when you tap the bottom of the bread, it should sound hollow.
Did you make this soft okara dinner rolls recipe?
I love it when you guys snap a photo and tag to show me what you've made 🙂 Simply tag me @WhatToCookToday #WhatToCookToday on Instagram and I'll be sure to stop by and take a peek for real!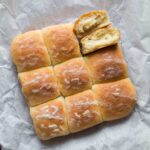 Recipe Using Okara: Soft Okara Dinner Rolls
Ingredients
1 ½

tsp

active dry yeast

125

ml

lukewarm unsweetened soy milk

or more as needed

125

gr

okara (soybean pulp)

50

gr

butter

50

gr

egg

about 1 large egg without the shell

25

gr

sugar

½

tsp

salt

315

gr

bread flour

plus more for dusting
Instructions
Prepare the dough:
Activate the yeast in 50 ml (1/4 cup) of the warm milk. Let it sit for 10 minutes and it will turn foamy. If it doesn't, the yeast is no longer good and do not proceed with the recipe until you get a new batch of yeast

Combine the okara, softened butter (I use coconut oil), egg, sugar, flour, and salt in the bowl of a stand mixer fitter with a dough hook attachment. Knead on medium-low speed (speed 4 on KA) for 6-7 minutes. The dough forms a ball around the hook. If the dough feels dry, you can add a bit more milk, one teaspoon at a time. It may feel slightly sticky, but it shouldn't stick to the side of the bowl after kneading, if it is, then you may need to add a bit of flour
1st proofing:
Oil the bowl and put the dough back and cover. Let it rise in a warm place for 1-2 hours or until it doubles in size. This depends on the temperature where you are. It takes longer when the room temperature is colder
Shape:
Line a 9 x 9 square pan or something similar with a parchment paper overlapping so it's easier to remove them from the pan.

When you poke your finger into the dough, the indentation stays. The dough is done proofing. Lightly dust your work surface and transfer to a work surface and deflate the dough and shape it into a long log. Cut into 9 equal pieces or 12 smaller ones

Round each dough into a ball and put each one in the pan, seam side down. Kinda space them out to allow some room for the dough to rise
2nd proofing:
Cover with a damp towel or a plastic wrap and let them rise again until they are puffy and double in size, may take about 1 hour or longer. 15 minutes before the end of proofing, preheat the oven to 350 F (180 C) for a conventional oven
Baking:
You can dust the top with some flour for a more rustic look if you want to or simply omit this step

Put the pan on the middle rack and bake for 20-25 minutes or until golden brown or if you have an instant thermometer, the internal temperature should read 195-200 F (90-93 C)

If you didn't dust the top with flour, you can brush with some melted butter while they are still warm
Serve:
They are best served warm
Recommended products:
Nutrition
Serving:
1
roll (from 9-roll batch)
|
Calories:
233
kcal
|
Carbohydrates:
32
g
|
Protein:
7
g
|
Fat:
9
g
|
Saturated Fat:
5
g
|
Polyunsaturated Fat:
1
g
|
Monounsaturated Fat:
2
g
|
Trans Fat:
1
g
|
Cholesterol:
40
mg
|
Sodium:
201
mg
|
Potassium:
121
mg
|
Fiber:
2
g
|
Sugar:
4
g
|
Vitamin A:
261
IU
|
Vitamin C:
1
mg
|
Calcium:
39
mg
|
Iron:
1
mg