This easy Cantonese lotus root peanut with pork ribs soup is nutritious and a staple soup in Chinese kitchen. The soup can be made on the stove, rice cooker, or pressure cooker.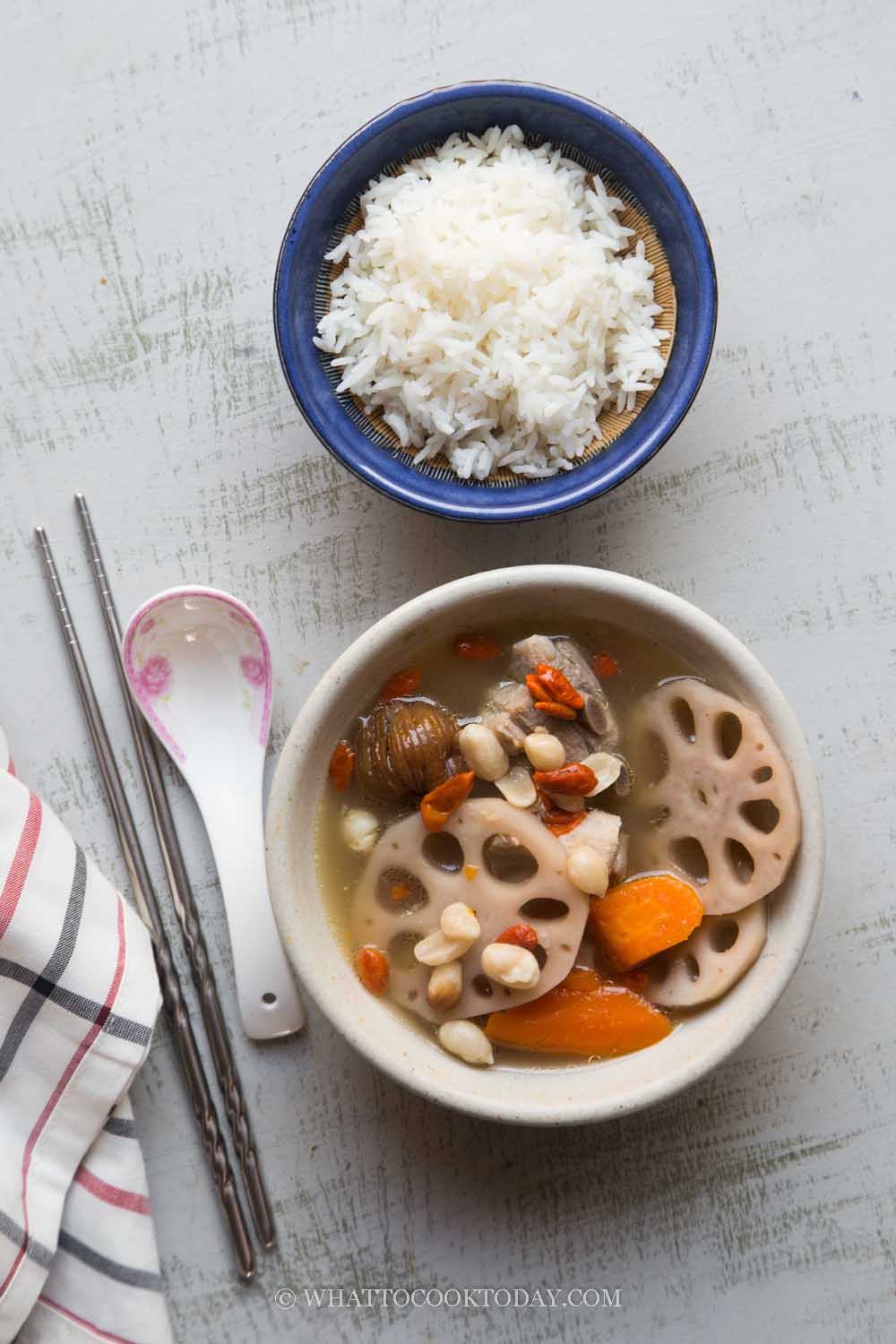 Lotus root peanut soup is one of my childhood favorite soups. Mom made it so often and I love the crunchy texture. Lotus roots soup with peanuts are considered nutritious soup in Traditional Chinese Medicine (TCM). TCM is all about balancing the yin and yang, or what we usually refer to "cooling" and "heaty". Most of the food are grouped into cooling, heaty, or neutral in TCM. Lotus roots and peanuts are considered "neutral" and it is appropriate to be consumed all year long.
Benefits of lotus root
Lotus roots are naturally high in fiber, high in vitamin C, high in potassium, copper, which increase iron level, boost immunity, and promotes glowing skin, and cardiovascular health.
Ingredients
1. Lotus roots
You can get this tubular roots from Asian grocery store or get some that has been peeled, sliced, and poached
2. Peanuts
I use the shelled raw peanuts from the Asian store too
3. Pork ribs
The pork ribs adds richness to the soup. You can use other meat like chicken drumsticks or thighs or other parts of pork such as pork knuckles/hocks, pork tenderloin
4. Dried cuttlefish or squid
This adds umami to the soup and I highly recommend it, but of course you can skip if you prefer. You can also use dried scallop, which will give umami to the soup too
5. Honey dates / Candied dates (蜜棗)
Honey dates are really sweet and much larger than regular red dates. They are usually use as a natural sweetener in Chinese soup
6. Carrots
I like to add carrots for contrast of color, besides, my kids love carrots chunks in soup
7. Goji berries
Goji berries are also another ingredients that are considered "neutral" in TCM
How to make lotus root peanut and pork rib soup in Instant Pot pressure cooker
My favorite way of making soup nowadays is with Instant Pot pressure cooker because it is much faster but still with the same benefit of slow-cooking or double boiling the soup.
1. Bring a large pot of water to a boil. Add the pork ribs and blanch for about 5 minutes. Discard the water and rinse the pork ribs


2. If you are not cooking with pressure cooker, soak the peanuts in hot water for at least 30 minutes to soften. If there are still skin on the peanuts, rub to remove the skin as they tend to make your soup taste bitter. I use peeled peanuts I bought from the store
3. How to clean lotus root: If you are using fresh lotus root, peel off the skin and slice into about 1/4-inch thickness. Soak them in water with small pinch of salt to avoid oxidation. Blanch the lotus root with 1/2 tsp of baking soda for 2 minutes to get rid of impurities and then discard water and rinse the lotus root to get rid of the baking soda
4. Put the blanched pork ribs and the rest of the ingredients, except for goji berries, inside the inner pot of the instant pot. Pour water just enough to cover everything


5. Close the lid and turn the steam release valve to "sealing" and set the timer to 10 minutes
When it's done cooking, do natural release. Unlock the lid once the safety valve has collapse. Stir in the goji berries. The residual heat will soften the goji berries as you stir. Have a taste and adjust seasoning to your taste


6. The soup is ready to be served while it's warm

Cantonese Lotus Root Peanut and Pork Ribs Soup (Leng Ngau Tong)
Ingredients
500

gr

lotus root

600

gr

pork ribs

cut into smaller pieces

150

gr

peanuts

2

pieces

dried cuttlefish/squid

2

carrots

cut into large chunks

2

large

honey dates

or use 6-8 red dates

Water

just enough to cover
Instructions
Prepare the pork ribs and peanuts:
Bring a large pot of water to a boil. Add the pork ribs and blanch for about 5 minutes. Discard the water and rinse the pork ribs

If you are not cooking with pressure cooker, soak the peanuts in hot water for at least 30 minutes to soften. If there are still skin on the peanuts, rub to remove the skin as they tend to make your soup taste bitter
Prepare the lotus root:
I use the already-poached lotus root slices. If you are using fresh lotus root, peel off the skin and slice into about 1/4-inch thickness. Soak them in water with small pinch of salt to avoid oxidation

Blanch the lotus root with 1/2 tsp of baking soda for 2 minutes to get rid of impurities and then discard water and rinse the lotus root to get rid of the baking soda
If cooking with Instant Pot pressure cooker:
Put the blanched pork ribs and the rest of the ingredients, except for goji berries, inside the inner pot of the instant pot. Pour water just enough to cover everything

Close the lid and turn the steam release valve to "sealing" and set the timer to 10 minutes

When it's done cooking, do natural release. Unlock the lid once the safety valve has collapse. Stir in the goji berries. The residual heat will soften the goji berries as you stir. Have a taste and adjust seasoning to your taste
If cooking with rice cooker:
Put the blanched pork ribs and the rest of the ingredients, except for goji berries, inside the inner pot of the rice cooker. Pour water just enough to cover everything. If you have a rice-cooker with multi function, you can use the porridge function. If there's no function, you may need 2 cycles of cooking. The ribs should be tender and the peanuts should be soft. Stir in the goji berries. The residual heat will soften the goji berries as you stir. Season to your taste
If cooking on the stove:
Put the blanched pork ribs and the rest of the ingredients, except for goji berries, inside a heavy-bottom pot. Pour water just enough to cover everything

Bring the water to a boil an then lower the heat to let it simmer. Cover and let it simmer for the next 45 minutes to 1 hour or until the pork ribs are tender and the peanuts are soft. Stir in the goji berries. The residual heat will soften the goji berries as you stir. Season to taste
Recommended products:
Nutrition
Serving:
1
serving
|
Calories:
697
kcal
|
Carbohydrates:
42
g
|
Protein:
39
g
|
Fat:
44
g
|
Saturated Fat:
11
g
|
Polyunsaturated Fat:
11
g
|
Monounsaturated Fat:
17
g
|
Trans Fat:
1
g
|
Cholesterol:
216
mg
|
Sodium:
189
mg
|
Potassium:
1549
mg
|
Fiber:
11
g
|
Sugar:
10
g
|
Vitamin A:
5132
IU
|
Vitamin C:
59
mg
|
Calcium:
148
mg
|
Iron:
4
mg